Beautiful Farmhouse Porch Columns For a Grand Entrance; Whether you call them pillars or columns, here is a showcase of the best country Farmhouse porch columns for rustic charm!
Hi beauties!
There's nothing like the comfort of sitting on a porch, sipping on your morning coffee, and watching the world go by. If your home needs a little something more, consider using columns. They add depth and character to your home that you don't get with other options.
Porches are an awesome way to add extra space to your home. They provide a nice place to sit and talk with neighbors, a place to eat outside, a place for kids to play, or just a nice place to enjoy the weather. I love decorating our porch. You can give your porch an entirely new look with the addition of farmhouse porch columns or just a few simple changes to your existing columns.
When it comes to porch columns, there are so many options to choose from. The columns can be simple or intricate, rustic or modern. They can be made of wood, metal, or even concrete. You could choose a round post with a square rail in between them on the porch steps and then put an arched top over the railings so that they look like mini bridges; or you could choose square posts with lattice patterns on them instead of arches—that way you can sit out on the porch and watch people walking by as if they were driving through a forest instead of just down your street! Or maybe you want something really simple yet elegant: just one column standing up against your house with no other decoration besides its own beauty (and maybe some flowers planted around it).
What are Country Farmhouse Porch Columns?
Farmhouse front porch columns are a classic architectural feature. They can be a great way to add some style and interest to your home, while also providing sturdy and durable support for the porch. These columns are often made of wood and stained or covered with stone or brick. The top of the columns can be designed in various ways, including having a flat top or one that's curved at the top. They're usually tall and narrow, which helps them stand out against the background of your house's other architecture.
Country farmhouses are some of the most charming homes in America. They're full of character and charm, with beautiful details that make you want to live there forever. One of the most important parts of any country home is the entranceway: It's the first thing people see when they arrive at your house, and it sets the tone for the rest of their experience. This is why it's so important to choose the right porch column for your home's front door or entryway.
Farmhouse Style has gotten super popular recently and a big part of that is because of these big beautiful porch columns. Luckily, there are plenty of options available when it comes to choosing farmhouse porch columns that will complement your home's style and give it an elegant yet rustic feel that's sure to impress anyone who comes over!
Country Farmhouse Porch Columns:
Here are 50 of the most beautiful farmhouse porch columns I could find!
The columns themselves come in many styles, so you can find one to match your home's design. Some have smooth surfaces with no detail at all, while others are carved intricately with beautiful patterns like vines or flowers. They all add curb appeal to your home whether you have wraparound porches or not!
If you're looking for a way to make your home look more welcoming and inviting, farmhouse front porch columns are a perfect choice! The columns make your house look bigger, as they extend from the ground up to the top of the porch roof. If you have a large porch, you may want to add several columns to elevate your home design.
When choosing between different types of columns for your home, you should consider how much money you want to spend on them as well as how much time it will take you to install them properly onto your property before deciding which ones would work best for your specific needs.
The reason why so many people love these columns is that they are so versatile. They can be used as part of any type of outdoor space, from decks to patios and even balconies! You can also use them inside your home if you want to add some extra character and charm. That adds a design element that truly enriches your modern farmhouse porch.
Once you have decided on the style of columns that you want, it is time to decide on size and material. The size of the columns will depend on the size of your porch and how much space you have available for them. You'll need at least two columns so that they can support each other and not fall over when there are strong winds outside (which can happen during storms).
Farmhouse front porch columns come in many different materials including wood or metal construction materials such as steel beams or aluminum beams with wooden slats attached around them (these are known as "brackets"). Some people prefer wood because it looks more natural while others prefer metal because it lasts longer than wood does when exposed to harsh weather conditions like rainstorms or freezing temperatures during winter months.
There are a number of ways to welcome guests, but the farmhouse porch columns make for an especially grand entrance. This style is all about rustic charm, so it's best suited for those who want to feel like they've stepped back into simpler times.
The wood used in these columns can be anything from pine to cedar and even cypress. The post itself is usually made from pressure-treated lumber because it's resistant to rot and decay while still being strong enough to hold up heavy objects like doors or shutters. If you want something more colorful than natural browns, then consider painting your column with a fresh coat of white paint!
If you're looking for a way to add some character and style to your front porch, flea market columns are a great choice. These tall-and-skinny pillars are inexpensive and easy to find, with many styles and colors available at local thrift stores or antique shops. You can paint them any color you like or leave them as they are--it's up to you! You can also use them as a focal point for your porch if there isn't already one in place (or if it's not quite working).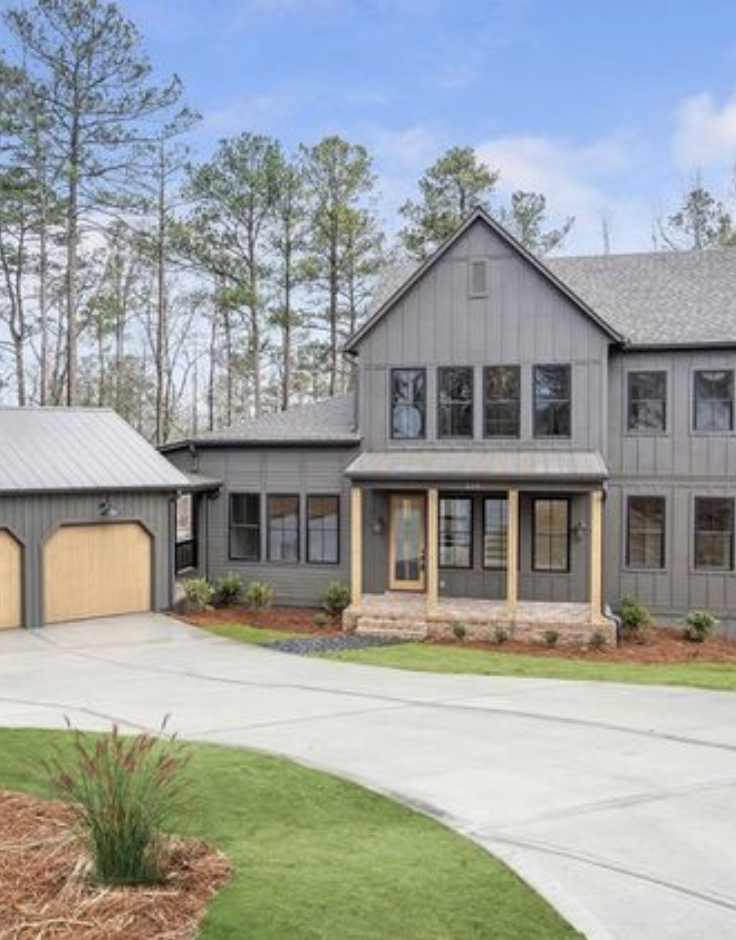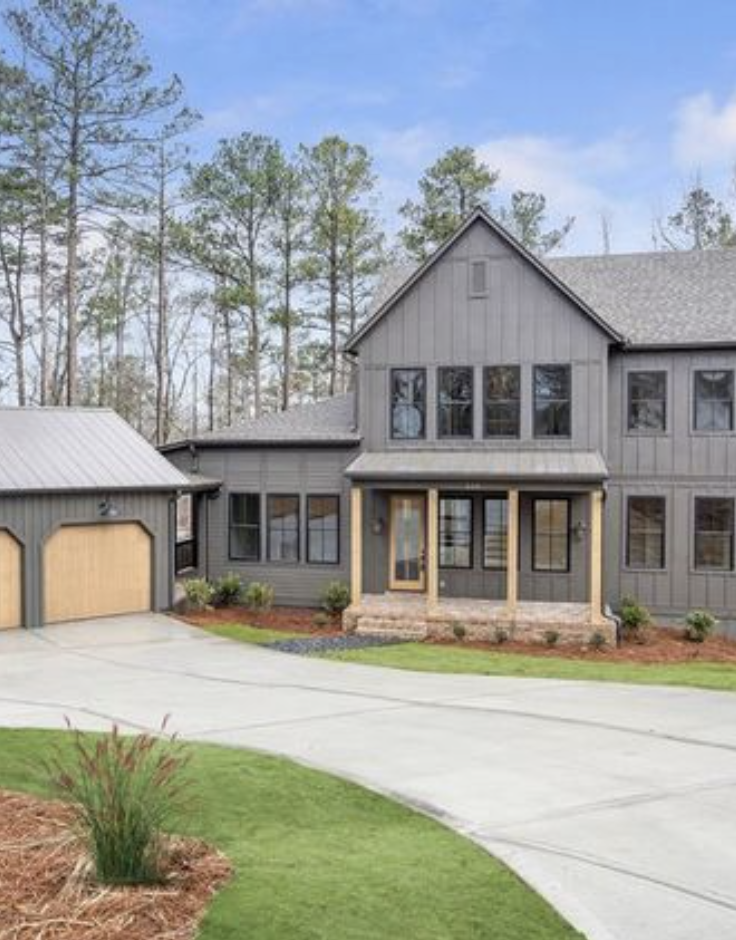 Columns are a great way to add curb appeal to your porch. They can be made from many different materials, including stone and brick. A column can give your entrance an instant focal point, or it can simply be used as an accent piece. Columns are especially attractive when they're painted or stained in bright colors that contrast with the rest of the house's exterior color scheme.
Add some rustic charm to your farmhouse front porch with rocking chairs. You can buy them in a range of colors, shapes, and styles—from antique-looking wooden ones to modern-looking metal ones. Make sure that you have enough room on your porch for the chairs to fit, and make sure that they will be comfortable for whoever will be sitting in them.
The girder style columns are a classic farmhouse feature that can be used to support a porch or roof. These columns have a wide, flat base and look like they're made of wood or metal. They're usually painted white but can be any color you want! The size of these columns will depend on what you're using them for - if they're supporting a porch roof, then they should be much taller than those used as supports for just an entryway.
This porch column is simple and pretty. The lattice pattern gives it a rustic look, while the round posts and square rail are classic farmhouse features. It's also great that they painted their front door white to match all of their other wood trim. You can see how this house has clapboard siding on its sides with dark wood trim around its windows and doors. It makes me think of old European homes or something out of a storybook!
A simple wooden pillar can add an element of sophistication, or you can go all out with a decorative column that is covered in intricate carvings and designs. If you're looking for something that really stands out, consider using a large-scale column that will grab attention as people drive by. Decorative items can make or break your front porch design!
The front porch of a farmhouse is a place for relaxation and enjoying the outdoors. It is a place to watch the sunset and the stars rise. It's where you can take in the fresh air, feel the cool breeze on your face, and listen to the sounds of nature all around you.
The farmhouse front porch is a great place to relax, sip some tea, and enjoy the fresh air. It's also a great place for you to entertain guests and make them feel at home. The following are some of my favorite farmhouse front porch furnishings:
A rocking chair: A rocking chair is a classic choice for your farmhouse front porch, as it is comfortable and gives you a chance to rock back and forth while enjoying the view of your property.
A hammock: A hammock is another great choice for your farmhouse front porch because it allows you to lay back and relax while still keeping an eye on what's going on outside.
A swing: A swing is another piece of furniture that can help you relax in style while allowing you to keep an eye on what's going on outside. It also offers a great opportunity for conversation with friends or family members who are sitting next to you on the swing!
A rug: Rugs are a great way to keep your entranceway and farmhouse porch decor extra cozy and welcoming!
If your columns are lighter than the base, it will create a sense of separation between them and the ground. This is especially effective when using darker colors on your house. For example, if you have a white farmhouse with black shutters and trim, painting your column lighter than the trim will help accentuate it (and give it more prominence).
The same goes for painting columns darker than other parts of the house. If you have an older home with chipping paint but want to keep its original color scheme intact, painting columns black can make them stand out against aging siding without being overwhelming or distracting from other features like windows or doors.
When you're looking for a comfortable place to sit, there's no better option than an Adirondack chair. Adirondack chairs are known for their classic look and simple design. They're perfect for relaxing on your front porch or patio, or even in your backyard. They're also great for lounging around your farmhouse, especially if you have one of those classic front porches with columns.
If you'll be using your porch as a place to store items during the off-season, you may want to consider adding some storage containers or baskets so that you can keep everything organized and safe from the elements.
And don't forget about lighting: if you live in an area where evening temperatures drop below freezing during winter months, make sure that all lights have been removed from outside before heading in for the day!
When it comes to farmhouse front porch furniture, there's no shortage of options. You can choose from an array of seating options, including rocking chairs and gliders that are perfect for relaxing on lazy summer afternoons with a good book. If you're looking for something a little more substantial, there are also benches and stools that are ideal for entertaining guests.
Lanterns are a great way to add visual interest and lighting to your farmhouse front porch! You can buy lanterns or DIY them to suit your decor and design of your front porch!
Don't forget about the plants! However, you choose to decorate your porch—with flowers or lanterns or anything else—don't forget about greenery! Plants give off a natural vibe that makes people feel peaceful and calm.
Buy a new chair. Your old chair is probably uncomfortable and ugly. You don't have to spend a fortune—in fact, a cheap fold-up chair can be just as good as an expensive one if you're using it in an outdoor space! Choose something with a padded seat that has armrests so that you can prop up your feet without getting them dirty (or any other part of your body). If it has storage underneath, even better: You'll never have to worry about forgetting something again!
The farmhouse front porch is one of the most iconic architectural features of the American countryside. In addition to its aesthetic appeal, this type of front porch has also been shown to have many practical benefits to its exterior design.
In fact, there are many reasons why a farmhouse front porch should be an important part of your home's design. For example, a farmhouse front porch can help keep you cool during the hot summer months. In addition, it can also provide you with a great place to relax or entertain guests during those same months.
In addition to these benefits, there are many other reasons why a farmhouse front porch is an excellent choice for your home's design. A good example is that this type of porch provides extra space for storage which may not otherwise be available on other parts of your property such as inside your house or garage where it could be subject to moisture damage from rain or snow falling from above onto its surface if left uncovered when not being used by people who live there all year round instead of just summertime visitors only (i.e., tourists) during those months when they're not needed anymore until next springtime etcetera etcetera etcetera
Your front porch needs to be strong enough to hold up the weight of all your furniture, which can be heavy if you want it to look realistic. You can make this happen by building a frame out of 2x4s or 2x6s and then covering it with wood planks or even brick or stone veneer (depending on the look you want).
The location of your farmhouse front porch will have a lot to do with its usefulness. You'll want to make sure that it's close enough to the front door so that there aren't any steps between them, but still far enough away that it doesn't take up valuable space in your yard. It's also important that it's away from other structures like garages or sheds so that wind doesn't blow straight through it during bad weather months (like winter).
Farmhouse front porches are traditionally made from wood, but other materials such as steel or vinyl can also work well depending on what style you're looking for and what kind of budget constraints exist within your own home renovation project overall (e.g., if cost is an issue then consider using something less expensive - like vinyl or steel - as opposed to hardwood).
A front porch is more than just a space where you can enjoy life—it's an extension of your personality. And if you've got the right one, then it doesn't have to be just "a front porch": it can be so much more!
Whether it is rustic, modern or traditional; farmhouse, French country or colonial you want to add a little bit of style and charm to your front porch, farmhouse porch columns are the perfect addition.
The popularity of farmhouse decor has risen in recent years, with an emphasis on natural and rustic touches. Porch columns can help to enhance the overall aesthetic of your porch. They don't require a lot of time or money to build and paint, meaning that you won't have to stress over not having the money or time to make them. If you're dreaming of a warm, inviting farmhouse-style porch with a porch column leading to it, there are a number of different options for you to consider.
I hope you enjoyed this post all about country farmhouse porch columns and found some inspiration for your home!! Whether you have a modern or traditional farmhouse these front porch posts are for you!
Until next time,
More Farmhouse Exteriors: