Quick and easy vegan chocolate swirl banana bread. Gluten free and dairy free. Health alternative to a sweet treat! Bake fresh or freeze dough for later use. Enjoy every moist soft chocolatey bite!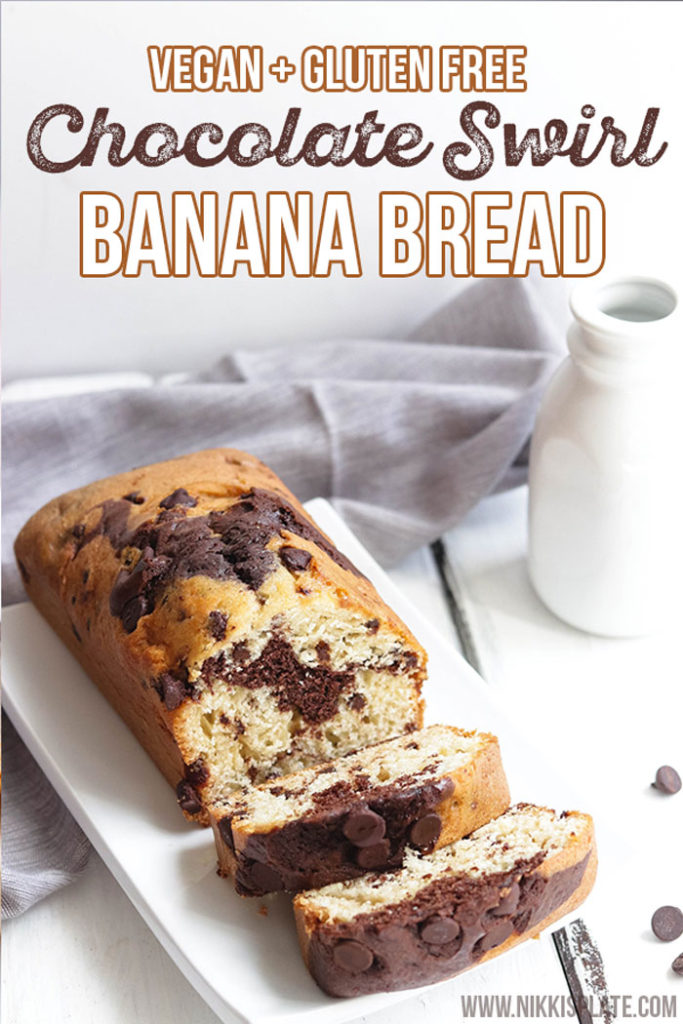 Jump to Recipe
Disclaimer: this post may contain affiliate links, and every purchase made through these links will give me a small commission (at absolutely no extra cost for you!) AS AN AMAZON ASSOCIATE AND REWARDSTYLE MEMBER, I EARN FROM QUALIFYING PURCHASES. See Privacy Policy for additional info.
Hi Beauties!
Finally coming at you with another recipe. I haven't posted many recipes lately and I think it has a lot to do with this pregnancy! I literally have no energy and when I do have the energy, I am usually at work trying to make it through the day at the hospital. Being a pregnant nurse is exhausting! Especially now that I am in my third trimester - home stretch though right!?
Anyways, I really love baking and creating healthy recipes for the blog so it might pick up in the next few months. So make sure you are checking back here frequently for all my upcoming recipes! You won't regret it!
I also find the fall time inspires me to start creating recipes again. I love to bake and I just find that the autumn season really brings it out in me. Which is why I have such a huge library of fall recipes here on the blog!
Anyways, that being said, let's jump into this vegan chocolate swirl banana bread recipe!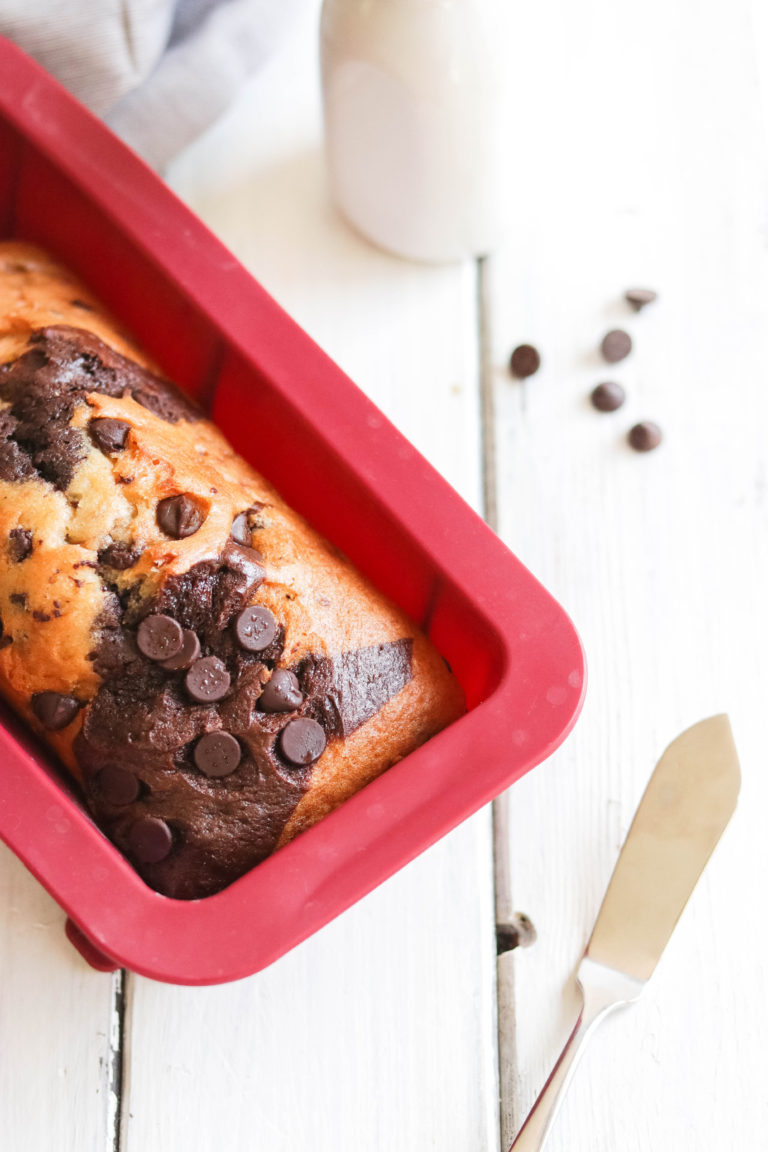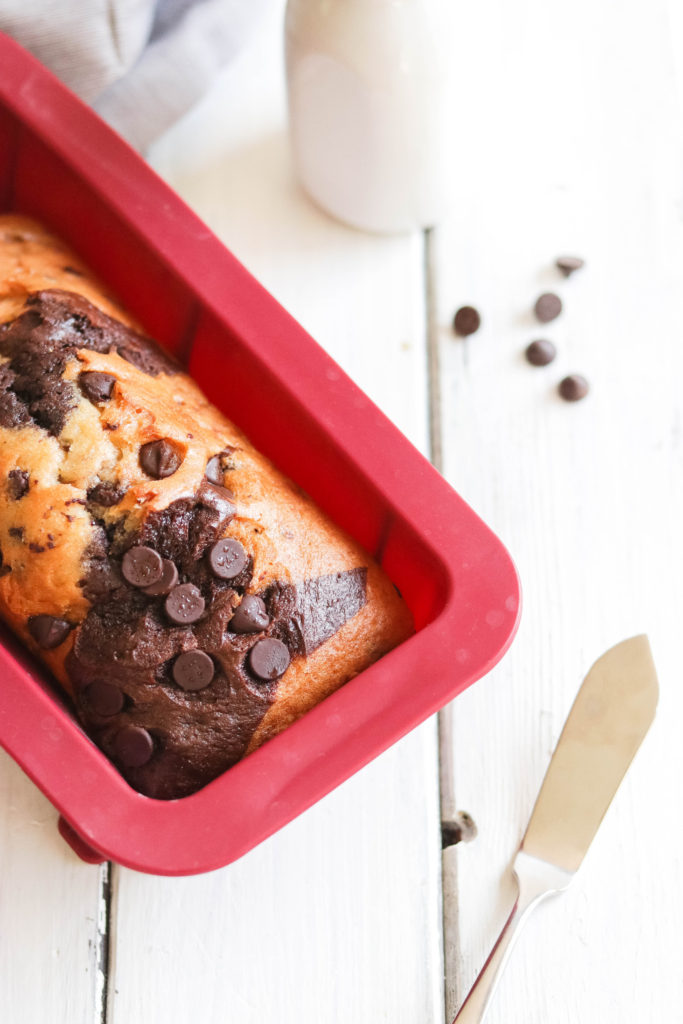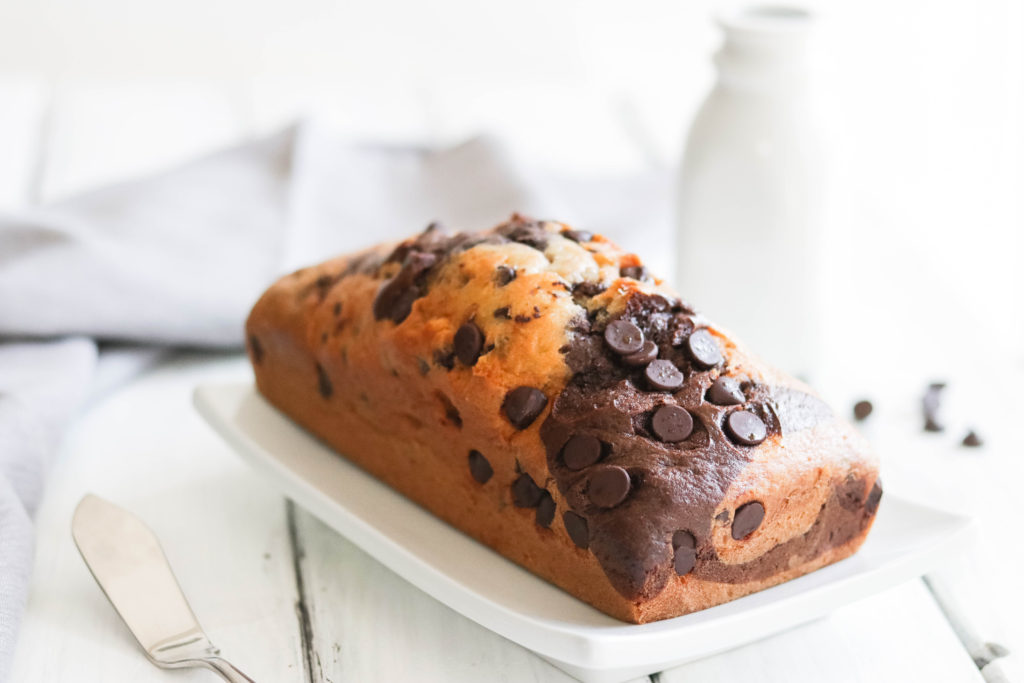 A Delicious & Healthy Chocolate Swirl Banana Bread Recipe
When creating a banana bread, like my Pumpkin Banana Bread, there are a few necessities. For one, it needs to be soft and moist, especially when baking gluten-free. It needs to basically melt in my mouth, and be bursting with delicious banana flavours.
I found it hard to find the perfect combination of ingredients as well for this recipe. When cooking vegan or dairy-free baked goods, they usually can turn out mushy or gummy. But this combination of ingredients seemed to be the perfect mix.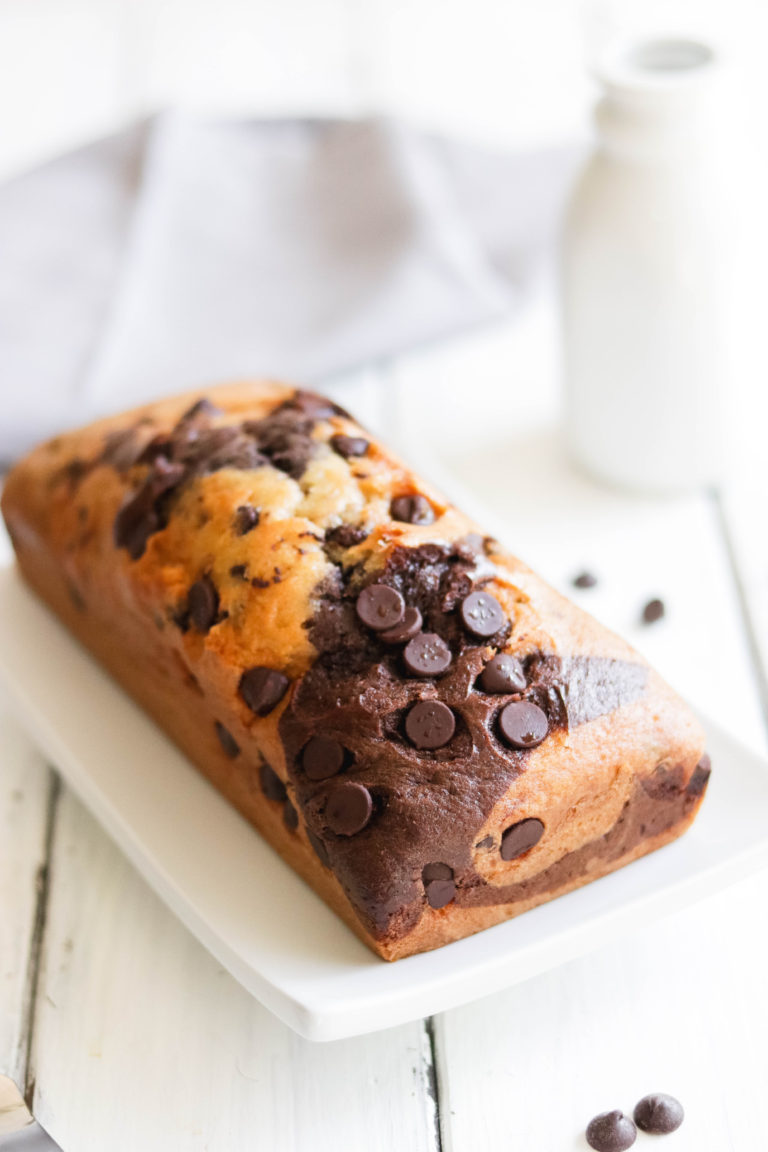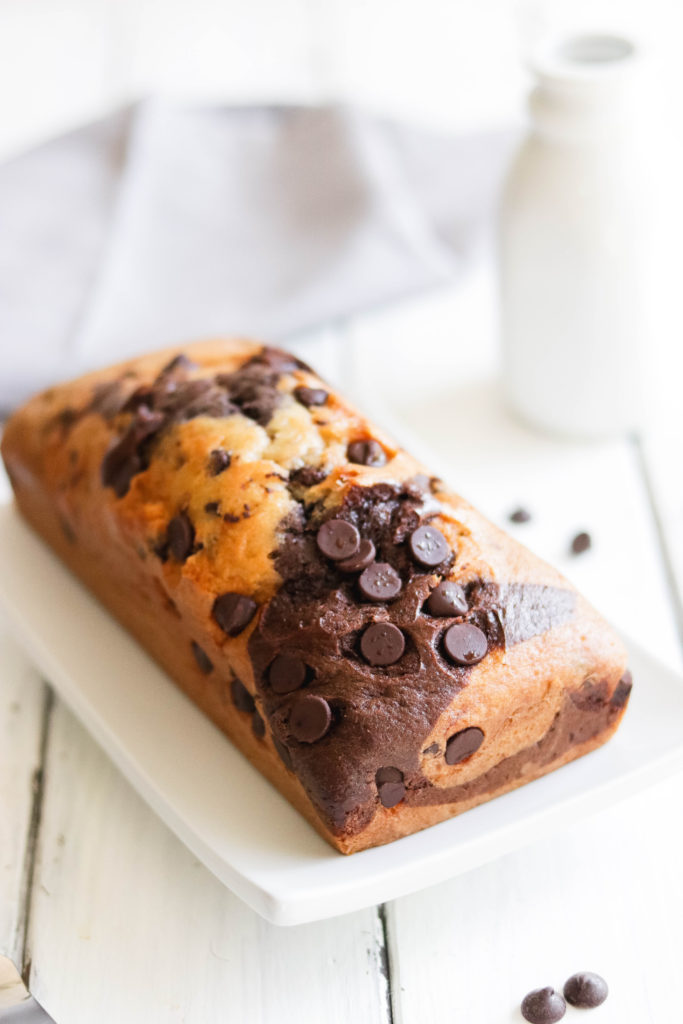 Having healthy vegan gluten-free bread ready to eat is so handy! I love being able to quickly slice a piece off in the morning for breakfast or when I am in need of a quick snack for me and the baby hehe
Find more delicious & easy bread recipes here:
I find the key to eating healthy is always having food ready to be eaten. Which is why I ALWAYS meal prep. Especially when I have a few shifts in a row. It is so important to have healthy food options so you stay clear of those unhealthy foods that make you feel crummy afterward.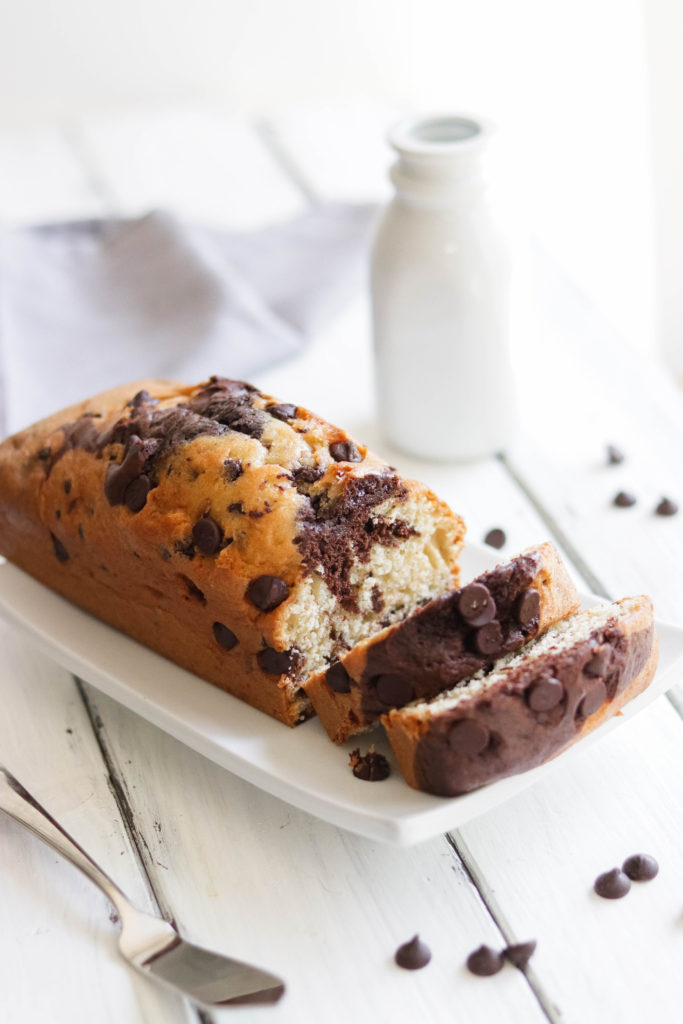 Ingredients you will need for this Vegan Chocolate Swirl Banana Bread recipe:
Gluten Free Flour
Oats
Ground Flax Seeds
Coconut Sugar
Baking Powder
Baking Soda
Three Overripe Bananas
Dairy Free Chocolate Chips
Cocoa Powder
Vanilla Extract
Apple Cider Vinegar
Extra Virgin Oil
Cinnamon, Nutmeg, Salt
Seems like a long list, but it's actually pretty simple to throw them all together! And you really need to try this recipe so no baking out now people!
And you bake it for only 50 minutes! Imagine all the household chores you could get done while you are baking this delicious chocolate swirl banana bread.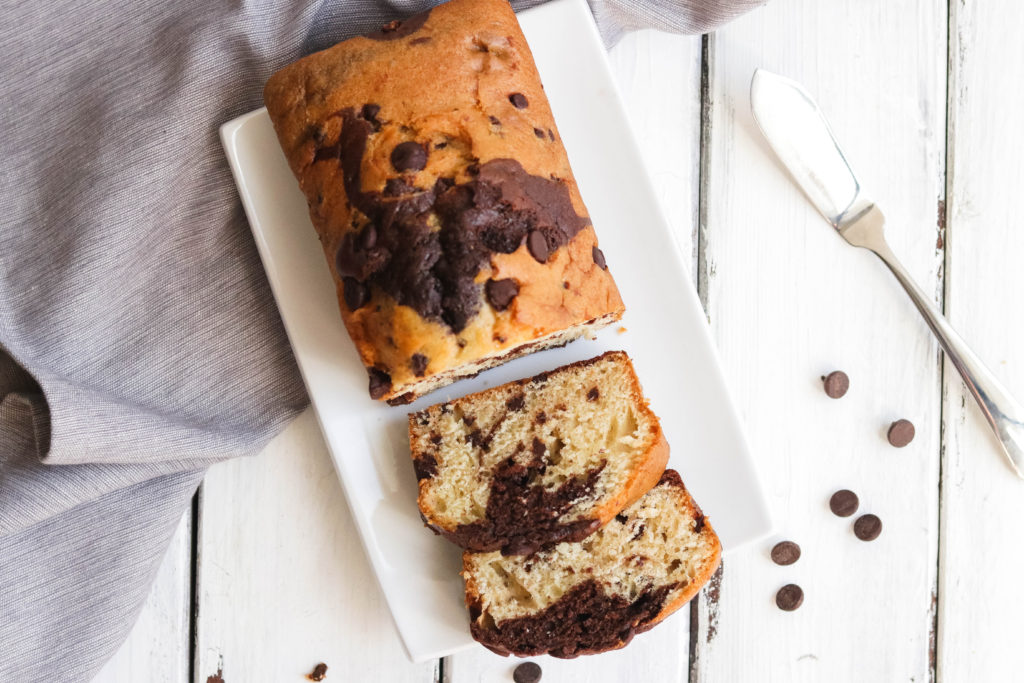 Tips for Making the BEST Banana Bread
While doing research for this recipe some of the most valuable tips I found when it comes making moist and fluffy banana bread are:
Do not over mix the batter: Over mixing the batter adds too many air bubbles which actually dries out the bread! So only mix enough to combine all the ingredients
Use super ripe bananas: Using ripe bananas really adds a moist texture to the bread and acts as a natural sweetener.
Don't skip the apple cider vinegar: I know it sounds super odd to have vinegar in a sweet banana recipe but it is a must. It works to give the bread it's fluffy texture due to not having eggs in the recipe.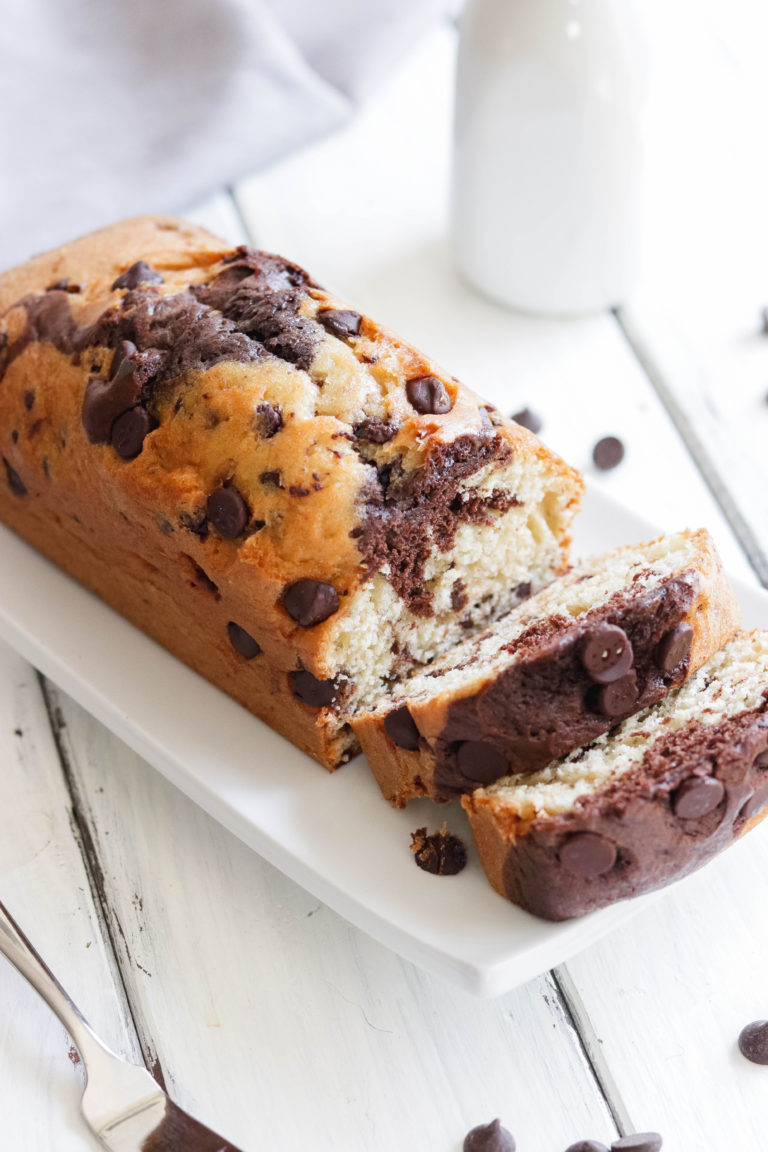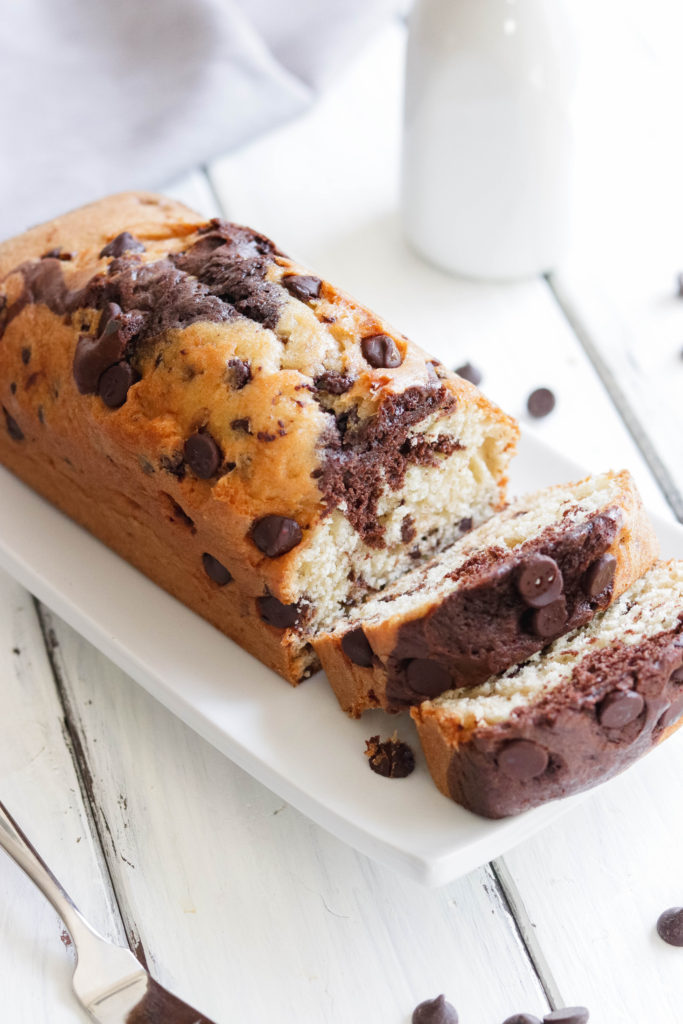 So without any more of my rambling, I will let you get to baking! Make sure you let me know how it turned out for you! I know you are going to love it 🙂
Enjoy!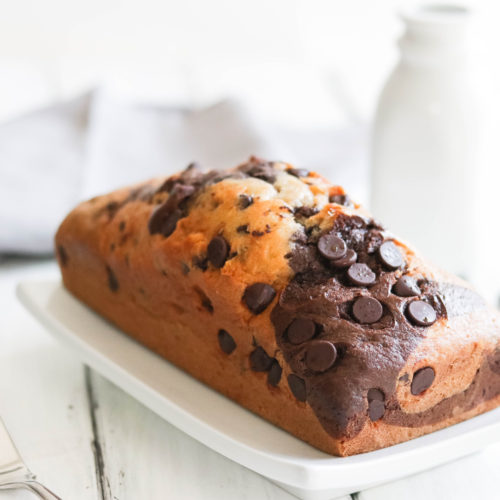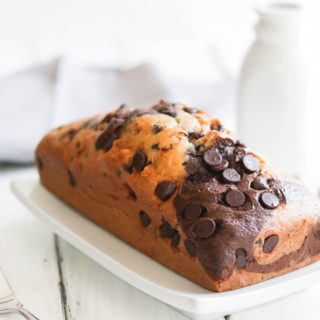 Vegan Chocolate Swirl Banana Bread
Quick and easy vegan chocolate swirl banana bread. This gluten-free and dairy-free banana bread recipe is the perfect healthy breakfast or quick snack.
Ingredients
Wet Ingredients:
2

tablespoon

ground flax seeds mixed in 6 tablespoon water

set aside for 10 minutes before using

3

overripe

Bananas

⅓

cup

extra virigin olive oil

1

teaspoon

vanilla extract

2

tbsp

organic apple cider vinegar
Dry Ingredients:
1

cup

quick oats

1.5

cups

gluten free flour

½

cup

Coconut sugar

2

teaspoon

baking powder

1

teaspoon

baking soda

2

tablespoon

cocoa powder

2

teaspoon

cinnamon

1

pinch

nutmeg

1

pinch

salt

½

cup

dairy free chocolate chips
Instructions
Preheat oven to 350 degrees. Grease a 8x4 inch loaf pan, set aside.

In one medium size bowl, mash the ripe bananas. Once mashed, mix in all wet ingredients together.

In a large mixing bowl, combine all dry ingredients EXCEPT the cocoa powder. Leave some chocolate chips to sprinkle on top.

Pour wet ingredients into dry ingredients and fold together until combined.

In a small mixing bowl, remove 1 cup of the batter from the large mixing bowl. Add the cocoa powder to this batter (this is to create the chocolate swirl).

Pour the non cocoa powder mixture into the loaf pan. Then pour the chocolate mixture on top and swirl with a tooth pick. Sprinkle with chocolate chips.

Bake for 50 minutes or until golden outside and moist inside. Tooth pick should come out clean.
Quick and easy vegan chocolate swirl banana bread. Gluten free and dairy free. Health alternative to a sweet treat! Bake fresh or freeze dough for later use. Enjoy every moist soft chocolatey bite!
BEST SELLERS