10 Summer front porch ideas will give you inspiration for your own porch. Take your front porch from ordinary to extraordinary with these quick and easy tips.
Disclaimer: this post may contain affiliate links, and every purchase made through these links will give me a small commission (at absolutely no extra cost for you!) AS AN AMAZON ASSOCIATE AND REWARDSTYLE MEMBER, I EARN FROM QUALIFYING PURCHASES. See Privacy Policy for additional info.
Hi beauties! Summertime is almost here and that means it's time to decorate your front porch. Whether you live in a big home in the suburbs or a smaller apartment on the edge of town, it doesn't matter. You can be creative and decorative with flowers, plants, flags, and even furniture. That's right – furniture!
Summer is the season for front porches, barbecues and late nights spent rocking in a chair. A simple front porch refresh (or creation from scratch) can be the perfect DIY project this summer to freshen up your porch furniture and accessories.
As the weather continues to warm up and summer arrives, here is a list of some summer front porch ideas to inspire you on your way to sharing the great outdoors with family and friends. So get ready because we're about to explore 10 Beautiful Summer Front Porch Ideas!!
Summer Front Porch Ideas:
From colorful pots full of flowers to interesting garden features and accessories, there are lots of ways you can add a personal touch to your front porch this summer. The key is to create the type of environment that's most comfortable for you. If it's relaxing rocking chairs and fire pits, or a gathering place for friends, family and neighbors, I've got lots of creative ideas to inspire you. With a few simple touches, you can turn your porch into a cozy and inviting space that you'll love spending time in. Here are some tips for styling your summer front porch:
Add Plants and Flowers
Plants and flowers are a great way to add color and life to your porch. Consider adding potted plants or hanging baskets to your porch to create a lush and inviting atmosphere. Choose plants and flowers that thrive in the summer heat, such as petunias, marigolds, and geraniums.
Incorporate Outdoor Lighting
Outdoor lighting can help create a warm and inviting ambiance on your porch. Consider adding string lights, lanterns, or even candles to your porch to create a cozy and relaxing atmosphere. Not only will it add to the overall aesthetic of your porch, but it will also make it a great spot to enjoy summer evenings.
Add Comfortable Seating
No front porch is complete without comfortable seating. Consider adding a comfortable outdoor sofa, chairs, or even a porch swing to your porch. Make sure to choose seating that is weather-resistant and durable, so it can withstand the summer heat and any summer storms.
Incorporate Summer-Inspired Front Porch Decor
Incorporating summer-inspired decor can help create a cohesive and inviting look on your porch. Consider adding items like outdoor pillows, a summer-inspired wreath, or even a fun doormat to your porch. These small touches can help tie the whole look together and make your porch feel like a true extension of your home.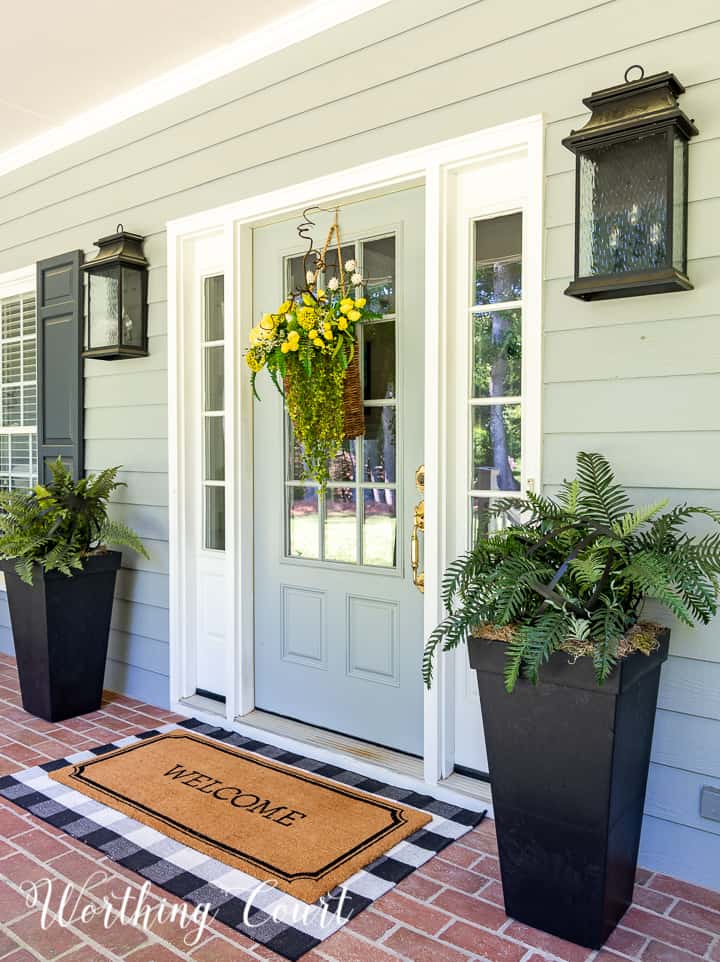 Keep it Clean and Tidy
Finally, make sure to keep your porch clean and tidy throughout the summer. Sweep away any dirt or debris, and hose down any furniture or decor that may have gotten dirty. By keeping your porch clean and well-maintained, you'll be able to enjoy it all summer long.
More Front Porch Ideas:
Porches always play a large role in summer living, and they're an essential part of any front porch design. The ideas we've mentioned above are just a few suggestions when it comes to making your own front porch as beautiful and inviting as possible.
With these tips, you can transform your front porch into a summer oasis that you'll love spending time in. So, grab a cold drink, kick back, and enjoy the summer breeze on your newly styled porch. I hope that you've enjoyed these great summer front porch ideas and that they'll serve as inspiration for you to create your own unique space.
Until next time,
BEST SELLERS