Discover 10 rustic fall decorating tips to bring warmth and charm to your home this season. Embrace the cozy atmosphere with natural elements, warm textures, earthy colors, and seasonal scents. Create a haven that celebrates the beauty of autumn and invites relaxation and enjoyment.
Disclaimer: this post may contain affiliate links, and every purchase made through these links will give me a small commission (at absolutely no extra cost for you!) AS AN AMAZON ASSOCIATE AND REWARDSTYLE MEMBER, I EARN FROM QUALIFYING PURCHASES. See Privacy Policy for additional info.
As the crisp autumn breeze begins to sweep across the landscape, it's the perfect time to bring warmth and coziness into our homes. Fall is a season that lends itself to rustic and earthy aesthetics, celebrating nature's beauty while encouraging us to slow down and appreciate the simple things in life.
Rustic decor has an inherent charm that lends itself beautifully to the autumnal season. Its natural elements, warm textures, and earthy color palette create a sense of coziness and tranquility that perfectly complements the changing landscape outside.
By incorporating rustic fall decorating tips into your home, you can create a haven that embraces the essence of the cozy season, welcoming you and your loved ones with open arms.With these ten rustic fall decorating tips, you can infuse your space with charm, comfort, and the colors of the season
Rustic Fall Decorating Tips:
Start with Natural Elements
Nature generously provides an abundance of inspiration during the fall season. From the velvety reds and fiery oranges of changing leaves to the texture of acorns and pinecones that litter the ground, there are endless opportunities to incorporate natural elements into your decor. Whether you arrange an assortment of colorful leaves in a wooden bowl, add a touch of whimsy with pinecones scattered on a mantel, or display branches of dried foliage in a vase, these rustic accents will lend an authentic touch to your space.
Warm Textures and Fabrics
Introduce cozy textures that invite warmth and comfort. Opt for soft and knitted throw blankets, plaid or faux fur accent pillows, and vintage-inspired rugs to create a snug atmosphere that instantly puts you at ease. When the temperatures begin to drop, it's time to introduce warmth and comfort to our interiors through textures and fabrics. Incorporate soft and knitted throw blankets on your sofas or armchairs, inviting you to curl up with a good book and a cup of steaming hot cider. Plaid or faux fur accent pillows add a touch of luxury and coziness, while vintage-inspired rugs create a warm and inviting atmosphere underfoot.
Earthy Color Palette
Fall brings with it a rich and alluring color palette, inspired by the changing hues of leaves and the mellow sunlight that filters through the trees. Fall is synonymous with warm, earthy tones. Incorporate hues such as deep oranges, rustic reds, golden yellows, and rich browns into your decor. Use these colors in your pillows, curtains, table runners, and other accessories to create a cohesive fall-inspired look.
Warm Lighting
Nothing sets the mood quite like the soft glow of candles and warm lighting. As the days grow shorter, be sure to create a cozy ambiance by incorporating candles into your fall decor. Arrange candlesticks or pillar candles of varying heights on your mantel, dining table, or bathroom counter. For an even more enchanting touch, consider using string lights or lanterns to cast a gentle glow throughout your space. The flickering flames and warm illumination will instantly create an inviting and relaxing atmosphere.
Seasonal Centerpieces
A well-crafted centerpiece can serve as a captivating focal point in any room. During the fall, take advantage of the bountiful harvest and create centerpieces that pay homage to the season. Combine elements such as pumpkins, gourds, wheat stalks, or mason jars filled with autumn flowers to capture the essence of fall. Place these exquisite arrangements on your dining table, entryway console, or coffee table, and let the beauty of nature take center stage. I love farmhouse fall decor florals and greenery for my centerpieces!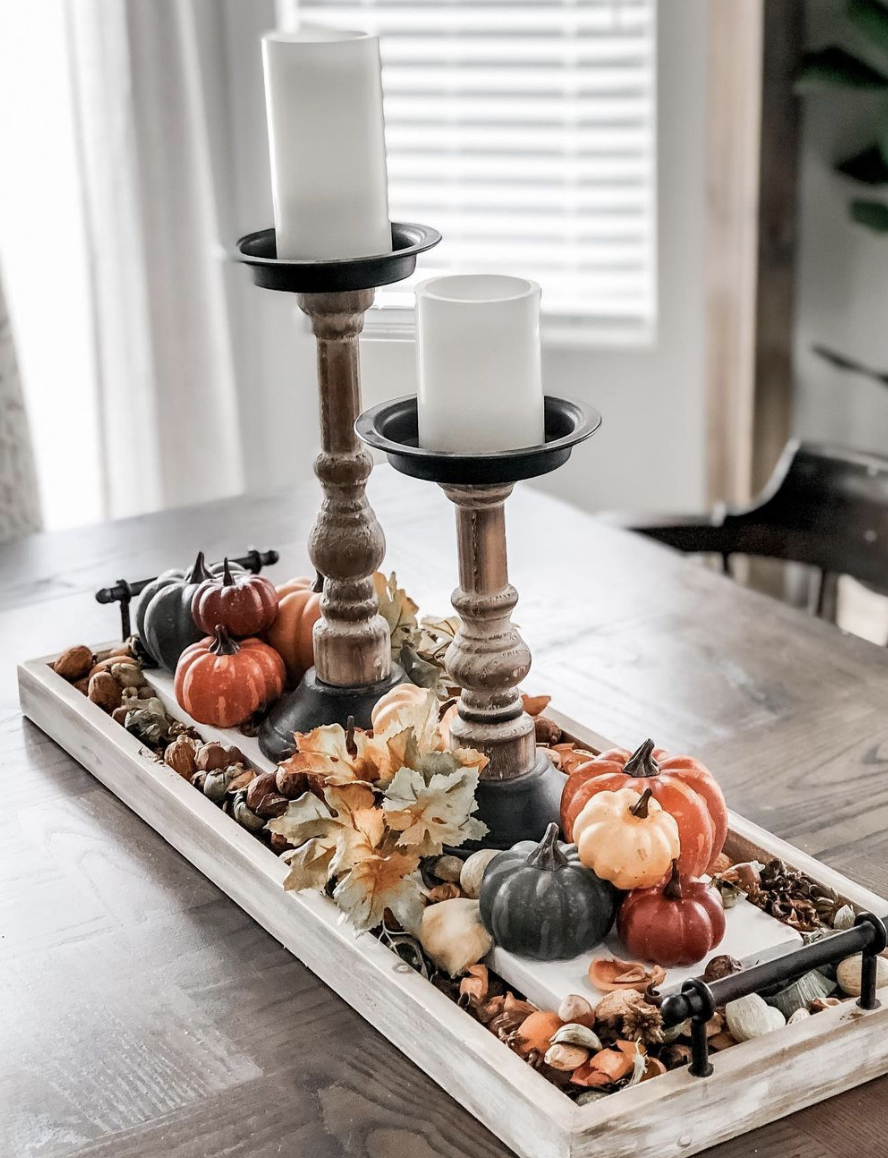 Rustic Table Settings
Fall is a time for hearty meals and festive get-togethers. Elevate your fall entertaining by incorporating rustic elements into your table settings. Opt for wooden chargers or placemats made of natural fibers to create an earthy foundation. Layer your table with burlap or linen table runners, setting the stage for a warm and inviting gathering. Add the finishing touches with vintage-style flatware, hand-painted ceramic dishes, and delicate seasonal accents that bring your table to life.
Wreaths & Garland
Don't limit your fall decor to just the tabletops and mantels; extend it to your walls and doorways as well. Wreaths and garlands made from dried flowers, twigs, and berries not only add an instant rustic charm, but they also create a warm and welcoming entrance. Hang a beautiful fall wreath on your front door to greet guests with the sights and scents of the season. Line your stair railings with garlands intertwined with string lights or add them to your fireplace mantel to create a captivating and nature-inspired display. I also drape my fall leaves garland to create and easy DIY fall mantel in our living room!
Farmhouse-inspired Accents
One of the most popular (and my favorite) rustic decor styles is farmhouse-inspired. With its weathered wood, galvanized metal, and distressed finishes, this aesthetic evokes a sense of simplicity, comfort, and nostalgia. Introduce farmhouse-inspired accents into your fall decor by incorporating these elements into furniture pieces, mirrors, frames, or wall art. With the addition of these rustic touches, your space will exude the warmth and charm of a cozy country retreat.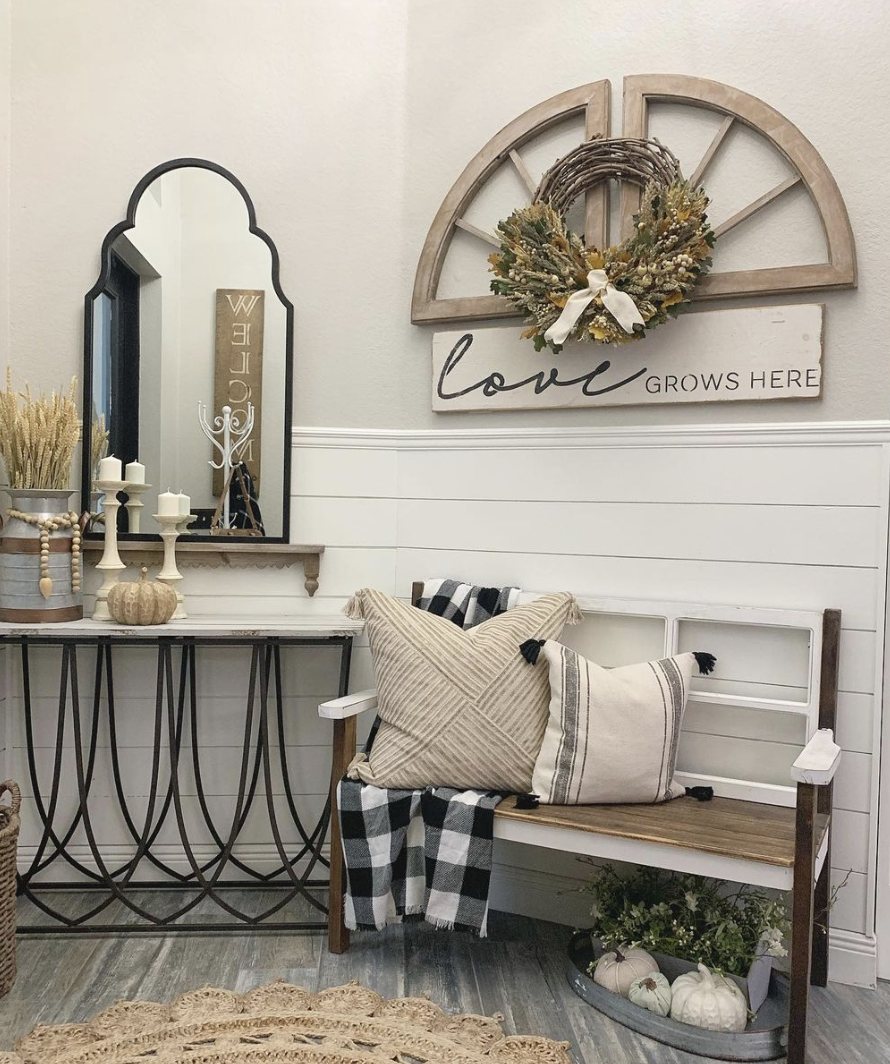 Cozy Reading Nook
Fall is the perfect time to indulge in a good book or spend an afternoon lost in your thoughts. Create an inviting and cozy reading nook in your home, dedicated solely to escaping the outside world and immersing yourself in the pages of a favorite novel. Start with a plush armchair or loveseat, complete with a soft throw blanket draped over it. Ensure there is enough lighting with a floor lamp, allowing you to lose yourself in your chosen literature. Add a small side table to hold your favorite book and a warm cup of tea, and you have the perfect nook for relaxation and contemplation.
Seasonal Scented Candles
A well-decorated space includes not only visually appealing elements but also ones that engage our senses. As fall ushers in the season of pumpkin spice and cinnamon, why not choose scented candles that embody these aromas? Look for candles with fragrances like pumpkin spice, cinnamon, vanilla, or apple cider. Not only will they add a delightful scent to your space, but they will also enhance the cozy atmosphere you have created with your rustic fall decor.
With these ten rustic fall decorating tips, you can transform your home into a cozy haven that embraces the beauty of the season. From natural elements to warm textures and earthy colors, every detail contributes to the overall ambiance.
So why not embrace the rustic charm of fall and create a space that invites relaxation and comfort during this magical time of year? If you have time, jump into making easy DIYs and crafts, there are a ton of ideas on Pinterest for rustic fall decor ideas and more!
More Rustic Fall Decorating Tips:
Until next time,
BEST SELLERS