Discover the hottest trends for fall decor in 2023. From bold jewel tones to rustic accents, this blog post explores the top 10 ways to elevate your autumn ambiance and create a stylish retreat in your home for the upcoming season. Stay ahead of the curve and infuse your space with the latest fall decor trends.
Disclaimer: this post may contain affiliate links, and every purchase made through these links will give me a small commission (at absolutely no extra cost for you!) AS AN AMAZON ASSOCIATE AND REWARDSTYLE MEMBER, I EARN FROM QUALIFYING PURCHASES. See Privacy Policy for additional info.
Hi beauties! Today we are talking all about fall decor trends for 2023. With the arrival of fall just around the corner, it's time to start thinking about how to update your home with the latest seasonal trends.
Fall is the season for warm colors, cozy blankets, and pumpkin spice everything. Fall is a season full of warmth, coziness, and vibrant colors, making it the perfect time to transform your living spaces into a welcoming and stylish retreat. With each year comes new trends and inspirations to add to your fall decor.
In this post, I will take you through the top 10 fall decor trends for 2023, so you can stay ahead of the curve and create a stunning autumn ambiance in your home. From bold jewel tones to rustic accents, we have gathered the most inspiring and innovative ideas that will elevate your fall decor game. So grab a cup of pumpkin spice latte, cozy up, and let's dive into the top 10 fall decor trends that will make your home the epitome of seasonal style this year.
Fall Decor Trends for 2023
Whether you enjoy a traditional autumn aesthetic or prefer to mix up your seasonal style, these 10 fall decor trends for 2023 are sure to inspire and delight.
Bold Jewel Tones
This season, bold jewel tones are the perfect way to add a pop of color to your decor. Deep emeralds, rich purples, and warm yellows are all great options. Mix and match these colors to create a sophisticated and colorful look.
Vintage-Inspired Patterns
Vintage-inspired patterns are a great way to add a touch of nostalgia to your fall decor. Whether it's tartan plaid, paisley, or damask, these patterns create a cozy, classic feel.
Neutral Textures
Neutral textures are always in style and perfect for any season. Think chunky knit blankets, burlap pillows, and linen curtains paired with earthy fall accents like pumpkins and branches.
Rustic Accents
Rustic accents like reclaimed wood, galvanized metal, and weathered lanterns are perfect for creating a cozy and inviting fall atmosphere. They add an element of warmth and texture to any space.
Botanical Prints
Botanical prints are a wonderful way to add a touch of nature to your fall decor. Look for prints featuring fall foliage or botanical motifs in rich colors like burgundy and olive green.
Moody Florals
Moody florals are a trend that continues to be popular year after year. This fall, try pairing dark florals with earthy fall tones like burnt orange and mustard yellow for a stunning seasonal display.
Black and White
Black and white is a timeless color combination that works well in any season. This fall, incorporate bold black and white patterns, such as stripes or checkerboard, into your decor.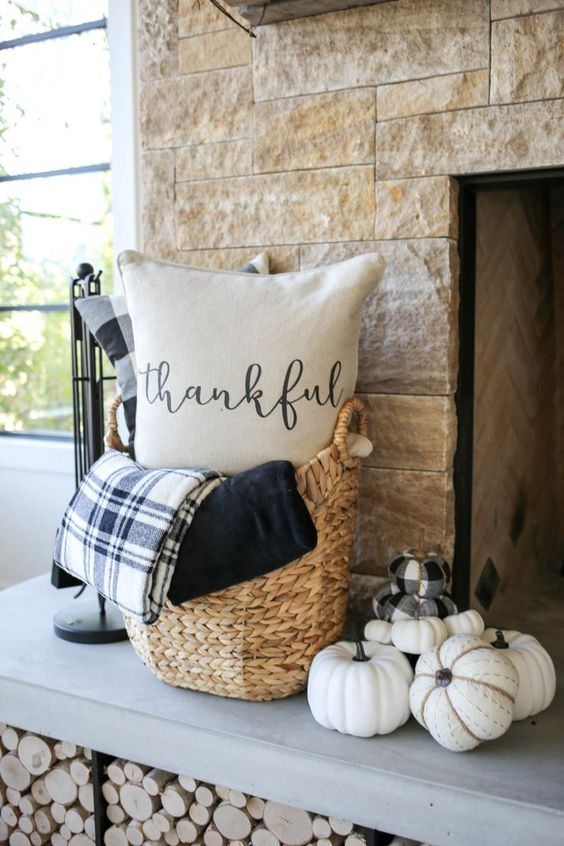 Warm Metallics
Warm metallics like copper and gold add a touch of glam to any fall decor. Incorporate these metals into your space through accents like candle holders, picture frames, or wall art.
Natural Elements
Fall is all about natural elements like wood, stone, and leather. Incorporating these materials into your decor through furniture, accent pieces, and decor can add a touch of warmth and texture to your space.
Graffiti Art
Graffiti art is a bold trend that is perfect for adding an unexpected edge to your fall decor. Look for graffiti-inspired prints and artwork to add a unique touch to your spaces.
Whether you prefer classic autumn decor or enjoy trying new trends, these fall decor ideas are sure to inspire your creativity this season. I hope you enjoyed this post all about Fall Decor Trends for 2023! Which trend is your favorite? Let me know in the comments below!
Until next time,
More Fall Decor Trends for 2023 Posts:
BEST SELLERS