2 Ingredient Chocolate Rice Krispie Bites; A simple healthy dessert treat that is vegan, dairy free and guilt free! Made with only two ingredients, chocolate and brown rice krispie cereal! Recipe card below post.
Disclaimer: this post may contain affiliate links, and every purchase made through these links will give me a small commission (at absolutely no extra cost for you!) AS AN AMAZON ASSOCIATE AND REWARDSTYLE MEMBER, I EARN FROM QUALIFYING PURCHASES. See Privacy Policy for additional info.
For any of you health freaks out there, or anyone who is trying to make a come back after indulging over the holidays, this is the recipe for you! So simple, yet so delicious. Will satisfy your sweet tooth without packing on the extra calories and sugar! YOU NEED TO TRY THIS RECIPE. So much delicious chocolate flavor! Not quite a classic chocolate rice krispies treat, just a healthy alternative!
The best part about this recipe is that you can make a huge batch, keep them in the freezer and then pull them out when you are in need of a sweet treat fix.
Staying healthy or trying to lose weight can be so hard. Especially after the holidays when your body is just so use to getting all that sugary goodness on the regular. So having a healthy sweet treat option on hand is the best way to get yourself back on track.
For any chocolate lover out there, you will love this recipe. Just marshmallow mixture free!
So without making you wait any longer, lets dive into it now shall we?!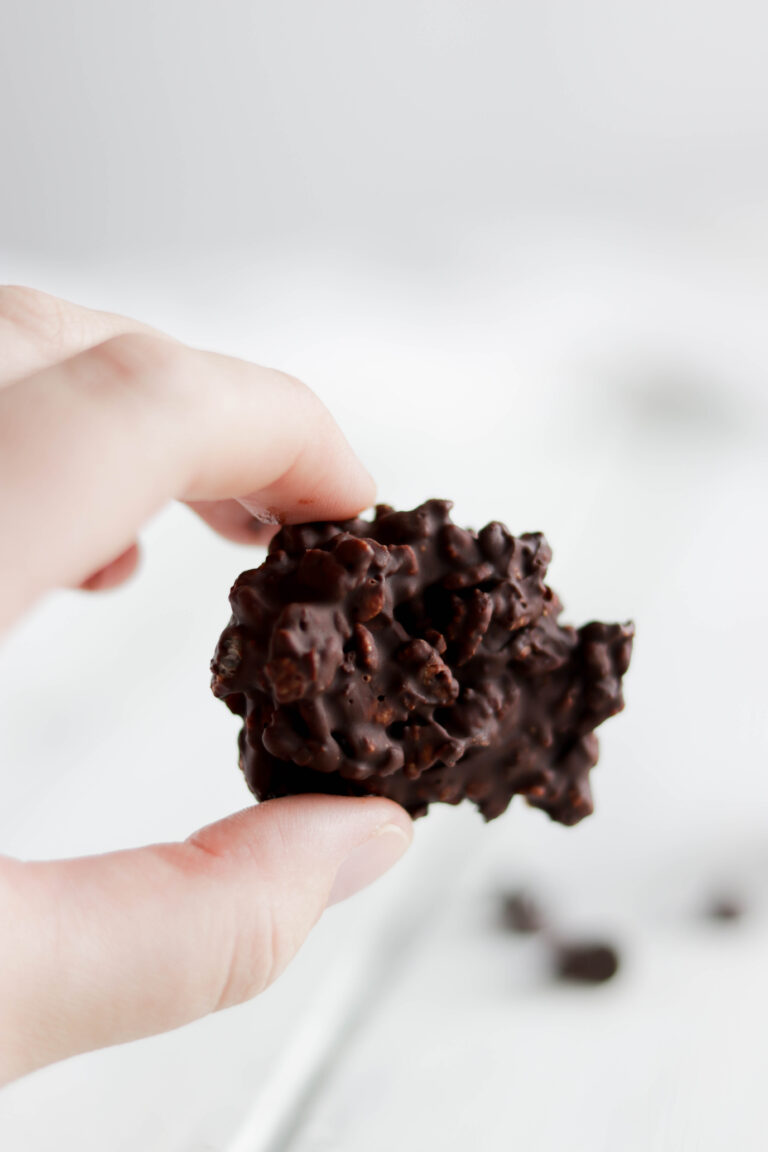 Chocolate Rice Krispie Bites Ingredients:
Dark Chocolate (chips or squares will work): I used a dairy free dark chocolate which I LOVE. It does have a strong chocolate taste to it though so if you do not like dark chocolate or do not need this recipe to be vegan/dairy free, you can totally use any regular chocolate! You can definitely use mini chocolate chips.
Brown Rice Krispie Cereal: You can either use the regular Rice Krispie cereal or you can go the healthy root with an organic rice cereal. Either will work for this recipe. I used the regular brown Rice Krispie Cereal because that is what I had on hand! Feel free to try cocoa krispies for extra chocolate flavour!
That is literally it. No joke. That is all you need to make these delicious chocolate bites!! I was not lying when I said they are too easy not to make! You do not need any mini marshmallows for this recipe. The chocolate rice krispies stay together great.
How to Make These Chocolate Rice Krispie Treats:
Melt your chocolate. I have been trying to avoid using the microwave so much. I melted my chocolate in a large saucepan on the stove. Medium-low heat Yes it takes longer then using the microwave but it worked just as well!
Stir in your rice cereal. I started adding only half the amount of rice cereal needed in the recipe, then fold it in with spatulas until the rice cereal was completely covered, then add in the remaining amount. It just worked better for me this way but if you want to add it all at once then go for it my friends!
Place on a lined baking sheet. No comment here, just do it haha
Freeze: place your lined baking sheet with parchment paper in the freezer for 30 minutes or until the bites are completely hard.
Store: I transferred them into an airtight container and put them back into the freezer or fridge for easy access! If you want to keep them out, they may melt a little depending on the chocolate you used. Do not keep them at room temperature or they will likely melt. You may want to use plastic wrap as well if you want to save them from freezer burn.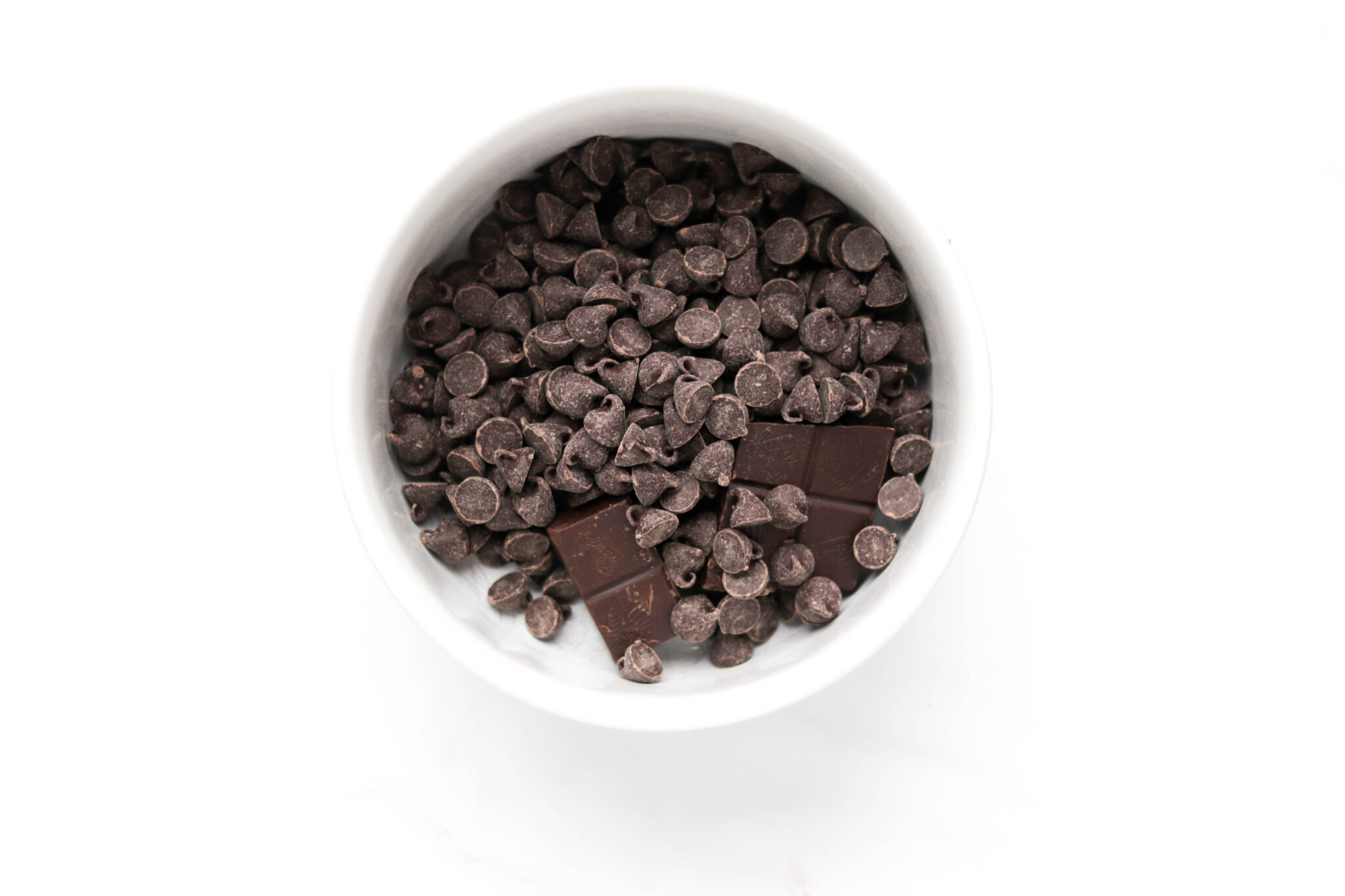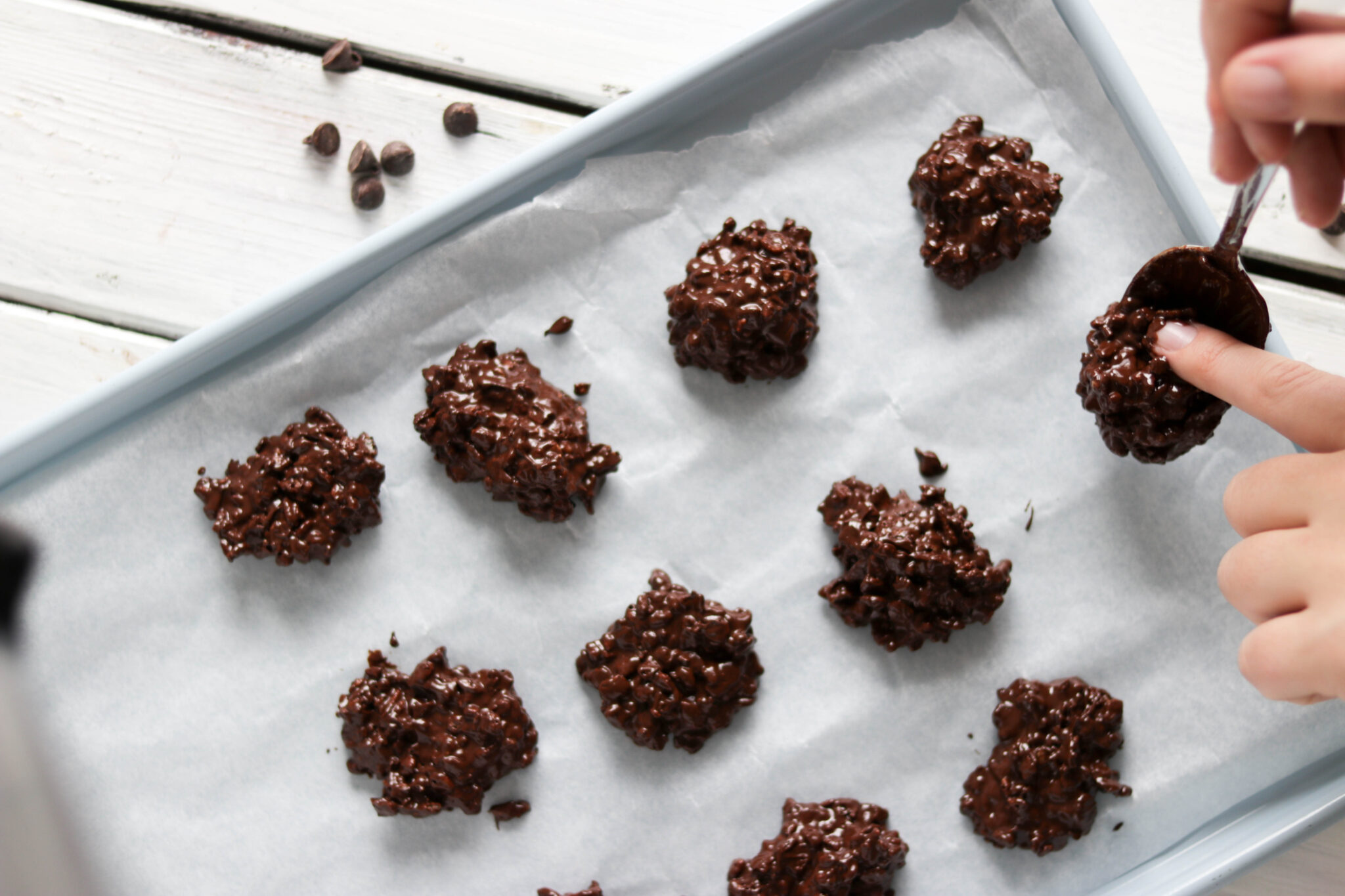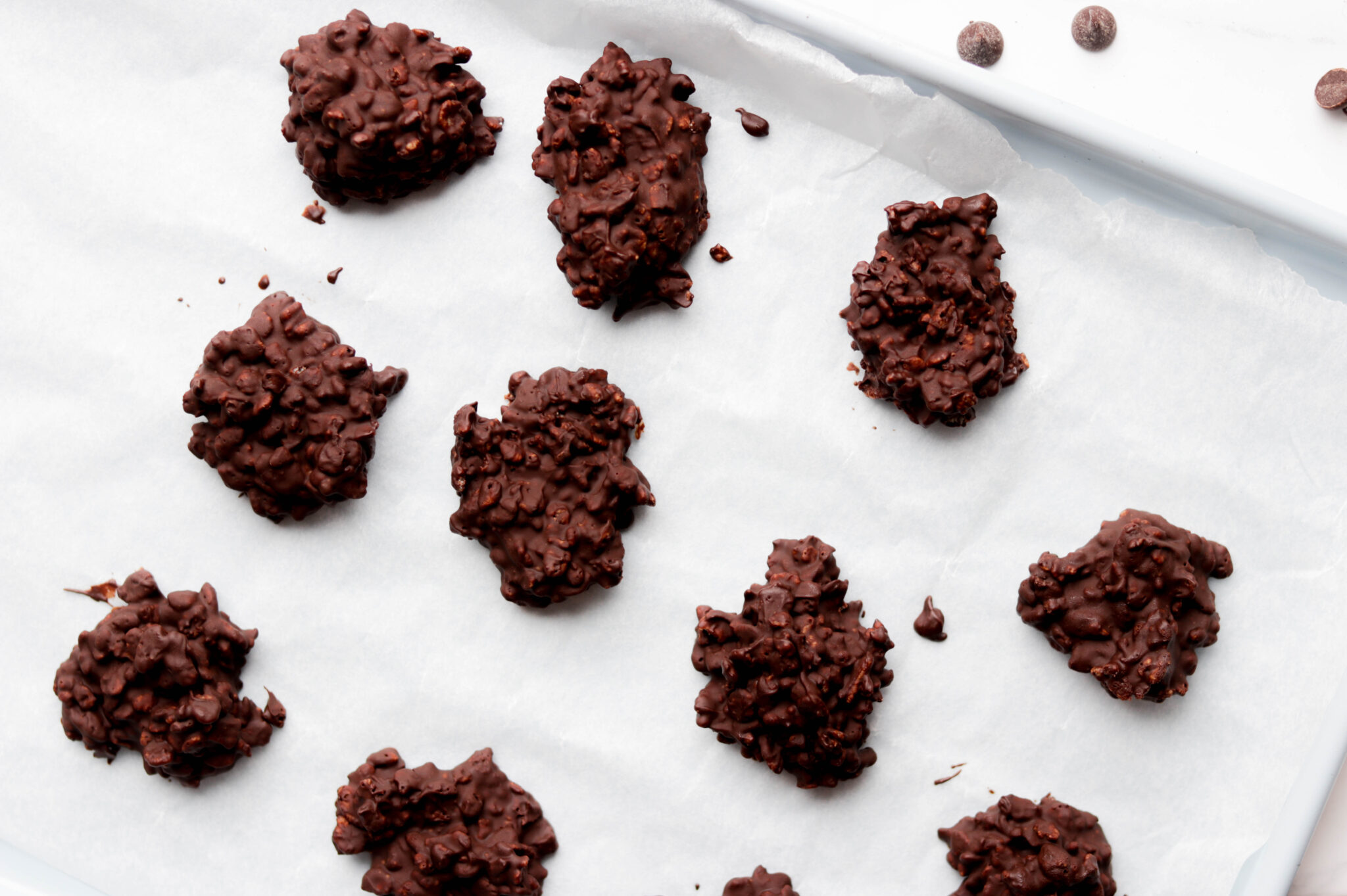 If you want to make these treats a bit more fancy you can add in vanilla extract, extra unsweetened cocoa powder, whole semisweet chocolate chips or sprinkle the tops with sea salt.
More Easy Healthy Desserts:
If you liked this recipe, make sure you check out some of my other easy healthy dessert and treat recipes:
If you have any questions about this recipe, leave it in the comment section below and I'll make sure to get back to you on it!
If you make any of my recipes please tag your photos with #nikkisplate so I can see your beautiful creations! Any feedback in the comments below is greatly appreciated. I hope you have fun! hare this delicious recipe with the rest of Pinterest, Facebook and instagram world! Also make sure to follow my account to see when I post new recipes or home inspired content at Nikki's Plate.
Until next time,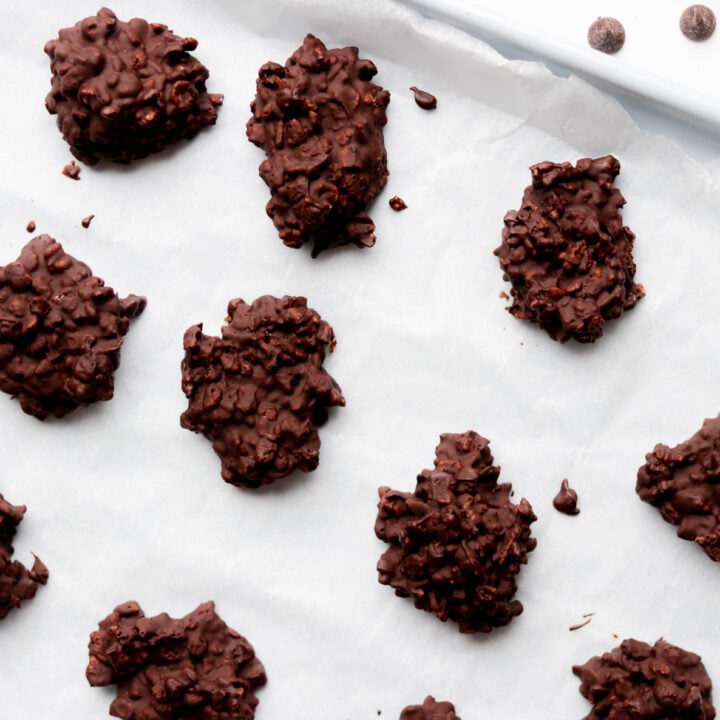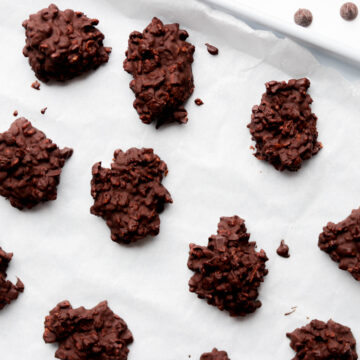 2 Ingredient Chocolate Rice Krispy Bites
A simple healthy dessert treat that is vegan, dairy free and guilt free! Made with only two ingredients, chocolate and brown rice krispie cereal!
Instructions
Melt chocolate in a medium size bowl.

Stir in rice krispie cereal. Make sure it is well combined.

Scoop bite size spoonfuls onto a lined baking sheet.

Place baking sheet into freezer for 30 minutes. Once frozen, serve or keep in an air tight container in the freezer to enjoy later!
BEST SELLERS