Mirror above fireplace ideas; Looking for inspiration to spice up your fireplace decor? Here are 35 mirror above fireplace ideas! From traditional to modern designs, I've got you covered with creative ways to reflect your personal style.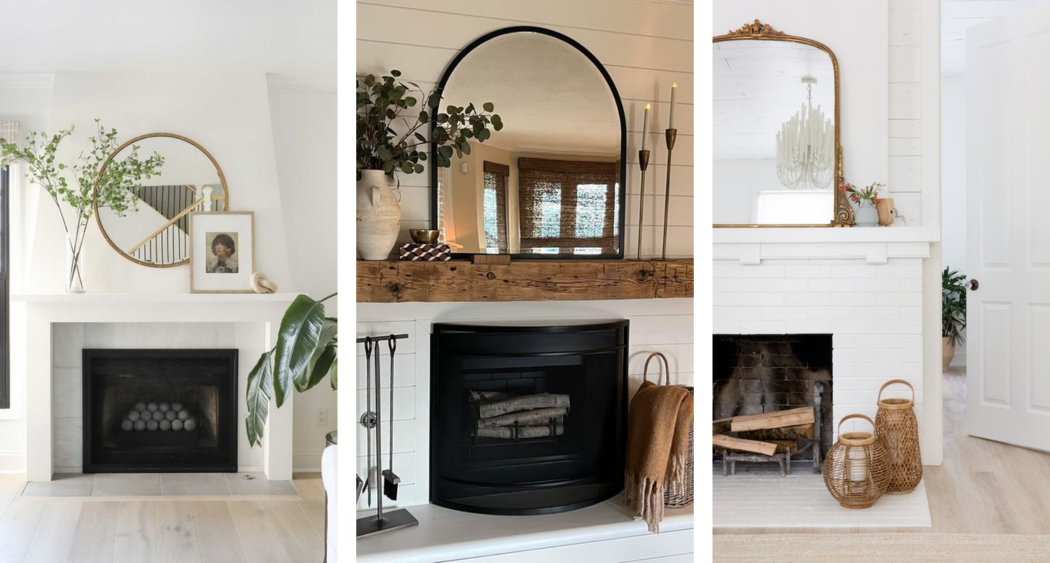 Hi beauties! Today I have so many Mirror Above Fireplace Ideas for you to check out!! Adding a mirror above your fireplace can greatly enhance the ambiance and visual appeal of your living space. Whether you have a traditional, modern, or eclectic style, there are endless possibilities for incorporating a mirror above your fireplace.
Not only do mirrors create a stunning focal point, but they also reflect light, making your space appear larger and more inviting. And of course, don't hesitate to play with different sizes, shapes, and finishes to find the perfect mirror that reflects your personality and complements your existing interior design.
So, if you're looking to elevate your fireplace decor, let's dive into these Mirror Above Fireplace ideas and discover how a mirror can transform your living room. Skip the tv above the fireplace and try a mirror! Let your imagination run wild as we explore this compilation of 35 mirror above fireplace ideas!
Here are 35 Mirror Above Fireplace Ideas:
When it comes to placing a mirror above your fireplace, there are numerous design options to consider. One of the key benefits of installing a mirror above your fireplace is its ability to reflect natural light and create an illusion of extra space. It's amazing how such a simple addition can bring a significant transformation to your fireplace area! Let's jump into these Mirror above fireplace ideas now!
Parisian-inspired Above Fireplace Mirror
Beyond the aesthetic appeal and functional benefits, mirrors above fireplaces can be an opportunity to showcase your personal style and creativity. If you have a penchant for vintage decor, consider a unique antique mirror with intricate detailing and patina like this one!
Simple Black Rimmed Mirror Above Fireplace Ideas
This large black rimmed mirror is tastefully positioned above a majestic fireplace, creating a captivating focal point in the room. The bold black frame enhances the mirror's presence, adding a touch of drama and sophistication to the overall aesthetic. This stunning combination of the black rimmed mirror and the cozy fireplace creates a harmonious blend of modern elegance and timeless charm, instantly captivating the attention of anyone who enters the room.
Extra Tall Mirror on Mantle
This extra tall mirror is placed above a fireplace in a bright and airy living room for a beautiful look. The mirror stretches from the floor to the almost ceiling, creating a sense of grandeur and making a striking statement in the space. Its sleek and minimalistic design seamlessly blends with the surrounding decor, allowing the mirror to take center stage without overpowering the room.
Round Mirror Layered on Mantle
A small round mirror is artfully layered on the fireplace mantle, surrounded by delicate greenery and a picture frame. The mirror's petite size adds a touch of elegance and whimsy to the space, creating a captivating focal point. Its reflective surface beautifully captures and enhances the natural light, casting a soft and enchanting glow throughout the room.
Brass-framed Vintage Mirror
Get ready to add a dash of style and Easter festive cheer to your fireplace! With a mirror above the mantel, you have the perfect canvas for everyday and holiday styling. But wait, there's more! Imagine a beautiful foliage wreath, hanging gracefully on the mirror, creating a captivating focal point that instantly brings the holiday spirit into your home. With this charming setup, your fireplace becomes a showstopper, a conversation starter, and a place where cherished memories are made.
Brass Metal Frame Mirror Above Fireplace
This large mirror in a sleek brass metal frame is here to steal the show. Its oversized dimensions demand attention, making it the perfect piece to sit proudly on a mantel or lean against the wall. And oh, did we mention its arched design? Talk about adding a touch of timeless elegance!
Bedroom Arch Black Metal Mirror
A large arch black metal mirror is positioned above the fireplace in a New York bedroom, creating a stunning focal point in the space. The mirror's arched shape adds an architectural element, complementing the city's iconic skyline that can be seen through the nearby window. Its sleek black metal frame contrasts with the surrounding white walls, creating a striking visual contrast.
Simple Round Mirror
Stylish and contemporary, this round mirror above the fireplace is a stunning addition to any space. With its essential shape and slim black frame, it exudes a timeless and versatile aesthetic that effortlessly blends with various interior styles. The mirror's clean design and understated elegance make it a perfect focal point, reflecting both natural and artificial light to create a sense of expansiveness and brightness. Its round shape adds a touch of softness and harmony to the room, while the black frame adds a modern edge and sophistication. Perfect for above this fireplace!
Black Arch Mirror Above Fireplace
Capture the rustic charm of farmhouse fireplace vignettes through an arch mirror that embodies timeless beauty. The slim black frame adds a contemporary twist to this traditional design, creating a striking visual contrast. The mirror's subtle beveled edges add a touch of sophistication and quiet elegance, enhancing the overall appeal of the room. Its arch shape evokes a sense of vintage charm, reminiscent of old barn doors or antiqued windows, infusing the space with a cozy and inviting atmosphere. 
Vintage Mirror
Step into a world of whimsy and romance with this delightful vignette. The floral painting, playfully layered in front of the stately vintage mirror, creates a captivating display that transports you to a dreamy garden. The intricate brass framing of both pieces not only adds a touch of sophistication but also creates a sense of unity and regality. It's as if the mirror and painting were destined to be together. To amp up the charm even more, brass candlesticks and fall florals are thoughtfully arranged around the vignette, adding a festive and warm touch.
Mirror And Florals
A magnificent large brass mirror takes center stage above a beautifully adorned fireplace. The mirror's lavish frame radiates a sense of opulence, while its oversized dimensions command attention. Nestled on the mantelpiece, an exquisite floral arrangement bursts with vibrant colors, creating a harmonious and eye-catching contrast against the shimmering brass.
Chippendale-Style Design Mirror
Traditional rustic vibes come to life with the incorporation of an old-world inspired mirror above a cozy fireplace. The large rectangular mirror boasts a breathtaking Chippendale-style design, complete with a dark wood frame, intricate carvings, and a striking broken pediment top crowned with a central finial. The mirror's rustic charm evokes a sense of warmth and history, transporting viewers to a bygone era filled with tales of adventure and romance. Positioned above the fireplace, this striking mirror adds depth and character to the space, transforming it into a cozy nook that exudes timeless elegance and natural beauty.
Layering Mirrors Above Fireplace
A stunning white fireplace adorned with three layered mirrors and a gorgeous floral garland draped across the mantel. The chic white fireplace provides a sleek, modern touch to the space, while the mirrors add a sense of depth and reflect the natural beauty around the room, illuminating every corner with a dazzling glow. The exquisite floral garland is the perfect finishing touch, adding a pop of color and texture that draws the eye in and elevates the atmosphere to one of pure charm and serenity.
Mirror on Shiplap Fireplace
A sense of farmhouse beauty is captured by the arched mirror placed on a white shiplap fireplace. The simplicity of the white shiplap creates a clean and crisp backdrop, allowing the arched mirror to take center stage. The mirror's elegant arched shape adds a touch of sophistication to the space, while its reflective surface enhances the natural light, creating a bright and airy ambiance. The combination of the arched mirror and white shiplap fireplace creates a harmonious blend of classic yet farmhouse aesthetics, making this photo a stunning example of elegant simplicity.
Vintage Mirror and Photo
This captivating photo showcases the importance of creating a coherent mantel vignette by matching above the fireplace mirrors with similar decor. The vintage mirror serves as a striking focal point, layered perfectly with a framed sepia sketch and elegant candlesticks in old-world style holders. The exquisite vintage mirror with its intricate frame design adds a touch of timeless elegance to the space while capturing reflections of natural light and expanding the visual space of the area. The sepia sketch and candlesticks complement the mirror's vintage charm, creating a perfect composition that balances traditional elegance with modern refinement, making this photo a stunning example of classic and chic design.
Cozy Bedroom Fireplace with Mirror
This charming photo showcases how a unique accent piece like a gold quatrefoil mirror can give a cottage-style bedroom a delightful twist. The clover leaf-inspired mirror with its metallic frame adds a touch of glamour that demands attention, perfectly set above the fireplace as the main décor piece. The mirror fits in seamlessly with the headboard wall accessories, creating a coherent design that balances modern chic with rustic charm. Overall, this photo is a perfect example of how a carefully selected accent piece can bring together a room's decor and add a touch of personality and individuality.
Oversized Mirror Above Fireplace
A captivating oversized mirror takes center stage above a cozy fireplace in a living room. The size and grandeur of the mirror instantly command attention, creating a focal point that draws the eye in. Its presence not only adds a sense of depth and space to the room but also reflects and amplifies the natural light, making the entire space feel brighter and more spacious.
Geometric Mirror
Choose a mirror with a stunning frame to elevate the luxurious atmosphere of your décor, with a design that seamlessly blends into contemporary and transitional interiors. This exquisite mirror, placed above the fireplace, showcases a captivating geometric shape and elegant inlaid beveled mirror edges. The mirror's sophisticated design enhances the mantel with a prismatic shine, creating a captivating visual effect.
Window Pane Mirror
This inviting photo showcases a charming black window pane mirror that has been placed on a mantle, instantly elevating the farmhouse vibes of the space. The mirror's rustic design and sleek black frame mimic the classic design of windowpanes, adding a touch of timeless elegance to the room. Its placement on the mantle creates a focal point that anchors the space and adds depth and warmth to the overall decor. And how cute are those photos!!
Thick Mirror Frame
By adding visual weight to a mantel, a thick mirror frame can create an eye-catching centerpiece on the fireplace. In this photo, an oval mirror with two wooden frames in a distressed finish has been placed on the fireplace wall. It's subdued aesthetic softly blends in with the white shiplap wall, creating a tranquil and inviting ambiance in the space. Overall, this mirror is a timeless and versatile decor element that adds both functionality and visual appeal to any room.
Round Mirror Above a Fun Fireplace
This captivating photo features a stunning gold-rimmed round mirror that has been placed above a funky tiled fireplace, creating an artful visual display. The mirror's warm and inviting gold frame adds depth and richness to the overall decor of the room. Its placement above the boldly patterned fireplace draws attention to the focal point of the space, creating a harmonious and stylish ambiance.
Letters and a Mirror
In neutral rooms, the addition of brass and gold tones brings a cozy and welcoming atmosphere. To achieve an elegant effect, consider pairing the mirror with another decor piece in a similar or contrasting metal finish, creating a harmonious and visually appealing display like in this photo!
Christmas Mantel with Mirror
This festive photo showcases a stunning Christmas mantel that has been adorned with a beautiful mirror, garland, and candlesticks. The mirror adds depth and reflection to the space, creating a captivating visual display. The lush green garland and flickering candlesticks bring warmth and coziness to the decor, making the mantel a welcoming and inviting focal point in the room. The bottom of the mirror rests peacefully on the mantle with other decor pieces to increase the visual appeal of the space.
Black Round Mirror Hanging Above Mantel
This captivating photo showcases a minimalist black round mirror that has been hung above a stunning mantel. The black mirror creates a striking contrast against the white fireplace and neutral decor of the room, drawing attention to the unique yet simple design. Its placement above the mantel adds depth and reflection to the space, creating an eye-catching and elegant display. SO many clean lines on a bare wall! Loving this look.
Transitional Fireplace Mirror and Decor
This photo features a transitional fireplace setting with a mirror and carefully chosen decor. The mirror serves as a focal point, reflecting light and adding a touch of sophistication to the space. The decor surrounding the mirror complements the transitional style, combining elements from both traditional and contemporary designs to create a harmonious and visually appealing arrangement.
Vintage Mantel Decor and Mirror
This captivating photo displays a charming display of vintage frames and a mirror. The vintage window frames bring a touch of nostalgia and character to the space, showcasing different shapes, and sizes. The mirror adds a touch of vintage glamour and reflection, enhancing the visual appeal of the vintage frames and creating a captivating focal point in the room.
Rustic Window Pane Mirror
Elevate the ambiance of a living room with a captivating arch mirror that exudes both charm and romance. The lattice design of the frame, reminiscent of a cathedral window, becomes an attention-grabbing focal point on the mantel. The distressed white paint complements the rustic brick wall flawlessly, creating a harmonious and inviting atmosphere.
Victorian style Mirror Above Fireplace
Embodying the timeless elegance of Victorian style, this beautiful wall mirror above a fireplace exudes charm and sophistication. The stunning iron frame boasts intricate and elaborate molding, adding a touch of opulence to any space. Such an authentic piece that will enhance the overall aesthetic and allure of the room.
Artful Mirrors and Florals
Elevate the aesthetic appeal of your fireplace with a chic combination of mirrors in different shapes and sizes. Try to create a cohesive vignette by adhering to a specific style. In this photo, two vintage-inspired mirrors are used to infuse a romantic charm into the fireplace area. A small round-leaf gold mirror is delicately layered in front of a larger mirror, which boasts jeweled details on its apex and edges. This artful arrangement adds a touch of elegance and visual interest to the overall space.
Wreath on a Mirror
A beautiful wreath elegantly hanging on a mirror, creates a charming focal point. The wreath's fall foliage and dull colors add a warming touch to the space. Completing the cozy ambiance, lanterns are carefully placed on the mantel, casting a warm glow from candles and adding a hint of rustic charm.
Heart Mirror Above Fireplace Mantel
Infuse a touch of love into your space throughout the year with a heart-shaped mirror positioned above your fireplace. The whimsical shape brings a playful element to a children's bedroom, while its soft gray hue seamlessly blends with the room's neutral palette, creating a soothing and harmonious ambiance.
Peacock-Style Wall Mirror
A stunning peacock-style wall mirror adorning the space above a fireplace, instantly becoming the focal point of the room. The mirror's intricate peacock feather design, with its vibrant and opulent colors, adds a sense of elegance and luxury to the surroundings. Its placement above the fireplace enhances the overall aesthetic, creating a captivating and visually appealing ambiance.
Vignette and Mirror
Create an eye-catching vignette on your mantel by pairing a tall mirror with a smaller piece of art. In this setting, a natural-toned mirror frame with straight lines harmoniously complements the vertical white wall panels, while the landscape artwork captures attention with its subtle yet captivating colors for an airy appeal. The combination adds a touch of visual intrigue and balance to the overall arrangement.
Wicker Style Mirror
A stylish wicker-style smaller mirror positioned above a fireplace instantly becomes the focal point of the room. The intricate wicker detailing adds a touch of natural texture and warmth to the space, creating a cozy and inviting atmosphere regardless of the ceiling height or wall space. The mirror's placement above the fireplace enhances the room's visual appeal, combining functionality with aesthetic charm.
Scalloped Corner Mirror
Instead of opting for a rectangular mirror, consider choosing a large mirror with scalloped corners. This unique mirror shapes style serves as a perfect alternative and seamlessly complements cottage-style, transitional, and farmhouse interiors. The scalloped corners add a charming and distinctive touch, effortlessly blending in with the overall aesthetic of the space.
There you have it folks! 35 Mirror above fireplace ideas for you to use as inspiration to style your own mantel! The possibilities are truly endless when it comes to choosing the perfect mirror above your fireplace. Whether you prefer a sleek and modern design, a vintage-inspired frame, or a statement piece with intricate detailing, there is something to suit every style and taste.
The mirror above the fireplace is not just a decorative element but also a functional piece that can enhance the overall ambiance of your living space. So go ahead, explore the 35 mirror above fireplace ideas, and find the one that truly reflects your unique personality and style. With the right mirror, you can transform your fireplace into a stunning focal point that will leave your guests in awe.
Until next time,