Avocado Sweet Potato Toast is a healthy gluten free and vegan breakfast or appetizer for anyone who loves guacamole! All wholesome and organic ingredients.
Disclaimer: this post may contain affiliate links, and every purchase made through these links will give me a small commission (at absolutely no extra cost for you!) AS AN AMAZON ASSOCIATE AND REWARDSTYLE MEMBER, I EARN FROM QUALIFYING PURCHASES. See Privacy Policy for additional info.
Don't have time to read this right now? CLICK HERE to Pin it to Pinterest for later!
Hi Beauties!
So I have a recipe for you guys that I have been obsessed with the few weeks. It is a sweet potato "toast" smothered in mashed avocado with hemp seeds and hot sauce (you know I love my hot sauce).
I am so obsessed with how delicious and simple this recipe is. I actually got the inspiration for this recipe from the instagrammer @choosing_balance. I absolutely love her profile and all of her dishes she shares. They certainly spark inspiration on my end! Make sure you check her out!
This was the first time I had ever tried sweet potato "toast". I keep putting toast in quotations because its not really toast at all.. When I see toast, I think of bread put into a toaster to make it crispy and warm. Which in a way is what we are doing with the sweet potato here..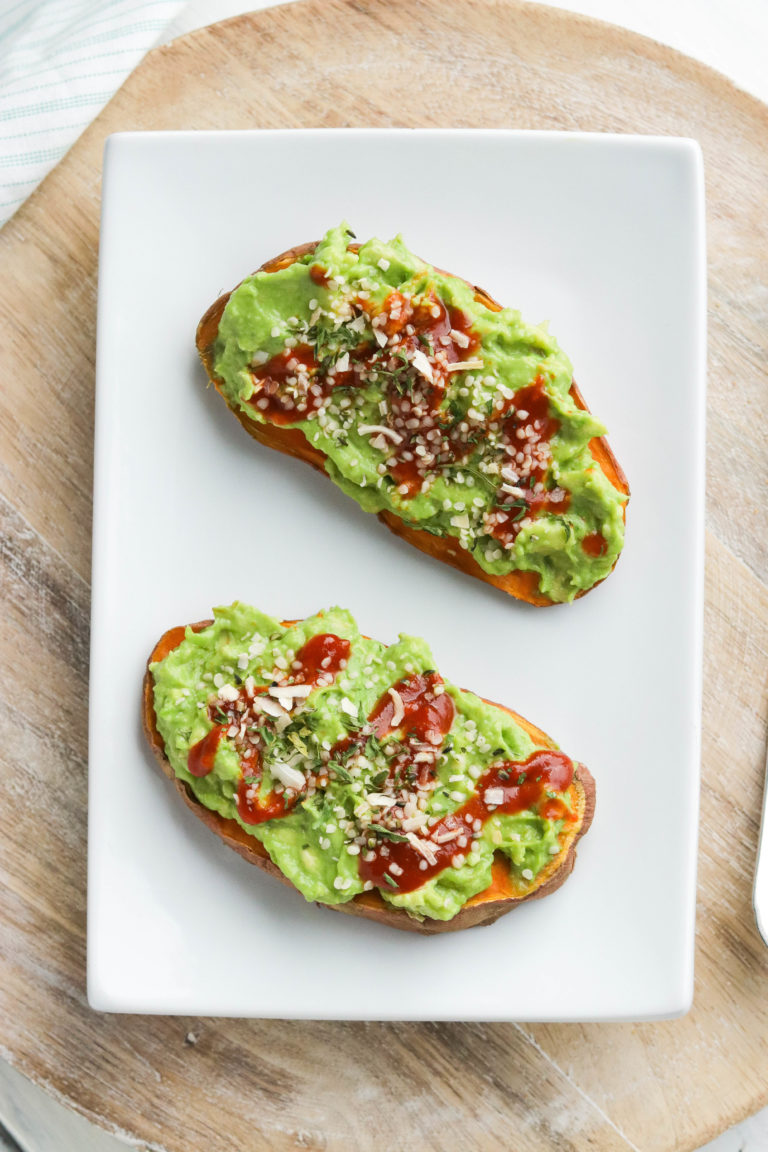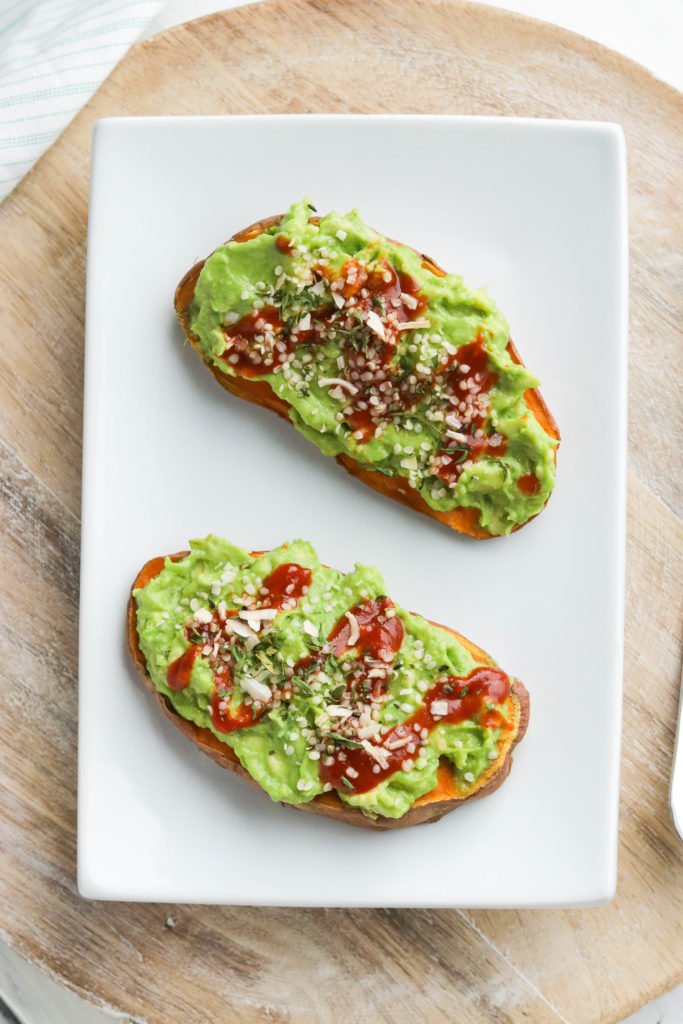 How To Make Sweet Potato Toast:
Slice sweet potato into ¼ inch thick slices long ways. You can heat your sweet potato in the microwave for 2 minutes before cutting to make it easier. Just be careful because the potato will be freakin hot!!
Lay out on a lined baking sheet. Sprinkle seasonings.
Bake in oven for 40 minutes at 400F
Left overs are stored in fridge. When your ready for another slice of toast, pull one out and throw it in the toaster!
It's literally that easy!
I make a big batch all at once so that I have left overs for the next few days. I love grabbing a piece and throwing it in the toaster to enjoy the next day.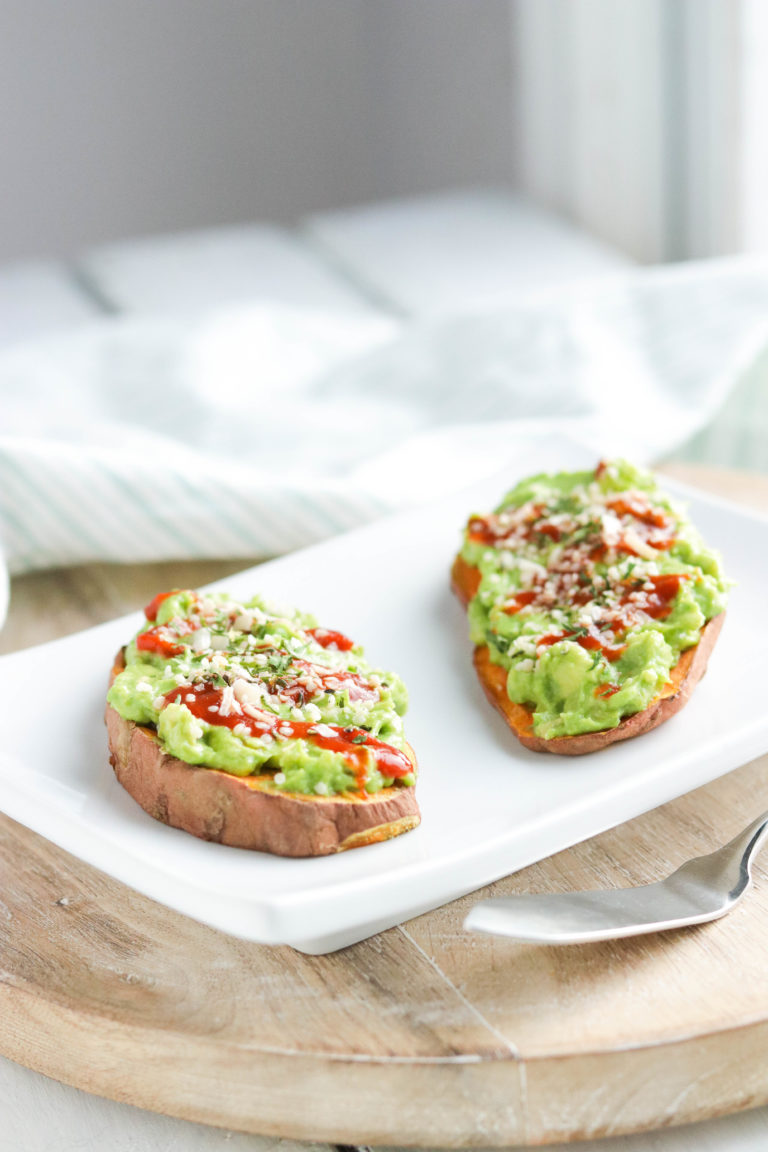 And of course I mocked the 'avocado mash on toast' hype by topping my sweet potato toast with it!
This is literally the most perfect combination.
Hemp seeds are also a must on top. I love hemp seeds. They add such a great plant based protein source too. They give the toast a little bit of a wholesome texture and even out the mashed texture of the avocado.
Why You Should Love Hemp Seeds Too:
Plant based protein
Rich in the amino acid arginine which can help reduce risk of heart disease
Contain all nine essential amino acids
High in fibre
Help you to feel fuller longer, repressing your appetite = weight loss
Contain healthy fats to keep your skin, hair and nails beautiful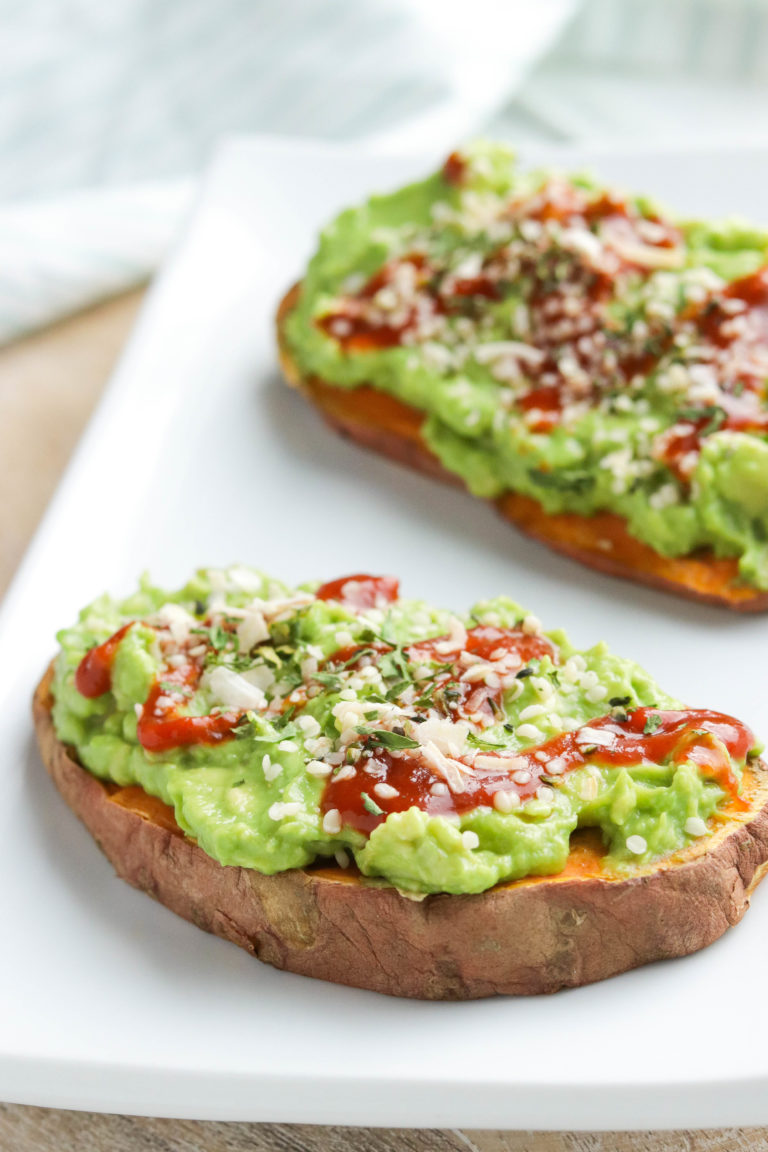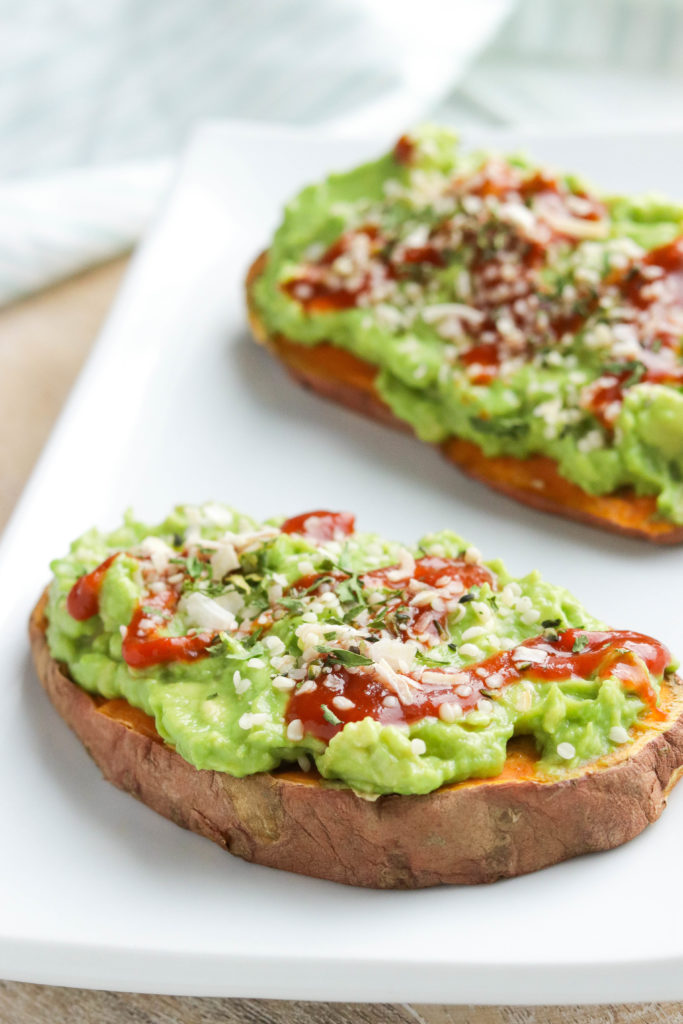 And of course you need a good hot sauce to top it all off. If your not a fan of hot sauce then what is wrong with you you can opt for other seasonings like salt and pepper or even garlic powder.
I use sriracha hot sauce (literally on everything). I found it works best here because it is more of a pasty texture so it doesn't make an outrageous mess.
Experiment with your toppings. You can even add different veggies like spinach or mushrooms. The options are endless!
I would love to see your creations so make sure you tag me in your social media posts with #nikkisplate !
I hope you enjoyed this recipe!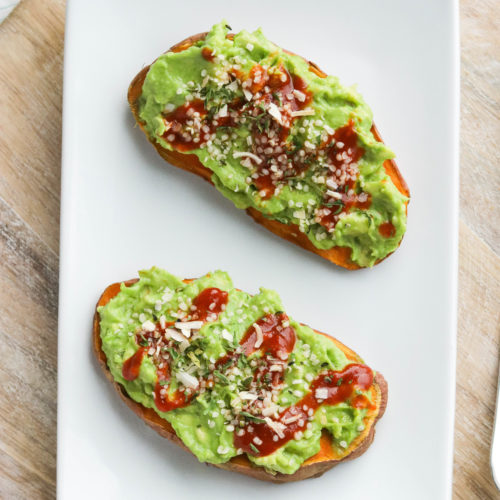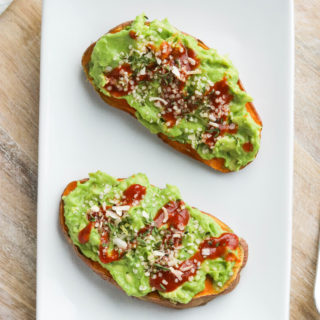 Avocado Sweet Potato Toast
Avocado Sweet Potato Toast is a healthy gluten free and vegan breakfast or appetizer for anyone who loves guacamole! All wholesome and organic ingredients.

Ingredients
2

Medium

Sweet Potatoes

2

Ripe

Avocado

2

tablespoon

Hemp Seeds

Hot Sauce

1

pinch

Salt and pepper

(optional)
Instructions
Preheat oven 400F. Line a baking sheet with parchment paper and set aside.

Slice sweet potato length wise. Lay out on parchment paper. Bake for 40 minutes, flip them over half way through.

While sweet potato baking, remove the skin and pit from the avocados. Mash the avocado in a bowl until smooth. You can leave it chunky if you prefer.

When sweet potatoes are cooked, cool for 10 minutes then top with the avocado. Drizzle hot sauce overtop. Sprinkle hemp seeds, salt and pepper.

Put extra sweet potato slices in an air tight container. Store in fridge for up to 5 days. When ready to use, remove from container and put in a toaster (like you would a piece of bread).
IF YOU LIKED THIS POST, YOU WILL LOVE THESE POSTS TOO:
BEST SELLERS