Plain Gluten Free Donuts; delicious easy vegan and gluten-free donuts. Healthier version of your favourite dessert and snack. Treat yourself to a soft, fluffy, oat flour donut. Refined sugar free!
Disclaimer: this post may contain affiliate links, and every purchase made through these links will give me a small commission (at absolutely no extra cost for you!) AS AN AMAZON ASSOCIATE AND REWARDSTYLE MEMBER, I EARN FROM QUALIFYING PURCHASES. See Privacy Policy for additional info.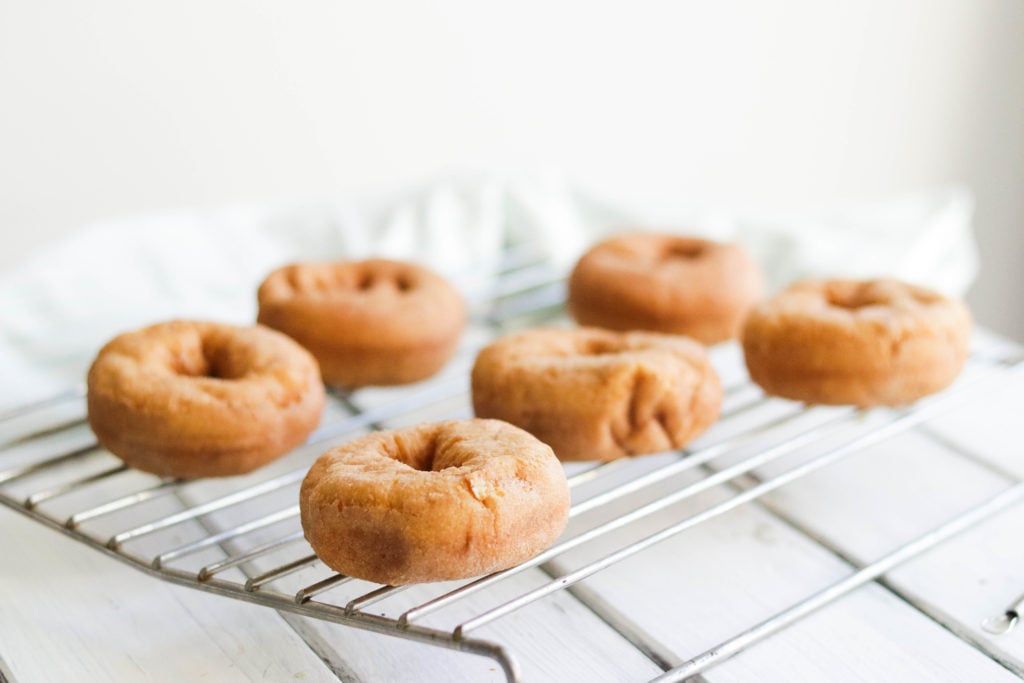 Hi Beauties!
Hope everyone is having a fantastic start to their week so far. I worked at the hospital all weekend so technically this is the start of my weekend hehe. What better way to start your "weekend" then with these delicious plain gluten free donuts.
Why plain? Why not throw in some kind of crazy ingredients to make these donuts stand out? or burst with flavour in your mouth?
Well, I figured I wanted to start super simple with my first donut recipe here on the blog. And I love coming across recipes on Pinterest or food gawker that are easy and adaptable. I love finding a recipe and thing "ohhhh this would be amazing covered in a chocolate glaze" or "adding coconut flakes and a lemon drizzle to these plain gluten free donuts could take them to the next level!"
SO here I am, delivering to you the most perfect plain and gluten free donut Pinterest has ever seen!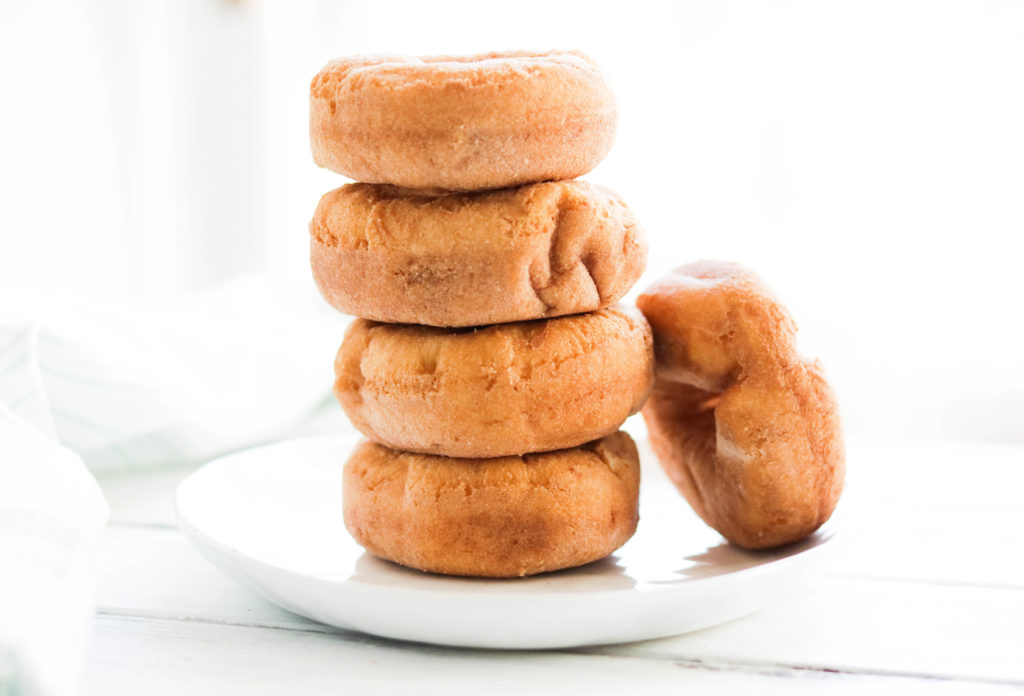 Glazed donuts are delicious don't get me wrong (may have already developed a glazed donut recipe that will blow your minds hehe). But I do find that glazed donuts can be a little hard to pack.. Any working parent knows that anything glazed in a lunch box can make SUCH a mess.. now I am not parent (YET) but I do back A LOT of lunches for myself.
For those who don't know, I am a registered nurse in the ICU at our local hospital. So I do have to pack a lot of lunches for myself, filled with tons of snacks (because those late night shifts always leave me with the munchies!). That being said, there is NOTHING I hate more then having a mess in my lunch bag. No matter how I pack glazed donuts or snacks, they always end in a messy situation. Which is why I think these plain gluten free donuts are such a sweet option to just throw in a ziplock bag or container and GO.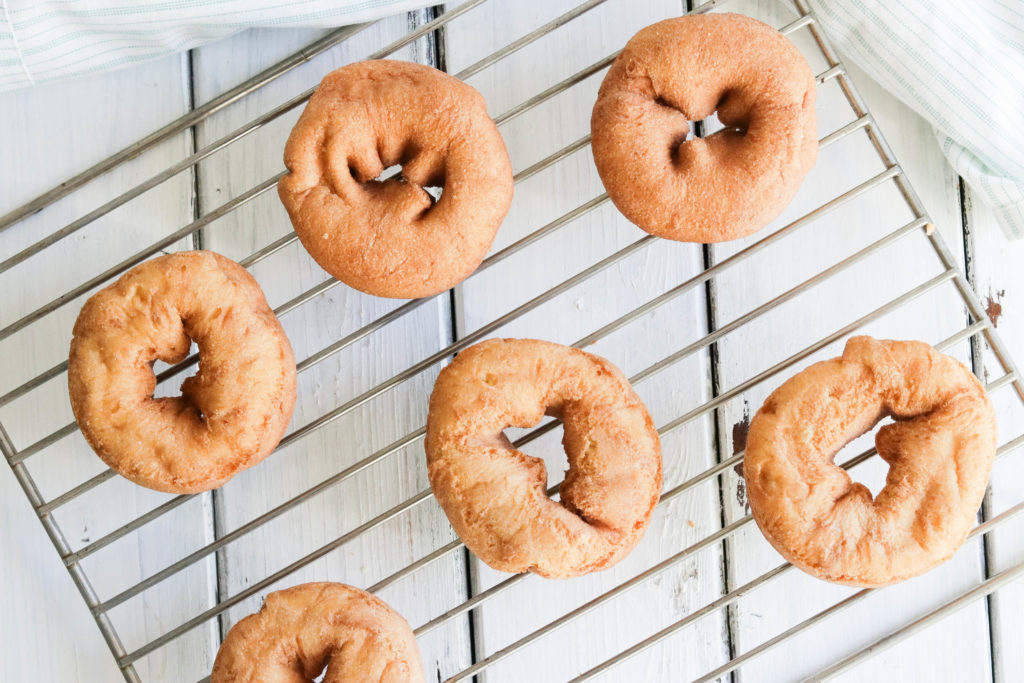 Now to be honest with you I don't have a muffin baking tin.. Which you can totally tell with these deformed donuts. I definitely am going to invest in one because I loved this recipe! I used a large muffin tin, rolled the dough into logs and put them into the muffin tin as if they were donuts. I promise the next donut recipe will be prettier! But hey you have to start somewhere right?!
I am currently looking to buy either the silicone donut pan or just the regular donut pan. I love the idea of having the silicone one for easy removed and cleaning but the regular ones are easier to store! And I'm not 100% if silicone baking pans are a healthy option. What type of baking pans do you prefer!?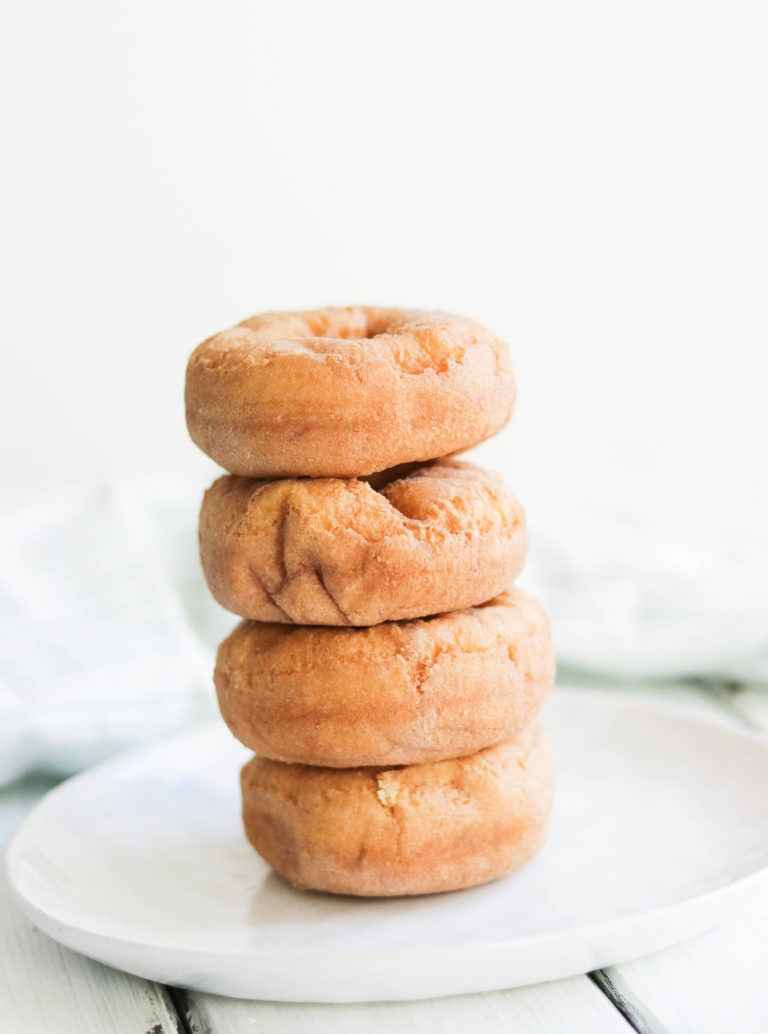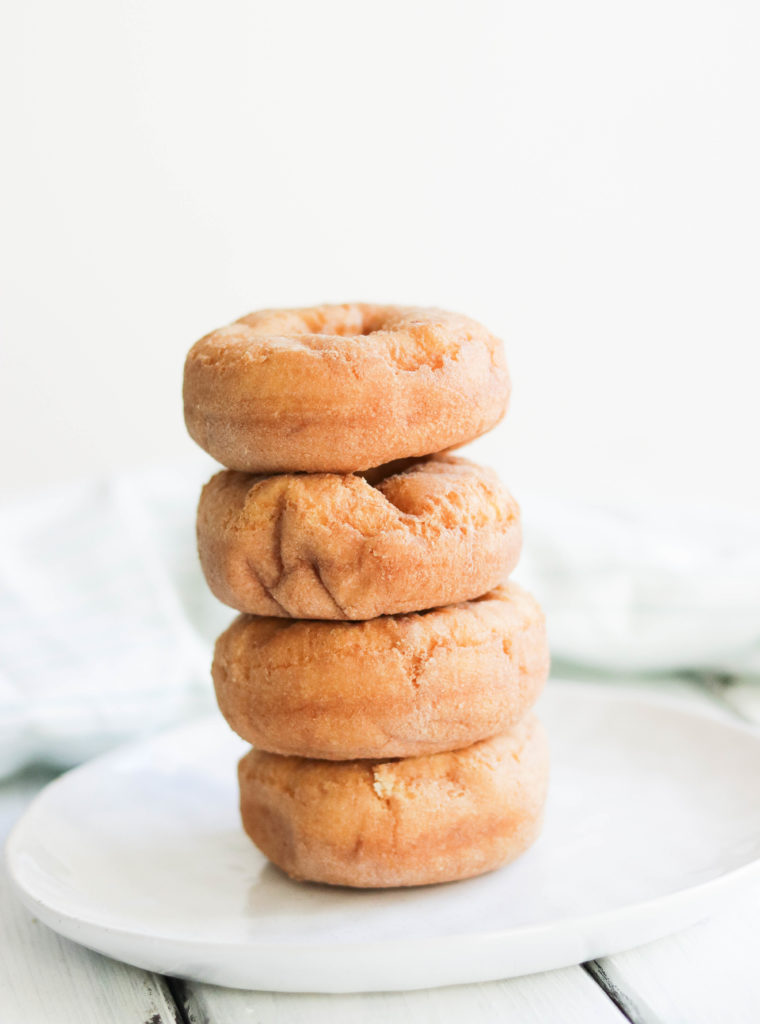 Here are some of my favourite baking gear I used to make these plain gluten free donuts: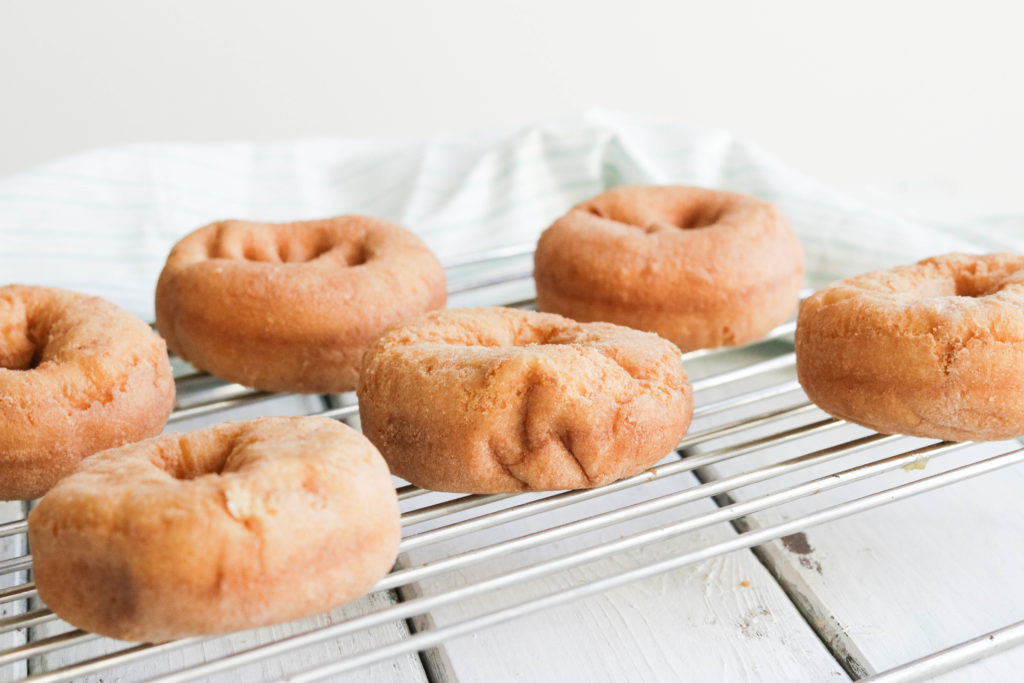 ANYWAYS
Thats all I have for you guys today. I hope you enjoy these plain gluten free donuts as much as I did! If you have any suggestions for recipes you would like to see me do, comment below or send me an email!

Plain Gluten Free Donuts
2018-10-22 07:40:22
delicious easy vegan and gluten-free donuts. Healthier version of your favourite dessert and snack. Treat yourself to a soft, fluffy, oat flour donut. Refined sugar free!
Ingredients
1 ¼ cup oat flour
12-14 pitted Medjool dates
½ cup unsweetened almond milk
1 teaspoon baking powder
1 teaspoon baking soda
1 teaspoon lemon juice
1 teaspoon vanilla extract
1 tablespoon arrowroot powder
Instructions
Preheat oven to 350 degrees
In a food processor, blend the pitted dates, almond milk, vanilla extract and lemon juice together until smooth
In a large mixing bowl, combine the flour, baking powders + soda, and arrowroot powder.
Pour ingredients from the food processor into the large mixing bowl of dry ingredients.
Fold ingredients together with a spatula until a dough forms.
Spray your donut pan with oil. Press the dough into the donut pan, make sure the top is smoothed out so you don't have lumpy and ugly donuts.
Bake for 10-12 minutes.
Cool and eat!
Notes
* you can make your own oat flour by blending rolled oats in any blender!
* Can stay fresh in fridge for 5-7 days!
Nikki's Plate https://www.nikkisplate.com/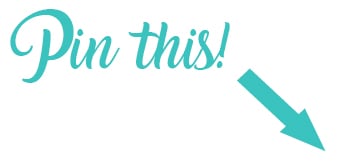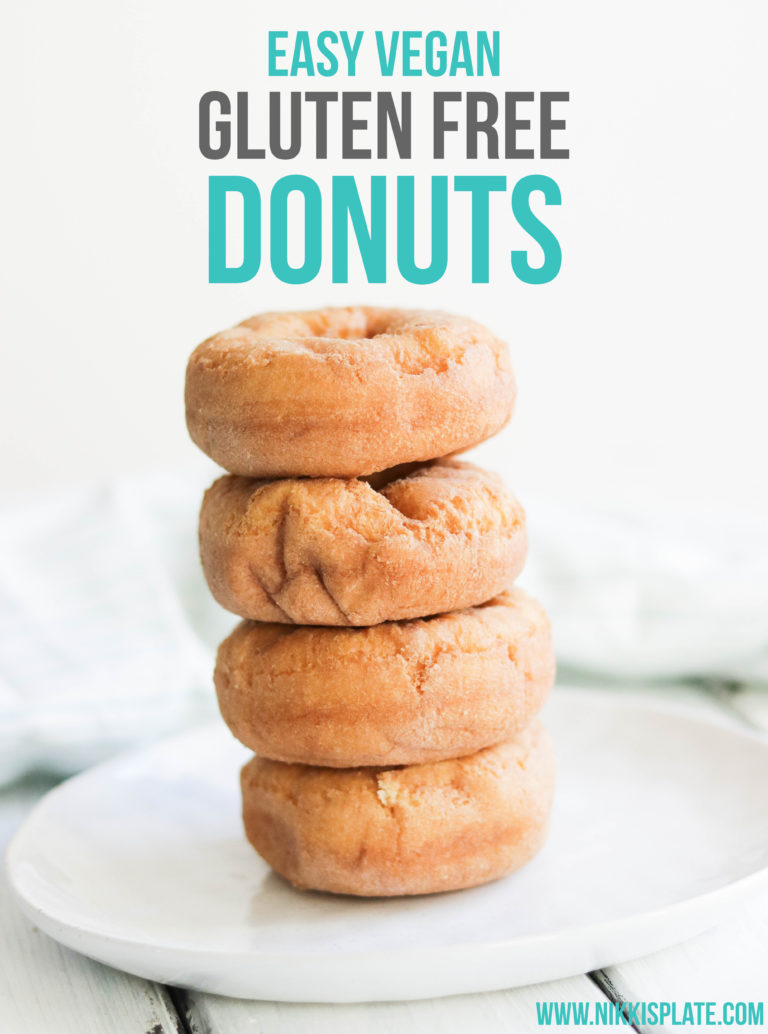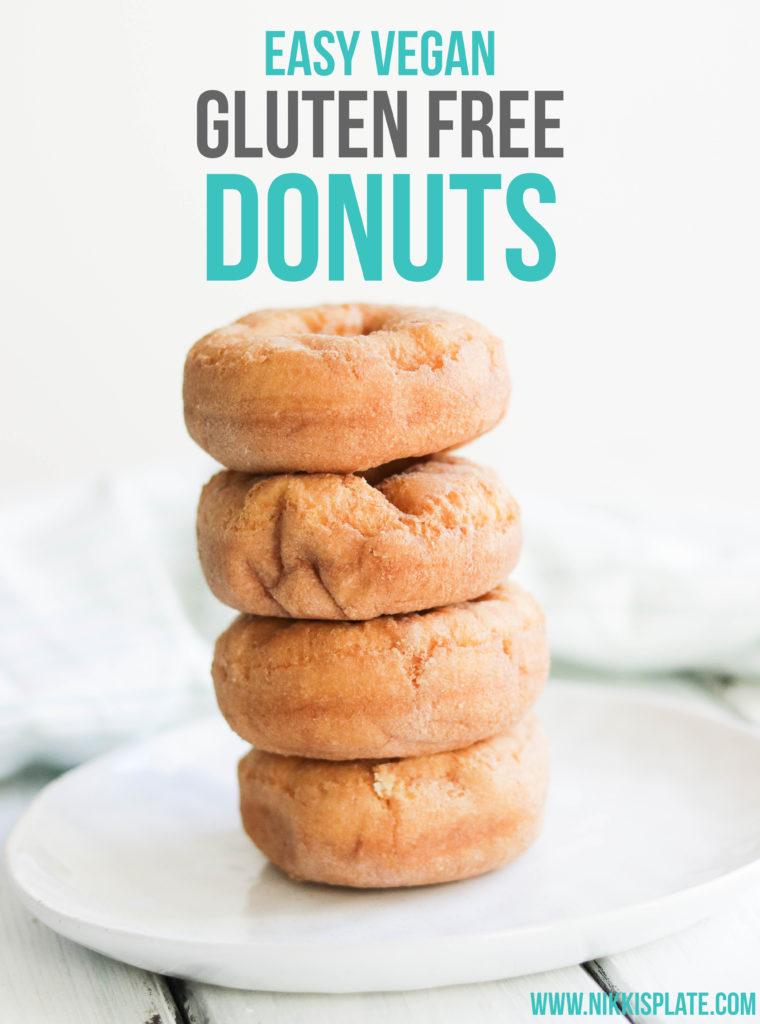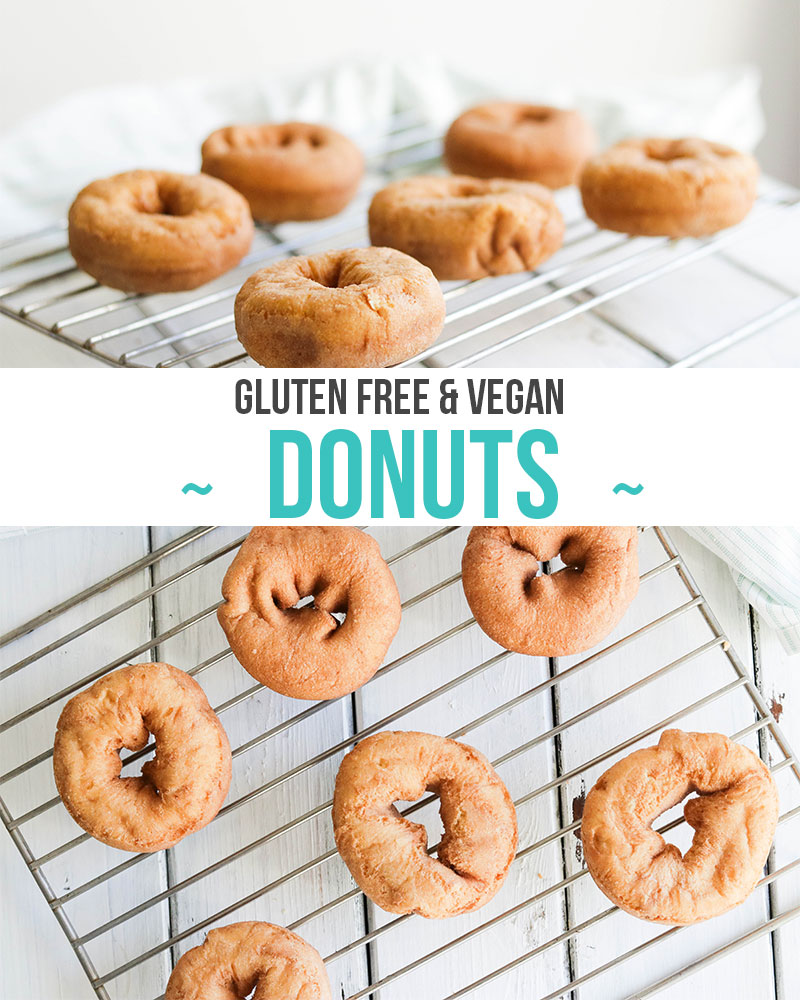 BEST SELLERS