Looking for a free printable December 2023 calendar? Stay organized and plan your month with ease using my downloadable month December cute calendars. Sunday start blank December calendars and planners! Use as work or school calendars.
Disclaimer: this post may contain affiliate links, and every purchase made through these links will give me a small commission (at absolutely no extra cost for you!) AS AN AMAZON ASSOCIATE AND REWARDSTYLE MEMBER, I EARN FROM QUALIFYING PURCHASES. See Privacy Policy for additional info.
Hi beauties! Fall months are long over so time to move on to December! Are you ready to dive into a wonderland not of snow but of…drumroll please…10 Free Printable December 2023 Calendar Templates? That's right, folks, I'm bringing the best of festive cheer and top-notch planning together wrapped in a neat bow-tie of freebies. Well, get ready to embrace December 2023 with open arms because I've got something exciting for you today – a free printable December 2023 calendar!
These aren't just any ol' calendars. Que fireworks for the holiday season! In true holiday spirit, I've sprinkled a little magic dust on 'em and crafted them into exciting bespoke designs capable of bringing joy to even the scroogiest of Scrooges. Prepare to be marveled by cheery dangling Christmas ornaments, cute Santa hats, and even some sprigs of holly for good measure. These are the holiday calendars your heart desires for the last month of the year! Christmas holiday here we come!
So strap on your organizing boots, put on your jolliest of attitudes, and let's swing that door open to an organized, wonderfully-decorated December 2023! Who's ready to sleigh this holiday planning? Let's jump into these printable December calendar templates now!
FREE PRINTABLE DECEMBER 2023 CALENDAR TEMPLATES: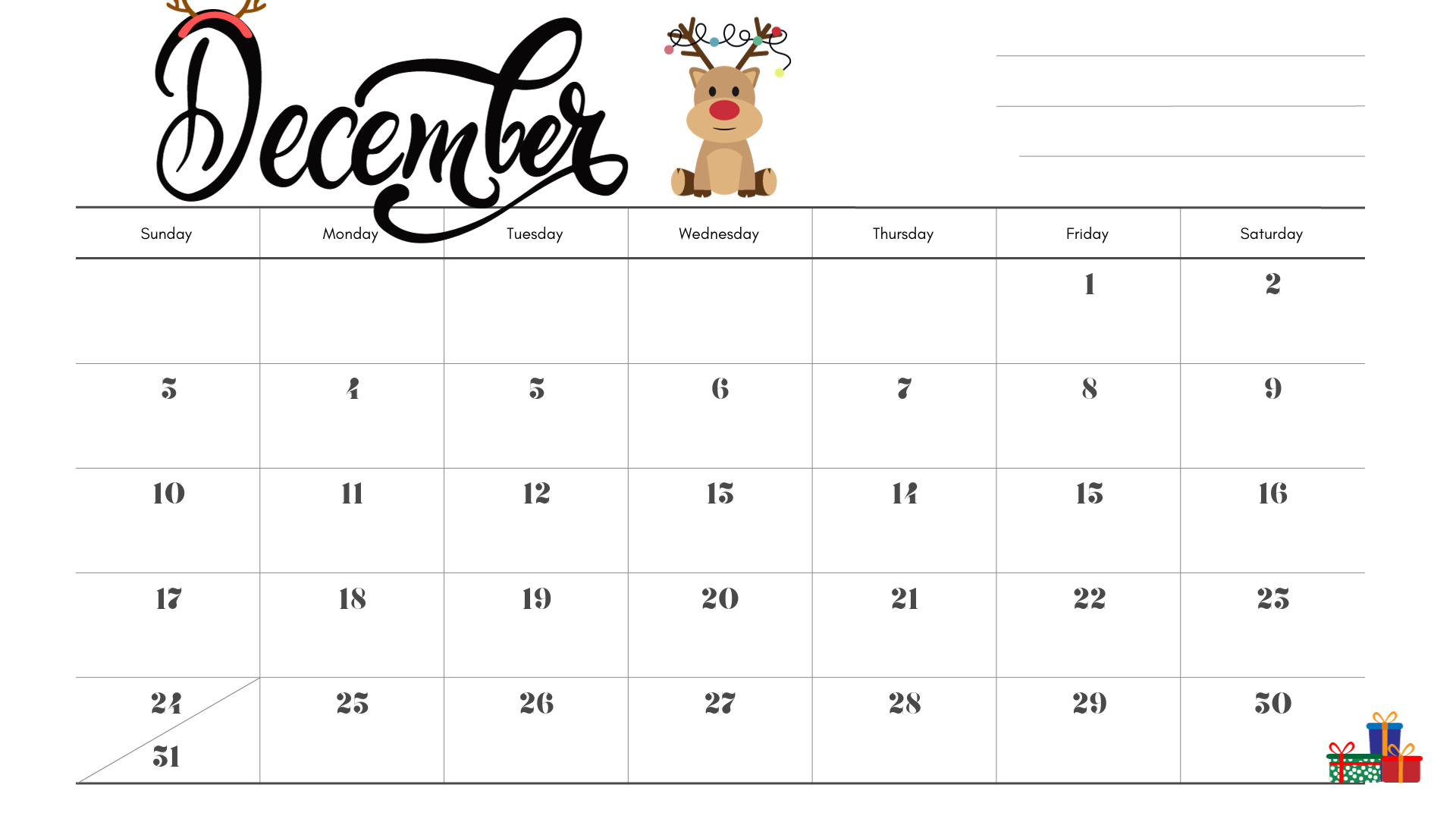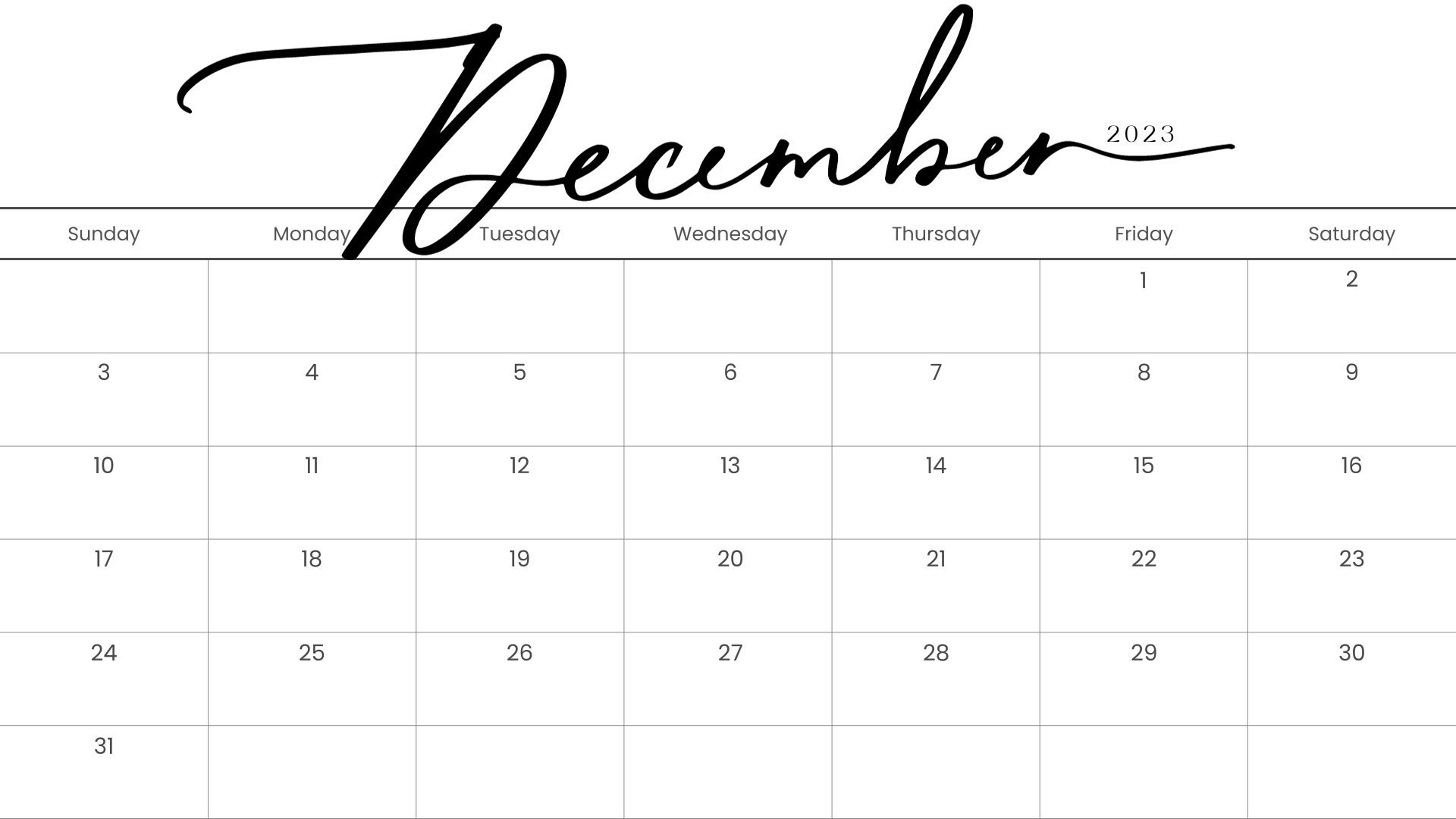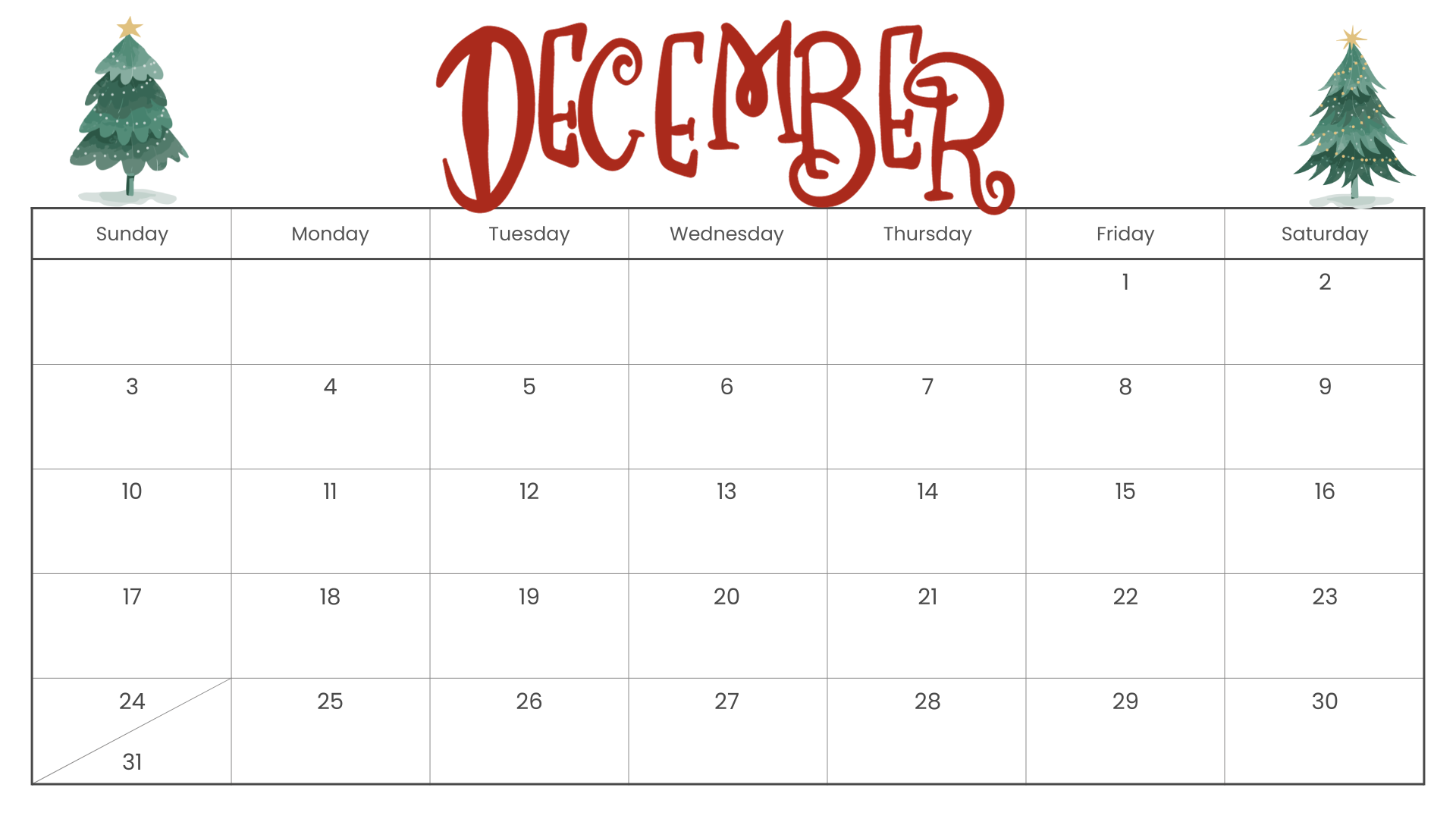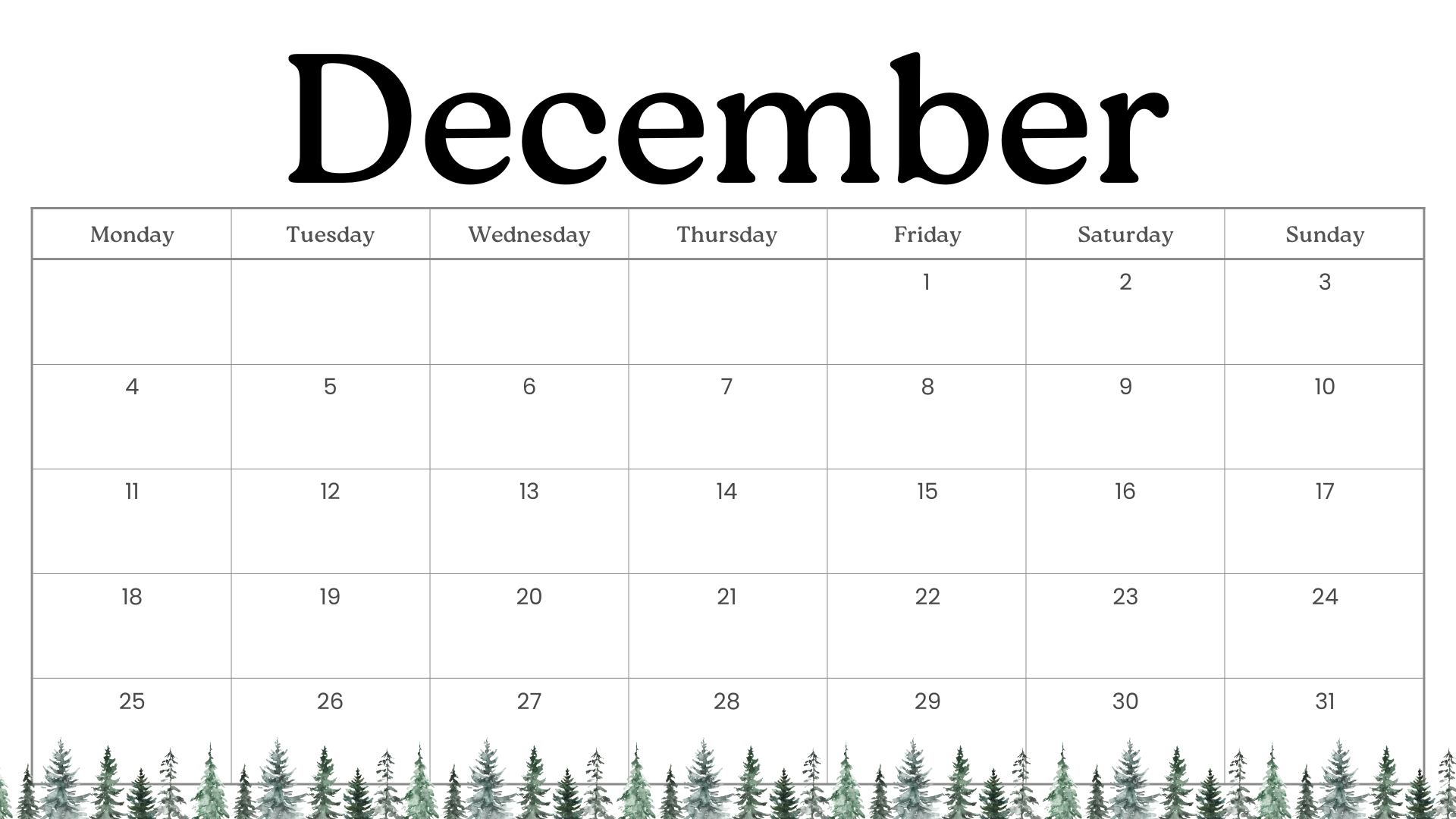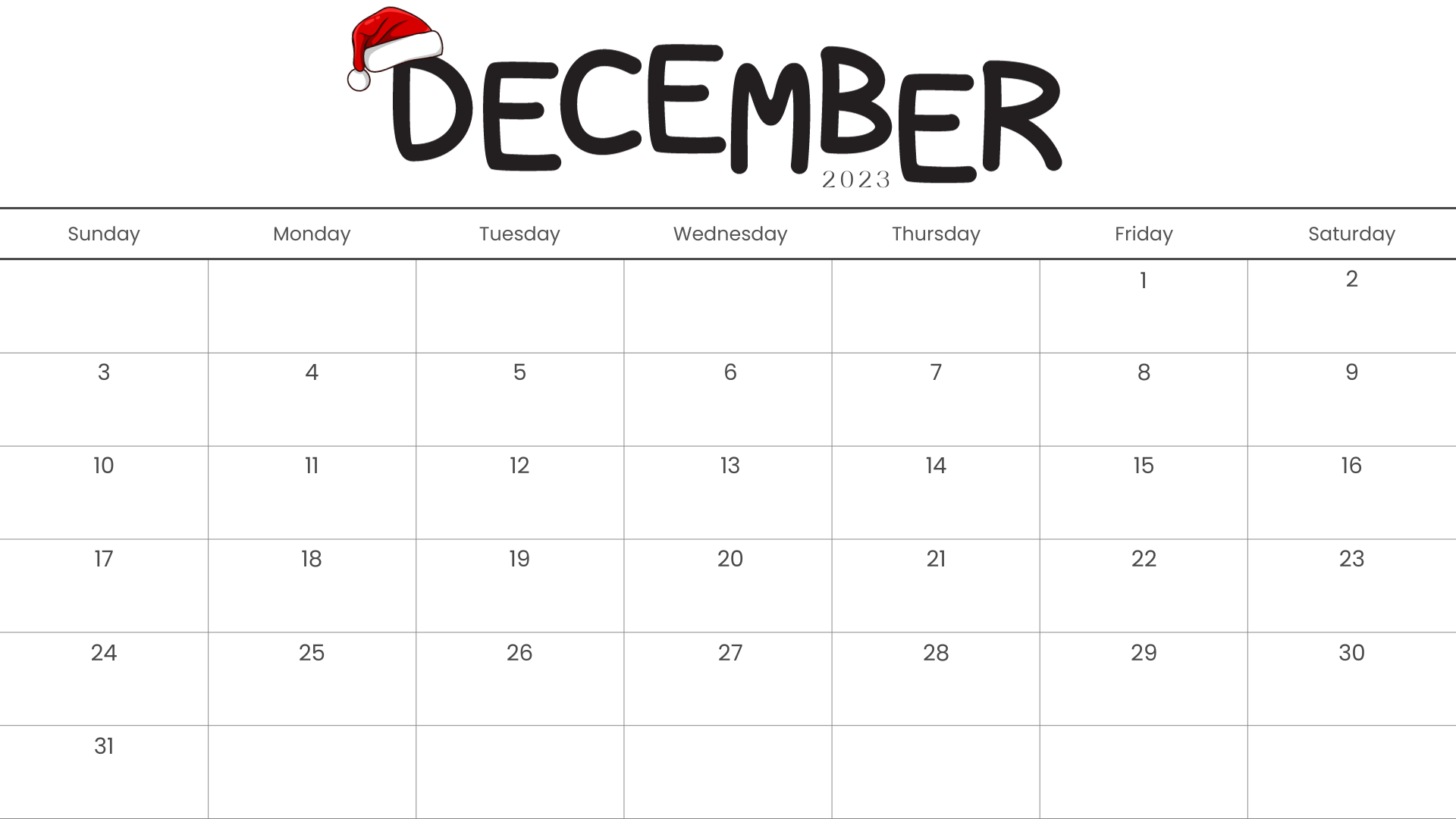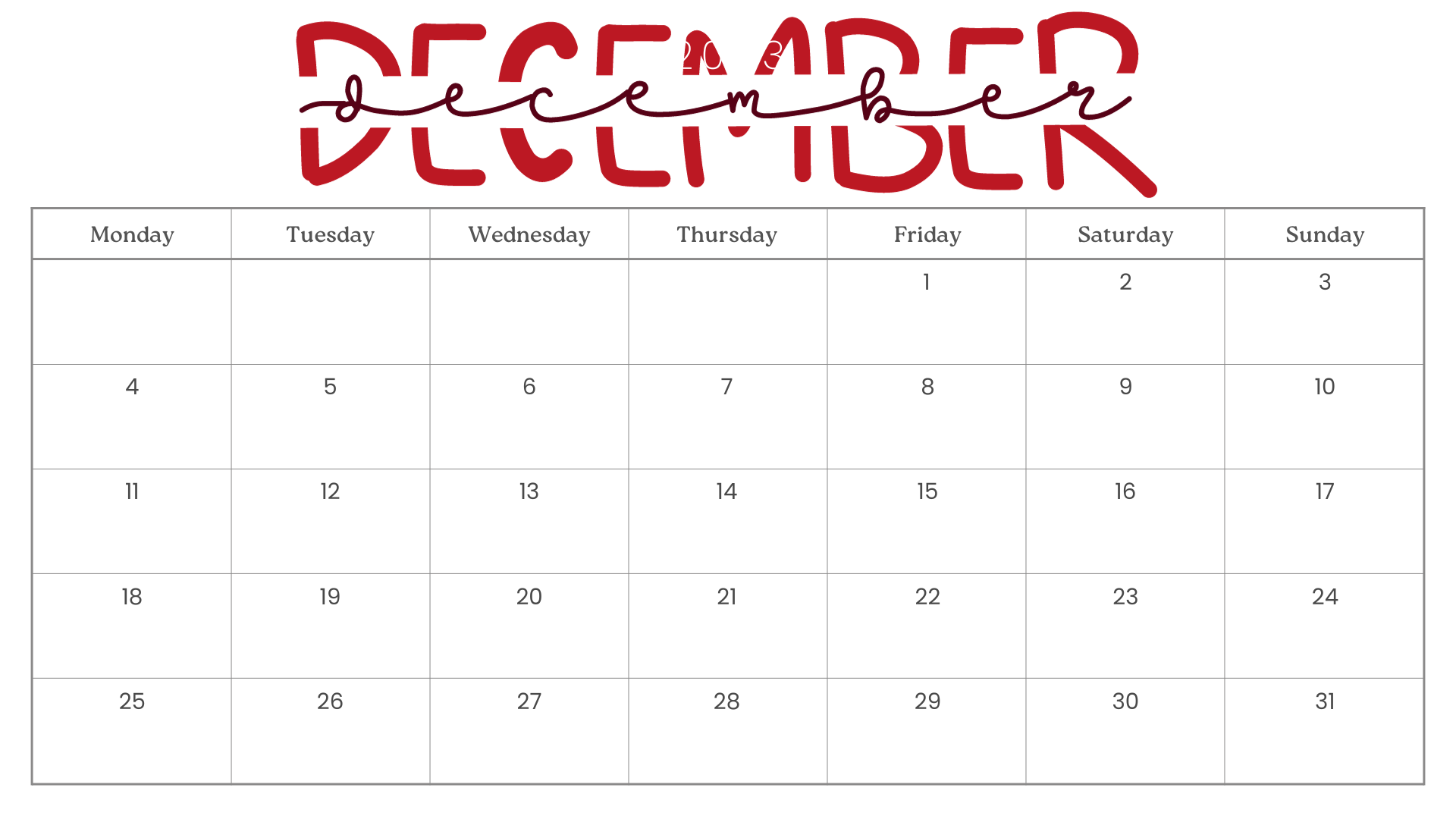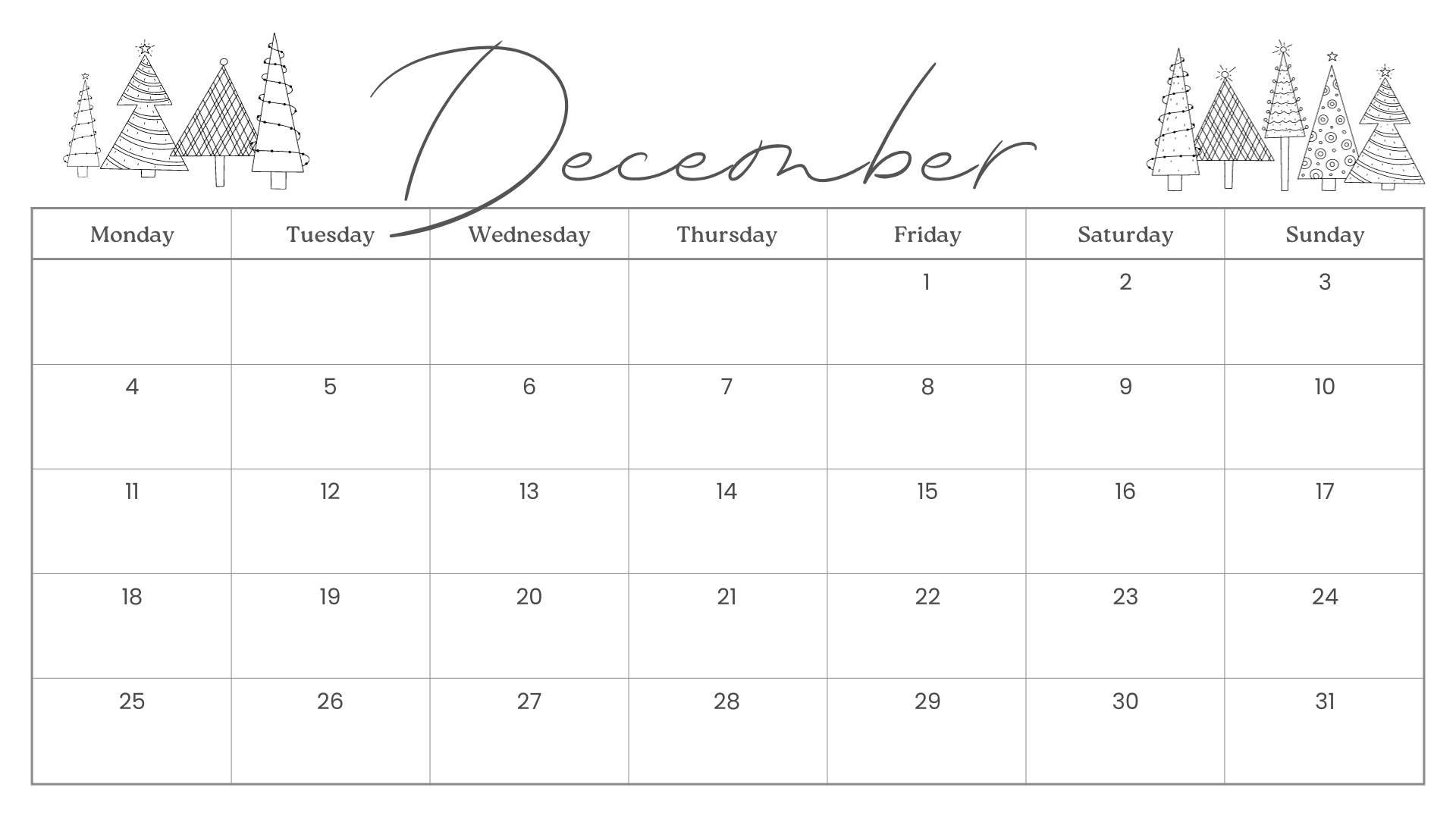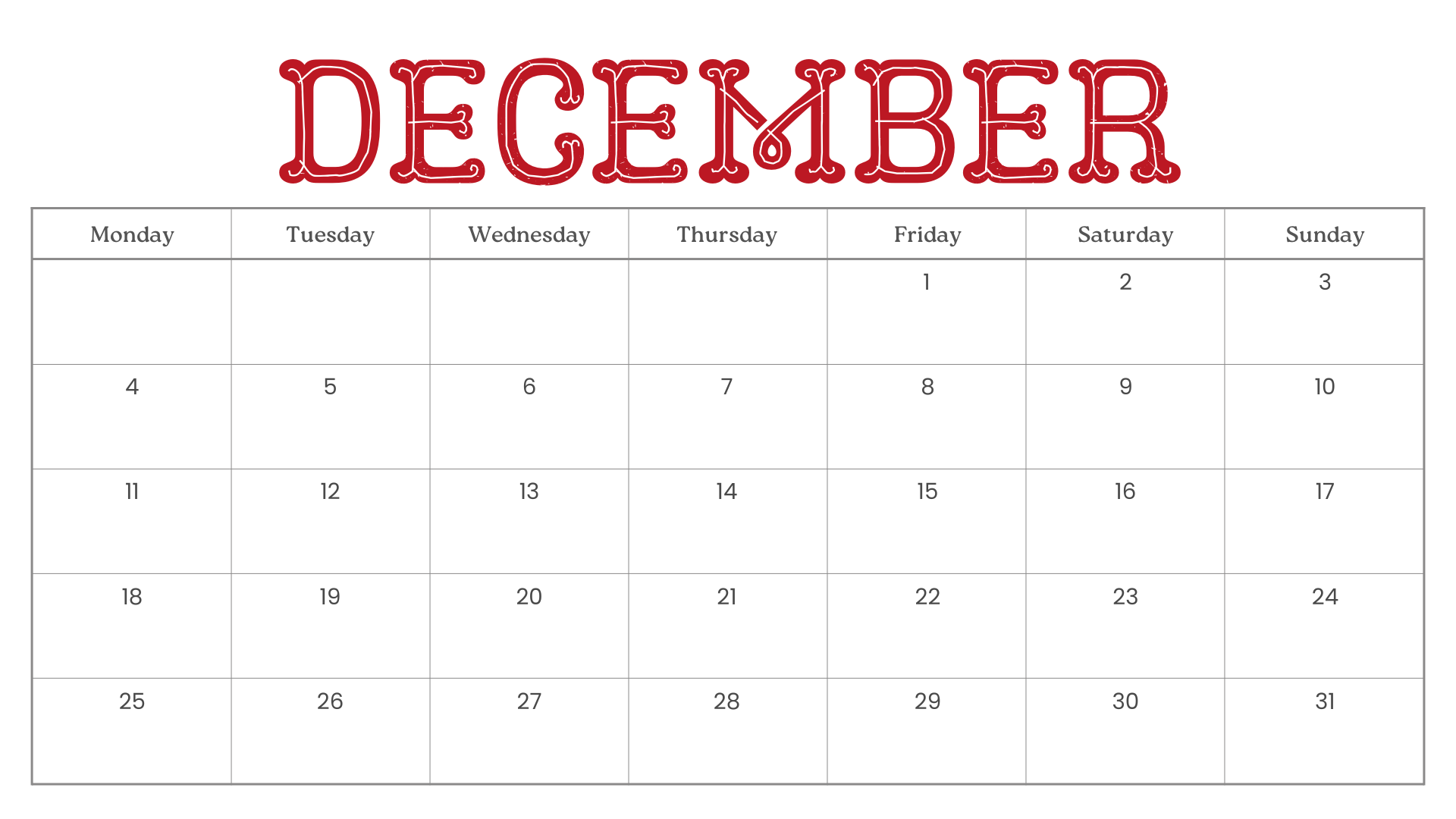 DOWNLOAD A PDF OF ALL PRINTABLE CALENDARS HERE
DOWNLOAD AND PRINTING INSTRUCTIONS
Step 1: Find the Perfect Calendar Template
Scroll through my selection of dreamy December calendars. You'll find a variety of eye-catching designs that will make your heart skip a beat. Once you've fallen head over heels for a particular template, click on the download link. Don't worry, it won't bite!
Step 2: Embrace the Mighty PDF
After clicking the download button link, your screen will light up with a shiny PDF file of your chosen template. Take a moment to appreciate its beauty – those colors, those lines, they're a true work of art. Now, go ahead and click that trusty save button.
Choose the destination where you want your event calendar to reside, whether it's on your desktop, or in a special folder. Please note these are not excel, Microsoft word, or other different formats. They are PDF files in landscape, US Letter size.
Step 3: Summon Your Printer Magic
Okay, now it's time to bring your printable calendar into the physical realm. Get cozy with your printer, make sure it's juiced up with ink, and load it with some fresh, crisp paper. Once you've got everything set up, open the PDF file you just saved. Now, click on that "Print" button like you're casting a spell, and watch the magic happen. Make sure you select colored ink if you want a colorful calendar.
Step 4: Make It Picture Perfect
Ta-da! Your calendar is now hot off the press, ready to be displayed on your wall, work desk, fridge for your kids, or wherever your heart desires. But wait, there's more!
Want to make it even more picture-perfect? Grab your favorite scissors, add a touch of creativity, and trim those edges with precision.
You can even frame it or hang it with cute clips – your calendar deserves the VIP treatment, after all! Enjoy your printable November calendar!
BENEFITS OF A PRINTABLE DECEMBER 2023 CALENDAR
Let me tell you all about the amazing advantages of using a printable calendar! First up, let's talk about easy customization. Picture this: You've got a busy month ahead filled with exciting events, deadlines, and maybe even a much-needed vacation or two. With a printable calendar, you have the power to make it your own. You can choose a design that speaks to your vibrant personality or matches your room decor (because who doesn't want a calendar that looks as stylish as they do? 😉). Plus, you can add your own flair with colored pens, stickers, or washi tape – because planning should be as enjoyable as eating a slice of your favorite pizza!
Flexibility is another key advantage of printable calendars. Life is full of unexpected twists and turns, like that time you spontaneously decided to take up knitting or join a rollerblading club (you go, trendsetter!). Thankfully, with a printable monthly calendar, you can easily adapt to any changes that come your way. You can print out the calendar templates as many times as you need, allowing you to adjust your schedule, add new plans, and erase old ones without the fear of making a mess – it's like having a do-over button for your plans!
A printable calendar is like a trusty sidekick that keeps you in the know about all the important events and holidays. No more accidentally scheduling a dentist appointment on your best friend's birthday or forgetting that important meeting and arriving in your pajamas (we've all been there, haven't we?). With a simple calendar, you can see all the special occasions and holidays at a glance, giving you the superpower of staying on top of your game and never missing out on those precious moments with loved ones.
December Holidays
Lets talk major holidays for this festive season. December, the grand finale of the year, is synonymous with the warmth of family gatherings, the joy of gift-giving, and an array of enchanting holiday celebrations that light up the wintry cold. Starting with Hanukkah, the Jewish Festival of Lights that spreads over eight magical nights, dazzling us with tales of miracles and delicacies like latkes and sufganiyot.
Midway through the month, we celebrate the globally cherished holiday, Christmas Day. A festival imbued with the merriment of carols, the rapture of unwrapping gifts under the ornately decorated Christmas tree, and the rich aroma of roast turkeys and mince pies filling our homes. It's a time when the world seems draped in tinsel, and the infectious spirit of love and togetherness fills the air. Don't forget about Christmas Eve too!
Towards the twilight of December, Kwanzaa dawns transporting us into a vibrant seven-day long celebration, honoring African-American culture, fostering unity and pride. Every candle lit on the kinara holds precious lessons of community, responsibility, and progress.
And, of course, we can't forget about New Year's Eve. The grand farewell to the year past, and a jubilant welcome to the promise and possibilities of the year ahead. December, in all its glory, is indeed a festive mélange of traditions and holidays, a fitting denouement to the year, and a gentle bridge into the next one. Into the winter season we go!
TIPS FOR EFFECTIVE FREE DECEMBER CALENDAR USAGE
Customize and personalize: Start by customizing your chosen free December calendar template to suit your taste and requirements. You can add color, use images or stickers, and include motivational quotes to make it feel more personal and fun.
Consistently review and update: Review your calendar regularly and make updates when necessary. Ideally, scan through your calendar daily, and have a more detailed review session weekly. This will ensure you're staying on track and making adjustments when needed.
Prioritize tasks and events: Assign a priority level to your tasks and events. Use symbols, colors, or other codes to help you identify them at a glance. Allocate more time for high-priority tasks and ensure they're tackled before moving on to lower priority items.
Break tasks into smaller chunks: Divide larger tasks into smaller, more manageable pieces. Add specific subtasks to the calendar and allocate time to complete them accordingly. This will help you stay on track and make larger projects feel less overwhelming.
Schedule downtime and self-care: Remember to insert breaks, relaxation, and self-care time into your busy December schedule. Add regular intervals for stretching, meditation, exercise, or just some quiet moments, to ensure a more balanced and enjoyable month.
Use digital reminder: While printed calendars have a unique charm, consider complementing your physical calendar with digital tools and reminders on your smartphone or computer. Set up notifications and alarms to reinforce the commitments you've made on your paper calendar.
Share with family and friends: Hang the December calendar in a prominent location or share a digital copy with family and friends. This not only helps others stay informed about your plans but also enables them to contribute and create a more collaborative and communicative environment.
Reflect and adjust for the next year: At the end of December, allocate some time to reflect on the successes and challenges of the month and the entire year. Use these insights to fine-tune and optimize your calendar usage for the next year, ensuring more productivity, fun, and balance in the days ahead.
Stay tuned for more monthly calendar goodies, planning hacks, and all-around fun here at Nikki's Plate. I'm here to make your days a little brighter, one month at a time. Make sure to check back for your free printable December calendars! Cheers to a fabulous Decem ahead – let the planning adventures begin! Next the month of January!
MORE FREE PRINTABLES:
I hope you enjoy your free printable calendar templates (monthly blank calendar templates), make sure you check back every month for more! Set those reminders so you don't forget! Also, let me know if you want to see more Monday-starting calendars or even just portrait orientation weekly calendar templates so you have enough space to write all your to-dos out!
Until next time,
BEST SELLERS