How to gain 20k followers on instagram!
This is one question I am asked often because I increased my
instagram
to 22,000 followers in a few months. I would not say I have found the magic tricks to gain a following but... I kind of did... And I am going to share everything I know with you, right here and right now.
I am not going to give you all the fluff that most people give when it comes to giving social media advice. Nothing drives me crazier then clicking on a pinterest pin, or opening a facebook post, to find no valuable information.. at least when it is what that blogger promised! Talk about false advertisement and click bait - feel me?!
I know everyone has different perspectives on things, and everyone has their own style, which is fine, but nothing makes me happier then seeing someone else succeed with their passion or business.. so I am going to give you exactly what I did to increase my following and gain followers on instagram!
Here is How I Gained 20k Followers on Instagram in a Few Months:

Cleaning Up Your Instagram Profile
Create a slogan that fits your theme. Add your other social media accounts. Add your email (for followers and brands to contact). Link your website, or YouTube account, where a link can be placed.
Fancy up your profile picture. Make it professional and easily viewable at such a small size. I found a close up of me looked best, rather then a full body image.
Disclaimer: this post may contain affiliate links, and every purchase made through these links will give me a small commission (at absolutely no extra cost for you!) AS AN AMAZON ASSOCIATE AND REWARDSTYLE MEMBER, I EARN FROM QUALIFYING PURCHASES. See Privacy Policy for additional info.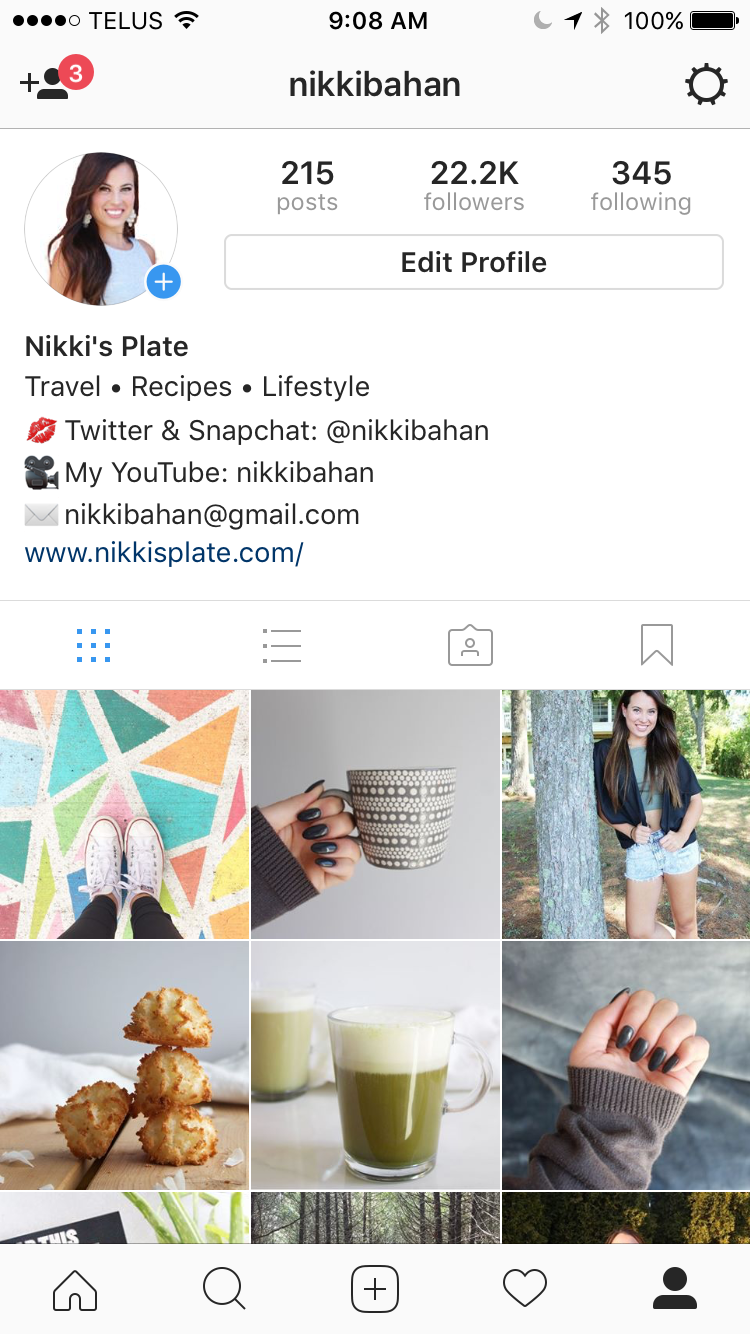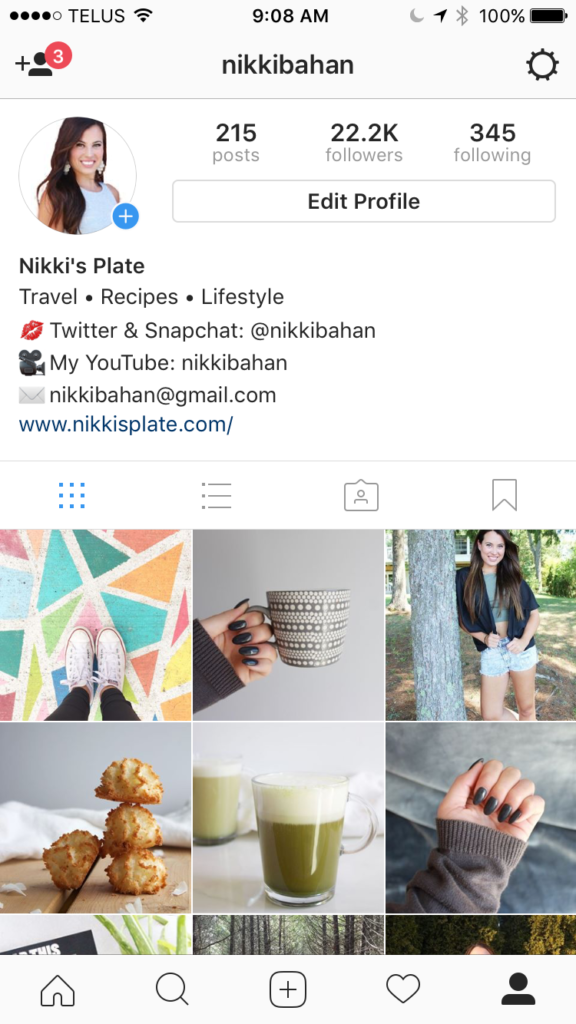 Post Quality Content in Your Chosen Theme
This is an obvious one, but I thought I should get it out of the way at the beginning so that everyone is on the same page. Instagram is all visual. You want to attract followers with your content, in this case photos. I found that I gained more followers when I posted higher quality photos.
Make sure your theme is clear. A Theme can be several things... it could be photos of hair, food or landscapes only. Or your theme can be the way your photos are edited/appear. So for example, my theme is bright and light. I always make sure my photos are bright with natural light. I would edit all my photos on Photoshop but now instagram has a feature that allows me to adjust the brightness of the photo right before sharing - which is amazeballs!
Make sure your photos flow and follow a pattern. For example, if you are a lifestyle blogger and cover many topics, dont post 5 full body photos in a row then 3 photos of products.. Alternate these photos to make a more visually appealing pattern (1 full body then 1 of products etc). This will make your theme prettier in the long run. Promise!
Schedule and Plan Your Posts for Followers
I know I know.. your probably thinking "Instagram is suppose to be Instant sharing"! But hear me out.. Planning your instagram is crucial for optimizing your quality and theme. Here is how I plan my posts (majority of the time). One post every other day: one small scale (close up of an object or face), then one large scale (full body or landscape). I continue this back and forth.
I have this app that allows me to plan out my posts. It is actually amazing. It is called 'Preview'. Basically you upload all your photos to it and can move them around like a puzzle to find which photos look best where. This allows me to pick the perfect placement and time to post my photos to insta. Here is what it looks like in the photo below:
I usually plan for the week.. meaning I will have 4-5 photos ready to go for the week.. that way I know they are good photos and I am not rushed or stressed about posting.
Post the same time of the day. I always post at 9am. I find that is when I see the best traffic to my profile and to my photos. Figure out what time works best for your profile and always post at that time. This will also give your followers to look something to look forward to and check your profile to see what's new.
Description of the Post
Description is a free for all. Write whatever your heart desires. I make sure to add an emoji to keep it colourful and interesting.
Engage with your followers by asking a question and encourage them to leave a comment about ___.
Hashtags to Draw in Followers on Instagram
I know hashtags can have a negative appearance on your post especially when you saturate with them, but hashtags are crucial for driving followers to see your content and your profile. I always hide mine in a comment. This way they are not found in my description but still do their job.
If your unfamiliar with hashtags, I started by using a website called All Hashtags that generated a bunch of hashtags for me. I would then just copy and paste these hashtags. I also make sure I use several points in front of the hashtags in my comment so that they are al hidden (unless someone opens it) Here is an example: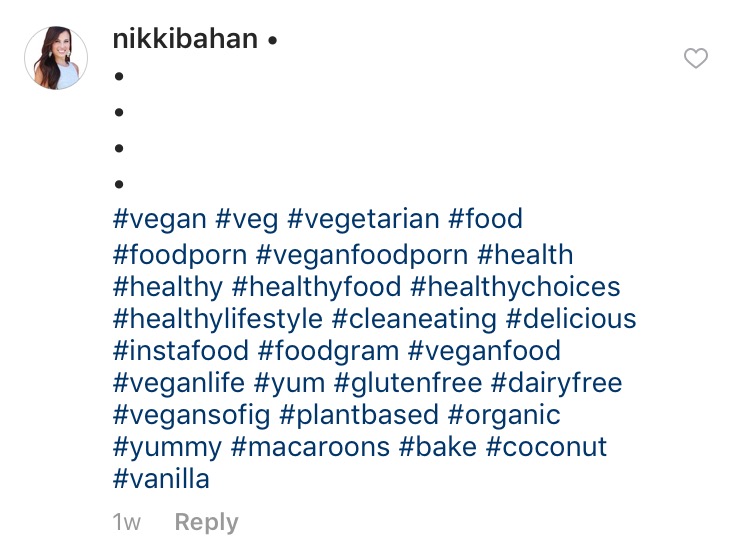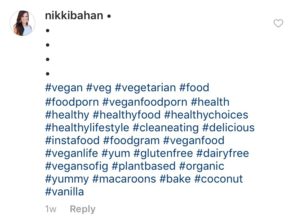 Engaging with Potential Followers
This is something that has worked so well for my instagram game. If you go to the search page (the magnify glass along the bottom bar), then select tags and search something in the top bar that is related to your theme such as "vegan", "hair", "fashion", "food". You will get a drop down of most popular hashtags. Select on of these. then go on a liking spree!! Like and comment on as many posts as you want/can. People will see you liking their photos and will come back to your profile and hopefully follow you if they see fit. .... This worked wonders for me.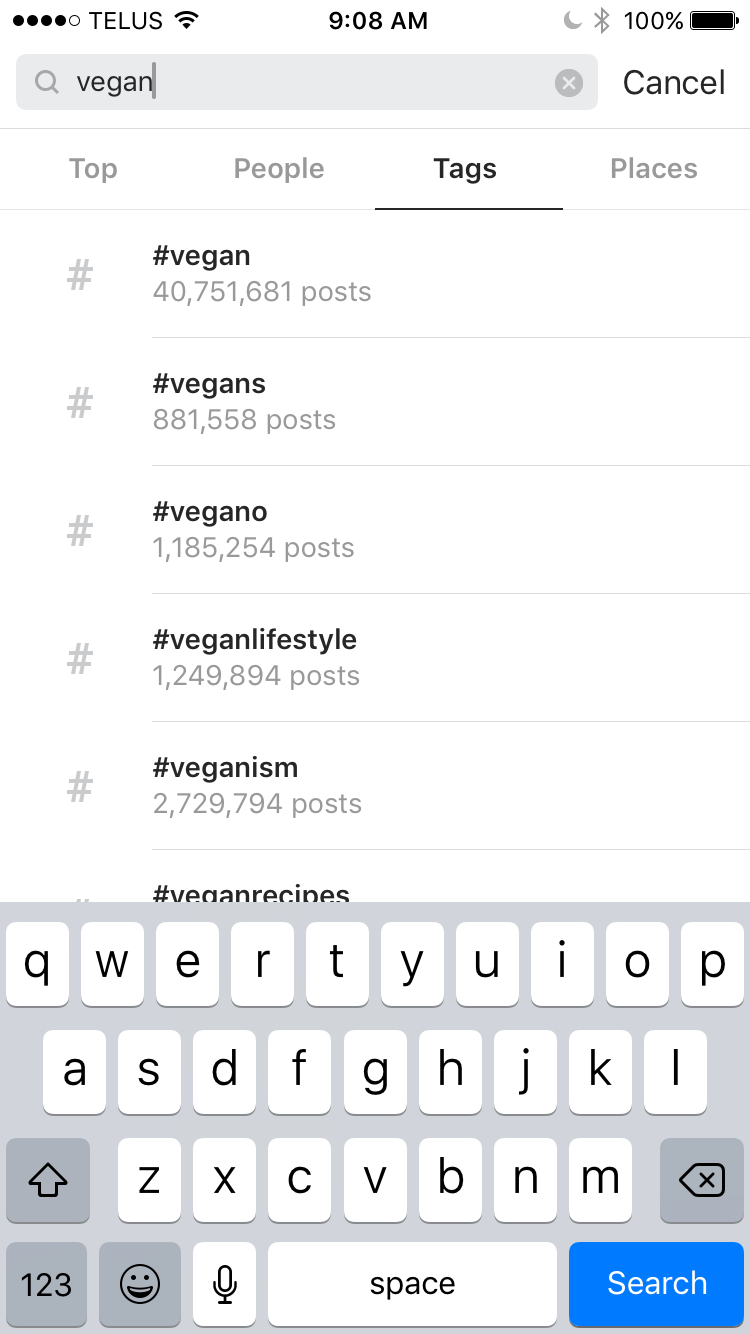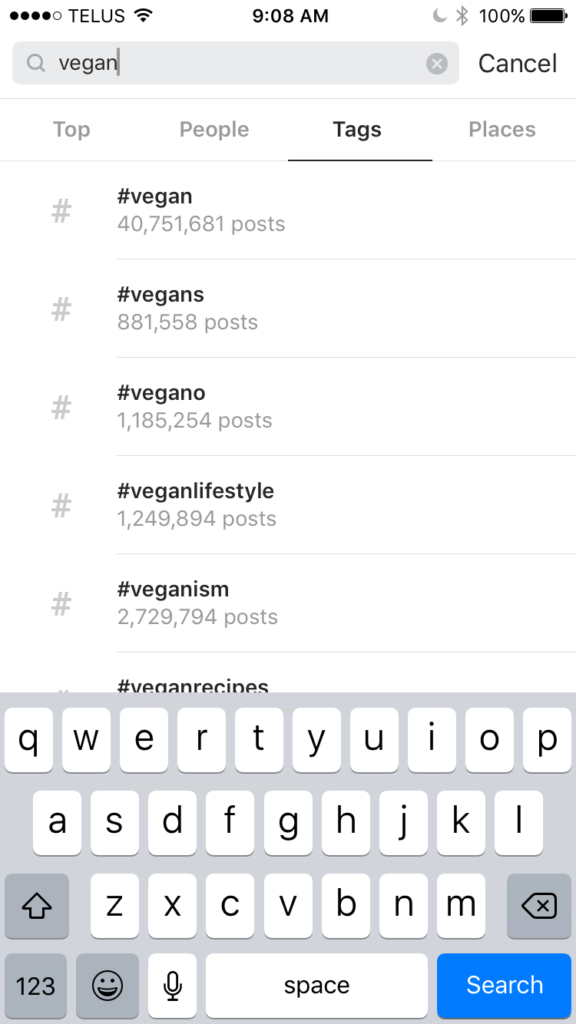 Tagging Popular Accounts
Follow several popular accounts in your field that shares other accounts instagram photos. Tag your photos with these accounts if they fit. I have had several accounts repost my instagram photos with a direct shout out and link back to my profile. I have gained hundreds of followers because of this alone! Here are some examples for you...

Popular Style/Fashion Accounts: @americanstyle @style @hairandstyle @fashionaddict
Popular Food Accounts: @beautifulcuisines @food52 @lovefood @befitsmoothies
Popular Travel Accounts: @beautifuldestinations @wonderful_places @worldtravelbook
And thats it! Those are my secrets to success on instagram. I hope you find these useful and are able to grow your accounts like I did. I plan to continue to use these tricks/hacks to further grow my Instagram.
If you have any questions on this or just in general like these kind of posts, comment below or email me at nikkibahan@gmail.com

My Favourite Blogging Tools:
Bluehost - My current hosting company. They are reliable, fast and most importantly affordable. Their support staff is also helpful and answer all my questions. Check out my easy step by step guide: How to Start a Blog
Tailwind - My all time favourite scheduling tool for sharing your content on Pinterest and Instagram! Tailwind saves SO much time and increases your traffic and followers. BEST. TOOL. EVER.
Foodie Pro Theme - This is my current blog theme used on Nikki's Plate. I am so obsessed with it. It took my blog to the next level. Its easy to use and has so many additional features that make blogging easy. This is a Genesis Framework Theme
Food Blogger Pro - learn how to start, grow and make money with your food blog!
WP Tasty - Handcrafted WordPress plugins made by experts in the field!
Share a Sale - This is a great place to find tons of affiliate programs so you can start earning money on your blog by just adding a link!
ConvertKit - This is a VERY popular email newsletter provider. Many bloggers love using covert kit to grow their email list!
OptinMonster - This tool is a great way to grow your email list. Easy way to turn visitors into subscribers and costumers!
Other Favourites:
Ebates - I love making money while I shop. Who wouldn't! Ebates offers cash back when you make purchases through their website! How awesome is that!?
Good luck with your Instagram accounts! Lets gain some followers on instagram!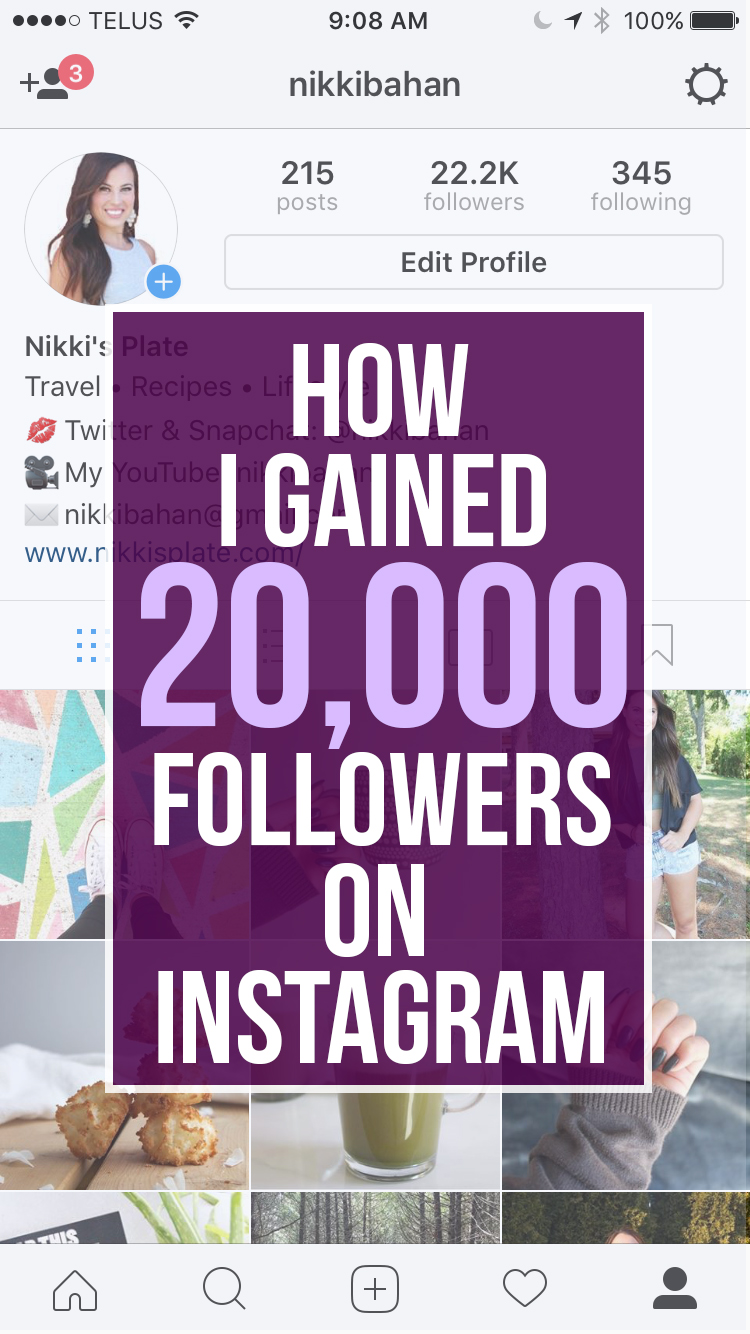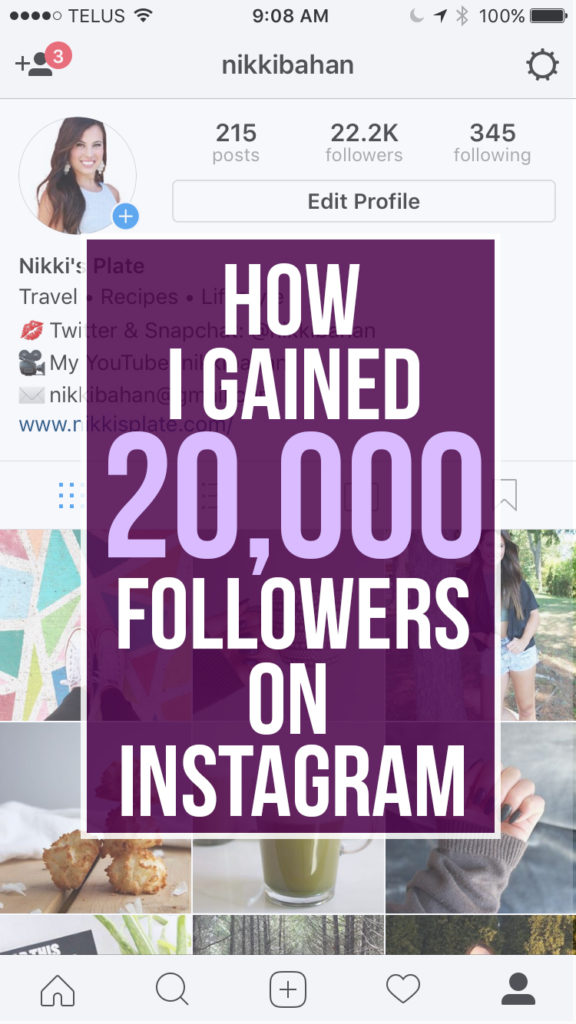 BEST SELLERS