Looking for Gardening Must Haves from Amazon? I have the ultimate gardening tools buying guide right here for you!
Disclaimer: this post may contain affiliate links, and every purchase made through these links will give me a small commission (at absolutely no extra cost for you!) AS AN AMAZON ASSOCIATE AND REWARDSTYLE MEMBER, I EARN FROM QUALIFYING PURCHASES. See Privacy Policy for additional info.
Hi Beauties!
With the nicer weather around the corner, I thought I would put together an easy gardening tools must have list to help you find exactly what you need right on amazon. As you know, I am a huge Amazon supporter. I love the convenience of it, the fast shipping and also obsessed with looking at reviews before I make a purchase.
Gardening is such an easy way to turn your outdoor space and backyard into a peaceful paradise! Having greens and flowers can really transform your space and also your mood! I hope this post really inspires your to get on your A game gardening style!
So with that being said, I decided to put together this gardening must haves from Amazon so you can get what you need right away!
I love having a nice garden with a beautiful outdoor space and lots of flowers. These tools and gadgets are things that make my gardening experience way better! So let's dive into the list now shall we?!
Gardening Must Haves from Amazon:
These items listed below are all found on amazon. I have either purchased them myself or I have done a deep dive into the reviews to make sure I added the best of the best to this list. I wanted to make sure they were ACTUAL must haves and highly recommended items. Click the photo or the pink box link to be redirected to Amazon to purchase these items! Time to get started.
Garden Tool Set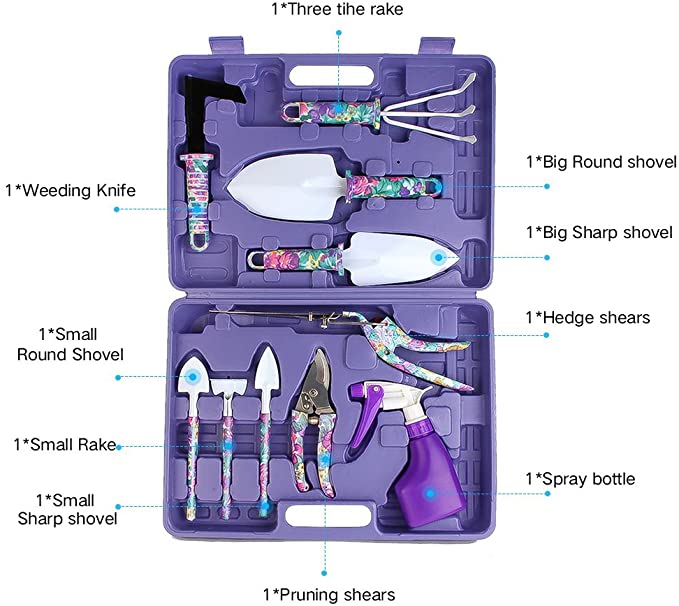 This adorable garden tool set is top of my gardening must have list! Not only is it absolutely adorable it is super convenient to have. These are all the gardening essentials you will need in one place. You can easily grab it and have all your tools in one little kit. I also like this kit better then the bagged tool sets because this one is way easier to store in your garage or garden shed! Rust proof and stainless steel blades. Love the pretty handles on these hand tools! By far the best gardening tools!
Gardening Gloves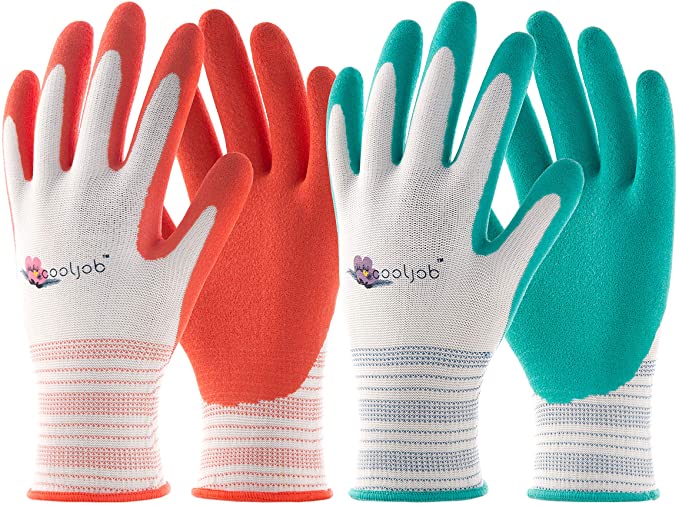 These gardening gloves are my all time favourite. They make pulling weeds super easy and saves my hands from any sharp thorns or twigs. They also have breathable fabric on them so your hands don't sweat! Makes pulling weeds a little more enjoyable that's for sure! So many five-star reviews on these!
Kneeling Pad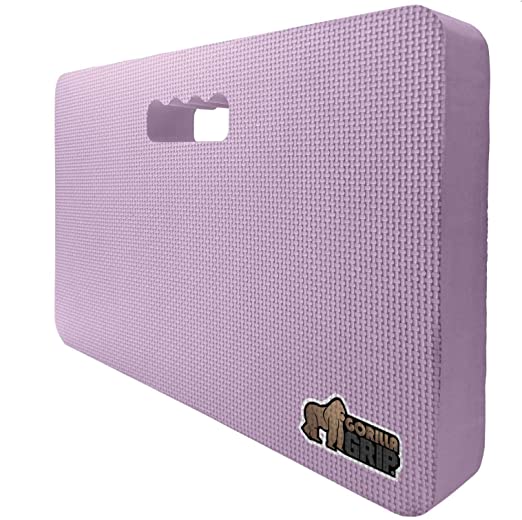 Having a kneeling pad isn't absolutely necessary... until you have tried gardening with one. Makes a HUGE difference and doesn't hurt your body to be on your knees for a long time.. especially if you are gardening around a concrete walk way or gravel driveway. This one from amazon is great, affordable and comes in basically every colour!
Gardening Shoes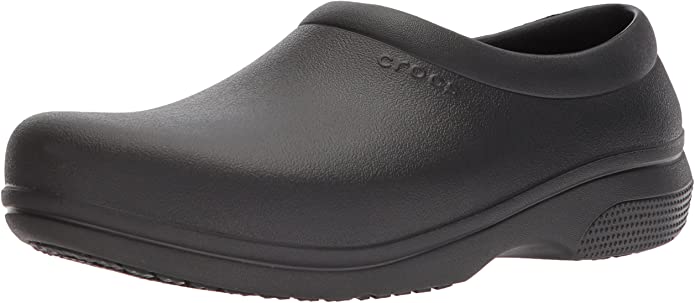 Again, not 100% necessary but make such a difference! I hate wearing flip flops gardening because I always end up puncturing my foot with a twig of some sort, or end up get my feet wet or dirty. I love these stylish (haha!) crocs because they completely protect my feet! But I will warn you, they do not have any vent holes so your feet may get a little sweaty and not smell the best! But totally worth it in the end.
Plant Labels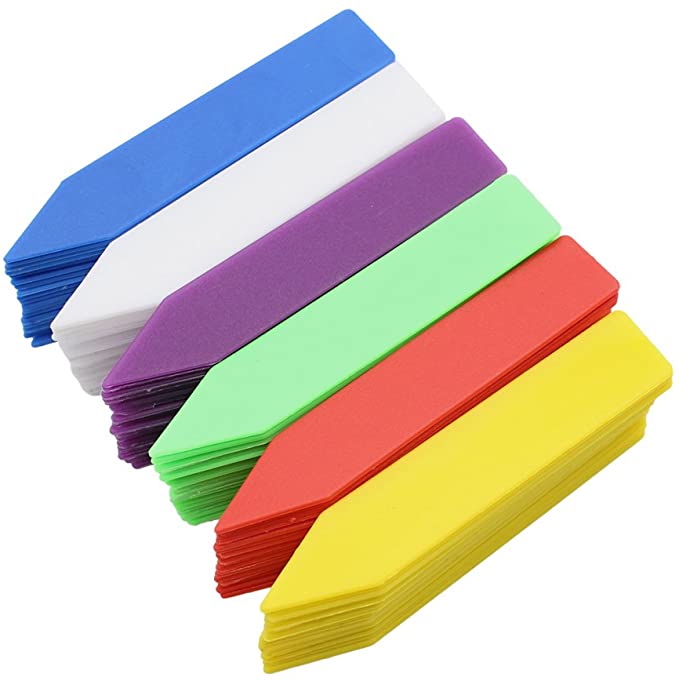 Having plant labels is super handy for when your garden is just starting off in the spring. Labeling your plants also helps you ensure you water them properly and give them the right amount of sunlight. These plant labels are great because they are also coloured. You can colour code all your plants so you can easily identify them! Use them in your nurseries, on your veggies or anywhere in your own garden. You can either put sticker labels on them or write directly on them with a permanent marker. Make sure it is permanent or you will be upset when the rain washes the writing away!
Garden Scissors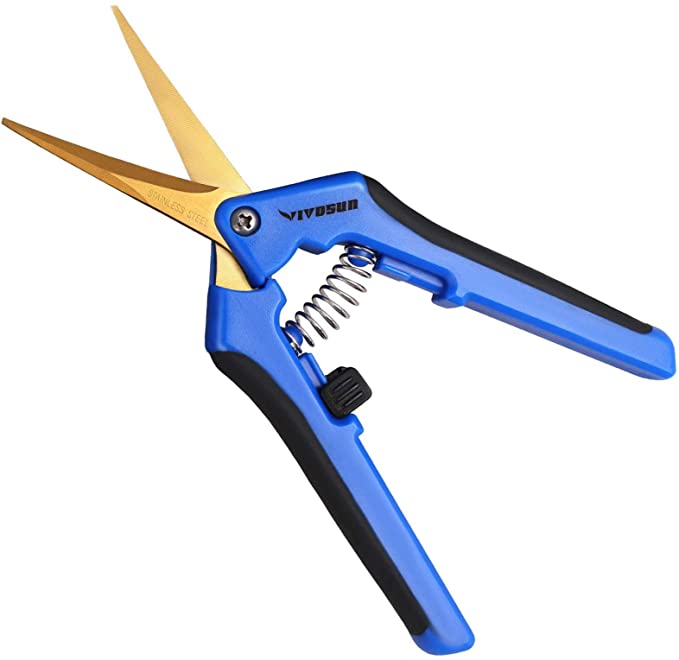 Having a good pair of gardening scissors or hand pruner is a MUST before tackling any gardening. These ones are super affordable yet really sharp and are able to cut through pretty tough twigs and plants. These pruners work wonders! I will warn you, they are EXTREMELY sharp so please be careful! Keep them away from kids and your feet! haha
Wheel Barrel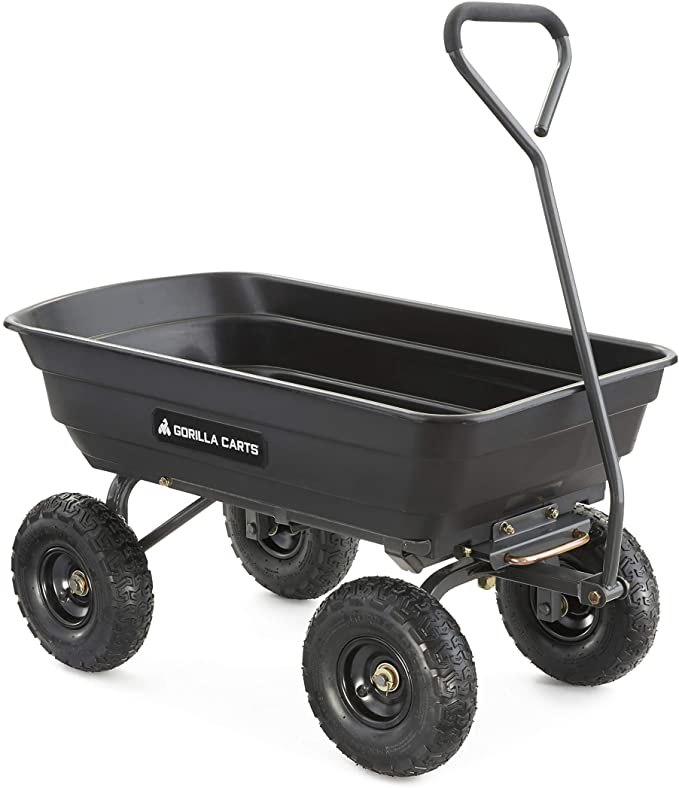 This wheel barrel type garden dump cart is THE BEST! I love how easy it is to pull around any terrain. You don't have to suffer pushing a traditional garden wheel barrel because this one is so much easy to maneuver around the lawn. And you can have a free hand because it has a simple pull system. This specific one can also pull up to 600 pounds! Its heavy duty, but so much easier to use then the traditional wheel barrel.
Garden Hose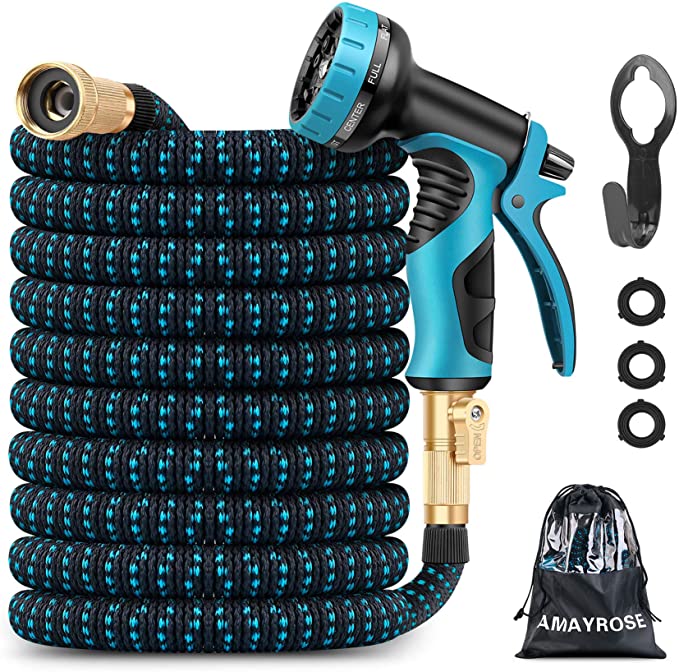 This garden hose and nozzle is super convenient. It's retractable, lightweight, highly portable, flexible hose, simple way to save your storage space.. and you won't trip over it! The nozzle on this hose has several settings which is great for adapting to each unique plant or garden! This one also comes with an easy storing solution. Water by the gallons with adjustable water pressure.
Watering Can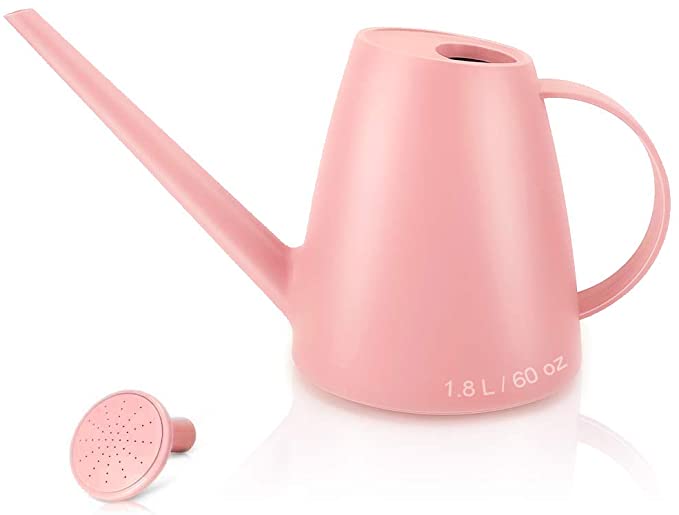 This watering can is super cute, and has a detachable shower nozzle so you can choose between a steady stream or a gentle shower. It is great for indoor and outdoor plants. Made of plastic so it is light weight! Also its pink and pretty so yes I added it to my cart right away!
Miracle-Gro Plant Food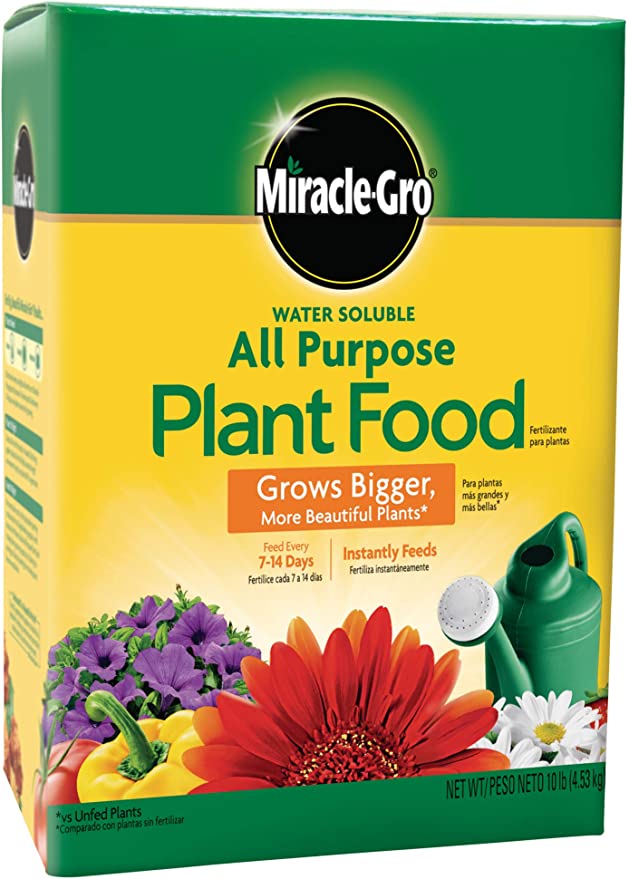 This is miracle-gro plant food is literally a miracle worker. I could not have the garden I do without this stuff! Full of essential nutrients, it instantly feeds to grow bigger, more beautiful plants. For all flowers, vegetables, trees, shrubs and houseplants. Take your green thumb to the next level with this mulch friendly plant food.
Seed Starter Trays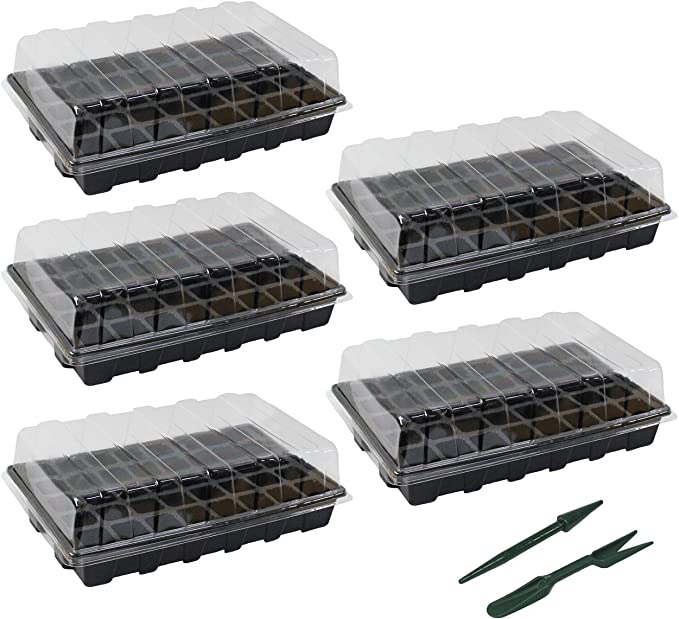 If you are looking to grow your plants from seeds, these seed starter trays work wonders and even have a transparent dome case to really help your plants flourish. They even have a drain hole at bottom of seed tray prevents overwatering. Highly recommend these ones!
Drill Bit for Planting
This drill bit for gardening obviously isn't completely necessary but makes a huge difference and saves SOOO much time! Drill isn't included. This planting auger for your drill helps dig holes in record time! Best digging tool out there!
There you have it, some of my favourite gardening tools! This is definitely more of a starter guide to gardening but just incase you didn't have something on the list and you are an experiences gardener, I thought I would include everything ! Now on to the next post.. must have outdoor decor!
Until next time!
If you loved this post on gardening, you will like these one too:
Looking for Gardening Must Haves from Amazon? I have the ultimate gardening tools buying guide right here for you!
BEST SELLERS