How To Clean Vinyl Siding; removing gross dirt from your house siding. Make your home exterior look fresh and new again! Using just a few easy to find products, you can take your siding from ew to brand new!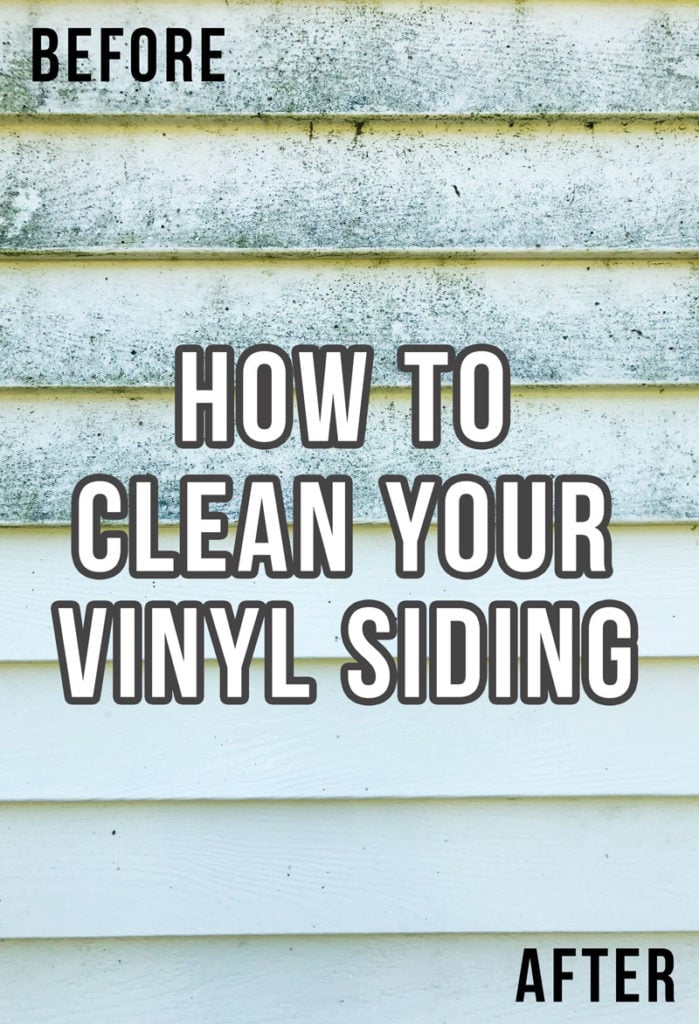 Disclaimer: this post may contain affiliate links, and every purchase made through these links will give me a small commission (at absolutely no extra cost for you!) AS AN AMAZON ASSOCIATE AND REWARDSTYLE MEMBER, I EARN FROM QUALIFYING PURCHASES. See Privacy Policy for additional info.
Hi Beauties!
Today's post is all about our house siding. Why? Because I struggled SO hard trying to clean our disgusting white siding so I wanted to share what I did that worked for us.
So for some reason, our white siding on our house gets VERY dirty. I'm not entirely sure why. I think our area has a lot of pollen during the spring months that stains our siding. Either way, it was pretty bad. no longer white and it made me cringe every time I looked at it! I knew I needed to fix it but I wasn't too sure how... I knew it was going to be a trial and error type of mission but luckily I got it right on the first try!
We do plan to redo our siding in the next couple of years. When we redo it, we are going to choose a darker colour than white. I find that the white vinyl siding (in our area) is just too high maintenance! But for now, I want to make our white siding look fresh and new! So I went on the hunt to find an easy way to clean vinyl siding and get this nasty black sludge off our house exterior!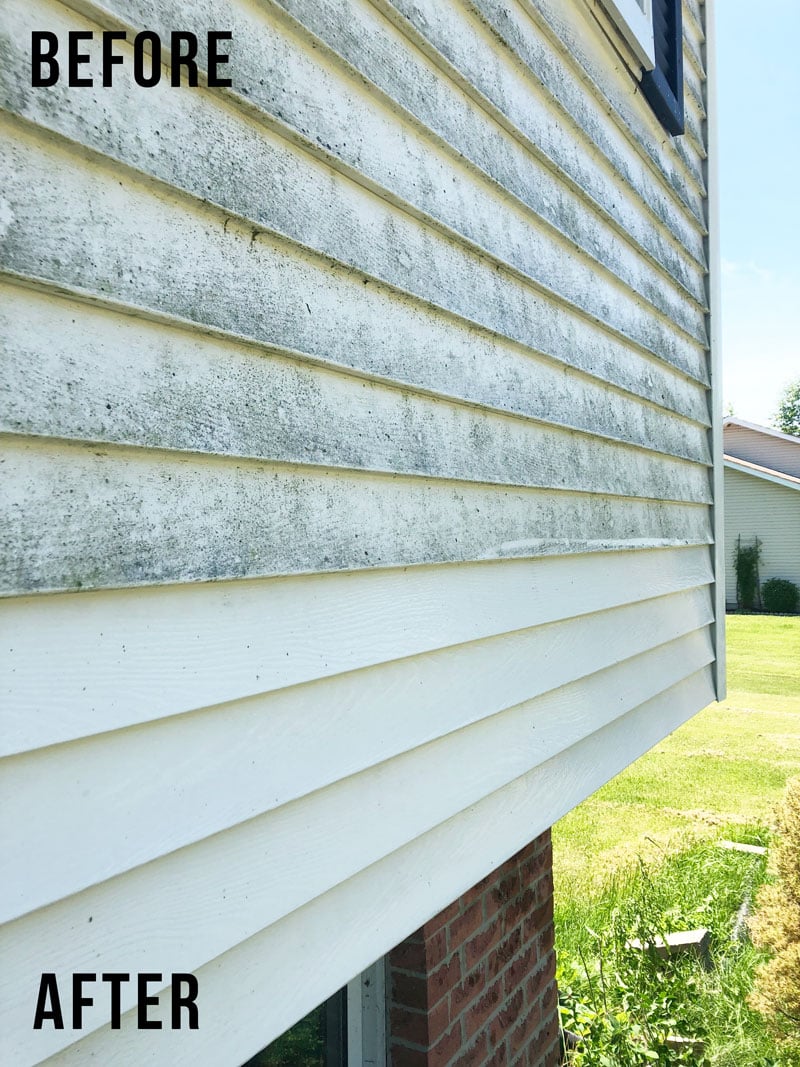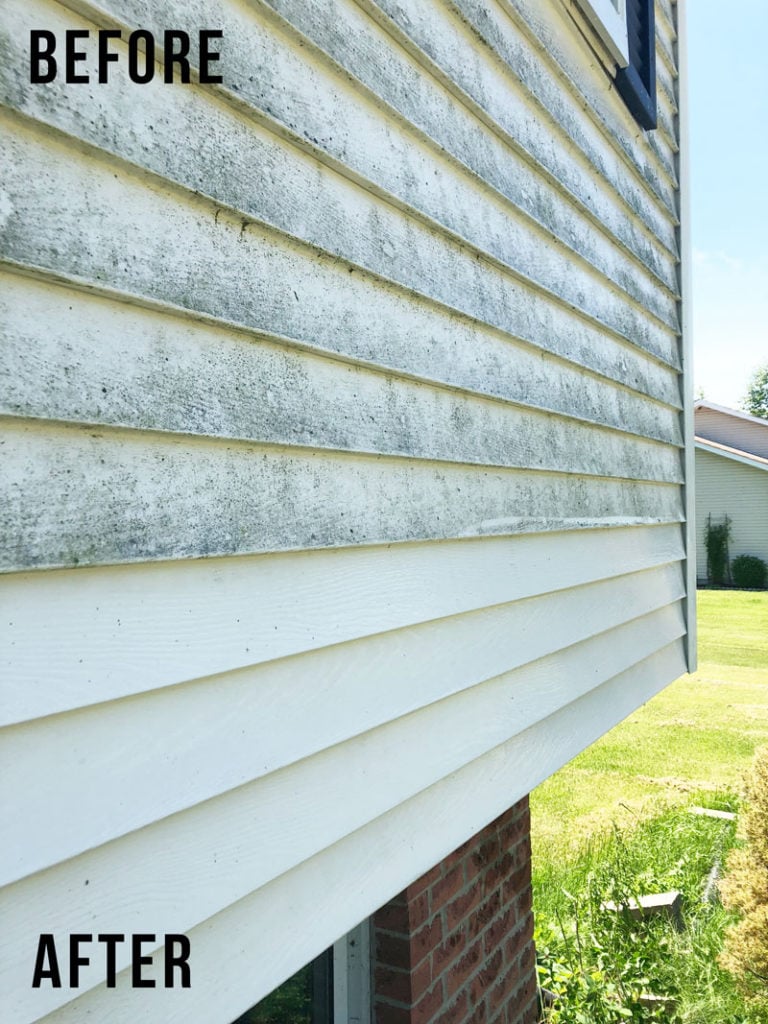 These photos are actually so embarrassing! I can not believe we let our vinyl siding get this bad. We plan to add this to our "spring cleaning" to-do list so that we don't let the dirt build up this much again.
It will be way easier to clean once a year than to let it get this bad again. Since cleaning the siding, I now know that it is something I need to do every year to stay on top of it... the more I clean it, the less effort I will have to put into cleaning it next time.
Why You Should Clean Your House Siding:
There are several reasons why you should be cleaning your siding regularly. Mildew, mold, spider webs, and dirt can build up on your siding. This can cause staining, eroding, and damage to your siding. It is so important to clean your siding at least once a year to ensure you are removing any of these damaging elements.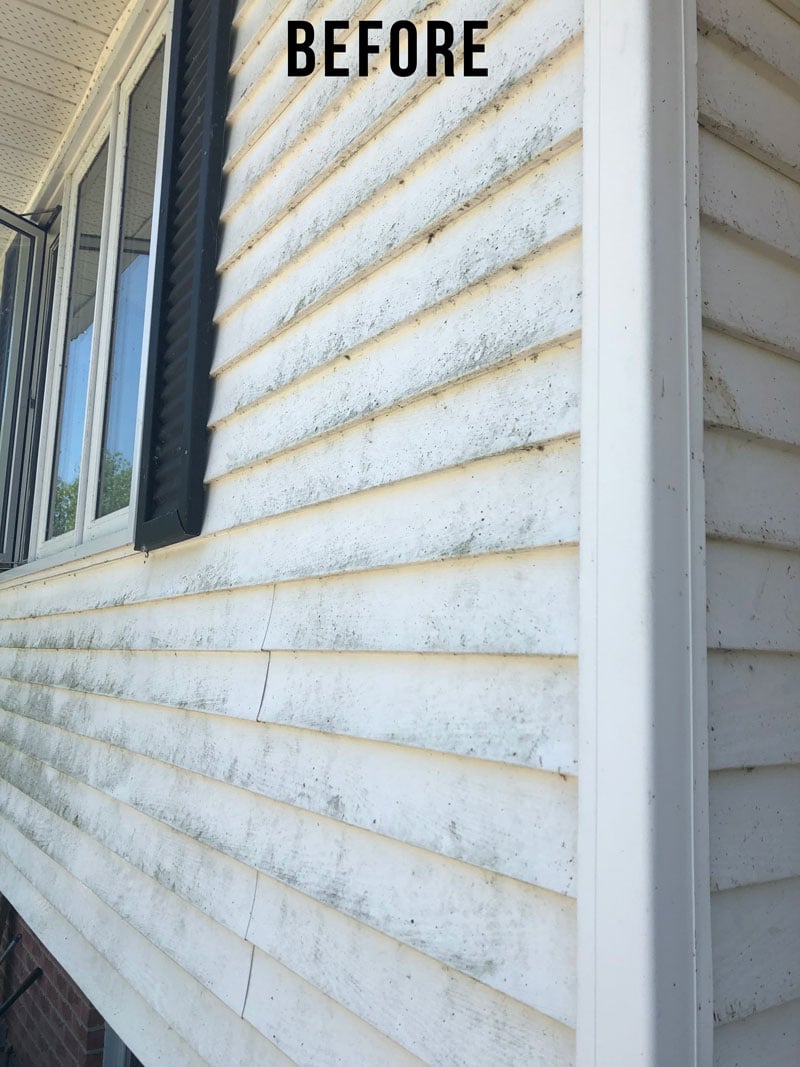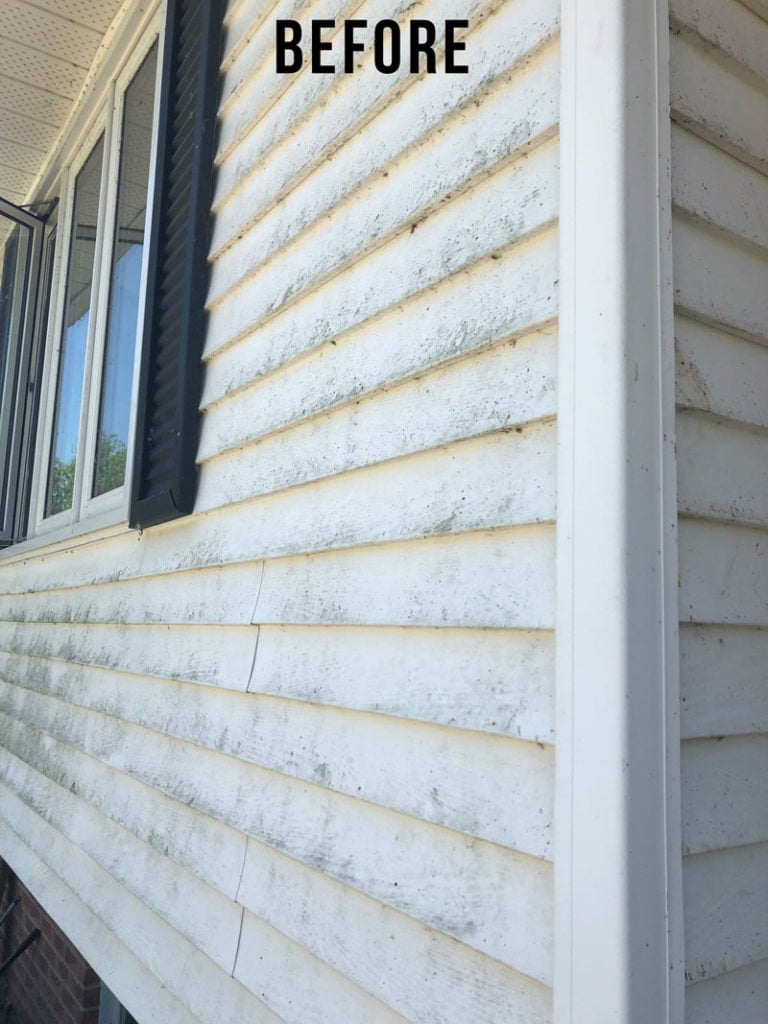 So let's just jump into how I made this clean vinyl siding transformation! 
Below you will find the supplies and steps you will need to clean the vinyl siding on your house! It is simple but also a lot of work.. so let's just get to it!
Supplies Needed to Clean Vinyl Siding on Your Home: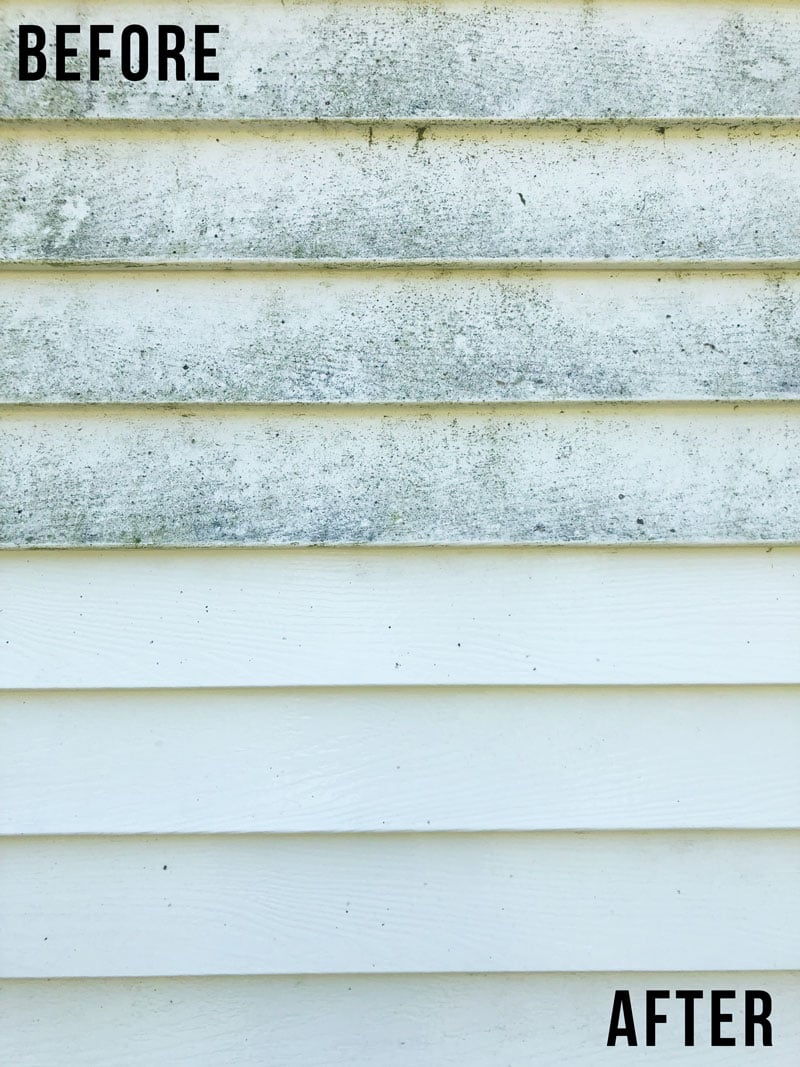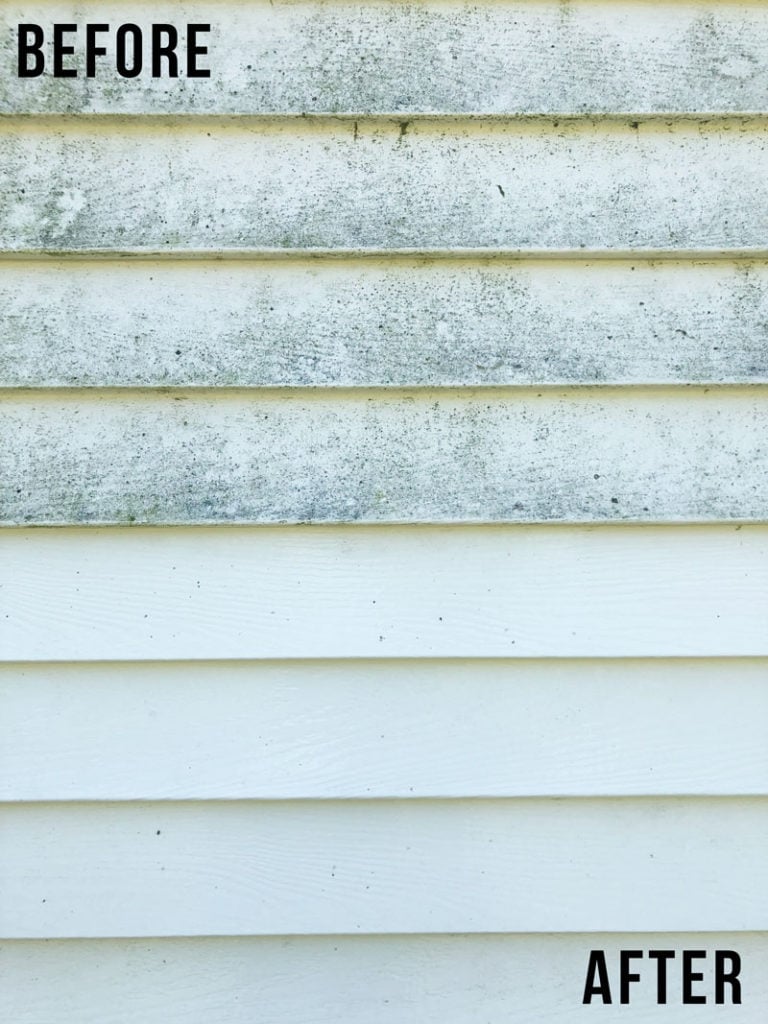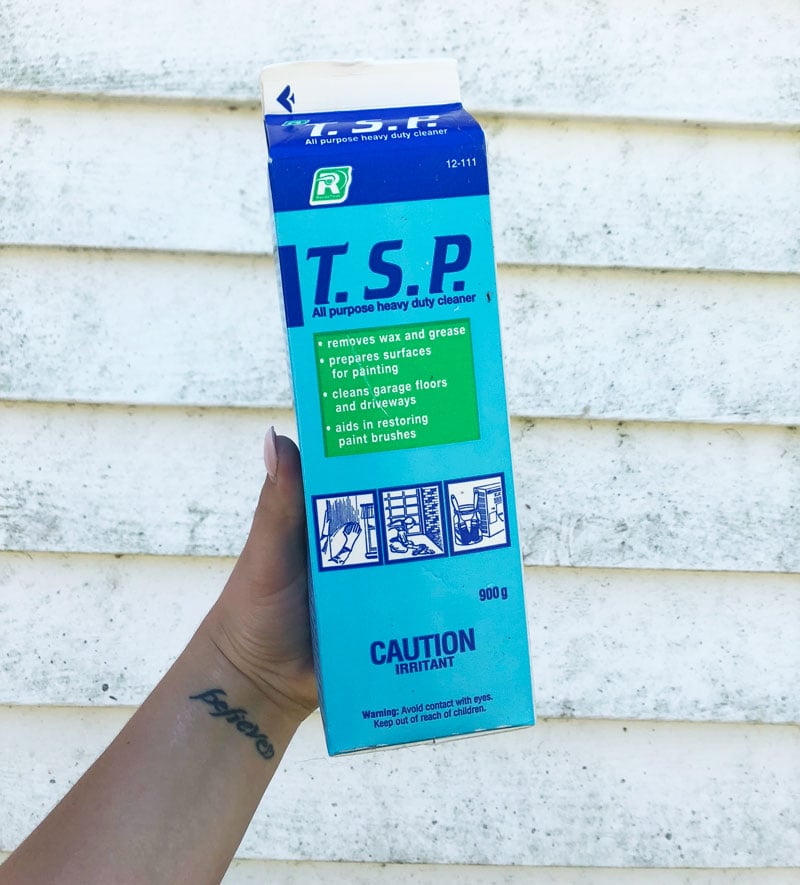 Cleaning House Vinyl Siding Steps:
Time needed: 2 hours.
Here are the steps you need to follow to clean your vinyl siding:
Mix Your Siding Cleaner

Mix the T.S.P powder according to the manufacturer's packaging. I mixed about ¼ cup of this cleaning powder with about 6 cups of warm water. Place mixture in a large enough bucket to fit your cleaning brushes. Make sure you are wearing gloves if you plan to handle the mixed cleaning solution.

If you do not want to use this T.S.P powder, you can also use a mixture of white vinegar, baking soda, and water as your cleaning solution. I found this didn't work AS well as the T.S.P powder but it is an all-natural option if you are worried about landscaping or other reasons! I have also seen some people use laundry detergent, Dawn dish soap, or a regular household cleaner! If you are looking for something strong, but environmentally friendly, I recommend Simple Green!

Avoid using cleaners that have organic solvents, undiluted chlorine bleach, liquid grease remover, nail polish remover, or furniture polish. AND ALSO please please please always follow the manufacturer's instructions to ensure safety! And wear gloves to protect yourself!

Water Down Siding

Spray down your siding with just regular water. This removes any of the minor dirt debris that doesn't need to be scrubbed on the surface of your siding. You can use a garden hose or a pressure washer. You will need at least a gallon of water to clean your house (dependent on your house size of course).

Scrub Siding

Using the large pole bristle brush or broom, dunk into the T.S.P and start scrubbing your siding. Rub the broom along the surface of the siding to ensure you are removing the grime and build up. You may have to put some muscle into it! I will admit, my arms were a little bit sore the next day! haha.

If you don't have a pole brush or broom, you will have to use your ladder to clean the majority of your house. You can use a durable mop or soft cloth as well. It will definitely take you longer to complete this project but you may be able to do a more thorough job this way!

Deep Scrub

Go in with the smaller brush to really scrub out the stuck-on debris. I used a soft-bristled brush to really get into the grooves of the siding. If your siding is on the newer side, you may not have to do this step. Base it on the quality and feel of your siding panels.

Rinse

Rinse with regular water. We just used our garden hose. I think next time we will use a pressure washer to help really remove the tough stains/dirt. Pressure washing is a great option to really get the job done right.
Just a side note, the T.S.P product did not hurt my garden! It's been about a week now and they are all still alive. I was very worried the product would kill my plants. Next year I will definitely plan on doing the cleaning in the spring before my flowers start to grow, just to avoid any worry.
Also if you want to go all out on your home's exterior, don't forget to wash your windows! I love Windex. Just use a durable rag to scrub your windows.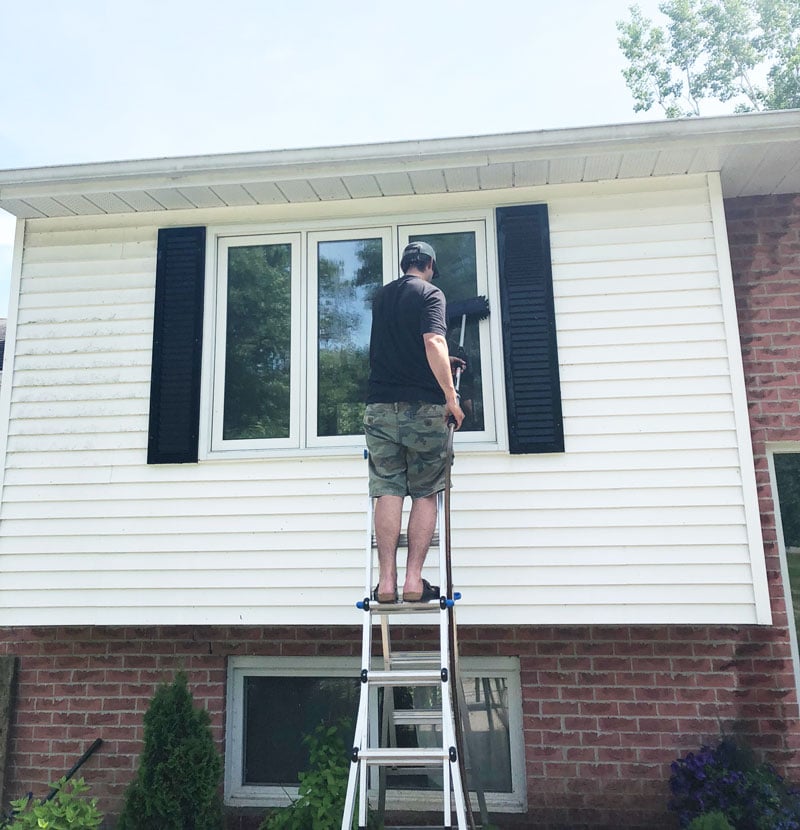 We also cleaned our windows too. Dylan was able to help me reach the very top of the siding. hehe thanks, husband for the help! Look at that clean vinyl siding!! YAY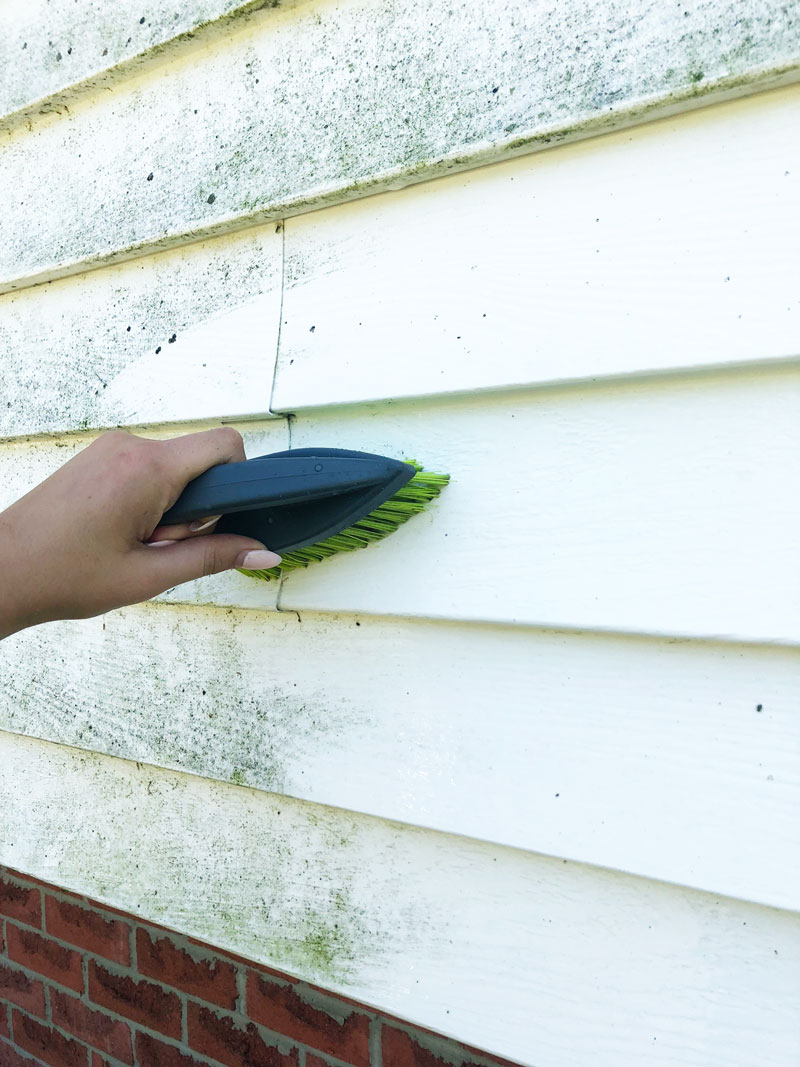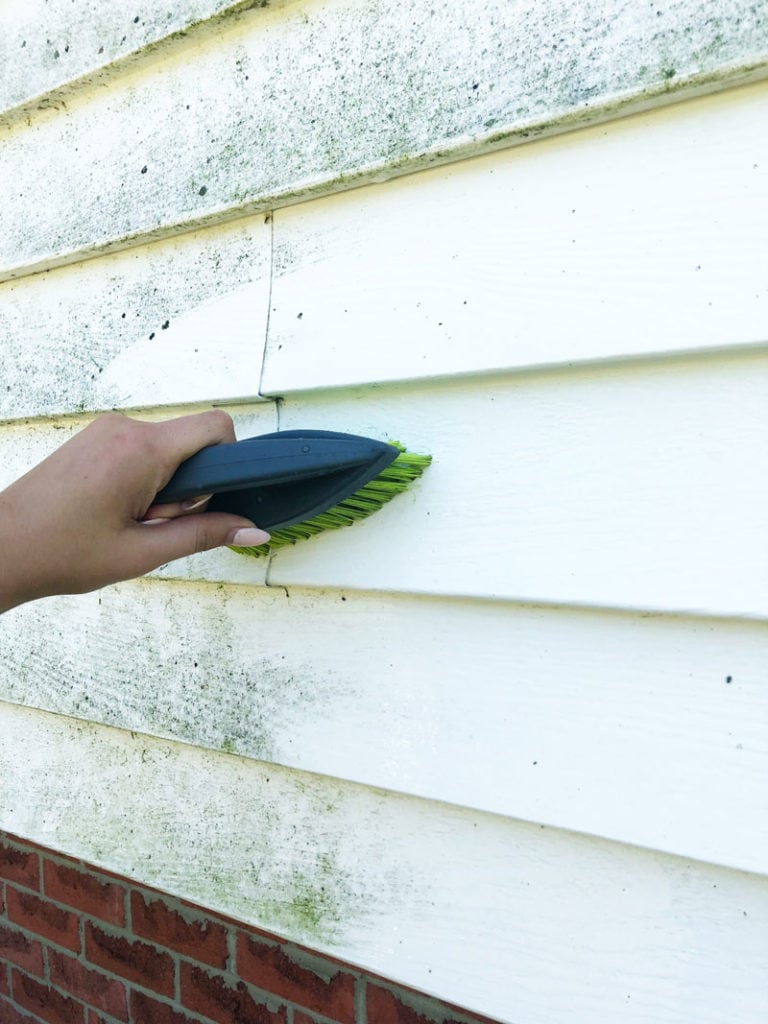 I hope you found this post useful for you and your home!
Now go clean vinyl siding, have fun!!

If you liked this post, you'll LOVE:
How To Clean Vinyl Siding; removing gross dirt from your house siding. Make your home exterior look fresh and new again!
BEST SELLERS