How to Throw a High Tea Party with Food Ideas; Afternoon tea party food ideas and inspiration!
Disclaimer: this post may contain affiliate links, and every purchase made through these links will give me a small commission (at absolutely no extra cost for you!) AS AN AMAZON ASSOCIATE AND REWARDSTYLE MEMBER, I EARN FROM QUALIFYING PURCHASES. See Privacy Policy for additional info.
There's no better way to celebrate a special occasion with friends and family than throwing a high tea party. But it can be hard to know where to start when planning your own party. Here are some ideas that will help you plan the perfect party from start to finish that your guests will remember for years.
A high tea party is a special event that you can host for your friends, family, or co-workers. This type of party usually consists of several different types of snacks, sandwiches and desserts.
You can have either formal or casual high tea parties depending on the time and location of your event. The most important part about throwing a high tea party is having fun with it!
How to Throw a High Tea Party:
Set the table
Once you have your supplies assembled and ready to go, it's time to set the table. All that's needed is a tablecloth and napkins—and perhaps a few extra glasses in case you have guests who want to drink wine or champagne with their meal.
You'll want to use either a tea set or china for this meal, so make sure everything on your table matches! A teapot per person works well here, as does enough cups for everyone (plus one extra cup if anyone wants more than one). And don't forget about sugar bowls and milk jugs!
For example: If there are four people at your party, use four teapots—one for each guest per course—and set up one small plate per person as well as a glass of water in front of each plate.
The Tea
The drink of choice for high tea is tea. Shocker I know... It's a beverage prepared from the leaves of a plant. The leaves are dried, rolled up into little balls called "tea leaves," and then steeped in hot water to make a hot or cold beverage depending on your preference.
When you're throwing an elaborate party like this one, it's good to know that there are different types of tea: white, green, black and oolong (the most popular). You may want to have several different options available for your guests so everyone can enjoy their cup of tea of choice!
In addition to being delicious and full of antioxidants (which help fight off free radicals), they also come in many different flavors! You can buy flavored teas at almost any grocery store or health food store—and they taste great with some milk or honey added if you want something sweeter than just plain old water--but if you want something extra special for your high tea party guests' enjoyment then here are some ideas:
The Food Display
The food should be served on china or silver.
The food should be served on a tiered cake stand.
The food should be served on a tiered stand with a linen napkin.
The food should be served on a tiered stand with a linen napkin and a fancy teapot.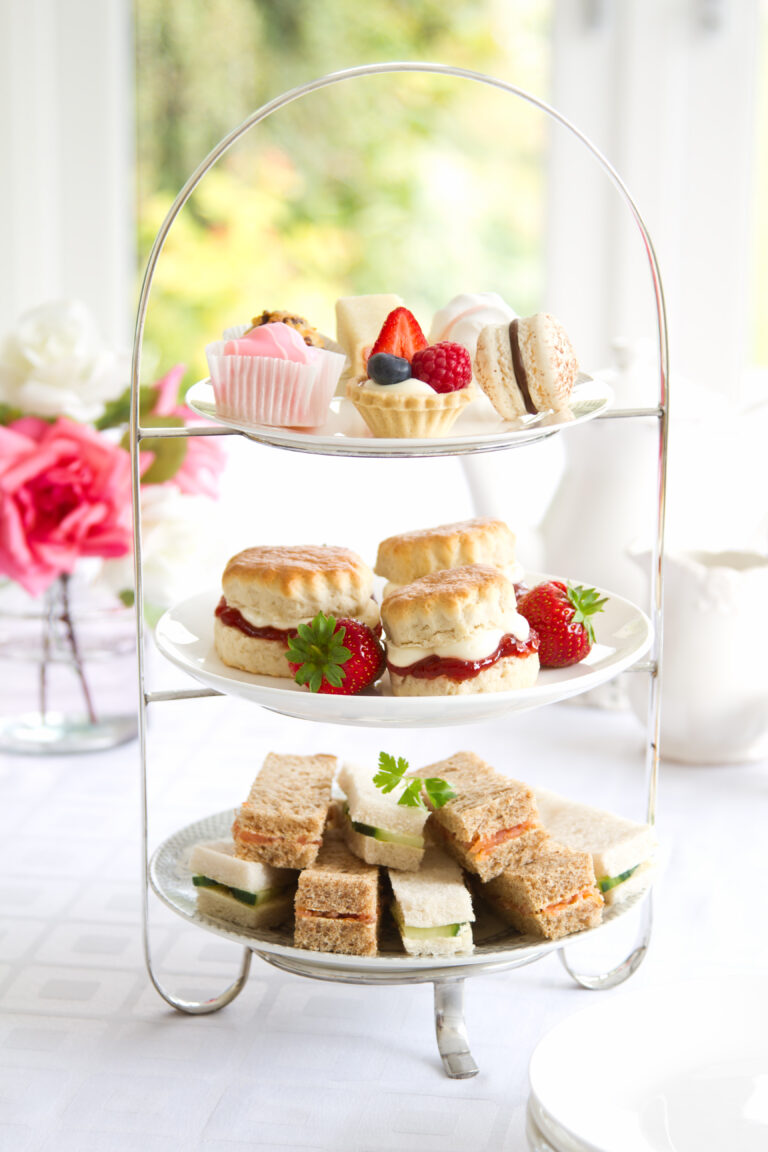 The Desserts
Desserts should be small, sweet and simple to eat with one hand. They should be served during the tea drinking portion of the event. This is a time for relaxation and socializing, not food preparation so having all the food ready to be eaten during tea time is the best option!
Some typical desserts you will see at a high tea party include cookies, tarts, squares, mini pies, cupcakes, lemon curd and brownies. You can include several different variations of these sweet treats.
Small Pieces of Fruit and Vegetables
You don't want your guests to be too messy, so avoid foods like ice cream and sauces. You also want your guests to be able to eat on their own, so try to avoid anything that requires cutting or chewing in both hands (like chicken wings or a hot dog). If you are serving finger food (which is most common high tea party foods, make sure it's bite-sized so that everyone can get in on the action.
When planning your menu, keep these tips in mind:
Choose dishes that aren't too messy—for example, salads with dressing served on the side and individual baked potatoes with toppings as opposed to mashed potatoes served family style.
Make sure there are plenty of napkins around! This way people can clean up any spills without worrying about ruining their outfits or needing someone else's help doing it themselves. Also consider having wet wipes available just in case something gets spilled on clothing anyway—this will help prevent stains from setting into fabrics over time if they're washed immediately after getting wet rather than letting them dry out first before washing away excess moisture with soap/water later down stream when drying off would probably take longer than going through another cycle itself already will take up now being late due this fact alone which means less chances for making up lost time...
Some typical fruits and vegetables usually present at an afternoon tea party include strawberries, raspberries, other berries, cucumber slices, pickles, carrots, and cherry tomatoes.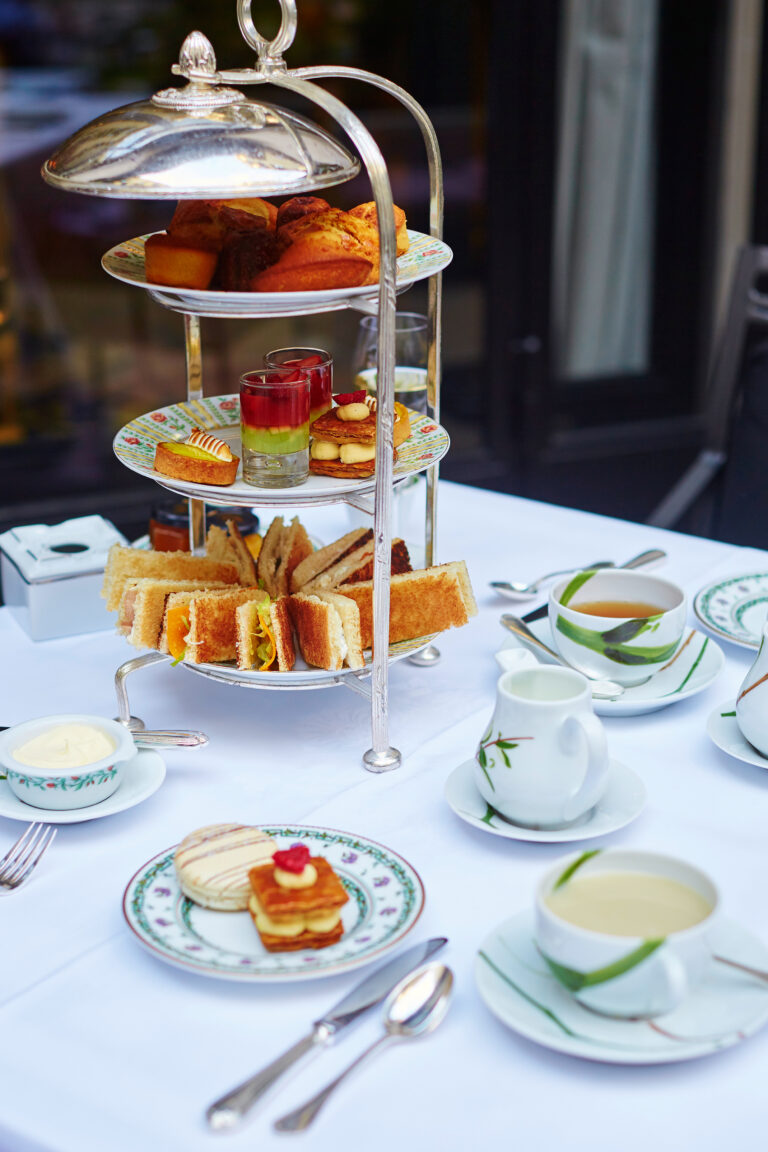 High Tea Sandwiches
Finger sandwiches are a high tea party food must! The following items are key to a successful high tea party:
Cucumber Sandwiches. These can be prepared using any type of bread, but the classic choice is white bread or pumpernickel bread. Slice off the crusts and cut each slice into two triangles. Lay them on a tray, cover with a damp cloth and store in the refrigerator until ready to serve.
Chicken or Ham Sandwiches. The fillings for these should be as fresh as possible, so think about using thinly sliced chicken breast or chicken salad instead of leftover chicken breast from last Tuesday's dinner!
Egg Salad Sandwiches. Egg salad is made using mayonnaise and hardboiled eggs.
Tuna Salad Sandwiches.Tuna salad is made using mayonnaise and drained canned tuna
Salmon Sandwiches. Salmon sandwiches are usually made the same way as a tuna sandwich with mayonnaise and canned salmon.
Peanut Butter and Jam Sandwiches. A classic sandwich that can be perfect for afternoon tea if prepared to look fancy!
Depending on the type of sandwich it is better to prepare each ingredient and then assemble right before serving. This avoids the bread getting soggy, especially those recipes with mayonnaise or cream cheese!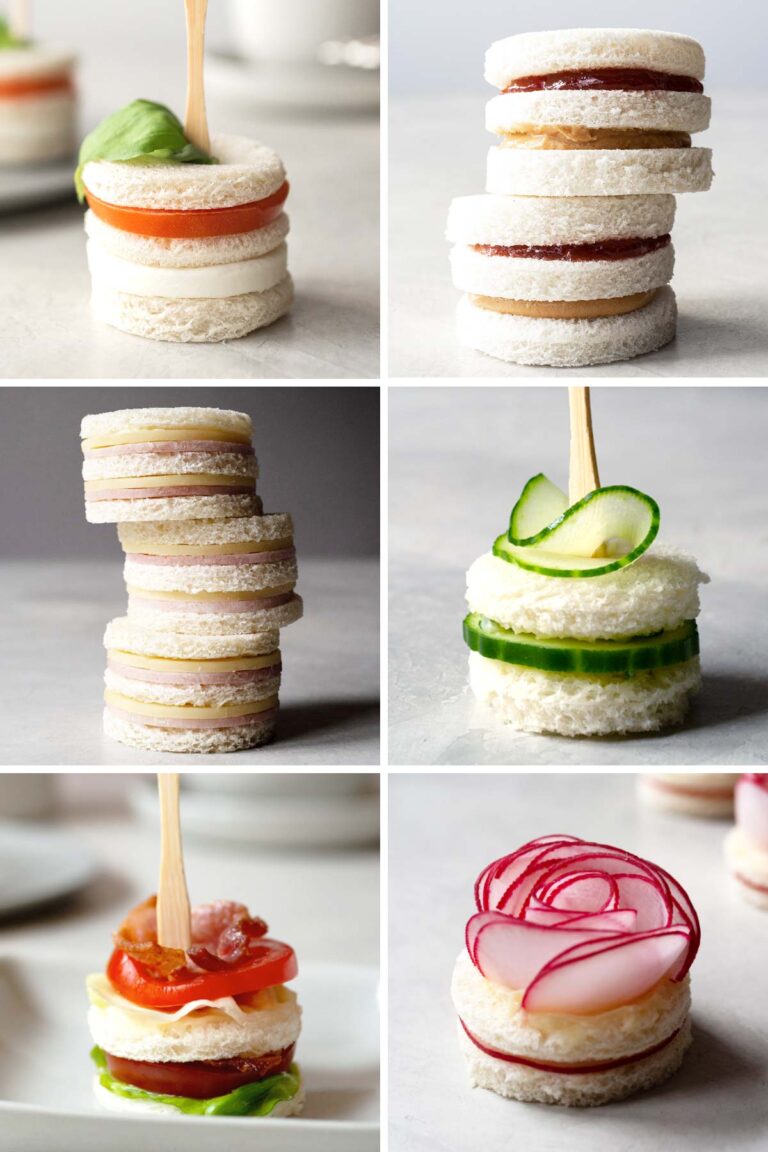 Scones
Scones are a type of cake that is popular all over the world, but they're especially well-known in England. Paired with jam and clotted cream, this combination makes for a perfect afternoon treat.
Scone recipes are easy to find online or in cookbooks and can be made from scratch at home. Alternatively, you can buy scones in the store and simply top them with the jams and creams listed below.
Scones can be sweet or savory. Make sure you plan your full menu before deciding what flavour of scones you will include for your high tea party. If you have too many sweets you may want to opt for a more savory scone option!
Biscuits
Biscuits are small, sweet and crunchy. They're usually made with butter, flour and sugar. They're the most popular food item at a high tea party because they're traditionally served with tea.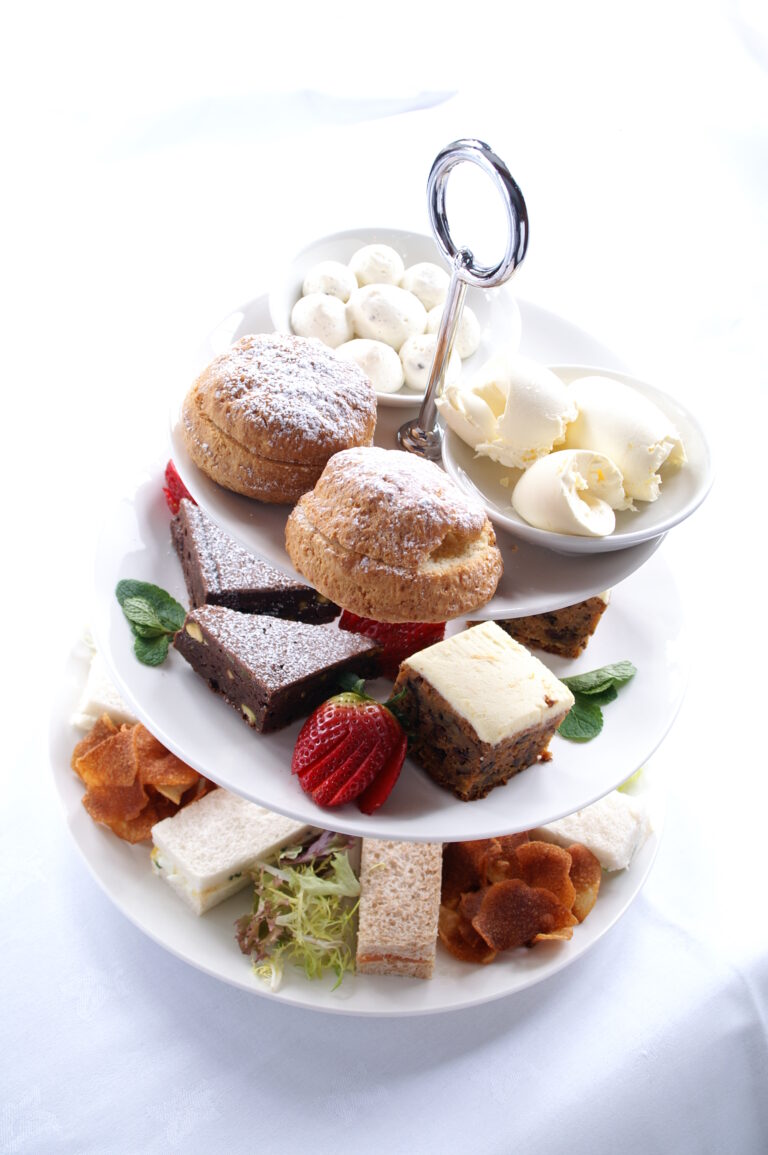 Petit fours
If you're looking to serve petit fours at your high tea party, here's what you need to know:
They're small pastries that are served at the end of a meal. Often, they're made from sponge cakes and decorated with frosting or sugar.
Petit fours can be bite-sized or larger than bite-sized, depending on their original intent (for instance, if they were intended for dessert). In any case, they should be cut into smaller pieces before serving them so that guests can enjoy the full experience of each one individually. Petit fours are usually eaten as an accompaniment to coffee during high tea parties (hence the name), although they can also be served after dinner or at other times as well
Decorations
A garden tea party is a lovely way to celebrate a special occasion, such as a birthday or anniversary. When planning your party, it's important to choose a theme that will be both elegant and festive. Once you've decided on a theme, you can begin to select designed custom inflatable decorations and flowers that will help to create a unique and memorable party.
For example, for an Alice in Wonderland-themed party, you could opt for designed custom inflatables in the shape of playing cards or rabbits. Alternatively, for a more traditional garden party, you might choose designed custom inflatables in the shape of teapots or roses. Whatever theme you choose, decorations can help you make your garden tea party truly one-of-a-kind.
This gives you a general idea of what food is included in a high tea party. We hope that I have inspired you to throw a high tea party with delicious high tea food. This blog post gives you an idea of what food is included in a high tea party and how to set the table. It's not super hard, and I am sure with the help of this blog post you can do it.
BEST SELLERS