Vegan Pumpkin Pie Protein Smoothie; healthy dairy free pumpkin spice breakfast drink!
Disclaimer: this post may contain affiliate links, and every purchase made through these links will give me a small commission (at absolutely no extra cost for you!) AS AN AMAZON ASSOCIATE AND REWARDSTYLE MEMBER, I EARN FROM QUALIFYING PURCHASES. See Privacy Policy for additional info.
Hi Beauties!
Yesterday I took the puppies on a long walk through a tail that runs near our house. This beautiful trail was once a railroad track, but now has been filled over with dirt leaving a perfect path to enjoy. This hike has always been one of my favourites.
It is so peaceful. You truly enjoy nature in its most raw form. While walking I came across a section of forest that appeared to be changing. Changing to the fall colours. This sparked an excitement within me.
Fall is my favourite season - the colours of fall are truly stunning, the crisp air makes you forgive the harsh humid summer and drinking hot tea in an overly large cozy sweater brings a level of relaxation that can't be explained.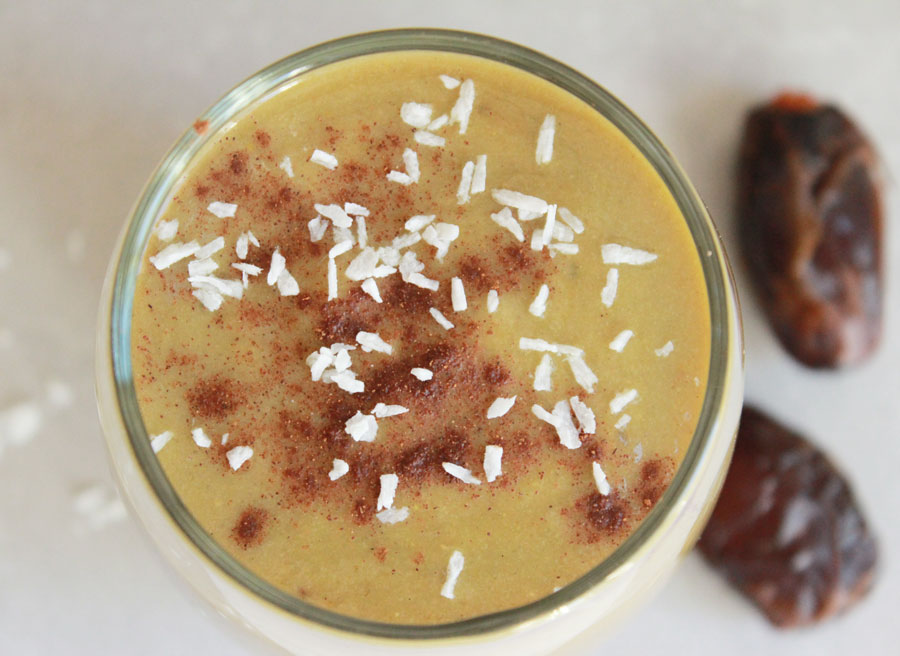 Nothing says fall weather better then pumpkin EVERYTHING. Pumpkin flavours and spice usually over take this season in the food blogging world. I love pumpkin spice and plan on making several pumpkin recipes this fall for you all (just a heads up hehe). 
I seriously can not get enough pumpkin spice everything.. I know I know typical girl moment but you cant go wrong with pumpkin spice! I know there is a lot of talk about people not actually liking it and just enjoy the idea of it, but I actually love it. I think its delicious and really sets the mood for the changing seasons!
This Vegan Pumpkin Pie Protein Smoothie is:
packed with healthy vegan protein
bursting with pumpkin pie spice flavours
cold and smooth
sweet and filling
Are you a fan of pumpkin pie? It is still a favourite for use during the fall and thanksgiving season. My younger brother is OBSESSED with pumpkin pie and loves it so much that he would make my mom buy him one to keep in the fridge for when he was craving some. Talk about pumpkin addiction haha. What is your favourite pumpkin spice recipe?
Are you a pumpkin spice latte fan? I am! Mostly because of my pure addiction to caffeine.. but hey! why not combine two of your favourites.. Pumpkin spice + coffee = heaven in a cup.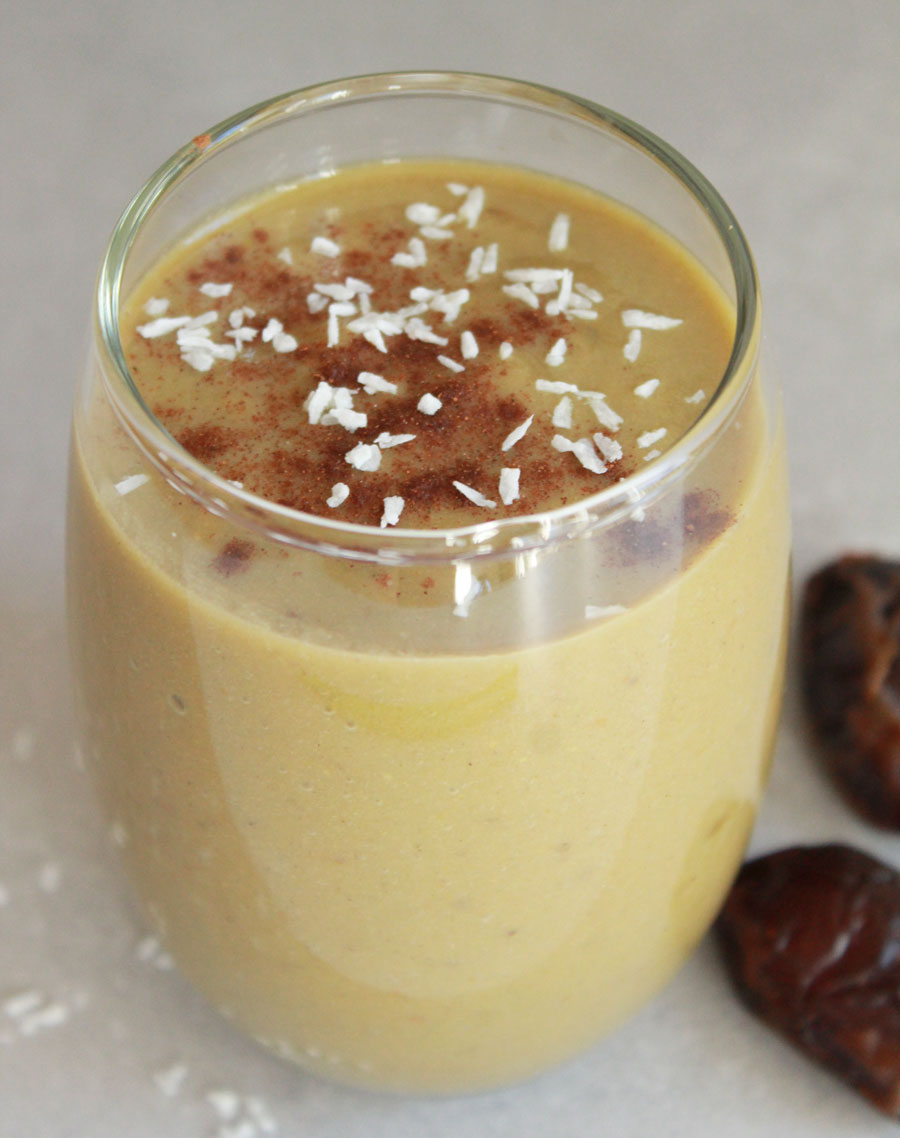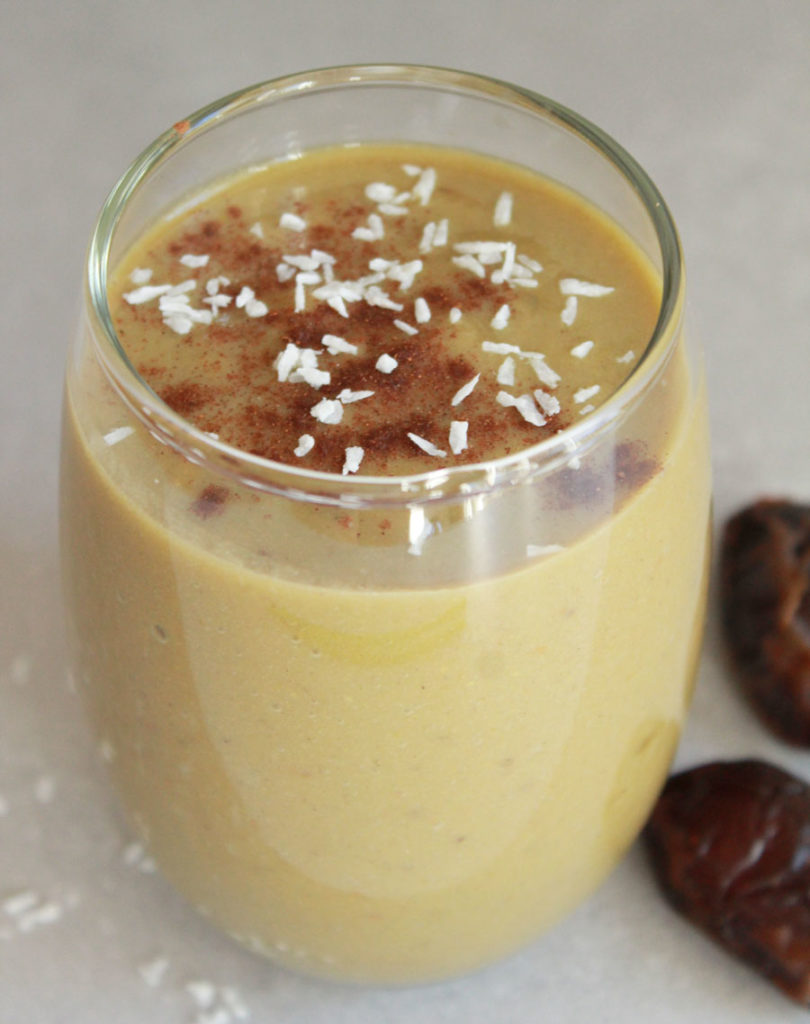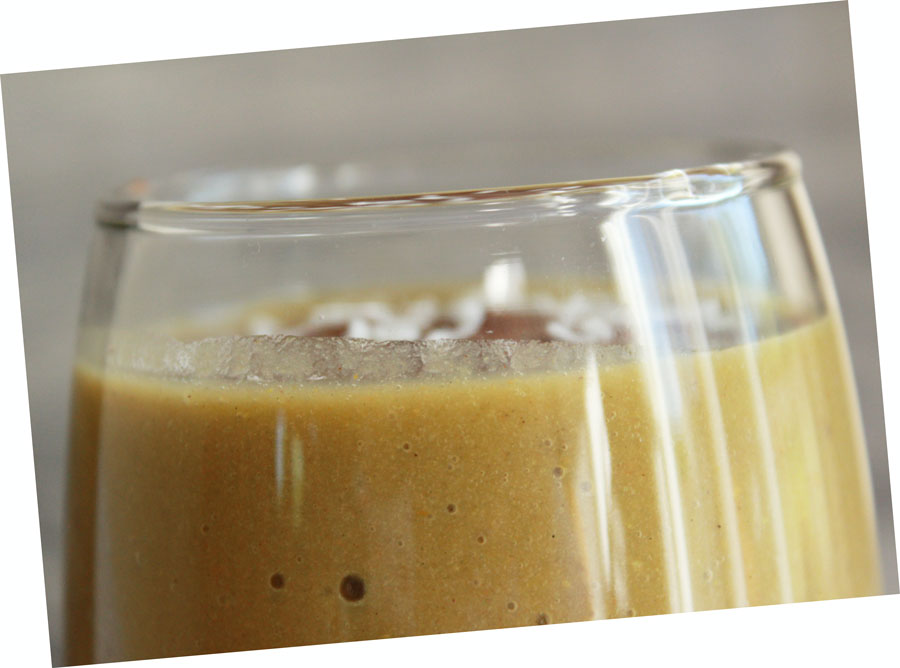 To start this season off right, I decided to keep it simple with a protein smoothie. I just finished sipping on this while writing this post. The main ingredient in this smoothie is pumpkin puree. I know shocker right? The liquid base of this smoothie is Unsweetened Vanilla Silk Almond Milk. This smoothie is packed with protein powder. I used French  Vanilla Vega One™ Nutritional Shake.  
This recipe is super easy to make and usually will have these ingredients right in your pantry.. at least I had them all already! You can swap out ingredients for what you have handy, as needed of course.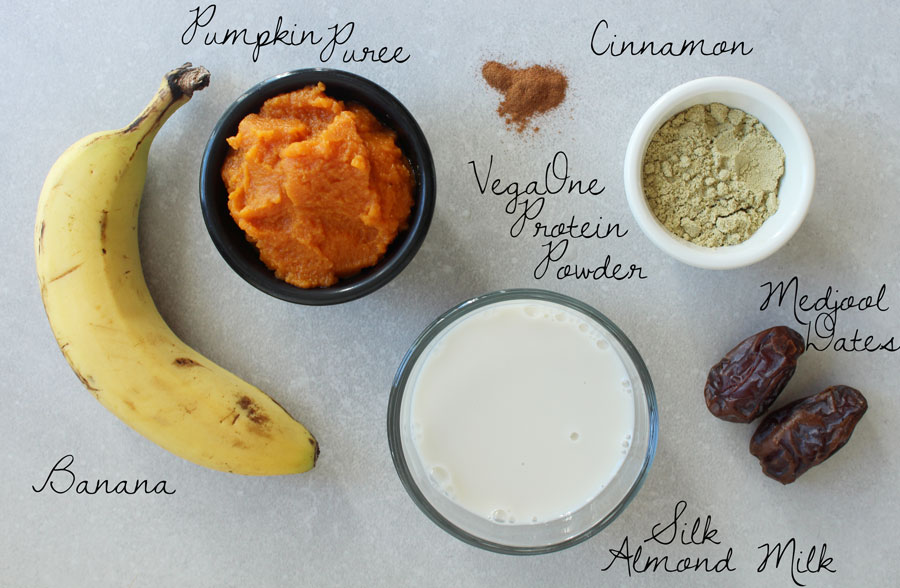 Enjoy this pumpkin pie protein smoothie 🙂 
If you love this pumpkin spice recipe, make sure you check out my Pumpkin Peanut Butter Cups and Pumpkin Spice Almond Milk to keep your pumpkin spice obsession going strong!
Until next time,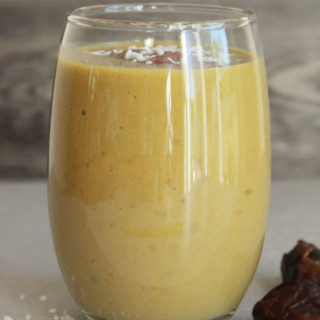 Pumpkin Pie Protein Smoothie
Pumpkin Pie Protein Smoothie - Vegan, Gluten Free and Processed Sugar Free.
Ingredients
1.5

cup

vanilla unsweetened almond milk

½

cup

pureed pumpkin

(i used canned)

½

scoop

protein powder

(i used pea protein powder)

2

medjool dates

pitted

1

frozen banana

½

tsp

cinnamon

½

teaspoon

nutmeg

½

teaspoon

pumpkin spice
Instructions
Combine all ingredients into a blender. Blend until smooth.

Transfer to drinking glass and enjoy!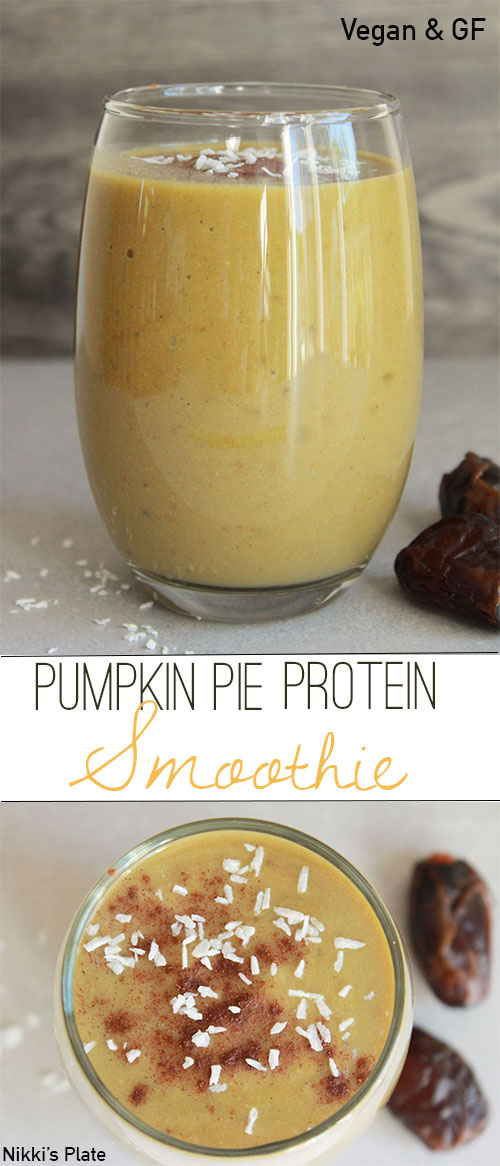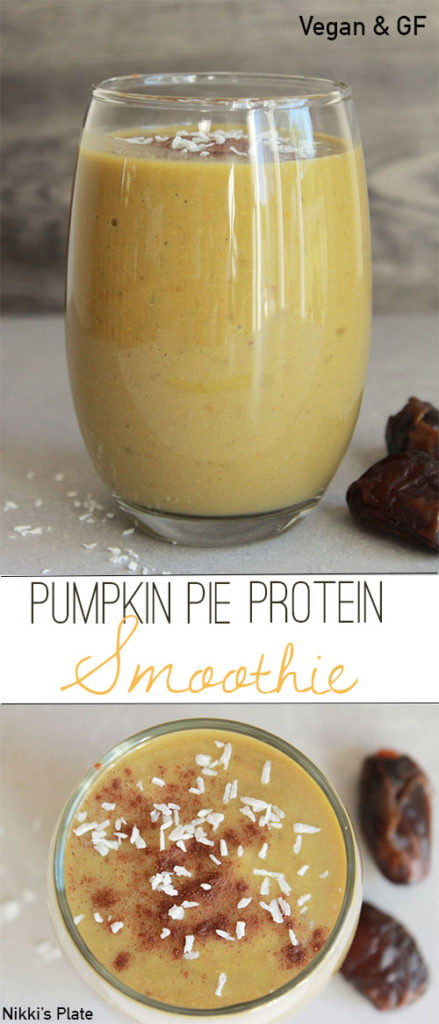 Vegan Pumpkin Pie Protein Smoothie; healthy dairy free pumpkin spice breakfast drink!
BEST SELLERS