BEST Meal Prep Containers; Do you have healthy eating goals this year? These top-rated meal prep containers will help you stay on track and eat healthy this year!
Disclaimer: this post may contain affiliate links, and every purchase made through these links will give me a small commission (at absolutely no extra cost for you!) AS AN AMAZON ASSOCIATE AND REWARDSTYLE MEMBER, I EARN FROM QUALIFYING PURCHASES. See Privacy Policy for additional info.
Hi beauties! Coming at you with the BEST meal prep container for 2023!
Meal prepping is a great way to save time, money, and energy. It doesn't have to be complicated either! In this blog post, I will share the top-rated containers for meal prepping your food. After all, the key to successful meal prepping is making sure that you have everything ready at once so you can just grab it and go!
How to Make The Best Use of your Meal Prep Containers:
In order to make the best use of your meal prep containers, you should follow our simple rules.
Always use microwave and dishwasher-safe containers as well as BPA-free containers. This will help you make sure that there's no chance of the plastic leaching into your food, which can be bad for your health.
Invest in the best ones you can afford. There are some better meal prep containers out there that have more features but can be a bit pricey. Invest in good containers so they will last for you but you don't need to go overboard!
Look for lids that are easy to open and close. You also want to make sure they are leakproof if you are going to be carrying them in a lunch bag. You will thank me later! This will also help keep your food fresh longer.
What kind of container do I want?
When it comes to the best meal prep containers for your needs, it's important to invest in the best quality you can afford. Look for containers that are dishwasher safe and microwave safe, as well as BPA free. This is an investment in your health and wellness—you want a container that will last.
There are three main types of containers—stainless steel, plastic, and glass. Stainless steel is great for keeping food hot or cold, but it can be heavy. Plastic is lightweight and very affordable, but it's not as durable or as easy to clean as other materials. Glassware is durable and easy to clean, but it isn't as good at keeping food hot or cold as other materials.
How many containers should I buy?
This is completely up to your preferences. I personally have 5 lunch containers. I do not like eating the same meal more than 5 days in a row and I feel like that food starts to taste not as good after 5 days of sitting in the fridge. In general, you should have enough containers for at least three days' worth of meals so that you don't have to wash them in between uses. However, if you're planning on making large batches of food it may be better to have large containers that you can dish out of daily.
BEST Meal Prep Containers for 2023: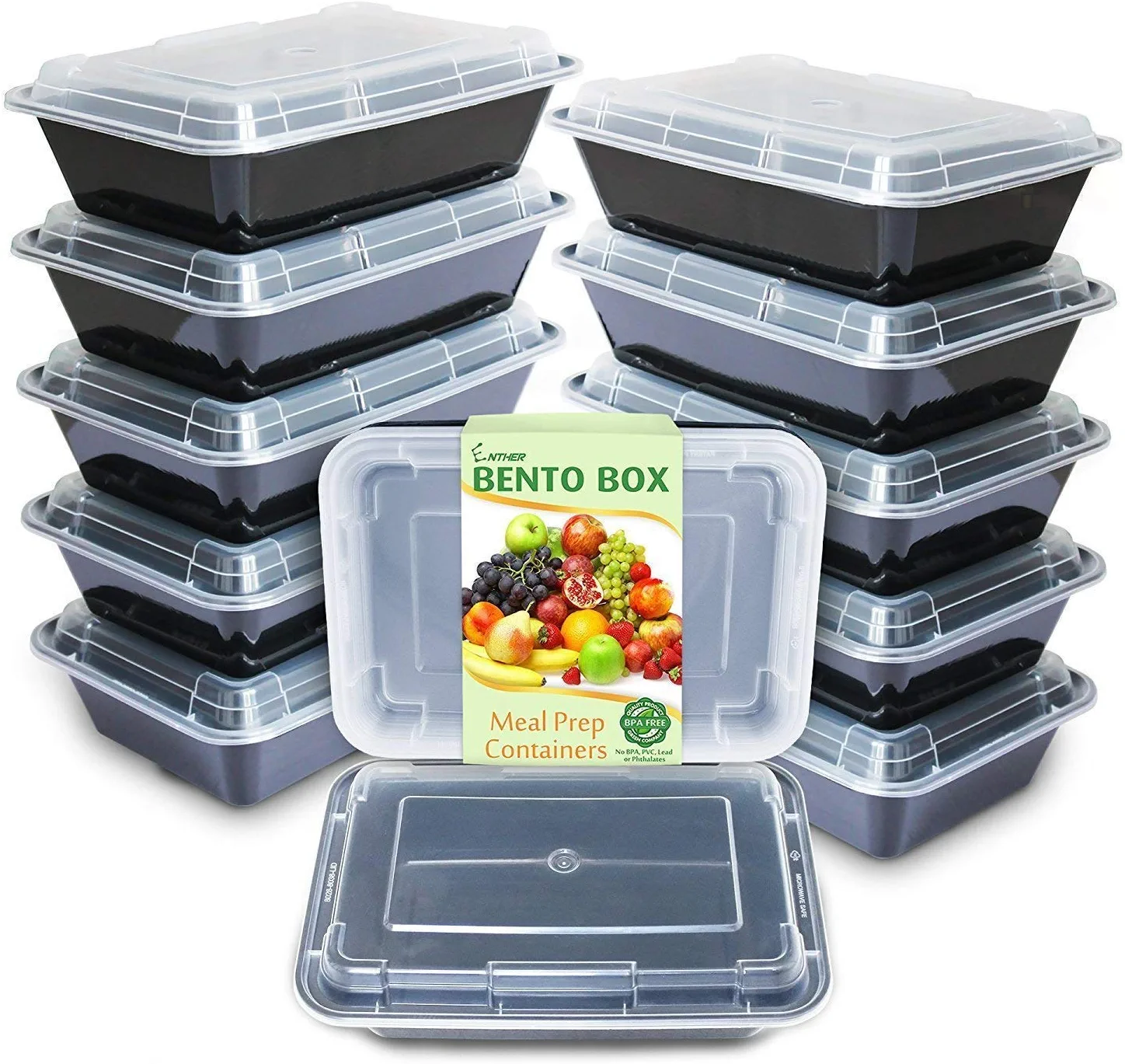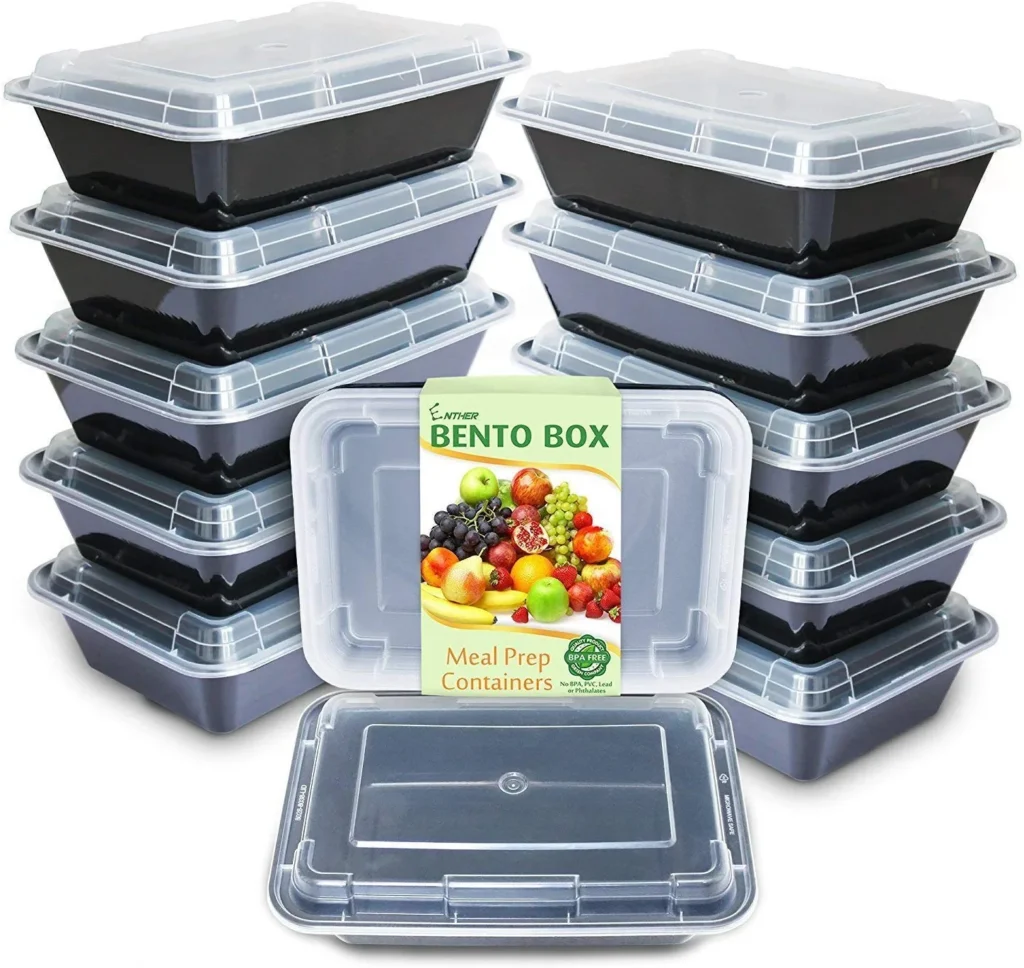 These containers are the MOST bought on Amazon with amazing reviews. They come in a pack of 12 and are easy to store + clean. They are also oven, microwave, dishwasher, and freezer safe! BUY HERE
I LOVE these glass containers. They have almost 25,000 five-star reviews on Amazon. Comes in a set of 10 containers, two sizes. They are oven, microwave, dishwasher, and freezer safe! BUY HERE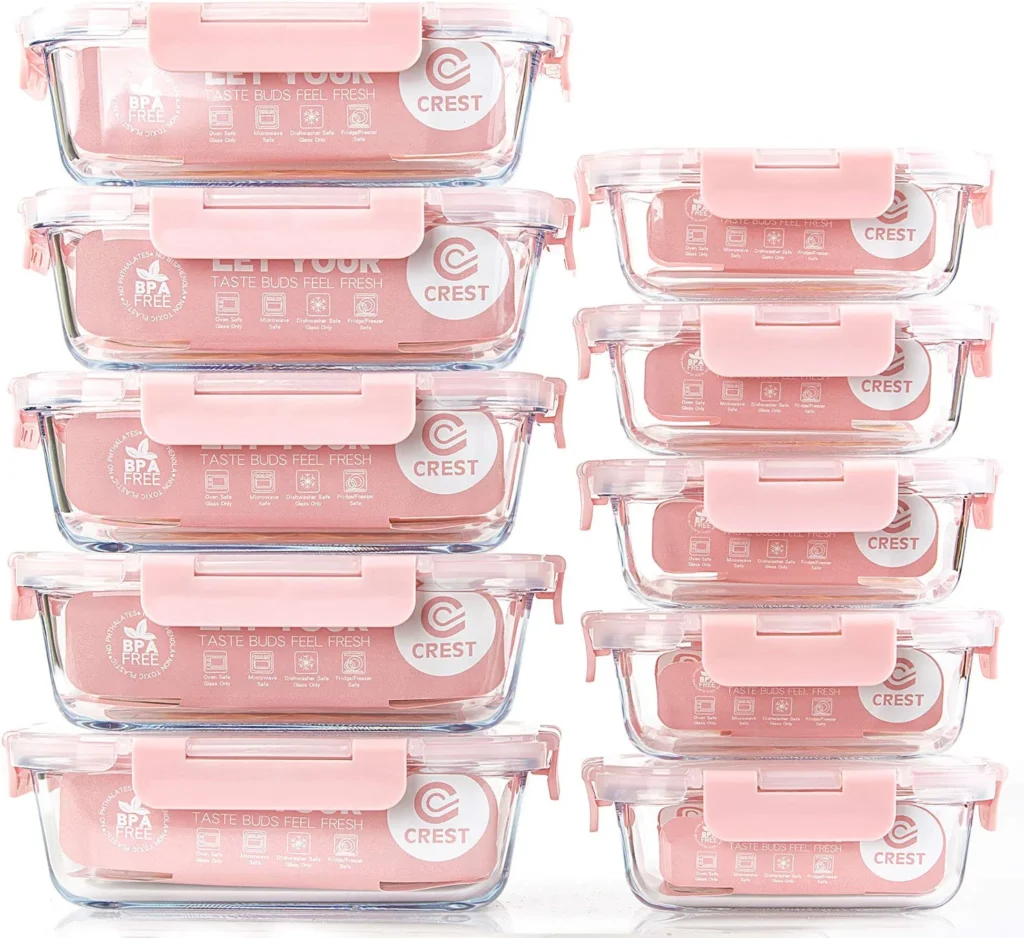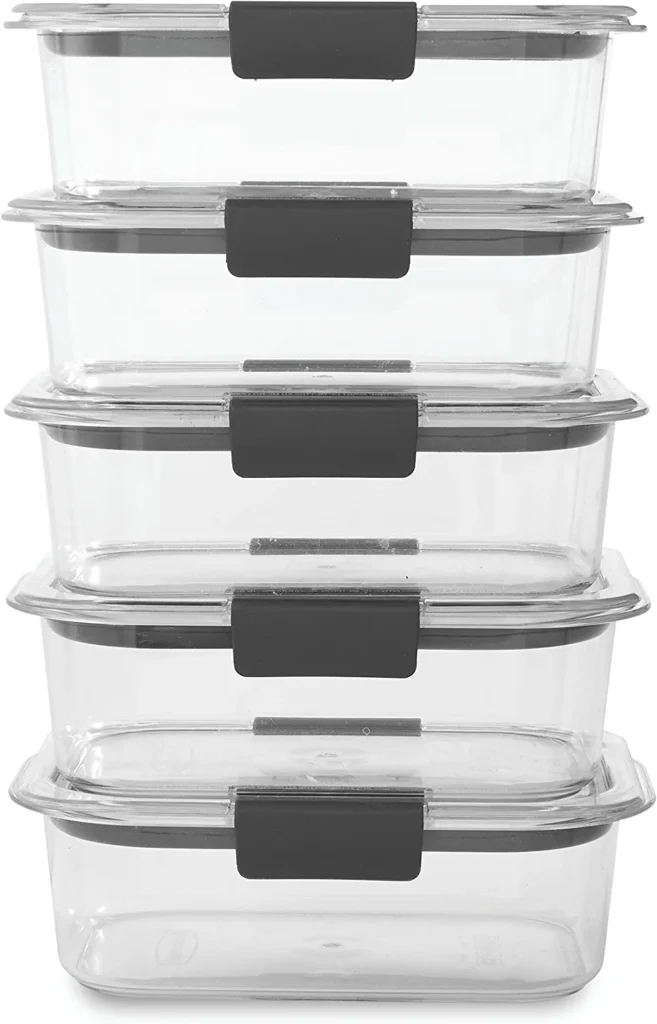 If you want all the benefits of glass containers but in plastic then THESE ARE FOR YOU. These containers are clear like glass so you can always see what's inside. They have built-in vents under latches that allow splatter-resistant microwaving with the lid on. They are Safe for the dishwasher, microwave, and freezer; with a lifetime warranty! BUY HERE
These glass bowls are so great! They come in a 12-piece set with mixed sizes. The only down fault of these is they are NOT leakproof. But they work great if you are going to just keep things in your fridge. They are BPA and lead-free, glass-tempered tough for ovens, microwaves, fridges, and freezers. BUY HERE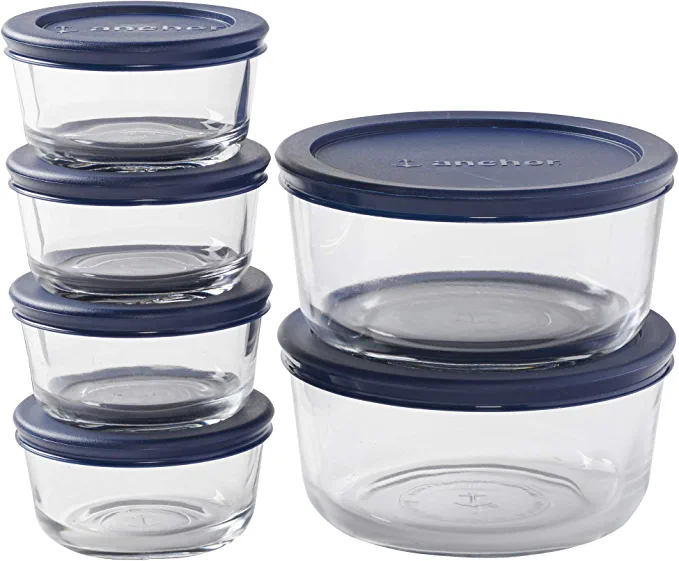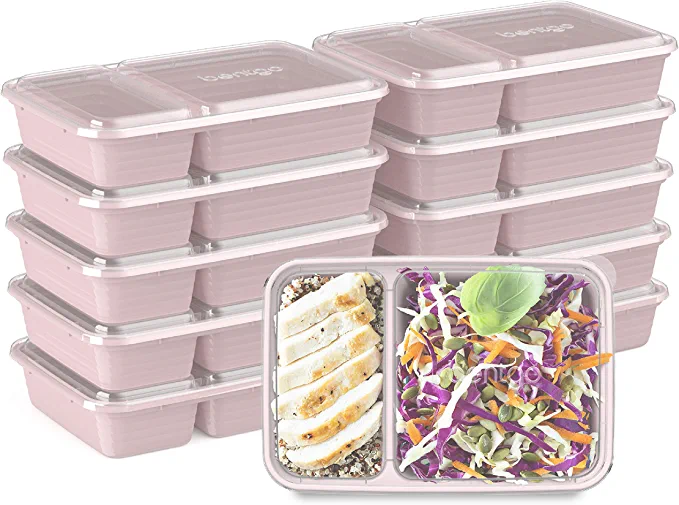 These cute blush pink meal prep containers are perfect for those who want two separate areas for food. They come in a pack of 10, stack neatly together for easy storage, and are microwaveable to make meal prep quick and effortless. BUY HERE
This popular set includes ten 3.7 cup containers with lids. Divided food containers are ideal for meal prep. These are BPA-free, and freezer, microwave, and dishwasher-safe! BUY HERE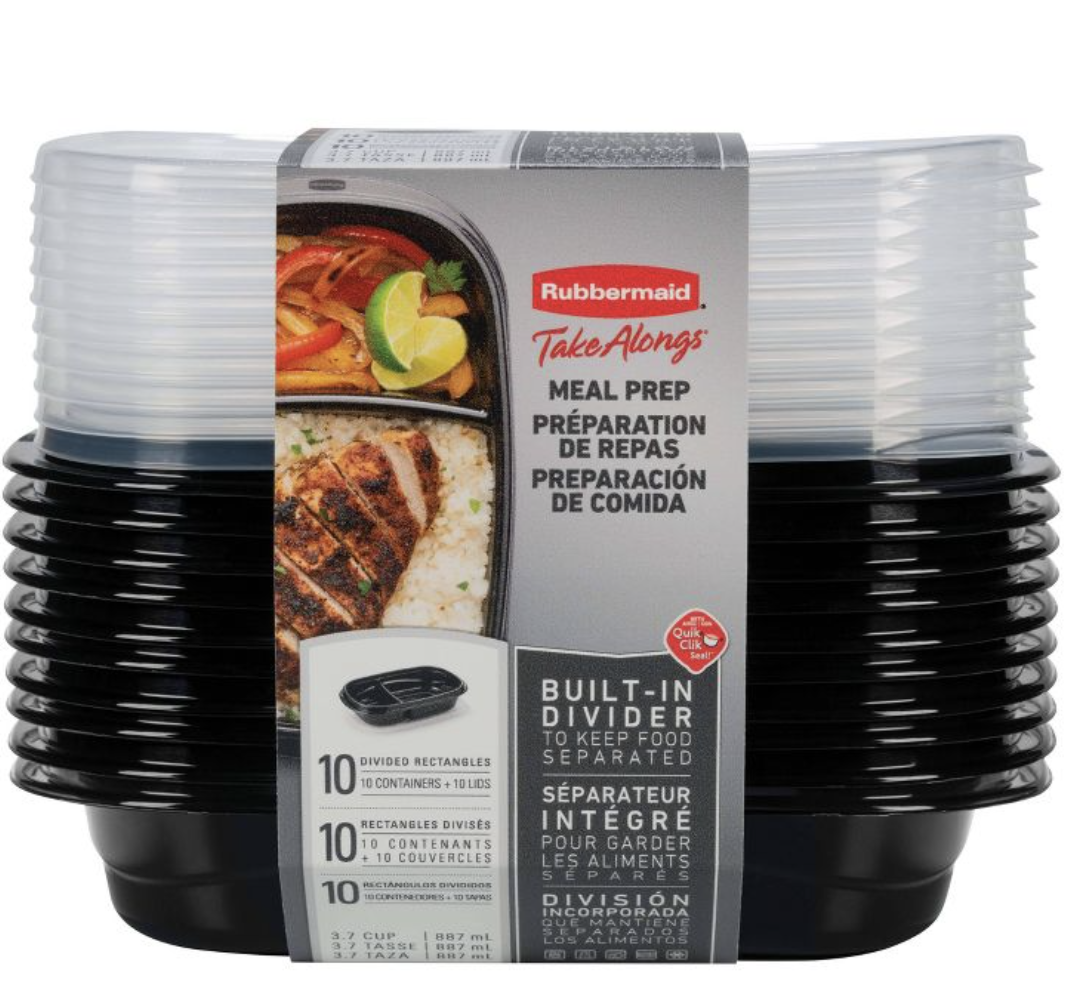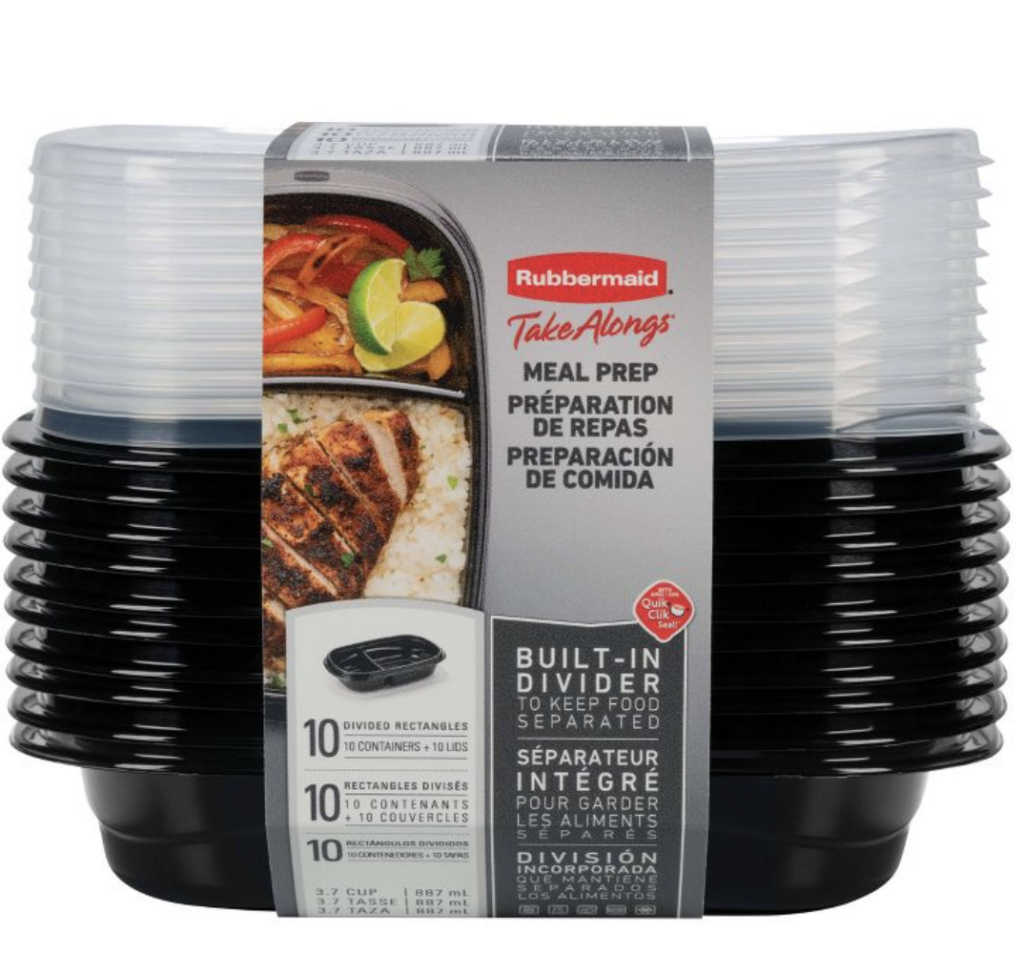 A bento container with built-in icepack! The best part about it is that you can use it for anything! You could use it as a lunchbox, or even as a snack container when you're out and about. It's really easy to clean, too—just put it in the dishwasher or wipe it down with a damp cloth if you want to do some quick cleaning on the go. All in all, this is a super-convenient way to keep your lunches organized without having them spill all over the place! BUY HERE
Fit & Fresh makes an excellent meal prep container with an airtight seal on the outside and a tight leakproof seal on each compartment to keep even the messiest foods separated. These containers can go from the freezer to the oven, which makes them a versatile, durable glass option for meal prepping. BUY HERE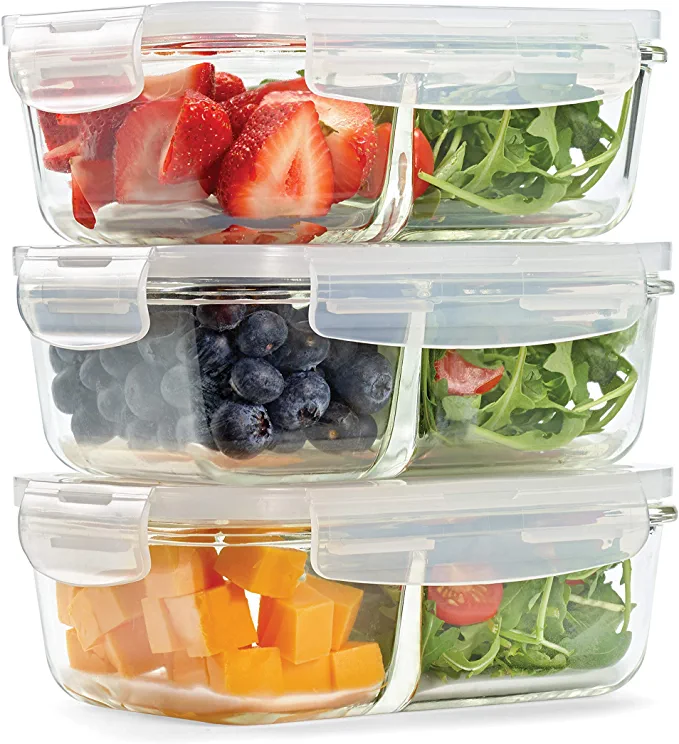 These glass containers have two compartments so food can be stored separately and kept fresh.The containers and lids are microwave-, dishwasher- and freezer-safe. The containers resist stains and odors, and the lids are airtight to prevent spills and messes. The cons for these are not oven-safe and bulky to store since containers do not nest together at all.
Bayco Glass Meal Prep Containers are three-compartment containers that can be used for anything from storing leftovers to packing your lunch. These containers are freezer-safe and dishwasher-safe, so they're a good choice for storing or reheating food. BUY HERE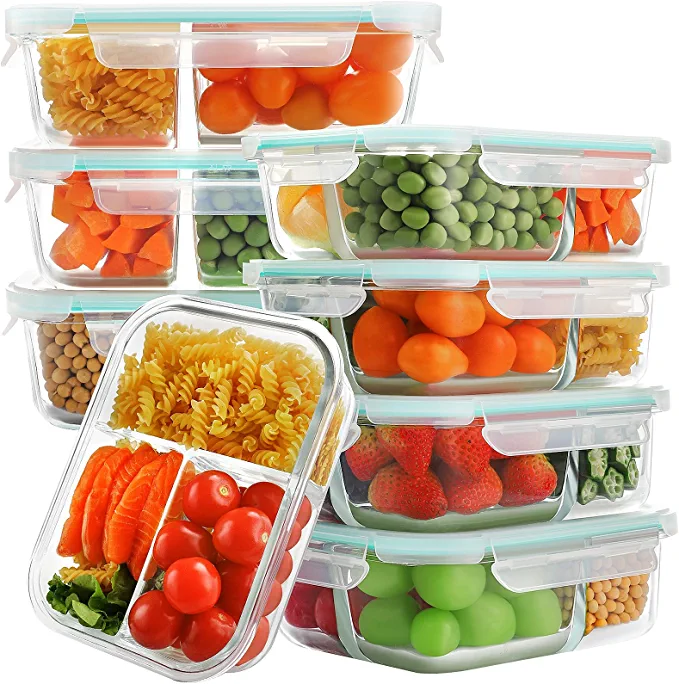 What to Look for in a Container:
Durable and strong
Look for a container that's durable and strong. These containers should be resistant to breakage and not easily damaged. A good meal prep container will last you for years, so you want it to be built with as many high-quality materials as possible.
These containers also need to hold up well in the freezer, microwave, dishwasher, and oven so they can be used multiple times per day without any problems (or after one use if that's what you prefer).
Easy to eat from, wash, and store
You'll want to make sure that the container is easy to open and close. It's important to be able to get food in, but it's also important to be able to get your hand in there as well. You don't want something that's going to pinch your fingers or require a lot of force.
You'll also want something that can be washed easily. We're not looking for anything fancy here; if you can throw it in the dishwasher or wash it by hand, great! But if those options aren't possible (because they're too big), then an easy way of washing should be available—for instance, maybe there are little ridges on either side where water will collect when rinsing so that you can use tongs without having any trouble getting inside? That would be ideal!
Finally, storage space needs consideration as well. If your meal prep containers are going into a cabinet with other items stored above them and below them (and possibly beside them), then those other items might need more room than usual because they might knock against each other while being removed from the cabinet. So try not
to buy containers with lots of sharp corners--those will take up more room than rounded ones do anyway
Stackable or space-saving
You'll also want to consider the space-saving features of your container. If you don't have much room in your kitchen or office, consider getting a stackable or space-saving container. These are some of our most popular options because they're easy to store, and they can be stacked on top of each other when not in use (or even doubled up for extra storage).
Stacking and space-saving containers are great for organizing your kitchen cabinets, but they also work well when it comes time to eat. Because these containers can be stored vertically, you'll have more room on the countertop or tabletop when it comes time for meal prep!
Safe for microwave, freezer, and dishwasher
There are several features to look for in a meal prep container. Many people prefer microwave safe containers because they're convenient and quick to use, though some may prefer freezer safe containers if they want to freeze their meals and reheat them later on. If you want to make sure you can wash your food in the dishwasher after eating, make sure it's dishwasher safe.
Here are some of the most important features to consider when shopping for meal prep containers:
Safe for microwaves
Safe for freezers (if applicable)
Dishwasher save (if applicable)
High quality and long lasting
Look for containers that are BPA free.
Look for containers that are dishwasher safe.
Look for containers that are microwave safe, as well as freezer safe and oven safe.
Look for containers that do not contain chemicals or other harmful ingredients, such as BPA (bisphenol A), lead, cadmium, phthalates and so on.
Gets the job done
When deciding what type of container to get, look for one that will be easy to use, clean and store. Also consider whether or not the container can be used in the microwave, freezer and dishwasher. This is especially important if you're going to pack things like frozen vegetables or raw meats in your container. These types of food will need extra time to defrost before cooking so it's important that your food storage containers are safe for these types of foods as well as all others.
When shopping for a meal prep container make sure it has an easy-to-open lid so that adding ingredients is simple without having them spill out onto your countertop or into your sink. You may also want to find something with a locking lid so nothing spills during transport from work back home or school straight into the fridge where they belong!
Frequently Asked Questions:
Is it better to meal prep in a glass or plastic container?
Glass containers are great for storing food because they're durable and easy to clean. They can also be used in the microwave and dishwasher, which makes them great for meal prepping if you have a busy schedule or are often on-the-go. However, glass isn't always an ideal choice for meal prepping because it's heavier than plastic alternatives (which can be annoying when trying to carry your lunch around). Glass is also more expensive than plastic.
Plastic containers are cheaper than glass options and lighter in weight, making them easier to move around with throughout the day. Plastic is also less expensive than glass, which makes it a better option if you don't want to spend a lot of money on containers. However, some plastics may leach chemicals into your food over time which could be harmful if consumed regularly over long periods of time (this depends on the type of plastic being used).
Which Containers Keep Food Fresher Longer?
The best containers for meal prep are ones that have a sealable lid and are made out of plastic or glass. The lids should be leak-proof, too! These kinds of containers will keep your food fresh for longer because they don't allow bacteria to grow in them as an open container would.
How Many Days Should You Meal Prep For?
First, consider how much food you're making. This depends on how much time you have on the weekends (or when you are prepping)—if you have a lot of time to spend in the kitchen and make big batches of food, then maybe you can go for 5 or 6 days. If you don't have much time at all (like most people), then maybe 3 or 4 days is more realistic.
Second, think about how long your ingredients will last without spoiling. For example, if you're using fresh herbs or vegetables in your meal prep containers, they'll likely last longer than if they are cooked or frozen. So if these are part of what's going into your meal prep containers, make sure to take them into account when figuring out how long before eating them again!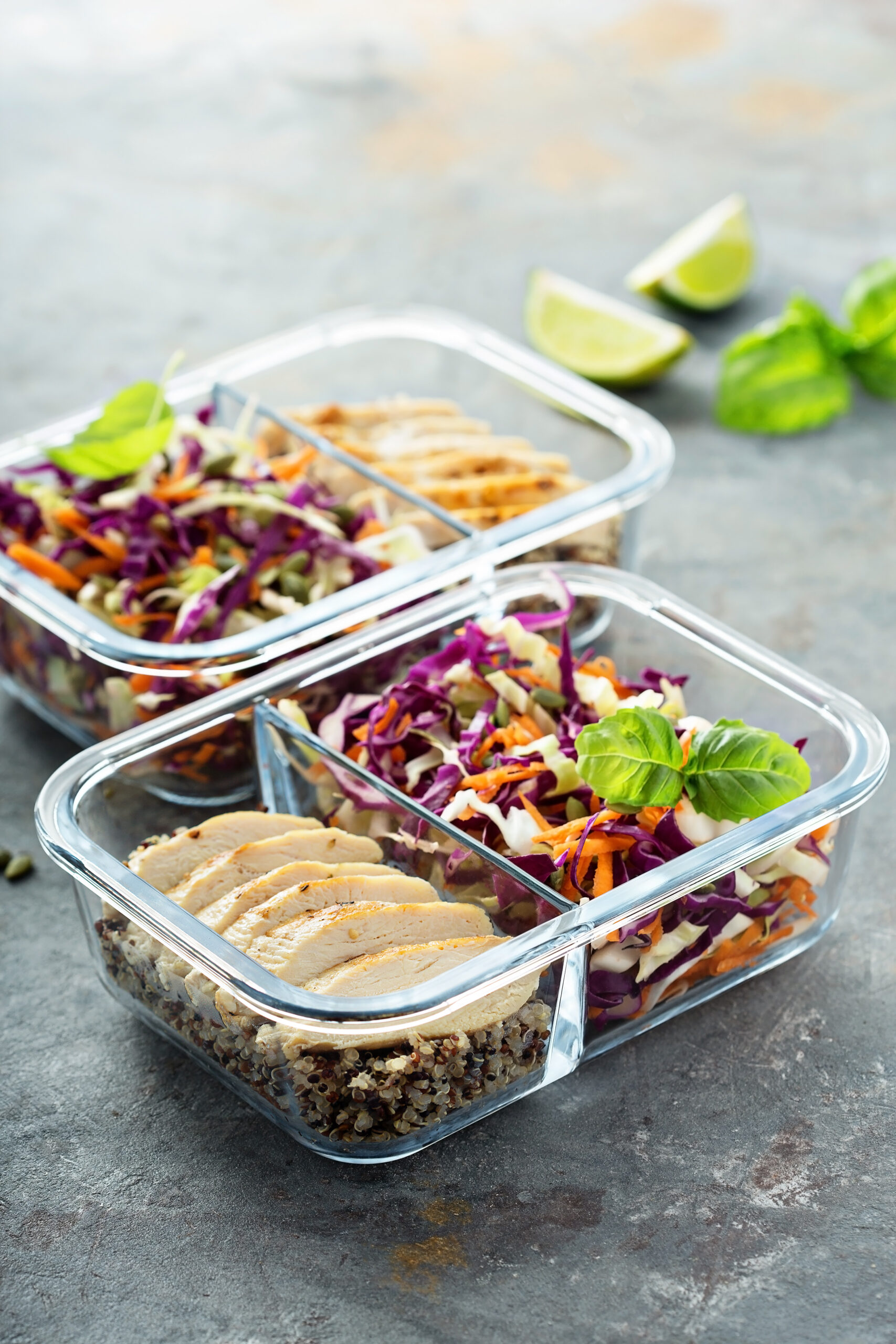 If you follow these tips you can have the perfect meal prep containers for your 2023 goals!
The first thing you'll want to do is make sure you have the right containers for your needs. If you're going to be making a lot of soups, look for an airtight container that can hold liquids without spilling them all over your desk. If you just need something basic and affordable, grab an old Tupperware or something similar that's easy to stack and seal.
You may also want some reusable plastic bags (sandwich sized or larger) as well since these are great for storing things like fruits and veggies. You might also consider getting some freezer bags if you're planning on freezing meals; these will help keep everything organized when it comes time for thawing out meals later on down the road!
More Health Advice Posts:
We hope you've enjoyed this quick overview of how to get started with meal prep and what containers are best for your needs. We know that sometimes it can be difficult to find a suitable container, but we want you to know that there are plenty of options out there for whatever type of food prep you need!
Until next time,
BEST SELLERS