Are you looking to give your home a charming and rustic look? Look no further than the farmhouse exterior design. This style has become increasingly popular in recent years, with its timeless appeal and cozy aesthetic.
Disclaimer: this post may contain affiliate links, and every purchase made through these links will give me a small commission (at absolutely no extra cost for you!) AS AN AMAZON ASSOCIATE AND REWARDSTYLE MEMBER, I EARN FROM QUALIFYING PURCHASES. See Privacy Policy for additional info.
Before you make this decision to use this popular design trend, you first need to learn about the basics of farmhouse style so you have an idea of different elements you can incorporate into your home. There are plenty of tips offered by professionals who specialize in farmhouse design so make sure to study up before implementing this popular exterior design trend.
The look of your house can really impact the way you feel about it. Before you start drawing on a piece of graph paper, or even running down to Lowe's to pick out some paint, take a step back and really look at the way your house looks from the outside first. In a few easy steps, I'm going to show you how… In this post, we will explore the key elements of farmhouse exterior design, popular styles, and tips for achieving the perfect farmhouse look.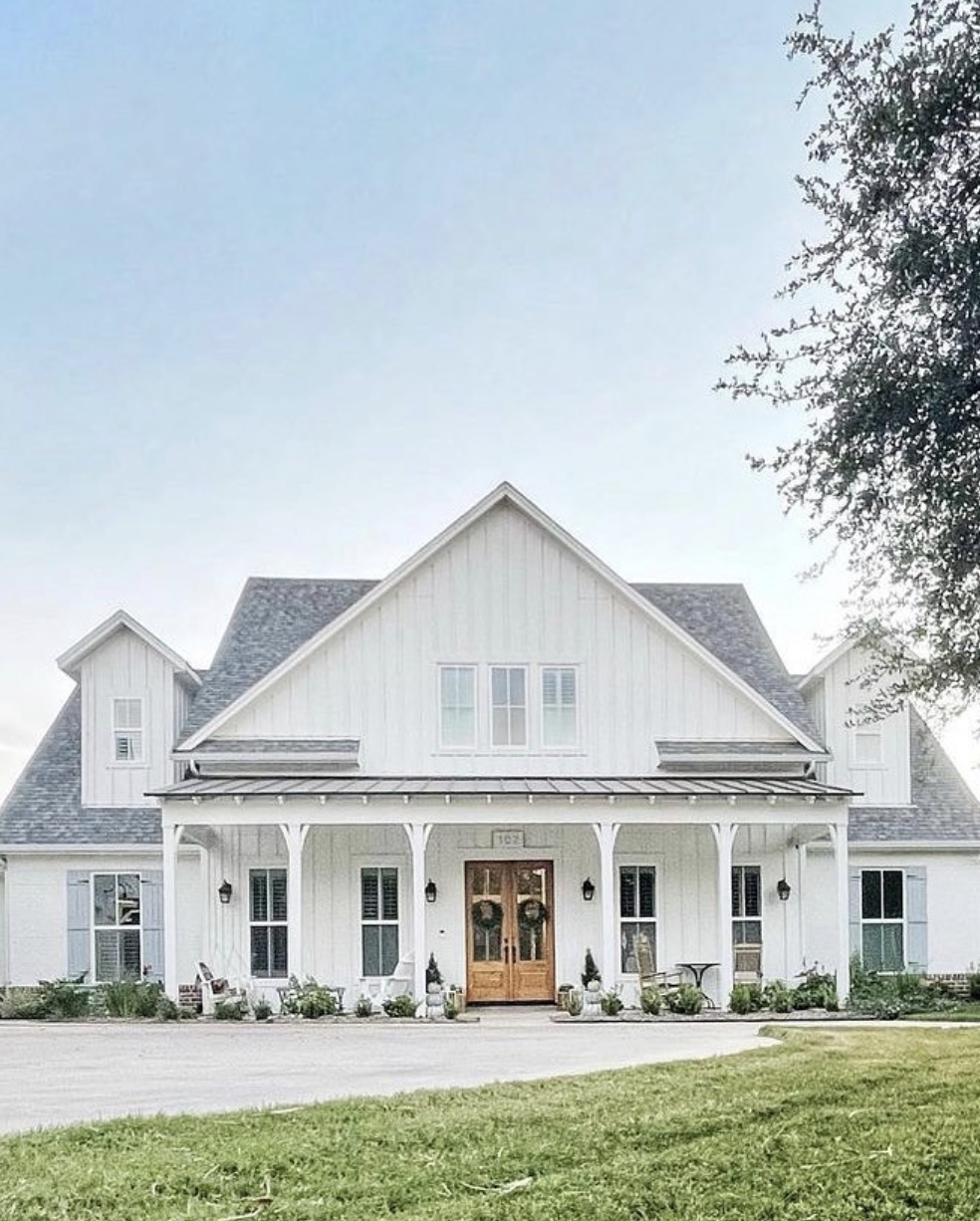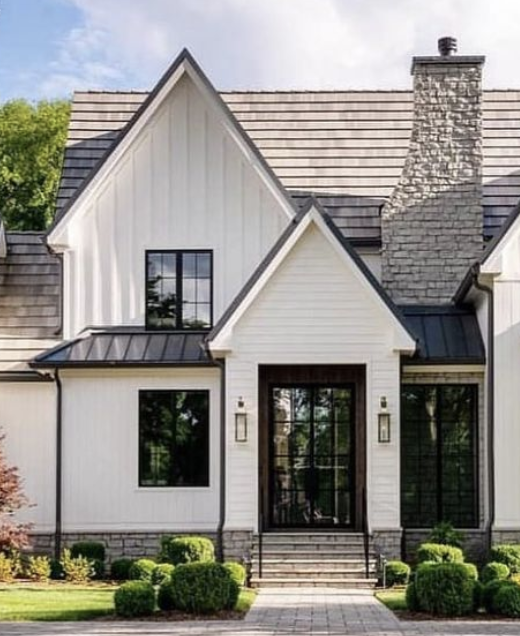 Key Elements of Farmhouse Exterior Design
Farmhouse exteriors are characterized by a few primary architectural features. These include gabled roofs, dormer windows, and wrap-around porches. The gabled roof is steeply pitched and often features a dormer window, which provides additional light and ventilation. The wrap-around porch is a staple of farmhouse design, providing a welcoming entrance and a place to relax and enjoy the outdoors.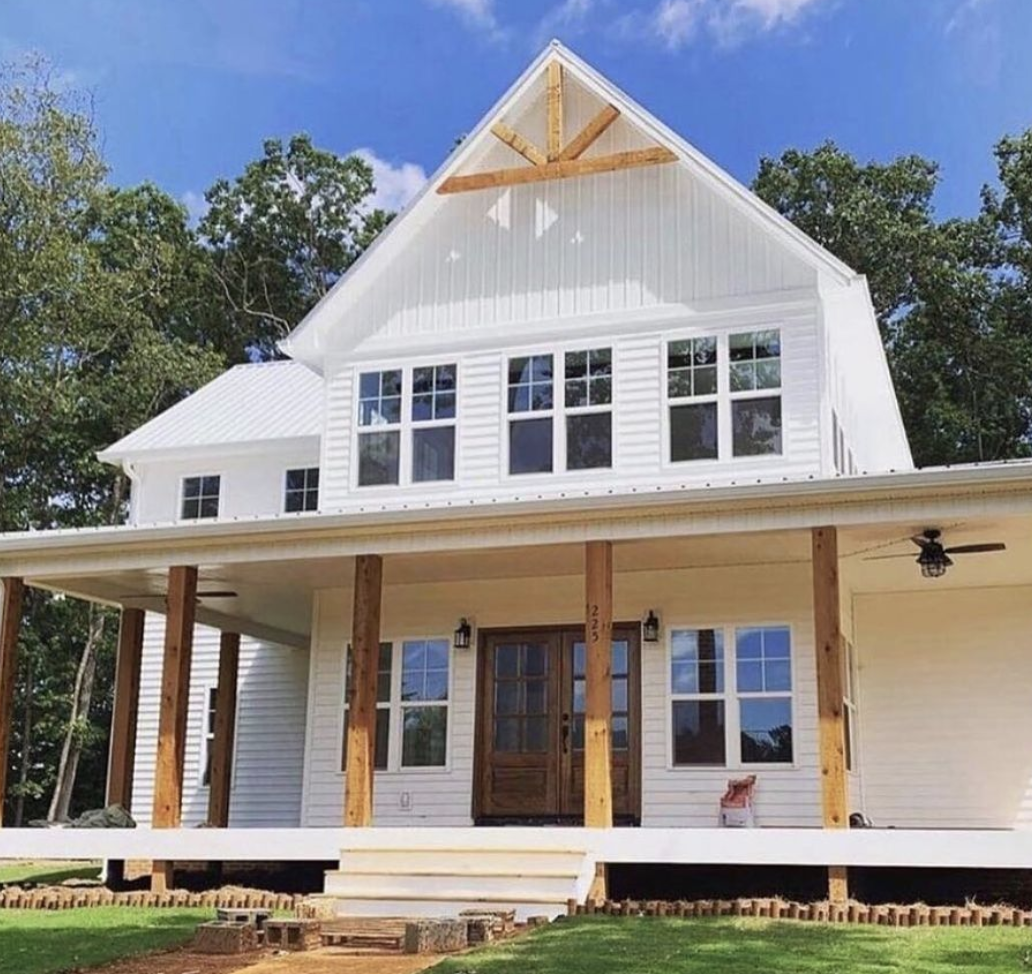 When it comes to color, farmhouse exteriors typically feature a neutral palette. Popular options include white, gray, and beige, which provide a clean and classic look. However, pops of color can be incorporated through accents such as shutters, doors, or landscaping.
Choosing the right materials is also crucial in achieving the desired aesthetic. Wood, brick, and stone are commonly used to add texture and depth to the exterior. Wood siding can be painted or stained to achieve a variety of looks, while brick and stone provide a more traditional and rustic feel.
Popular Farmhouse Exterior Design Styles
There are several different styles of farmhouse exterior design, each with its own unique characteristics and design elements.
Modern Farmhouse: This style combines traditional farmhouse elements with modern touches, such as clean lines and industrial accents. It often features a white or light-colored exterior with black accents, such as window frames or light fixtures. Board and batten siding, shiplap walls, and metal roofs are also common features of modern farmhouse design.
Rustic Farmhouse: Rustic farmhouse design emphasizes natural materials and a cozy, lived-in feel. It often features a darker color palette, with deep greens, blues, and reds. Stone or brick accents and exposed wood beams add texture and warmth to the exterior. A large front porch with plenty of seating is also a hallmark of rustic farmhouse design.
Southern Farmhouse: This style is characterized by its grandeur and elegance. It often features a symmetrical façade with a central entrance and a large front porch. The exterior is typically painted in light colors, such as white or cream, with black shutters and accents. Columns, pediments, and other ornate details add to the southern charm of this style.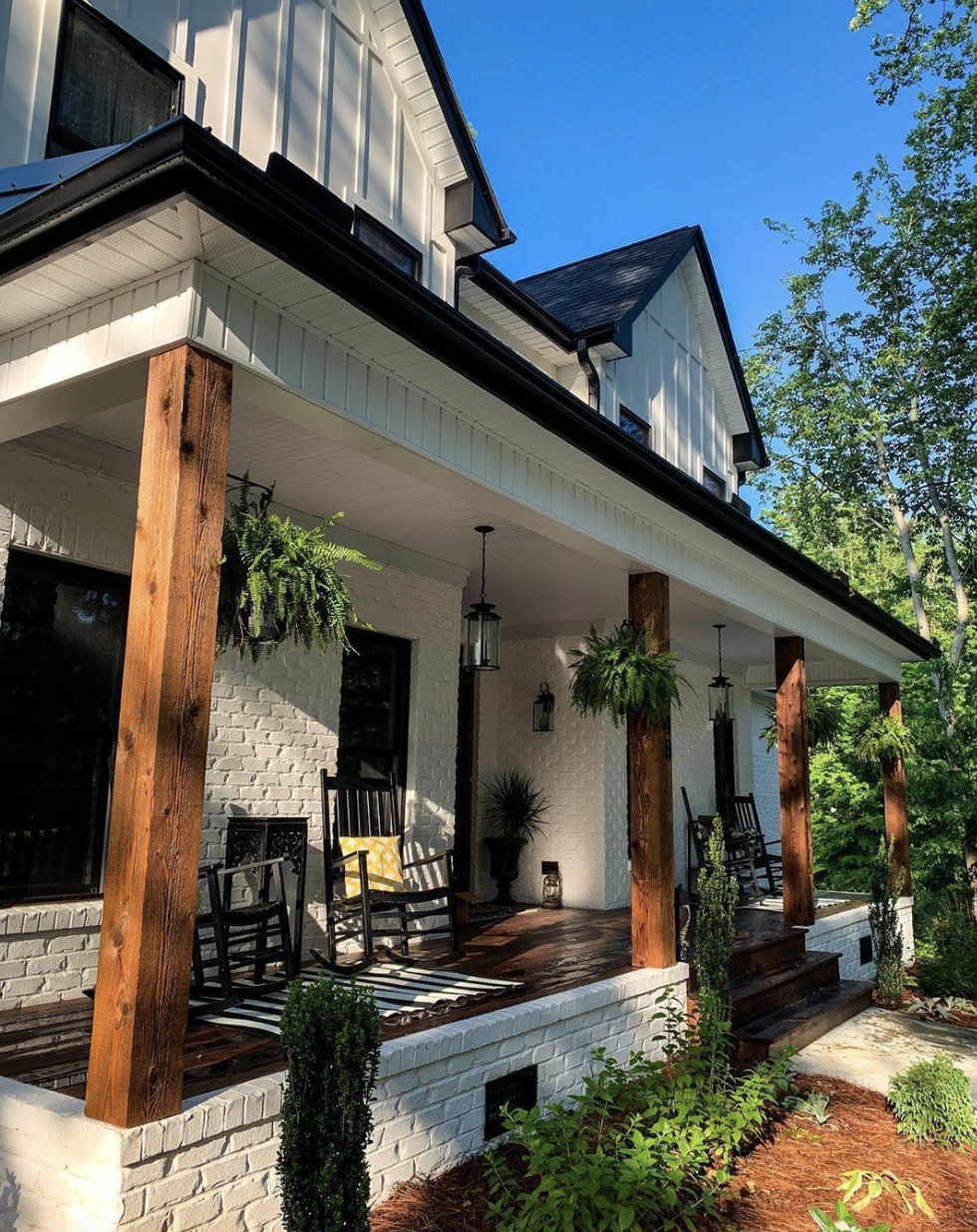 Tips and Tricks for Achieving the Perfect Farmhouse Look
When it comes to achieving the perfect farmhouse look, attention to detail is key. Here are some tips and tricks to help you get started:
Landscaping: A well-manicured lawn and carefully chosen plants can enhance the overall look of your farmhouse exterior. Consider incorporating native plants, such as wildflowers or herbs, and adding a few statement pieces, such as a vintage wagon or watering can.
Lighting: The right lighting can make all the difference in creating a warm and inviting exterior. Consider adding vintage or industrial light fixtures, such as barn lights or lanterns, to enhance the farmhouse aesthetic.
Vintage or Antique Elements: Incorporating vintage or antique elements, such as a weathered barn door or antique hardware, can add character and charm to your farmhouse exterior.
Shutters and Accents: Pay attention to small details, such as shutters, hardware, and accents, to achieve a cohesive overall look. Black or white shutters can add contrast and depth to a light-colored exterior, while vintage hardware can add a touch of nostalgia.
Farmhouse exterior design is a timeless and inviting style that can add warmth and character to any home. By paying attention to key elements such as color, materials, and design style, and incorporating practical tips and tricks, you can achieve the perfect farmhouse look for your home.
I hope this guide has been helpful in inspiring your own farmhouse exterior design. Share your own experiences or tips in the comments below!
Until next time,
Nikki's Plate was named a top Modern Farmhouse Design expert by Redfin. Check out the article we were featured in: [Modern Farmhouse Inspiration for Your Home: The Perfect Blend of Rustic Charm and Contemporary Elegance | Redfin]
BEST SELLERS