Top 10 Exterior Paint Colors for Small Houses: A tiny house needs just the right paint color, especially when it comes to the outside!
Disclaimer: this post may contain affiliate links, and every purchase made through these links will give me a small commission (at absolutely no extra cost for you!) AS AN AMAZON ASSOCIATE AND REWARDSTYLE MEMBER, I EARN FROM QUALIFYING PURCHASES. See Privacy Policy for additional info.
Hi beauties! If you're looking for the perfect exterior paint color for your small house, you've come to the right place. When painting your small house, your number one goal should be to give the exterior of your home a fresh new look.
Getting color inspiration from the exterior of a house can be tricky. Most small houses are painted the same color, to begin with and paint chip cards don't usually have small house paint colors in them. I've got you covered in this post!
There are many different exterior paint colors a homeowner can choose for their home and your decision should be based on the size and style of your house. Let's get started with the top 10 exterior paint colors for small houses.
Exterior Paint Colors for Small Houses
Choosing the right color can make or break the curb appeal of your home, so it's important to choose wisely. The exterior of your house is the first thing people see when they drive by, so it's important to choose a paint color that reflects your style and personality.
Dark Blue or Navy
Dark blue or navy is a great color for small houses. It's bold, but it doesn't overwhelm you. Dark blue is also a very classic color that will never go out of style. You'll be able to pull it off in any decade. This color is very popular among homeowners because it looks great on almost any house.
Hale Navy by Benjamin Moore is one of the best-selling dark navy colors and you can definitely see why! A beautiful dark blue navy with a classic maritime feel.
Naval by Sherwin Williams is another great dark blue for your tiny house. It's dark and less muted with a cool gray-green undertone.
Anchors Aweigh by Sherwin Williams is a dark, daring blue for exteriors but also has a cool and deeply saturated tone which makes it so perfect for all exteriors!
Crisp White
Crisp white is a great color for a small house. It's bright, but not too bright. It's clean and crisp, but not sterile or cold. It's also easy to maintain because you don't have to worry about fading or discoloration over time. A crisp white is a perfect choice if you're looking for an exterior paint color that will hold up well over time, while still making a statement with its brightness!
Off-White
Off-white is one of the most popular colors for houses, especially small ones. It's a warm, inviting hue that works well with any style of architecture—and it's also one of the easiest colors to work with. It's also creamy yet light, which will make your house look bigger. It's a soft, neutral color that can help unify the look of your home, and it will compliment almost any other color you choose for the interior.
Alabaster by Sherwin Williams is a creamy white color that looks good on both wood and metal siding. It is the perfect off-white exterior paint color!!
Light Grey
Light grey is another popular choice among homeowners because it works well with many different styles of architecture and home décor styles. It also offers versatility when it comes to choosing other colors to use alongside it because light grey is neutral enough that it will work with just about any other color! Some of the best light grey exterior paint colors: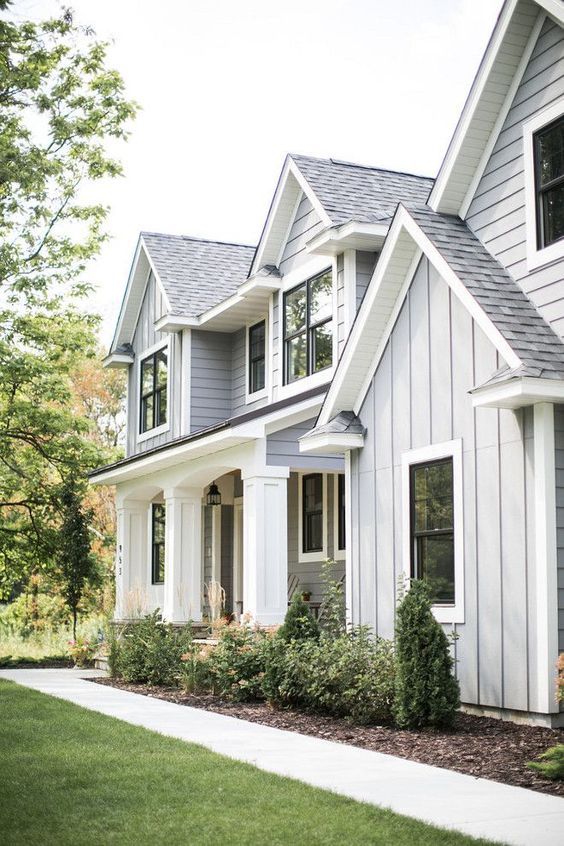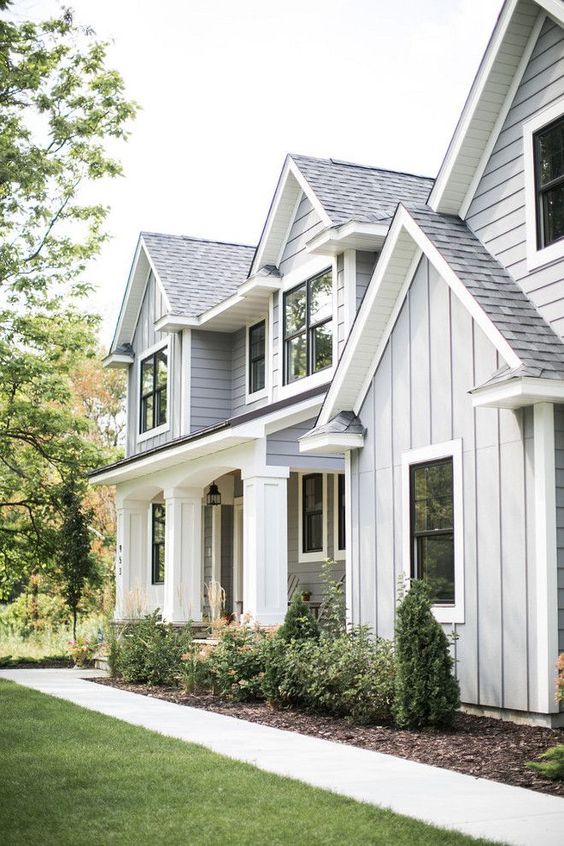 Taupe
Taupe is a sophisticated and elegant color that is ideal for small homes. It is a light brownish gray, so it will blend in with the natural environment of your house. The color taupe is a neutral shade that works well for a small house exterior because it is not too bright or dark. This color will give your home a classic look and will complement any other colors you have on the inside of your home. All these colors are by Sherwin Williams: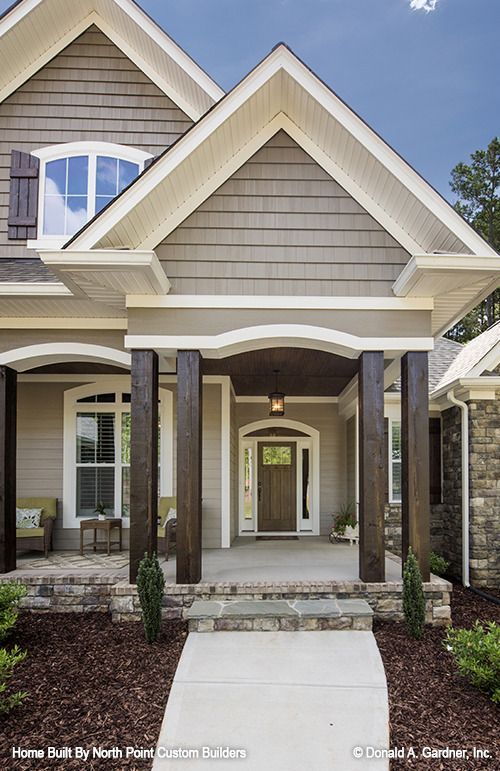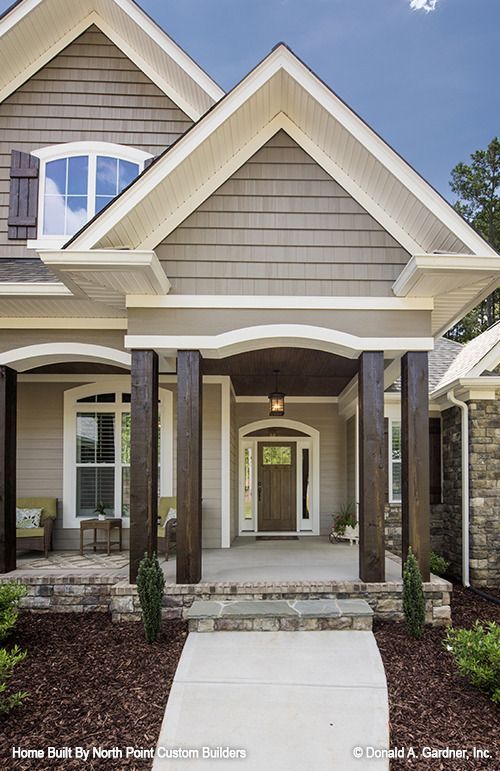 Greige
Greige, or "grayish-beige," is a combination of gray and beige, and it's often used in interior design to create a neutral backdrop that allows other elements to pop. In recent years, greige has become a popular choice for exterior paint colors because it's such an alluring shade of gray that reminds people of beach sand or desert sands.
A great combo would be Sherwin Williams 7045 - Intelectual Grey as the siding and Sherwin Williams 7008 - Alabaster like the photo below!
Black
It's no secret that black is an incredibly popular color for houses in recent years, and it's easy to see why. Black is a classic color that can be used to create a sleek look for your home, or it can be used to add depth and texture to the exterior of your home. It's often used for modern homes but also has shown up a lot lately on farmhouse-style homes. Black is especially great for small houses because it helps make any space appear larger than it actually is. The darker the color, the more depth it gives to the exterior—and if you're trying to make your small house look as big as possible, black paint is your best bet!
My favorite black shade is Iron Ore by Sherwin Williams and Caviar by Sherwin Williams! Black HC-190 by Benjamin Moore is also super popular!
Deep Brown
Deep Brown is an earthy color that works well on small houses because it's not too bright or bold. It's a great option if you're looking for something warm and inviting without being too loud. It's a great choice for small houses because it looks deep and rich, but it isn't so dark that it takes over the space. The color tends to be very neutral, which means it will go with just about any other colors you may have in your home or yard, such as reds or greens.
I LOVE the colors of this little charming house below. The paint colors on this house are SW Tricorn black and the shutters are Agreeable Grey
Green
Green is a great color for a small house. If you're looking for a color that's going to make your house look bigger, green is an excellent choice. Here are some of my favorite green exterior paint colors:
Hunter Green: This classic green gives off a warm vibe, but still feels fresh and modern.
Forest Green: This deep green has a hint of brown in it, which gives it more depth than just plain old green.
Olive Green: This shade of olive has some blue in it, which makes it feel more natural and earthy than other shades of olive.
Deep Grey
If you're looking for a color that's dark and moody, but also soft and subtle, deep grey is your best bet. It's a great choice for small houses because it can easily be paired with other shades of grey or black—or even white or light blue—to create an overall look that is both striking and soothing. Try Cyberspace or Inkwell Sherwin Williams!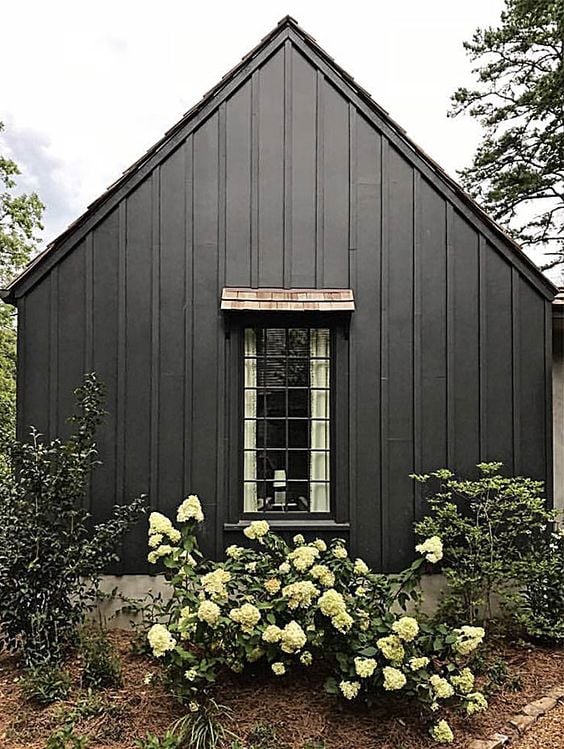 The exterior paint colors for small houses are not as easy to choose as you may think. It can be hard to find the perfect color even when you know exactly what type of house you want.
Until next time,
BEST SELLERS