15 Christmas Letter Board Ideas Guaranteed to Make You Smile; Want to have some fun with your family or friends this holiday season? Try some of these unique Christmas letter boards. From cute to funny, these ideas are sure to brighten up your holidays.
Hi beauties!
Welcome to yet another Christmas post! This time we are talking all about Christmas Letter Board Ideas! Why? Because letter boards are amazing. If you do not have a letter board yet, I highly recommend this one from amazon! You can also find them at any craft store, or most decor stores! Or I am sure you could find a fun DIY felt letter board tutorial out there! So before we dive into this post, make sure you order one!
So in this post I have rounded up some fun and festive Christmas letter board ideas that are sure to bring a smile to your face! I love letter boards. They add so much personality to your decor. It is a really easy way to bring out some humour or meaning to your decor!
These cute and unique letter boards examples below will help you come up with a great design for your own home this year! Keep them simple or add your own personal touch to them!
The other great thing about letter boards is that you are able to change them up every couple days if you get bored of one! I mean if you find the time.. and if you dont have the time, then maybe you need to go out and buy a few more letter boards! hehe
It is also a super fun activity for kids to do. Not only is it fun for them to pick the letter board quotes, but it can also be some what educational getting them to spell out the words on the board! You could also give a letter board as a cute Christmas gift! Overall, I highly recommend adding a letter board to your Christmas decor this year!
Anyways, enough rambling on my part and lets jump into the reason you came to this post in the first place! Grab your Christmas cookies and let's get started! Side note though.. anyone else binging hallmark movies yet? Happy holidays! Let's jump into these Christmas letter board quotes!
This post is all about Christmas Letter Board Ideas
<<Disclaimer: These photos do not belong to me, please click photos or credit link provided to be redirected to the content creator. >>
What are Christmas Letter Boards?
Christmas letter boards are a fun way to decorate your home during the holiday season and spread Christmas cheer. They can be used to display notes and messages or Christmas quotes that you would like to share with your friends and family members. The boards are usually made of wood, felt or metal with a frame around them that has holes or slits in it, which allows you to insert letters, cards, pictures and other small items into it. The board itself can then be displayed on a wall or door in your home.
The best thing about letter boards is that they're so customizable. You can use them to send Christmas greetings, New Year's wishes, or even just to tell people how much you miss them while they're away on vacation. The sky's the limit!
You can make the words say a funny Christmas saying or cute Christmas sayings. Enjoy reading your Christmas sayings while sipping some hot cocoa or egg nog at Christmas time.
Stop Listening To Christmas Music In November:
"If you want me to stop listening to Christmas music in November, all you have to o is ask so I can say no"
Son of a Nutcracker:
"Son of a Nutcracker! 25 days 'til Christmas"
The Grinch Hated People Which is Fair:
"Just so we're clear, the Grinch never really hated Christmas... He hated people which is fair"
What You Really Really Want:
"Tell me what you want what you really really want" - Santa
Related: 15 SIMPLE CHRISTMAS FRONT PORCH DECOR IDEAS YOU NEED TO TRY THIS YEAR!
Days til Christmas:
"22 days till Christmas, be Merry"
Baby It's Cold Outside:
"Baby it's cold outside. No seriously It's freaking col out here"
Tinsel in a Tangle:
"Don't get your tinsel in a tangle"
Related: EASY RUSTIC DIY CHRISTMAS WRAPPING
Be A Cindy Lou Who:
"In a world full of grinches be a Cindy Lou Who"
Christmas Cheer:
"Enjoy a cup of Christmas Cheer"
Falala:
"Joy, Peace, Santa, Holly Jolly, Jingle Bells, Mistletoe, Merry and Bright, Christmas"
Related: 10 EASY HOMEMADE CHRISTMAS GIFTS EVERYONE WILL LOVE
Bake and Christmas Movies:
"I just want to bake stuff and watch Christmas movies"
Ive Been Good All Year:
"Dear Santa, I've been good all year, most of the time once in a while.. never mind I'll buy my own stuff"
Dear Santa Define Naughty:
"Dear Santa, define naughty"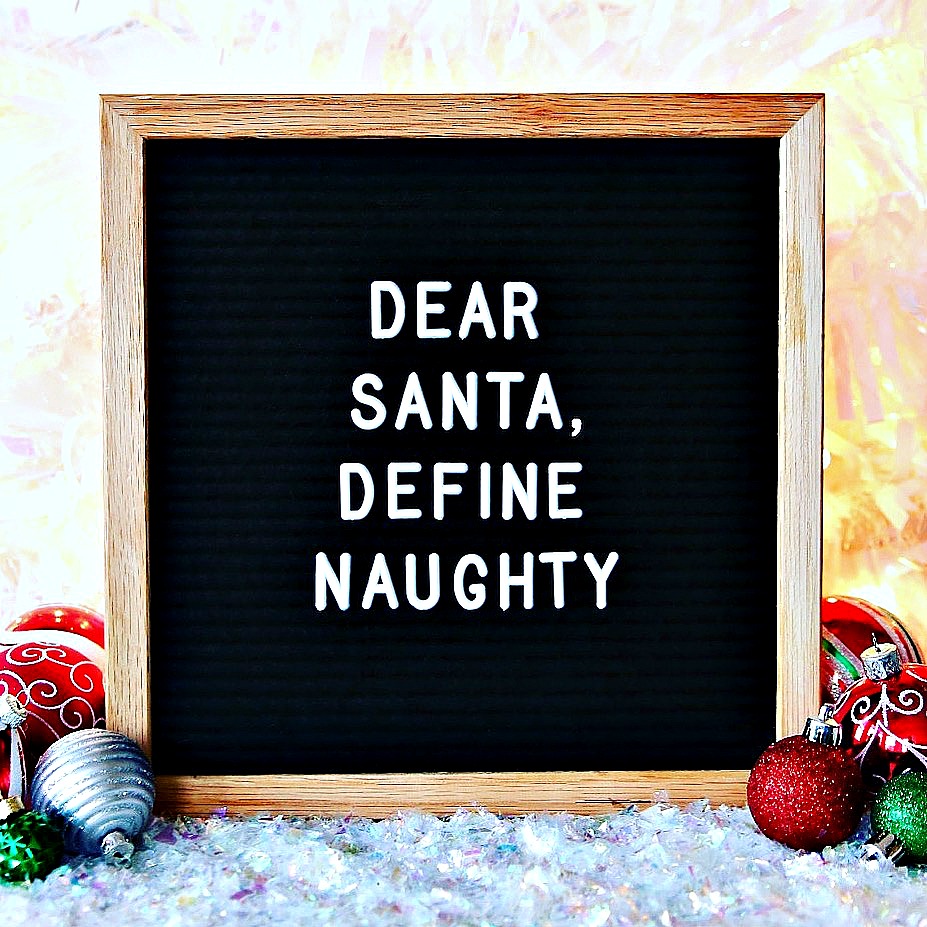 Joy, Love, Family:
Related: FREE CHRISTMAS TAG PRINTABLES!
White Christmas:
"I'm dreaming of a white Christmas but if the white runs out i'll drink red"
There you have it folks! 15 Christmas Letter Board Ideas Guaranteed to Make You Smile. I hope you found something in this post to spark some inspiration and get you into the Christmas spirit! Because lets be honest, pinterest is the best place to find all your Christmas decor inspo needs and puns hehe!
More Funny Christmas Sayings:
"Aren't we forgetting the true meaning of Christmas? You know, the birth of Santa."
"I just peeked at Santa's naughty list and somehow it appears he knows my friends all too well."
"What I don't like about office Christmas parties is looking for a job the next day." 
"Hot chocolate kind of day"
"Ho Ho Ho"
"Nothing says holidays like a cheese log."
Who needs Santa? I've got Grandma and Grandpa.
Christmas is a time when everybody wants their past forgotten and their present remembered.
If "ifs" and "buts" were candy and nuts, wouldn't it be a merry Christmas?
"It was an ugly tree anyway."
"You did it! Congratulations! 'World's Best Cup of Coffee.' Great job, everybody." — Elf
"Some people are worth melting for. Just maybe not right this second." — Frozen
"I thought maybe we could make gingerbread houses, and eat cookie dough, and go ice skating, and maybe even hold hands." — Elf
"What happened to the hickory honey ham?" — Christmas with the Kranks
"Merry Christmas You Filthy Animal"
"Merry Little Christmas"
"Winter Wonderland"
"Dasher, Dancer, Prancer, Vixen, Comet, Cupid, Donner, Blitzen and, of course, Rudolph"
"Living the Magic of Christmas"
"The True Spirit of Christmas Lies in Your Heart. You serious, Clark?"
I would love to see your Christmas Letter Boards so do not forget to tag me in your posts at #nikkisplate. Also if you liked this Christmas holiday post, make sure you let me know in the comments below and what you want to see next! I am loving writing Christmas content right now so hit me with your ideas!
I hope everyone is enjoying this holiday season so far! It sure is the most wonderful time of the year! hehe Merry Christmas!
Until next time my loves!
15 Christmas Letter Board Ideas Guaranteed to Make You Smile; Want to have some fun with your family or friends this holiday season? Try some of these unique Christmas letter boards. From cute to funny, these ideas are sure to brighten up your holidays.