DIY Valentines Day Gift Ideas; Valentine's Day is just around the corner, here are some easy and budget friendly do it yourself gift ideas to get creative with this year!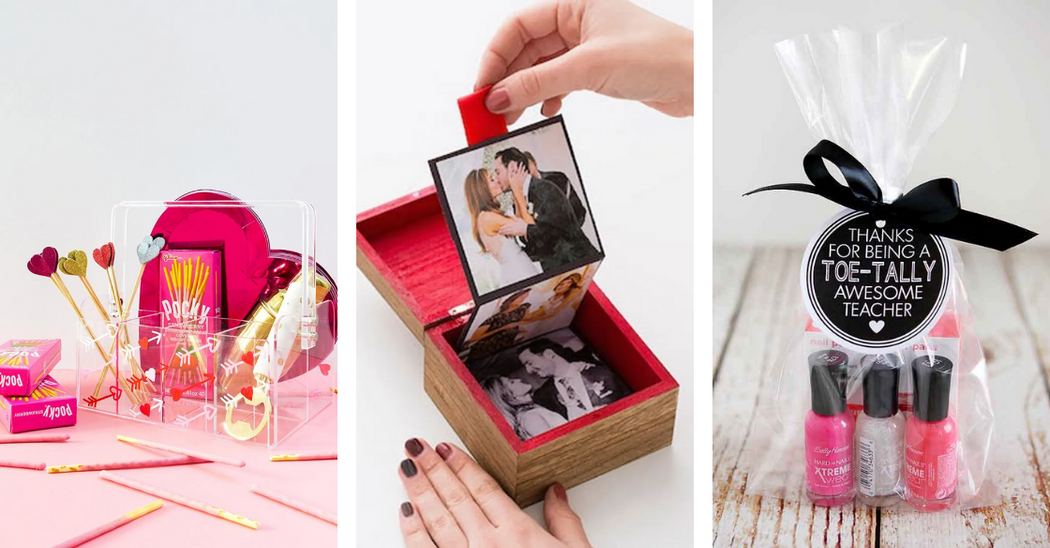 Hi beauties! Coming at you with the cutest DIY Valentines Day gift ideas!
Valentine's Day is coming up, and you're probably scrambling to figure out what to get your special someone. Instead of running around town trying to find the perfect gift, I have a suggestion: give them a surprise they'll never forget!
I've compiled a list of DIY Valentines Day projects that will cost you a fraction to make and save you time by not having to run out to the store. Even if you don't have a special someone to give these to this year, these DIY gift ideas can also make great birthday gifts for your friends and family. Honestly, almost every gift on my list below would be ideal for last minute Christmas gifts too!
DIY Valentines Day Gift Ideas:
DIY Rose Petal Bath Bombs
These romantic bath bombs are the perfect DIY gift for a loved one! A quick and easy recipe on how to make rose petal bath bombs. Simple natural ingredients that are great for the skin and relaxation!
Pictures on Wood Coasters
If you're looking for a fun way to create a gift for the special someone in your life, try making these wood coasters with their favorite photos. They're inexpensive and easy to make!
Valentines Fortune Cookies
These DIY pink and purple fortune cookies by Smart School House make a sweet, candy-free Valentine's Day gift. Make them personalized or just write something fun on the inside! How creative!
Hug in a Mug
This fun and easy gift idea by Crazy Little Projects is the perfect way to celebrate Valentine's Day with the kids! How cute!
Valentines Candy Tubes
These would make an easy yet thoughtful gift for friends, family or co-workers. They're sure to put a smile on anyone's face! Who doesn't love candy!!
Words Of Affirmation Valentine's Jars
These jars are sure to make someone you love happy. They're especially great for a family member, spouse, or child whose love language are Words of Affirmation.
DIY Fabric Heart Valentines
These handmade Fabric Heart Valentines are a sweet way to say "I love you" this Valentine's Day! They're filled with fiberfill and lavender so they make a great little sachet. You could pair them with a jar of treats and just a handmade card!
"Bee" My Valentine Chapsticks
Package your chapstick tubes in kraft paper favor bags, tie them shut with twine, and add heart-shaped gift tags. Your chapstick-loving friends will love receiving these for Valentine's Day!
S'mores Valentines
These S'mores Valentines are so easy to make, and they make great gifts! First, mix together a tasty s'mores snack mix in a mason jar, then decorate with a cute note or card!
Valentine's Day Slime Favours
This DIY slime in a jar gift is perfect for anyone who loves crafting—or even if they don't! You can use any color of glitter you want, and then create custom labels with their name on them. It's such a fun way to show them how much you care about them.
Toe-tally Awesome Teacher
I couldn't resist sharing this one! If you're looking for a gift that's sure to please, look no further than this simple DIY: a bottle of nail polish with a personal message for your favorite teacher. The best part? It's super easy to make! All you need is some nail polish, a sharpie, and a gift bag or glass jar.
Pop-Up Photo Box
This sweet keepsake is the perfect gift for your sweetie, and it will be right at home in a shared space you and your honey find special. Open it up to reflect on all your lovely times together.
DIY Sugar Lip Scrub
If your sweetheart loves to pamper themselves, you can make her a DIY Sugar Lip Scrub and they will for sure love it! These all natural lip scrubs are especially great in the winter time and they smell amazing!
Conversation Heart Rings
You can never go wrong with rings, especially when they're this cute. The pastels with words you can personalize are the perfect V-day gift for any jewelry lover!
Valentine's Day Gift Baskets
A Valentine's Day gift basket is the perfect way to say "I love you" in a fun, creative way. These baskets are filled with items like cookies, candies, and other treats that will make your special someone feel extra special on Valentine's Day.
That's it! Hopefully, you've found some inspiration here for DIY gifts for your sweetie this Valentine's Day. If you want to get really creative, there are tons of ideas out there on the internet.
In a way, Valentine's Day is the most significant holiday of the year when it comes to gifts. This is no ordinary day of admiring someone; it's an opportunity to make your love known in a concrete way. Whether those feelings are romantic or familial, the gesture is no less important for being routine.
And what of the DIY gift? Are these homemade cards and crafts really that much better than their store-bought counterparts? I'm not so sure. What I do know is that they're infinitely more personal, and there's just something fun about taking the time to make something by hand, putting a bit of yourself into it.
The holiday season and Valentine's Day is a perfect time to surprise your significant other in a loving, personal way, no matter what your relationship status might be. These easy DIY gifts will help you do just that.
Until next time,