Basement Game Room Ideas; Here are some brilliantly entertaining game room basement ideas with game room decor to spark your next project!
Hi beauties! Coming at you with a fun post all about basement game room ideas!
Basement game rooms are a great way to enjoy your favorite games and hobbies with friends. Today's basement game rooms can be simple and inexpensive, or as complex and expensive as you desire.
An inviting basement game room is a must-have for entertaining friends and family, especially during the cold winter months when we all cant get outside. Use this guide to get ideas for how to create your own exciting basement game room space the right way!
When designing your basement game room, it is important to keep in mind that there are many types of games that can be played in this type of setting. You may want to consider purchasing a pool table so that you can play billiards with friends and family members. Another option would be an air hockey table, which is another popular choice among gamers because it can be played by two people at once. In addition, some people like to play darts while others prefer playing video games on the internet or on their television screen.
Whether you are designing your game room, basement or man cave I've got plenty of gaming room ideas to help you get inspired. Let's jump into the list now shall we?!
Basement Game Room Ideas:
Coffee Table Turned Game Table
Nothing says "game room" like a coffee table that can double as a game table. This is one of the best ideas for basement game rooms, because it's so versatile! You can play games on it, or use it to store board games and cards. It looks great in any decor style and is compact enough to fit into most basements.
Darts
If you want to turn your basement into a game room, it's a good idea to include a dart board. You can add a dart board anywhere in your basement, but if you have the space, you might want to consider installing one with a wood plank background to avoid damaging your drywall!
Concession Area
The basement game room is a great place to hang out with friends, but it can also be a great place to relax and have some fun. There are many things you can do to make your basement a more comfortable space, including adding a snack area. If you're going to go with a bar, make sure it's stocked with your favorite drinks and snacks!
Connect Four
Turn your basement into your own personal gaming arena with a Connect Four board! It's great for kids, but you can also play it with your friends. You can create this connect four game to match your basement game room decor too! The options are endless with this one.
A Swing Seat
If you want to create a relaxing area to handout in your game room, consider a swing from the ceiling! A swing seat is a great addition to any basement game room and your guests will also love this comfy setup! What a perfect little corner to hangout.
Ping Pong Table Setup
Adding a ping pong table to your game room is one of the more popular ideas for any basement. This setup is fairly inexpensive, and it's easy to set up and maintain. Put your table in an open area of the room so you can see everyone at once. If you don't have enough space for a full-sized table, try a smaller one or use two tables together to create a larger playing surface.
Pool Table
If you are looking to build a basement game room, you will want to consider adding a pool table. A pool table is a great way to provide entertainment for your friends and family.
The first thing you will need to do is decide on what type of pool table you want. There are many different styles that are available including traditional, classic, and modern. The size of the pool table will also be determined by what type of space you have available in your basement. If it is small, then you may want to consider getting a smaller model so that there is enough room for it to be played upon properly without being too crowded by people standing around waiting for their turn at playing against each other or against an opponent from another team who has been chosen by their captain before the game begins so that everyone can enjoy themselves while playing this particular sport more fully than ever before!
Pool Table Organization
Having specific zones to store your pool table accessories is a must! This will make the table easier to play on and more fun for everyone in the room at any time of day. You can paint the stand or even stain it to fit in with your basement game room decor.
Basement Arcade Zone
Are you looking for ways to keep your kids entertained during winter, or do you just have a basement that's been sitting empty? If so, then it's time to turn that basement into a video game wonderland! The best part is that you don't even have to use the whole room—or even half the room! You can create a super awesome vintage arcade games area right in a closet!
Ping Pong Table Inspiration
Pool tables are perfect for groups of people who want a casual game that doesn't require as much skill as other options (like a game of ping pong). They're also great for playing alone if you want an activity where you can zone out and think about whatever floats your boat while still feeling like you're being productive by playing some kind of "game."
Basketball Playroom
How amazing is this basement basketball playroom! This gym is not just for basketball but can be used for all kinds of sports and activities! If you have the extra space, definitely make this suggestion to your contractors. So great! The entire neighborhood will want to come over with this in your basement!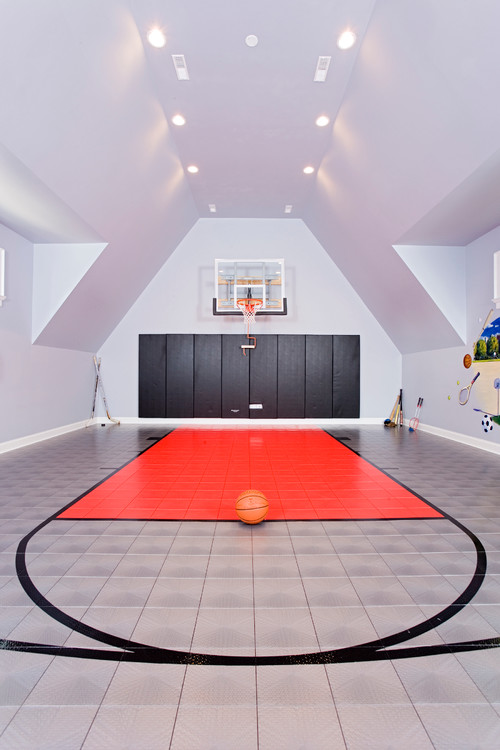 Retro Game Zone
If you have a love for older vintage games, why not create a small area for tabletop gaming in your basement! No matter what your style, there are so many different options when creating a space for tabletop gaming. You can create a cozy area with a couch and coffee table or just add in some barstools. If you're looking to add some fun decor to your space, check out thrift stores and garage sales for pieces like lamps and wall decor signs that will help make your space feel more complete.
Go Big Rec Room
This space is full of game consoles, electronics, pinball machines and even a foosball table! Your friends and family would LOVE spending time in this basement family room full of entertainment! Definitely consider soundproofing a room like this because I can definitely see it getting loud!
Bold Colors and a Poker Table
Talk about a pop of color here! Poker tables are great because they can be used for many other games besides poker. They also give the room a unique look that will help it stand out from other rooms in your home. Another thing that makes this such a great idea is that you can use the same color scheme throughout the whole room or keep it focused on just one area. You could even add different colors to different parts of the room if you wanted!
Game On Room
Ok I am obsessed with this game room! There are so many options for this room from movie nights on a big screen to game nights with good beer and popcorn. The seating looks of ultimate comfort and the coffee table seconds as a foosball table! The area carpet really grounds the space and pulls it all together!
Pool Table With Built in Storage
This pool table is the perfect addition to your game room! The built-in storage will help you keep all of your pool accessories organized, and you can enjoy the rustic look and feel of this piece. Also including some family photos really brings the 'family' room together as a whole.
Galaxy Game Room
This galaxy game room sure is incredible! LIKE WOW. Everything from the bowling alley to the casino machines. This one is definitely one for the awards. Obviously on the higher pay end but still is pretty cool to look at!
Star Wars Themed
Star Wars fans will love this room! Star Wars themed rooms are always a big hit with kids. The air hockey table is a fun addition to any basement game room and will keep your family and guests entertained for hours!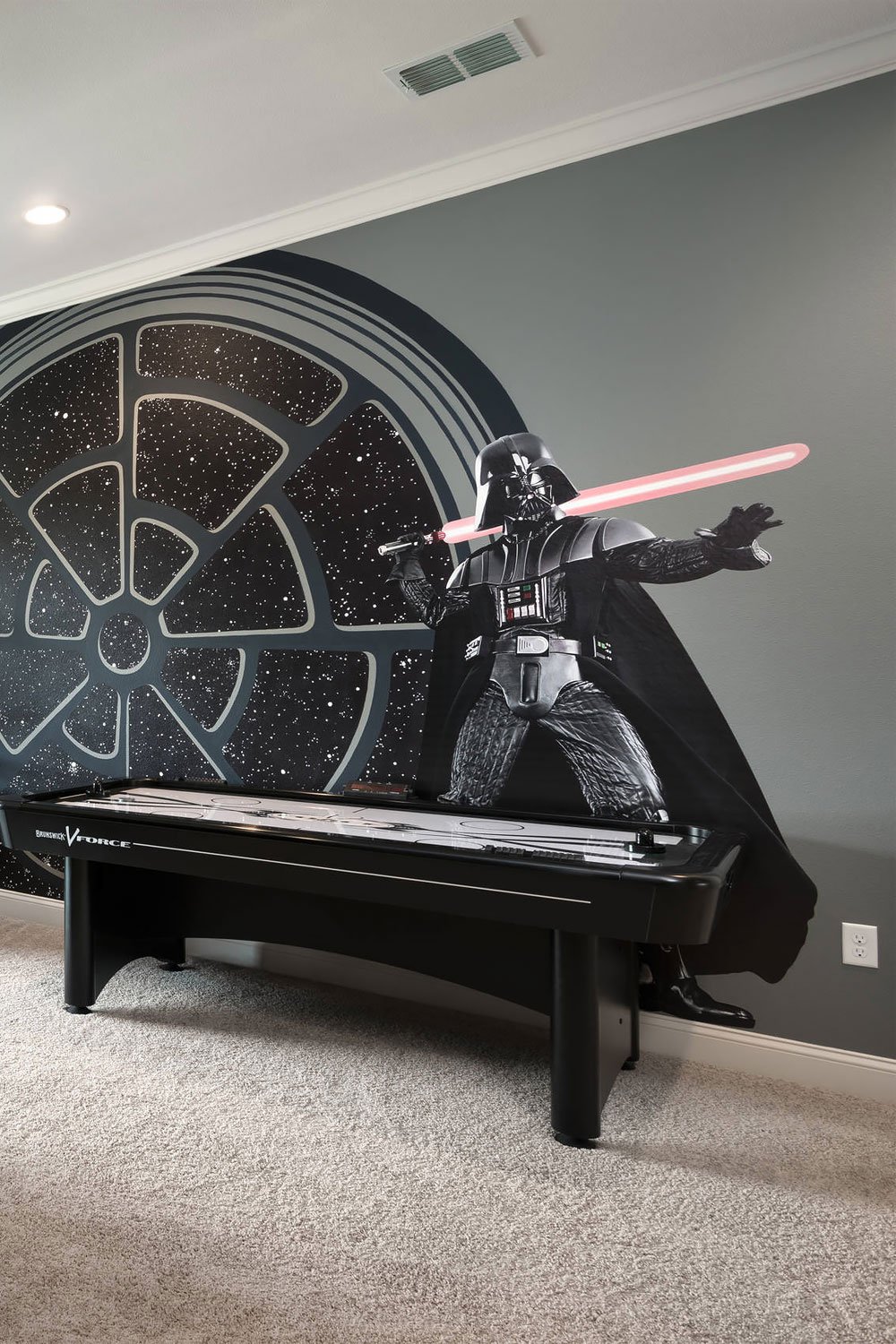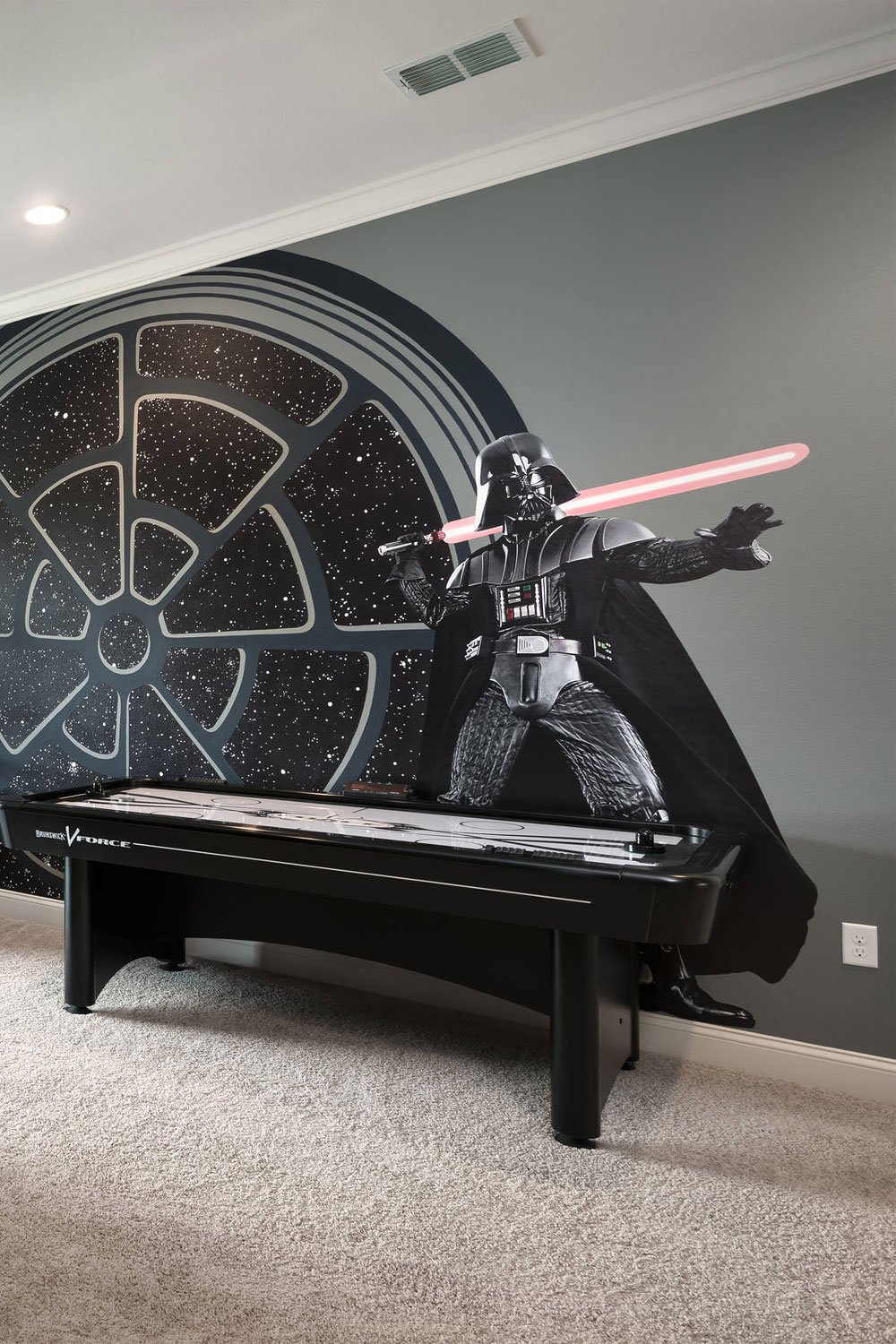 Eclectic Game Room
I love the eclectic game room design of this space, with vaulted ceilings and a touch of rustic feel. The exposed brick is a great touch, as it brings in a vintage vibe that's consistent with the rest of the decor. The red accent colors consistent through out the space really pull it all together!
Coastal Game Room
This coastal game room decor is a fun and playful way to add ocean flair to your home. The bright white and blue colors are reminiscent of the ocean waves, while the soft cotton fabric gives it a relaxed and comfortable feel.
Colorful Curtains in a Minimalist Game Room
How fun are these curtains! These fun colorful curtains are perfect for modernizing your minimalist room with a fun, cheery design! Complete any basement game room with these decor schemes!
Pac-Man Themed Ceiling
What's the best way to make your family game room stand out from all the other family game rooms in your neighborhood? They created a fun game-themed ceiling using special paint that looks like the classic arcade game. They had help from a professional painter who knew how to use the right materials and techniques, so they didn't have to worry about whether their masterpiece would last.
Geometric Accent Wall
The wall is painted with a geometric pattern, which provides visual interest and a pop of color. When you're decorating a game room, it can be tempting to go with the most fun and colorful elements of your home—but don't forget about the subtle details that will set off your space and make it truly unique. A geometric accent wall is the perfect way to add a touch of flair while still keeping things toned down enough for family entertainment.
Cocktail Tables with Barstools
When you're looking to get together with friends, family, and neighbors for a night of fun, nothing beats a basement game room. Add in some cocktail tables and barstools, and you've got yourself the perfect space for everyone to hang out in style.
Game Room with Loft
This game room with loft is the perfect place to hang out and relax with your friends. The loft is great for kids to play on, and the game room has enough space for everyone!
Bar Seating for Game Nights
Love how this simple console table area has transformed to a pull up bar area for game nights! Perfect spot to hangout with friends while watching the game and enjoying a drink!
Ping Ping Table Organization
Having a space dedicated for your ping pong accessory organization with keep your game nights easier! Being able to quickly grab the things you need is a must!
Large Comfy Sectional
Imagine a game room with a large, comfy sectional that can hold your whole family. The TV is huge and the carpet underfoot is soft and luxurious. There are lots of pillows to prop up your feet and plenty of different places to sit, including a sectional sofa with removable cushions. You won't believe it until you see it!
Popcorn and Candy Station
This is a station that you can use to make popcorn, candy, or other snacks. It's perfect for a family room, where you might need something to keep kids entertained while you're busy cooking dinner or watching TV. This station has everything you need to make popcorn and candy for everyone in your home.
Bright Walk Out Basement
It's important to keep things light and airy—you want the room to feel open and inviting, even if it's really just a glorified basement. And this basement game room nailed it! How beautiful is this space!
More Basement Game Room Ideas:
There you have it folks! 30 basement game room ideas!
Until next time,