Beautiful Bathroom Design Ideas; A main bathroom is one of the most important and used spaces in any home. Here are some NEW stunning bathroom designs to spark inspiration.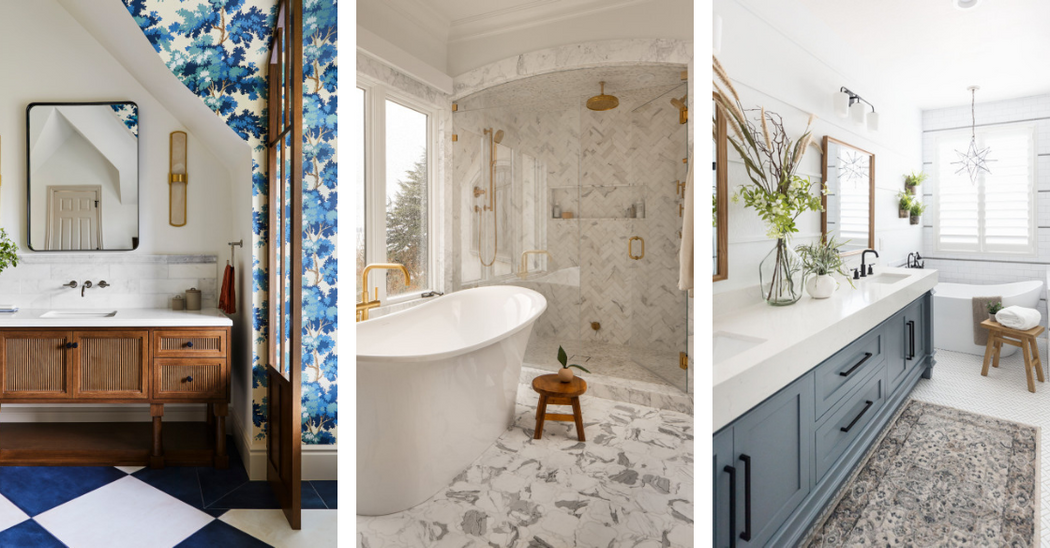 Hi beauties!  Today I'm just doing a quick round-up post of some beautiful bathroom design ideas I have come across this past week that I wanted to share!
Are you looking for beautiful ideas to update your bathroom? If so, you've come to the right place. I've scoured the internet and put together a collection of gorgeous bathroom design ideas that will help inspire your next bathroom redesign.
Bathrooms can be beautiful spaces to relax and unwind. In fact, many people use their bathrooms for meditating or yoga-ing. I'm sure you browse Pinterest and Houzz, dreaming of the day when you could tear up your old bathroom, and install a brand new one. I am totally in the same boat! So lets check out some new bathroom designs now!
NEW BEAUTIFUL BATHROOM DESIGN IDEAS:
Sometimes you need a change, or maybe you're just bored of your bathroom. No matter the reason, there is always room for improvement and new ideas. Let's jump into these beautiful bathroom design ideas I saved for you all!
There you have it folks! 30 beautiful new bathroom design ideas to spark inspiration for your next renovation!
Even if you don't plan on remodeling, seeing these inspiring new bathroom designs can certainly give you an idea of what the options out there look like. From classic and simple to elegant and luxurious, these stunning bathroom interior design ideas will give you plenty of interesting (and not-so-interesting) design choices to ponder.
These bathroom designs are sure to provide you with ample inspiration to get started or revamp your own bathroom in the near future! Get some fresh ideas and then apply them in your own space. I hope you have fun selecting the new design ideas that best suit your needs. Happy designing!
More Bathroom Designs:
Until next time,