5 Healthy Summer Rhubarb Recipes; here are ten healthy gluten and dairy-free rhubarb recipes for your leftover rhubarb fruit!
Disclaimer: this post may contain affiliate links, and every purchase made through these links will give me a small commission (at absolutely no extra cost for you!) AS AN AMAZON ASSOCIATE AND REWARDSTYLE MEMBER, I EARN FROM QUALIFYING PURCHASES. See Privacy Policy for additional info.
Hi Beauties!
Yes, coming at you with another roundup post! I have been loving Pinterest again, and I am always rounding up recipes, interior design ideas, and fun wedding ideas! So I figured, instead of being selfish, I would share with you lovely individuals!
We have a massive rhubarb bush in our backyard, and I never know what to do with it. I can only make so much rhubarb crisp! I mean, don't get mean wrong, I absolutely love a warm strawberry rhubarb crisp, smothered in delicious coconut milk ice cream. HI FEED ME. But it's time to venture out for some more healthy summer rhubarb recipes to try out.
While Pinteresting (it's a real sport) I found so many fun and unique healthy summer rhubarb recipes! I am in shock. Can't wait to fire up my kitchen (fire up? What does that even mean?), and get creating these healthy summer rhubarb recipes for the summer! 
< None of these recipes or photos belong to me, please click photo/link to be redirected to owners>
Healthy Summer Rhubarb Recipes:
Beat the summer heat and boost your health with these 5 Healthy Summer Rhubarb Recipes. Rhubarb, with its tangy and refreshing taste, is the perfect addition to your summer meal repertoire. Let's jump into these recipes!
RHUBARB YOGURT POPSICLES WITH GRANOLA RECIPE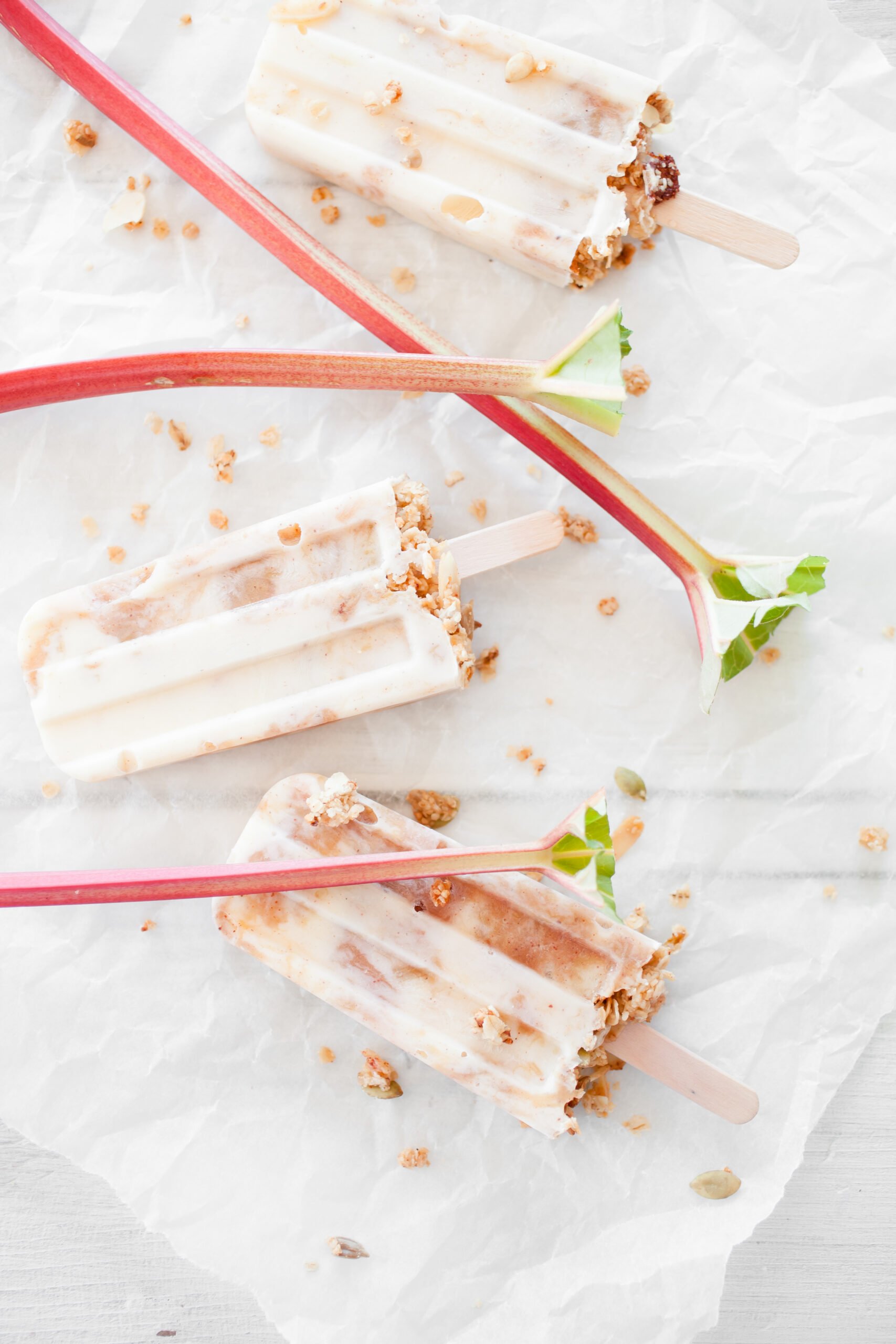 This delicious recipe combines tangy rhubarb with creamy Greek yogurt, creating refreshing popsicles that are perfect for summertime. With the addition of crunchy granola, these popsicles provide a delightful texture that will leave you craving for more. Try this easy and healthy recipe today! FULL RECIPE HERE
Strawberry Rhubarb Coconut Milk Popsicles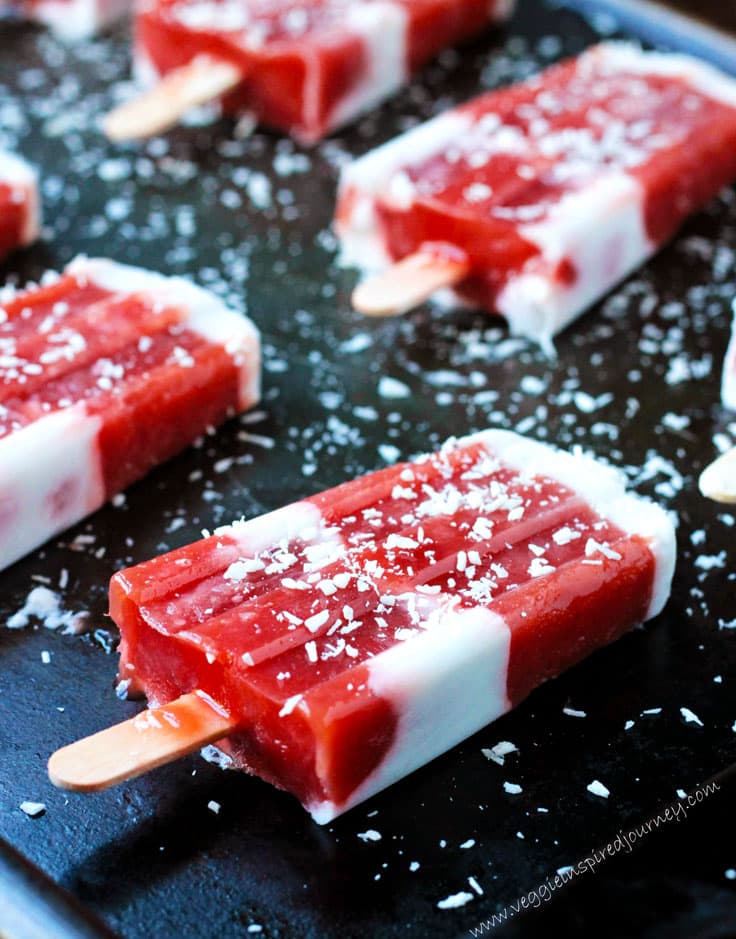 Strawberry Rhubarb Coconut Milk Popsicles - an irresistibly delightful frozen dessert that combines flavors of sweetness, tartness, creaminess, and refreshing taste. These dairy-free popsicles are bound to be your go-to treat for keeping cool during those scorching summer days. FULL RECIPE HERE
Ingredients:
6 rhubarb stalks (chopped) (about 2 ¼ cups)
1 cup fresh or frozen strawberries
½ cup pure maple syrup
about ½ cup full fat coconut milk (I used a little less)
Strawberry Rhubarb Crumb Bars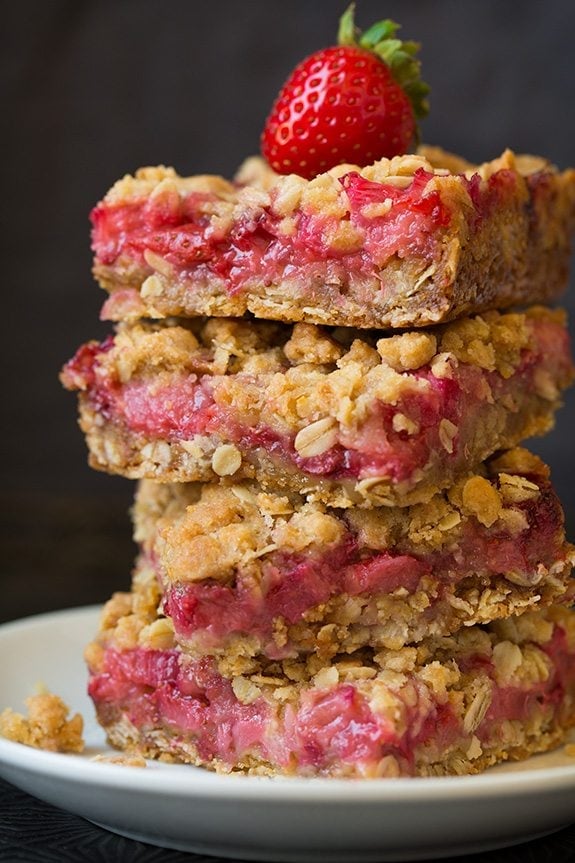 Prepare to indulge in the delectable Strawberry Rhubarb Bars featuring a mouth-watering crumb topping and a lusciously gooey fruit filling. This dessert is an absolute must during rhubarb season, pleasing the palates of everyone fortunate enough to savor its fantastic flavors. Brace yourself for a dessert that is sure to win hearts and satisfy cravings! FULL RECIPE HERE
Ingredients:
Crumb layers
1 ⅓ cups (188g) all-purpose flour
½ teaspoon baking soda
¼ teaspoon salt
1 ⅓ cups (120g) rolled old fashioned oats
½ cup (110g) packed light brown sugar
½ cup (110g) granulated sugar
¾ cup (170g) unsalted butter, melted
2 teaspoon vanilla extract
Filling
1 ¾ cups (273g) hulled and diced strawberries (from 12 oz whole)
1 ½ cups (190g) ¼-inch thick diced rhubarb
1 tablespoon fresh lemon juice
⅓ cup (71g) granulated sugar
1 tablespoon (9g) cornstarch
Semi Toasted Coconut Macaroons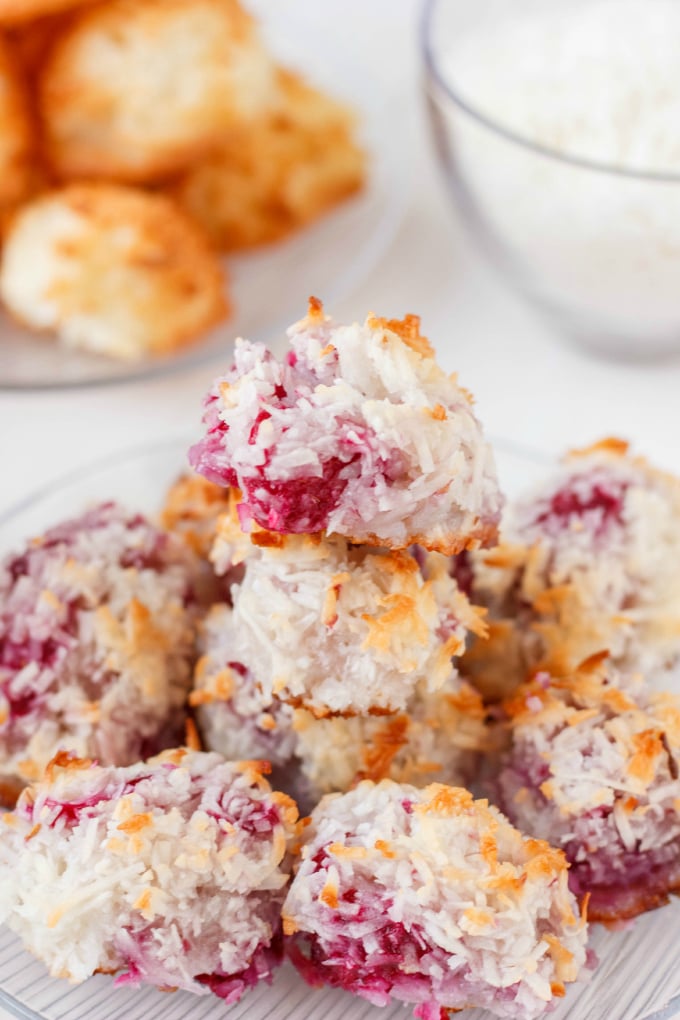 Indulge in the heavenly delights of Semi Toasted Coconut Macaroons. These delectable treats boast a unique combination of flavors, with a hint of toasty goodness in every bite. The crisp, golden exterior gives way to a chewy and moist interior, creating a delightful texture that is simply irresistible. With each mouthful, you will be transported to a tropical paradise, savoring the sweet, nutty taste of coconut. Whether enjoyed as a tea-time snack, a dessert accompaniment, or simply as a decadent treat, Semi Toasted Coconut Macaroons are sure to leave you craving more. FULL RECIPE HERE
Ingredients
¼ cup finely chopped rhubarb
1 cup unsweetened shredded coconut
2 cups sweetened shredded coconut
4 large egg whites (right in-between ¼-1/2 cup in my measuring cup.)
½ cup + 1 tsp. granulated sugar
½ tsp. almond extract
Pinch of salt
RHUBARB BARS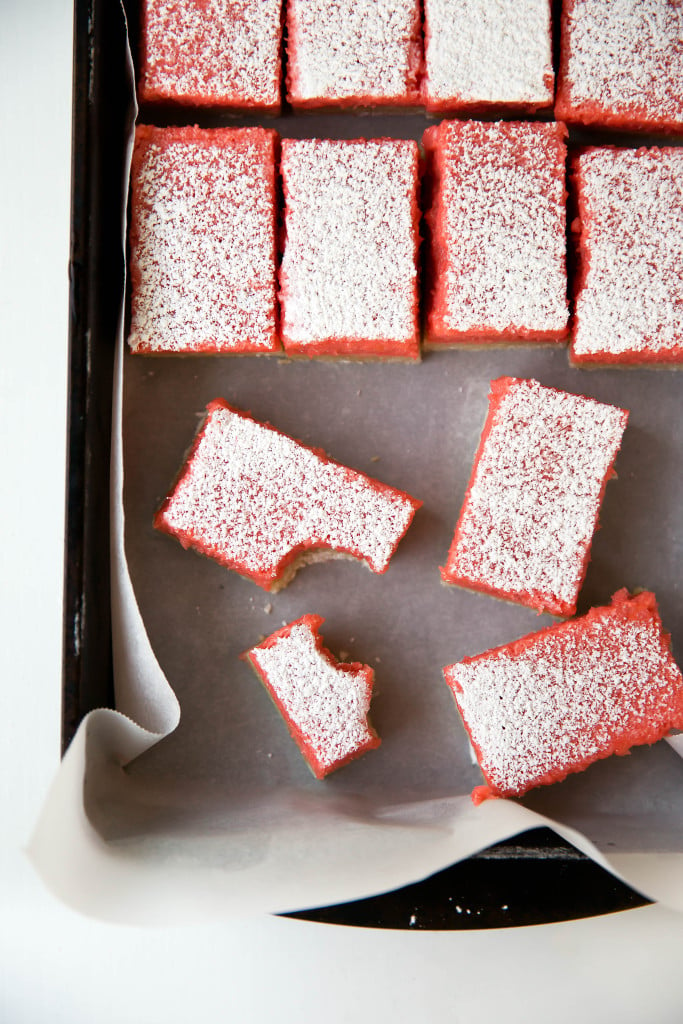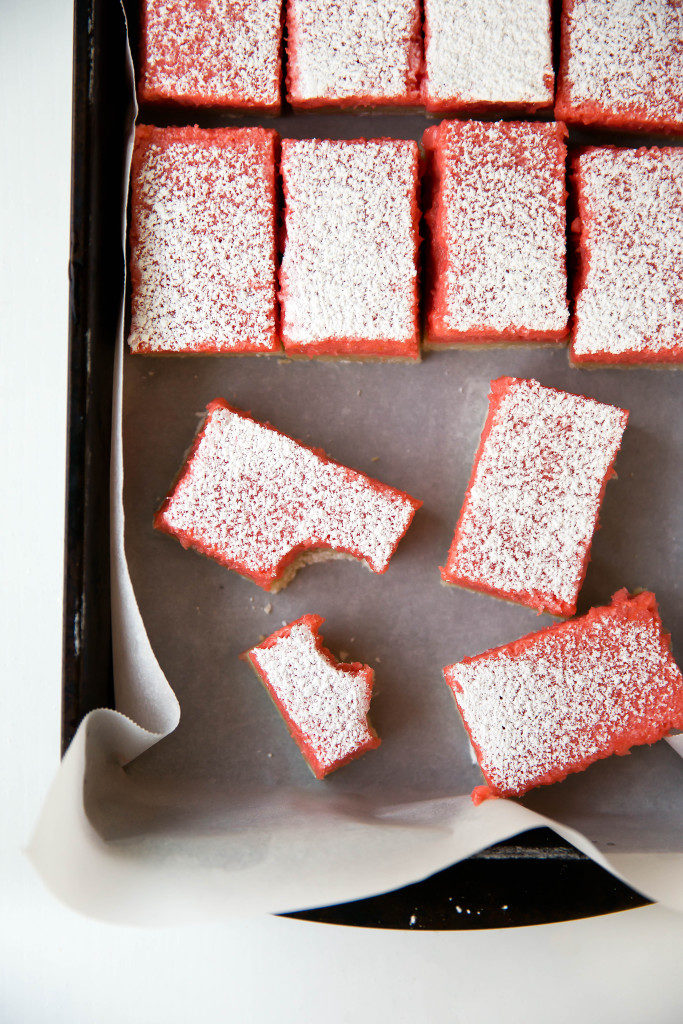 These bars are the perfect embodiment of the flavors and joys of spring. Inspired by the vibrant red stalks of rhubarb found at a local market, the recipe creates a creamy, citrusy curd that perfectly complements the rich and cookie-like cream cheese shortbread crust. The combination of sweetness and tartness is simply heavenly. FULL RECIPE HERE
Ingredients:
For the rhubarb puree
3 cups chopped rhubarb
½ cup sugar
¼ cup water
For the cream cheese shortbread
5 oz low-fat cream cheese
½ cup unsalted butter
⅔ cup sugar
½ teaspoon salt
1 teaspoon vanilla extract
1 ⅓ cups flour
For the rhubarb curd
4 eggs
¾ cup sugar
1 cup rhubarb puree
red dye
2 teaspoons vanilla extract
3 tablespoons lemon juice
zest of 1 lemon
½ teaspoon salt
½ cup flour
Strawberry Rhubarb Oatmeal Muffins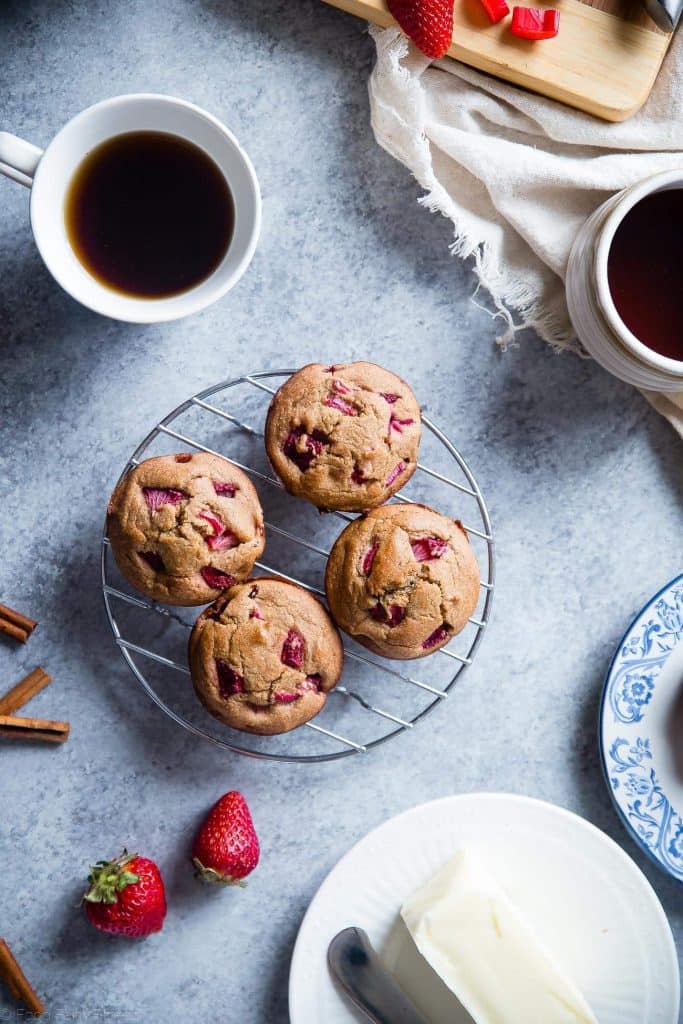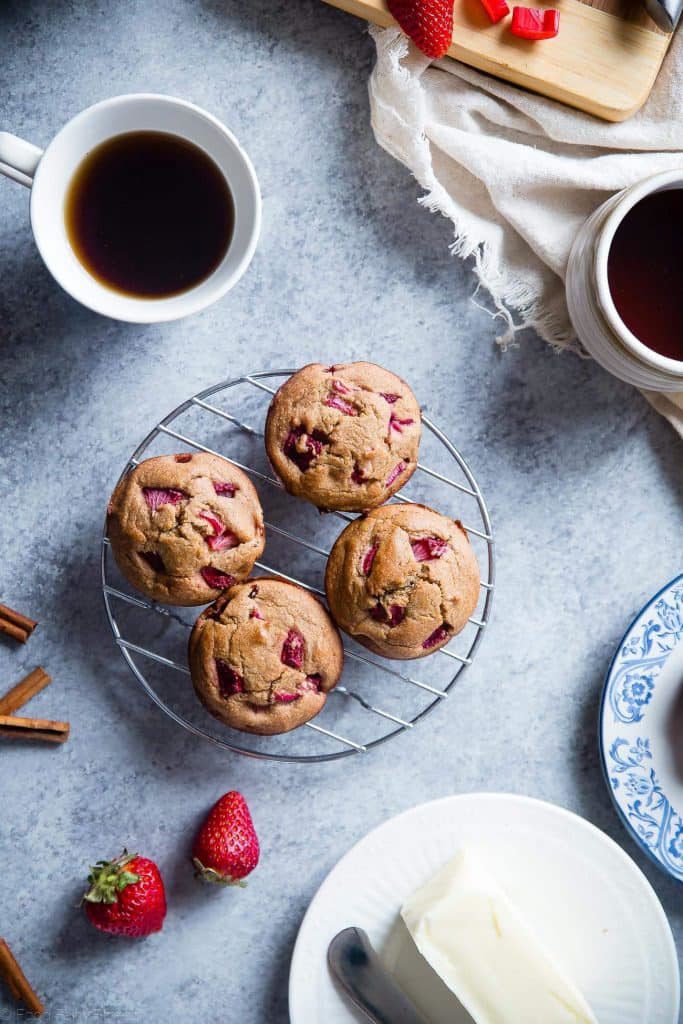 These muffins are a delicious and healthy option for breakfast or a snack. These muffins are gluten-free and sweetened naturally with dates, containing no added sugar, butter, or oil! Overall, these Strawberry Rhubarb Oatmeal Muffins are a nourishing and tasty choice for a quick and easy breakfast or snack. FULL RECIPE HERE
Ingredients:
¾ Cup Dates, roughly chopped (tightly packed, 125g)
½ Cup Unsweetened vanilla almond milk
6 tablespoon Fat-free vanilla Greek yogurt
1 Large egg white
1 teaspoon Vanilla extract
1 Cup Oat flour (click here to see how to make your own!) (103g)
1 teaspoon Baking powder
¾ teaspoon Cinnamon
½ teaspoon Ground ginger
¼ teaspoon Baking soda
¼ teaspoon Salt
½ Cup Strawberries, diced (90g)
¼ Cup Rhubarb, sliced (30g)
I hope you enjoyed this post all about healthy rhubarb recipes! Leave in the comments below what you want to see next on the blog!
Until next time,
BEST SELLERS