59 Best Baby Registry Items Your Newborn Needs; here is a complete baby registry list of what will be on my baby shower registry! The top brands with the best ratings for this year.
Disclaimer: this post may contain affiliate links, and every purchase made through these links will give me a small commission (at absolutely no extra cost for you!) AS AN AMAZON ASSOCIATE AND REWARDSTYLE MEMBER, I EARN FROM QUALIFYING PURCHASES. See Privacy Policy for additional info.
< This post contains affiliate links >
Hi Beauties!
For those that follow my blog, you obviously know that my husband and I are expecting our first baby in October 2019! We couldn't be more excited. We found out a few weeks ago that we are having a little girl! We did a gender reveal party that you can check out here.
This being our first baby, we have a lot of things to buy! We are far from minimalists and want all the best baby gear we can buy! While researching everything, from strollers to baby monitors, we realized that it can get pretty pricey quick! So, we started collecting things early. I religiously watch for sales on all the gear we need, and are slowly starting to collect.
That being said, I still plan on having a baby shower. I have two registries going that I recently started updating on what we would love for our little bundle of joy. Of course, we would never expect anyone to buy us all these things… but I do like having a registry to keep track of what we need to get before the baby arrives.
I have done tons of research on products and what I think will work best for our family and our lifestyle. Of course, I am bound to make mistakes being a first time mom, but these are the items I have decided on for now.
I do plan on doing an update post on things I wish I didn't buy and things I couldn't live without. Maybe three months in? We will see!
So, without any more rambling, let's jump into this mega list of the best baby registry items shall we!?

Nursery
Crib: Love this pretty white and girly crib. Great reviews and safe!
Crib Mattress:Crib mattresses are definitely one thing I knew nothing about. After lots of research this mattress is the one we will be buying.
Sheets: I love these cute sheets. They are so soft and will go with our baby's nursery perfectly!
Crib Skirt: I will probably get a cute pink girly one!
Bassinet: This is one thing I wasn't going to get originally, just to save some money, but so many people have told me it is a must for the first three months. The baby will be staying in our room for easier late night feedings. So, I figured if we had to buy one, it would be this one.
Changing Pad: KEEKAROO - Originally, I had planned on getting a high tech changing pad that weighs the baby… but opted for one that is basic but easier to clean. I didn't want to get into having to change liners or covers. I wanted something simple yet practical.
Dresser: We are probably going to opt for a cute dresser from WayFair, unless I can find a beautiful antique dresser that I can refinish. You know my love for refinishing old pieces!
Glider: We are probably going to go with this grey glider. Great reviews! If I can't order that one, I might look into ordering one of Wayfair instead.
Area Rug: Not sure which rug will get, but I definitely want a rug for the nursery.
Diaper Pail: I heard this diaper pail works magic. We definitely need some help in this department because my husband is going to struggle with the joys of baby diaper changes!
Hangers: I bought simple, non-slip hangers like these.
Hamper: Hampers are necessary, we will probably keep this one in the closet.
Night Light: HATCH BABY – This nightlight/noise machine looks amazing and is one that our baby can grow with. It has an app to your phone that allows you to control everything! You can set what time the nightlight changes colours and you can program your baby's favourite white noise songs.
Diapers: We will probably just use basic diapers and order them through a subscription on Amazon Prime!
Wipes: WATERWIPES – I have super sensitive skin so I am assuming my baby will have sensitive skin too... which is why I am going to try these wipes from the beginning. They have no added chemicals and are said to be great for babies with sensitive skin.
Wipe Warmer: I think we will give one of these a try too. I heard babies cry less when the wipes are warm, but I have also heard these warmers can dry out the wipes… so we will see if we stick with using one!

Bathing
Bath Tub: This bathtub looks great!
Shampoo: We will probably use something natural like Burts Bees Baby shampoo.
Body Wash: Again, we will be going with something organic or natural like this brand.
Lotion: Burts Bees lotion
Wash Cloths: Not sure if we will use wash cloths or a loofa but I figured either way, these wash cloths would be handy having around the house.
Hooded Towels: Some hooded towels are so adorable! Like these ones here!
Diaper Rash Cream: Not sure which product will work best for our baby but we will probably start with this one by Earth Mama.
Nail Clippers: I already know I am going to be the scared mom who can't cut her baby's nails.. SO I found this nail filer that might save me here!

Travel
Stroller: UPPABABY VISTA – I know this stroller is on the pricey end for strollers but I just feel like this one will be the best investment for us. It easily attaches a car seat into it and it can be converted to a two baby stroller easily later on (we won't have to buy a new two child stroller when we have baby number two).
Jogging Stroller: THULE - We don't need this stroller right away, but I will eventually be buying this stroller because I will be running again but this time with the baby! Also, we live on a dirt road in the country so I feel like this one will be handy for our rough neighbourhood.
Car Seat: UPPABABY MESA – This car seat has amazing reviews and easily click into the Uppababy Vista stroller which will be so handy when the baby is sleeping and I need to run into a store.
Extra Car Seat Base: UPPABABY MESA BASE – we are going to have an extra car seat base for my husband's truck as well. It will just be easier for transferring between our vehicles.
Cute Car Seat Cover: MILK SOB - I think having a cover for the car seat will be ideal when the baby is young. Keep them sheltered while carrying around the car seat. I love this one from Milk Snob!
Stroller Organizer: SKIP HOP STROLLER ORGANIZER – I think this will be so handy on long walks or shopping. Having everything organized and handy right at my fingertips. A place to put my phone, wallet, Starbucks coffee, and other ready to use items.
Diaper Bag: The reviews on this diaper bag by Fawn Design are amazing and it is so cute, yet still somewhat unisex (so my husband doesn't feel awkward carrying it around too).
Carry Sling: ERGOBABY CARRIER – We definitely want to get one of these slings for our hikes and other family outings where pushing a stroller isn't ideal.
Carry Wrap: These baby carrying wraps are so stylish and seem functional! I would love to have one for more fancy events to carry the baby around.
On The Go Wipes: Not entirely sure if I will use this on the go wipes container, but it might be handy!

Feeding
5 oz bottles: COMOTOMO – I have heard great things about these bottles so I might give them a try with our baby. I know babies can be super picky, so we will have to see if she will like them.
Bottle warmer: I am still on the fence about this bottle warmer. Not sure if we will use one but I have heard many people really love having it! SO we might give it a try.
Breast Pump: MEDELA – I do plan on breast feeding, but I did receive advice from a new mom about pumping and freezing as much as I can at the beginning when my supply is high. So, I am hoping to be able to pump and safe as much milk as I can for when my supply slows down or when my husband is watching the baby so I can run some errands!
Pump storage bags: MEDELA – These bags go with the pump. Freezable and easy storage!
Pumping Bra: MEDELA – I heard these are super handy when pumping. These bras give you your hands back so you can multitask while pumping. Basically, a hands free goddess.
Bibs: Bibs are always a must, especially when you have so many cute baby clothes! And who are we kidding, no one likes doing laundry every day.
Burp Cloths: I will definitely be buying a bunch of these and keeping them in my diaper bag as well as next to my glider in the nursery.
Nursing Pillow: These pillows look like a must! Therefore, I will be keeping mine right next to my glider in the nursery.
Clothing
Onesies: My goal is to only have to do laundry once a week... which means I will need 2-3 onesies per day (on a good day), so I plan on getting at least 15 onesies per size. Which may seem like a lot but I have never really enjoyed doing that much laundry! Some of the cutest brands I have found include; The Gap, Kyte Baby, H&M, Little Minimalist, Little Miss Dessa
Sleep Gowns: I am going to have two sleep gowns for the baby. I am too nervous already to leave my baby sleeping in a muslin swaddle wrap. I also want to buy two knotted gowns. Little Miss Dessa has cute ones!
Swaddles: There are so many cute swaddles out there! I will definitely be buying a few. I heard that you can never have too many swaddles, you will use them for everything not just swaddling. I like the aden + anais brand, and I am also going to try the Love To Dream Swaddle.
Hats/Mitts/Booties: Our baby will be born at the end of October, so I definitely want some hats and mitts around for the winter months.
Socks: I just need a few pairs of socks for the baby because I would rather have onesies with the socks already in them.
Cute Accessories: I definitely want some cute headbands for her!

Health & Safety
Stair Gate: We won't need this right away but will be getting this one once baby starts crawling. We will go with a black one to match our stairs better.
Baby Monitor: We will be getting the Nanit baby monitor. It has great reviews! And was actually voted number one in 2018. The only thing I am not a fan of is the wall mount... Id rather get the Nanit stand separate to put it on a shelf near by.
Outlet Covers: Again, won't need these right away but will once the baby starts crawling around.
Thermometer: Being a nurse, I know having a thermometer around will be very handy. I don't necessarily need a fancy one, any thermometer that works will be good enough for us! Something easy like this one.
Baby Safe Laundry Detergent: As mentioned above, I will probably go with a detergent that is all natural or at least close to it! Something soft, yet chemical free. I will probably look for something scent free too and just add a few drops of essential oils to the detergent… like lavender!
Nose Bulb: I heard these nose bulbs work wonders for a sick, congested baby… so I will probably pick one up just to have handy around the house just in case!
Humidifier: The air gets so dry in the winter months, so I will probably pick up a humidifier just to have in case we need it!

Other Gear
Pack N Play: One of these is on our must get list. It will be super convenient to have when traveling and camping. I like this one best because the reviews say it is the easiest to quickly pack up and store. We are always going to be on the move come the summer time so this is super important to us!
Snuggle Me Organic: Originally, I was all about getting a DocATot but apparently they aren't sold in Canada because of safety requirements. SO, I found the next best thing! These Snuggle Me Organics are almost just as popular and I love that it has a removable cover that can be washed easily.
Bouncer: One of these will be great once the baby is old enough for it. I think we will go with this one by Skip Hop because I am not a fan of the crazy coloured ones that are just eye sores for any living room.
Swing: MAMAROO – We picked up this swing for our newborn with the newborn inserts. I think one of these will be so practical when I need to get some house work done. It has great reviews and looks pretty! I have heard that some babies aren't a fan of it but majority love it. So we will see! Fingers crossed haha
There you have it! The 59 Best Baby Registry Items I will be purchasing myself or adding to my baby registry! I know a lot of people will have their opinions about this list, and that is fine J Every new mom has to live and learn and this is just my process!
I hope you enjoyed this list and find things you might want to add to your registry too! Let me know in the comments below what your favourite baby registry items are 🙂

59 Best Baby Registry Items Your Newborn Needs; here is a complete baby registry list of what will be on my baby shower registry! The top brands with the best ratings for this year.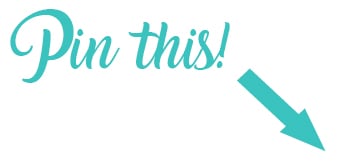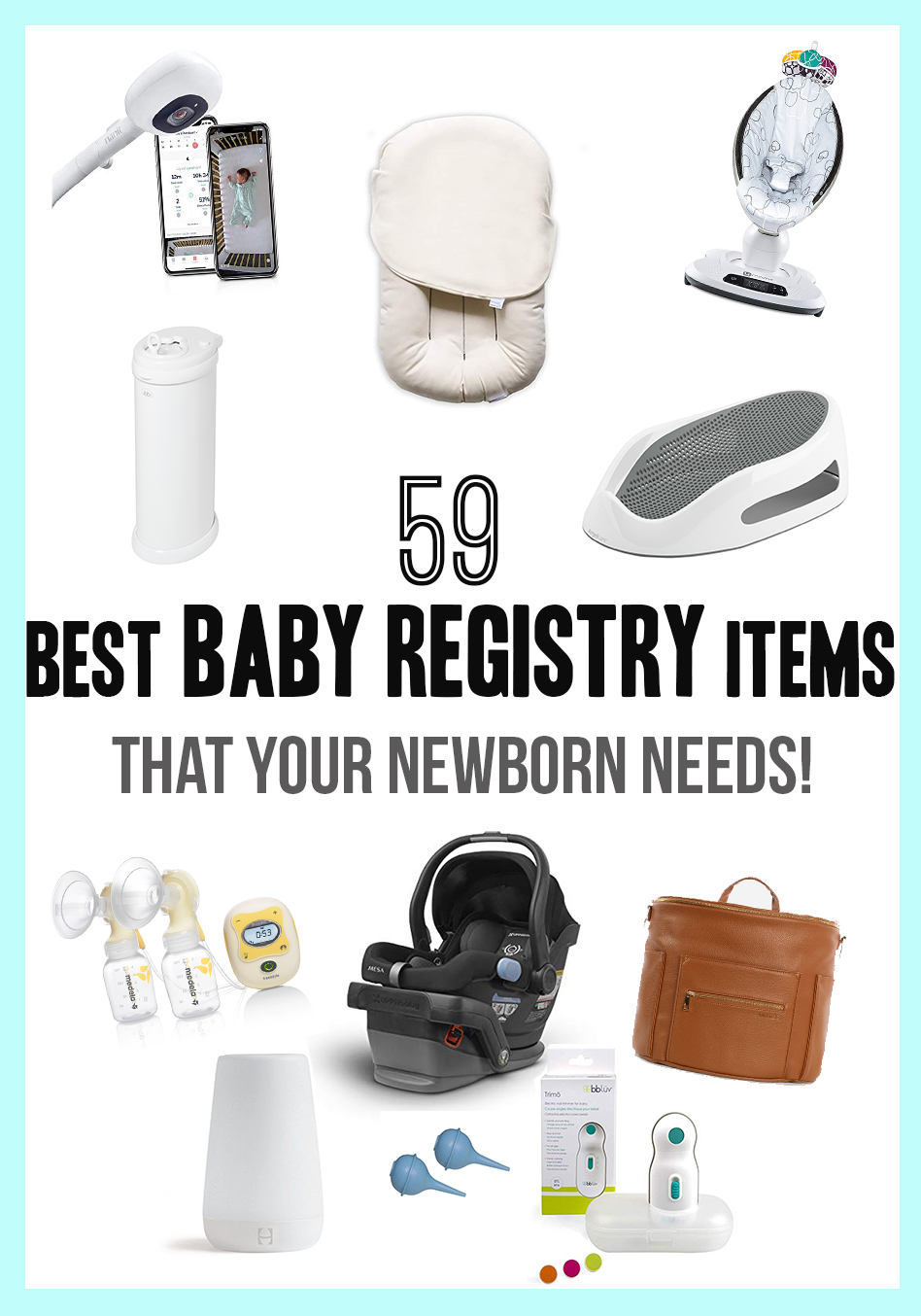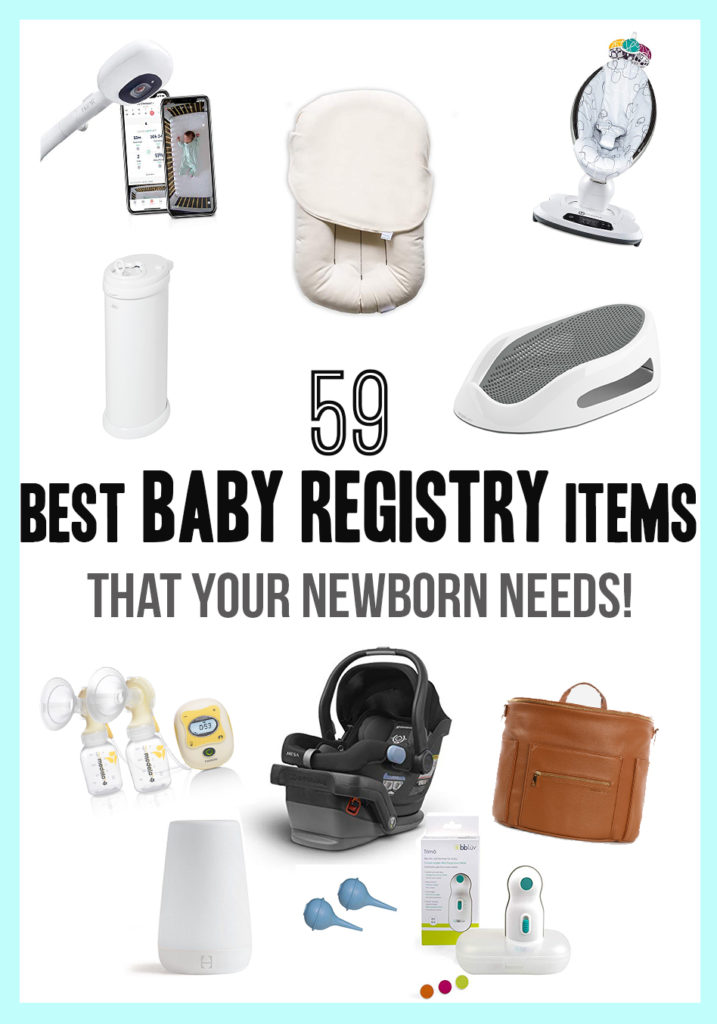 BEST SELLERS