Time for my girly white home office reveal! I have been waiting to post about my white home office for a while now.. but as the months go by I figured I should get it up on the blog sooner rather than later because some day in the future this will turn into another nursery...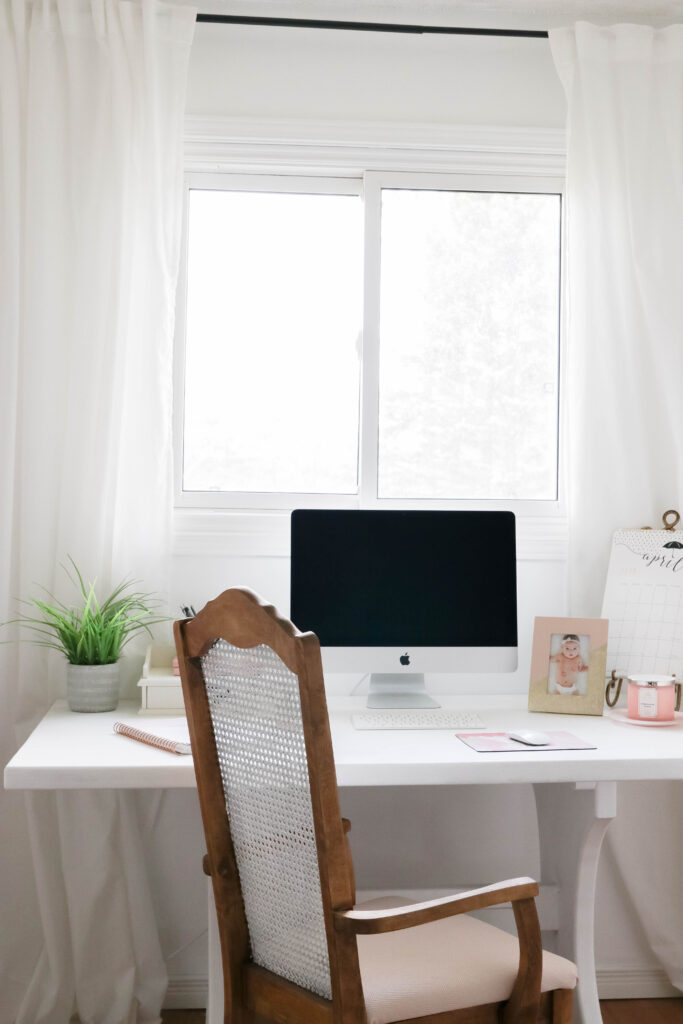 Disclaimer: this post may contain affiliate links, and every purchase made through these links will give me a small commission (at absolutely no extra cost for you!) AS AN AMAZON ASSOCIATE AND REWARDSTYLE MEMBER, I EARN FROM QUALIFYING PURCHASES. See Privacy Policy for additional info.
Hi beauties!
I hope everyone is having a fantastic spring so far even with the craziness if the world right now. We are utilizing this time at home for fixing up our house and soaking in lots of family bonding. It is so nice having the family at home every day but we do miss our extended family and friends. What a crazy time to be living in this world right now.
With that being said, I know a lot of people are working from home right now which is why I decided to make a little post about my home office right now.
I have had this room done for a while now but just never got around to posting it on the blog. Now that my husband is laid off and around more, I am able to have a little more free time to spend on the blog.. which means I am spending more time in my girly white home office!
I love this office.
It is the perfect size for me and everything I need. I also love how bright it is. White offices just make me so happy.. I'm a wierdo I know..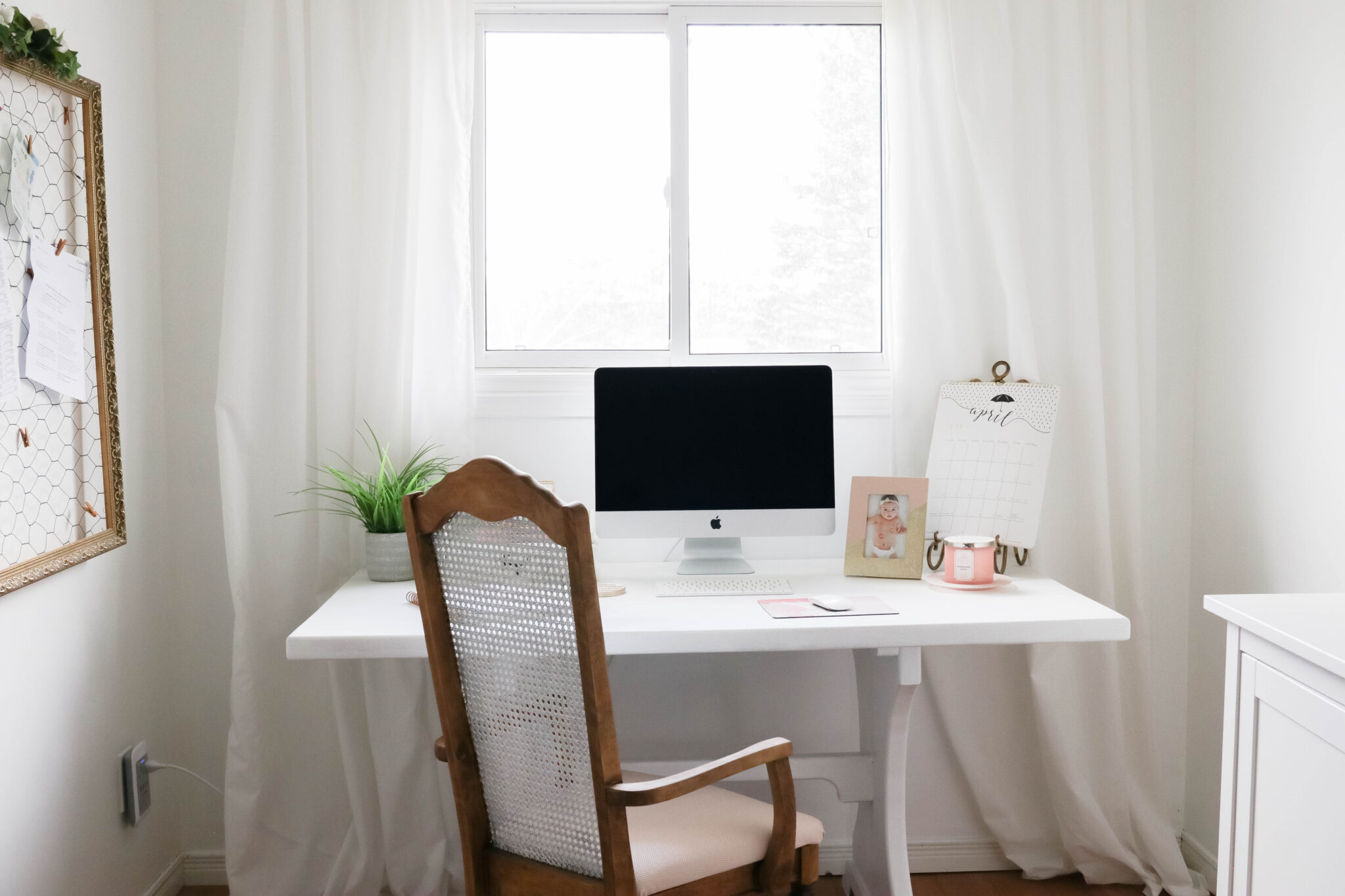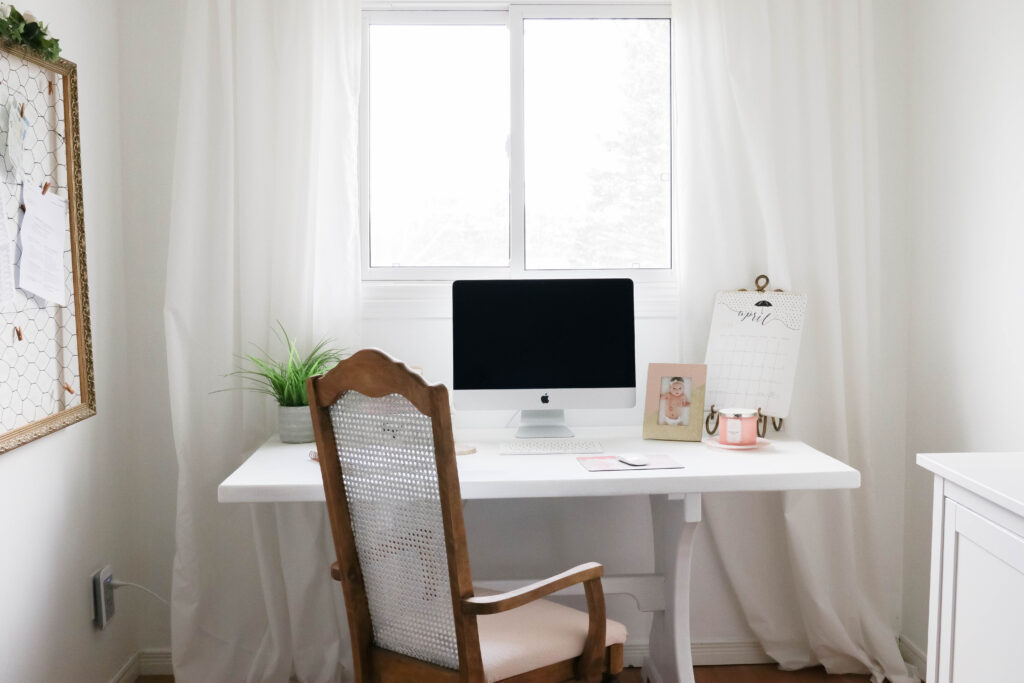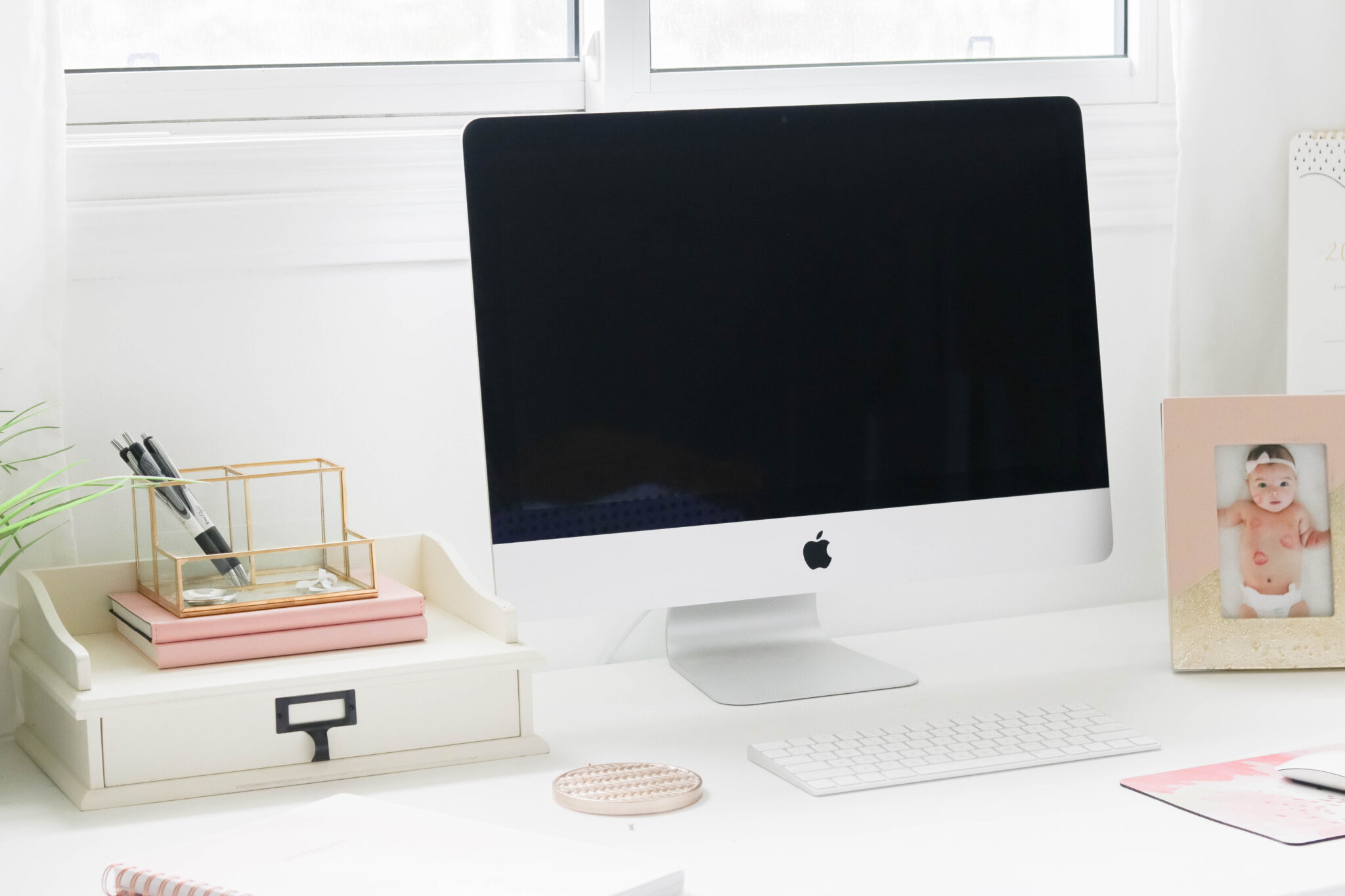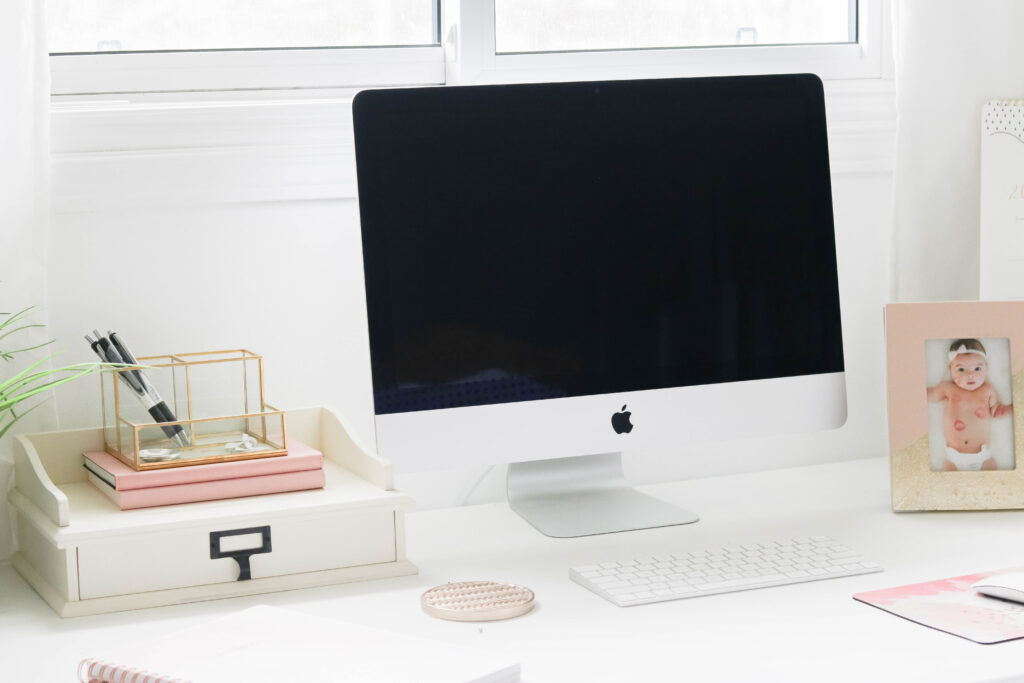 The majority of the pieces in this office are actually antiques that I have refinished. I have a love for refinishing old furniture. Antiques just have so much history and character to them that they make any boring room more exciting.
You can read all about how I refinished this antique office chair a few months ago. This was a fun easy project for me.. and I was able to add my touch of pink by reupholstering the cushion with a light pink fabric.
I wanted the office to be mostly white with a small, very small, hint of pink to add a girly feel. My husband has his space and I have this space. I do not go into the garage, that's his man cave area so I knew he wouldn't give me a hard time about this office!
I am obviously a huge fan of this colour scheme considering my daughter's nursery is the exact same colours!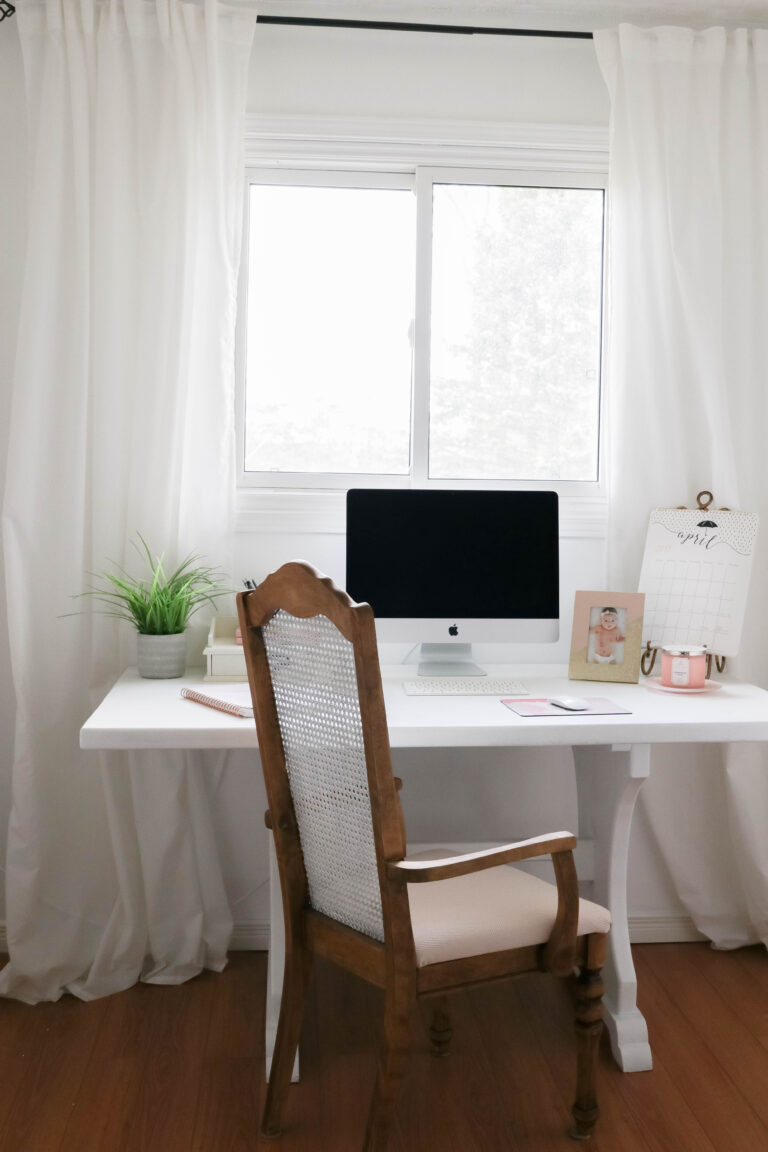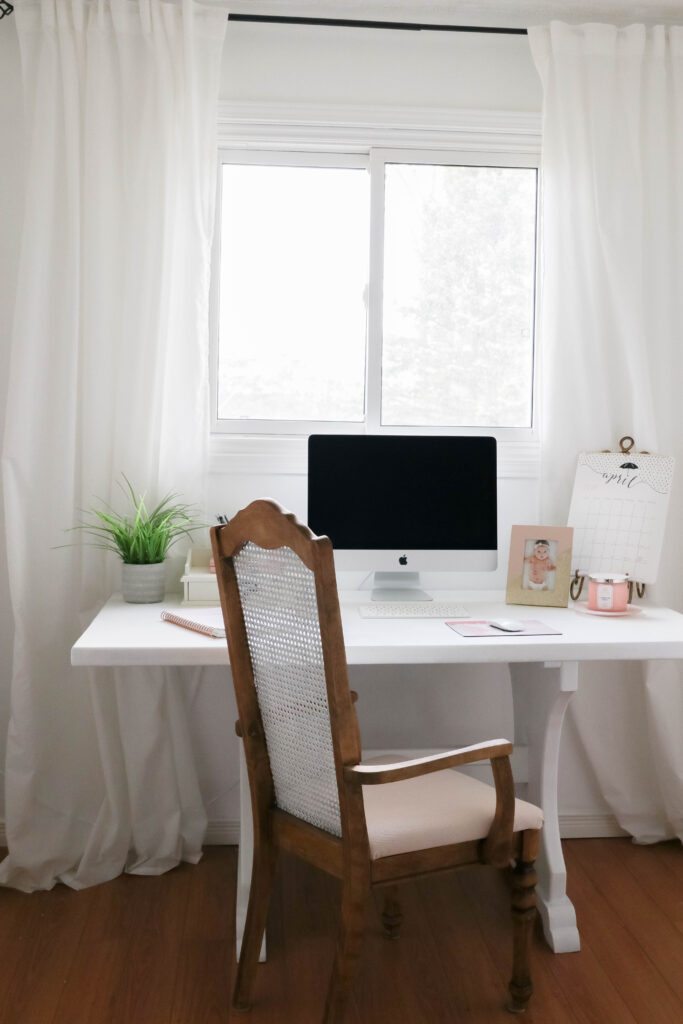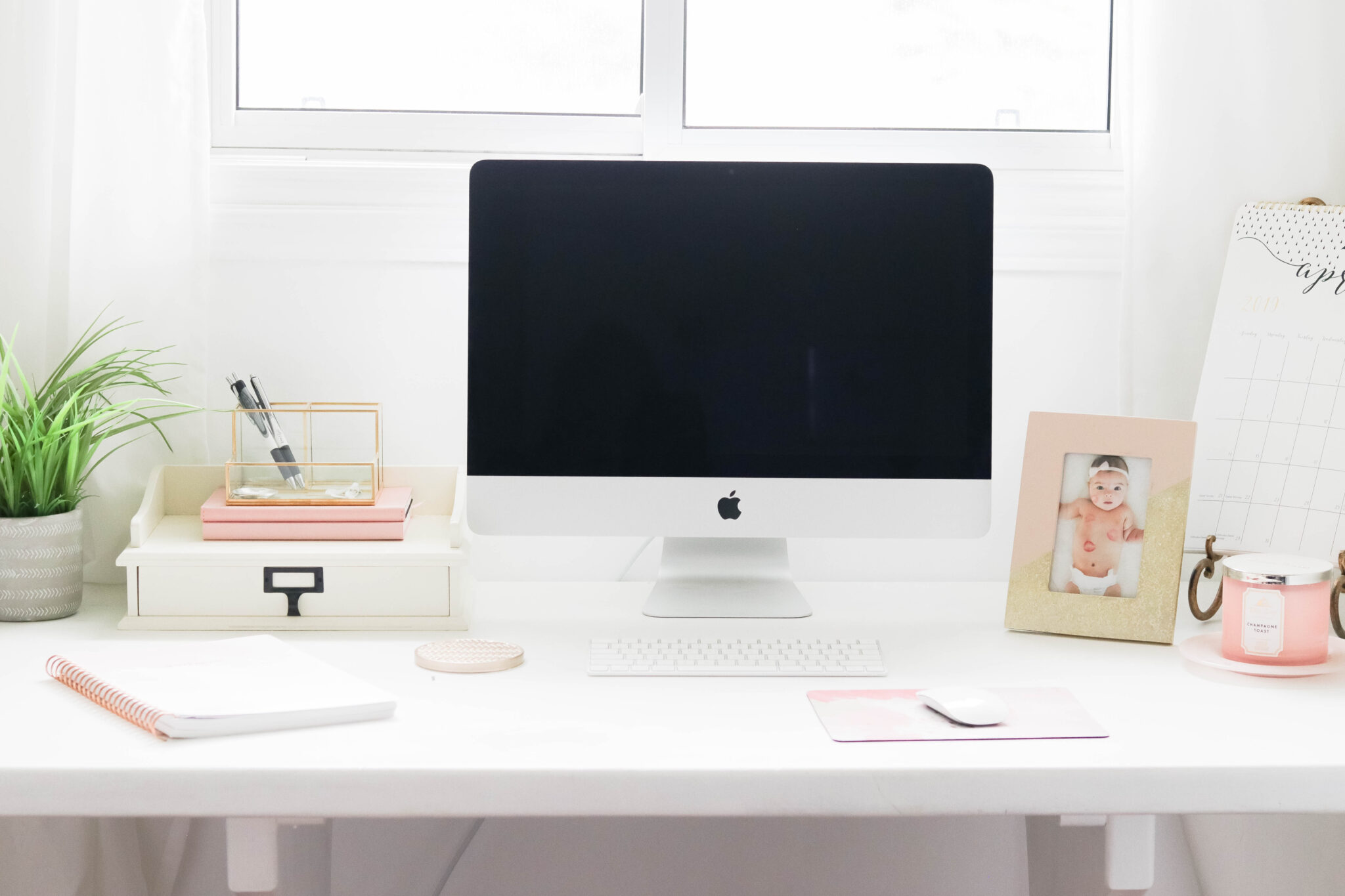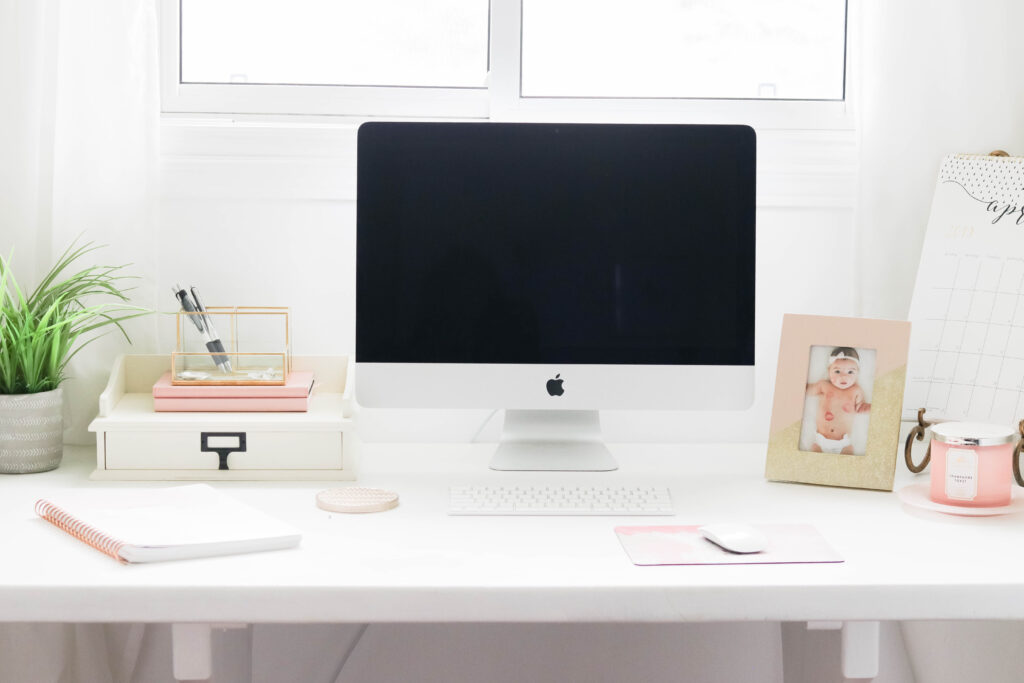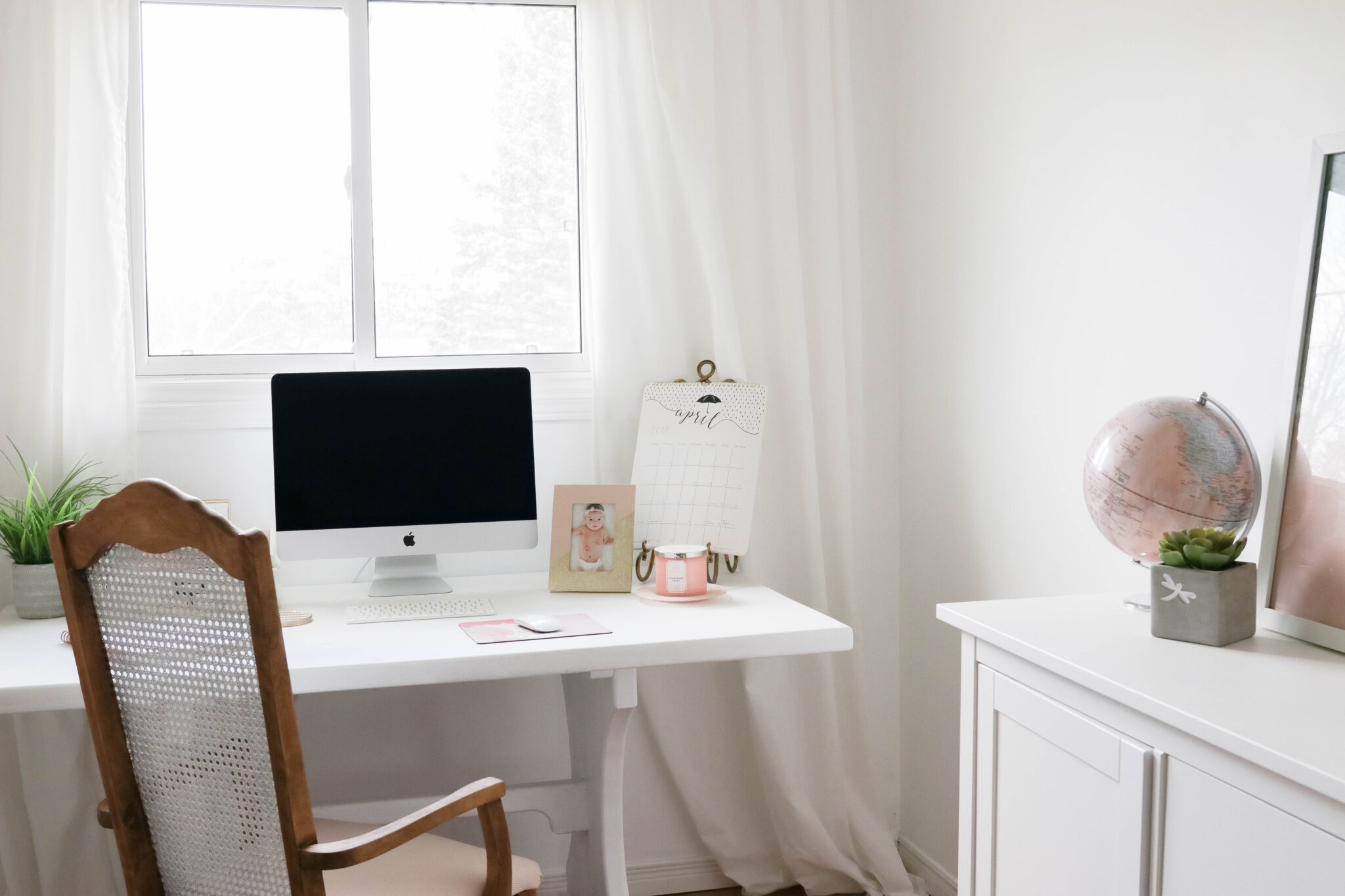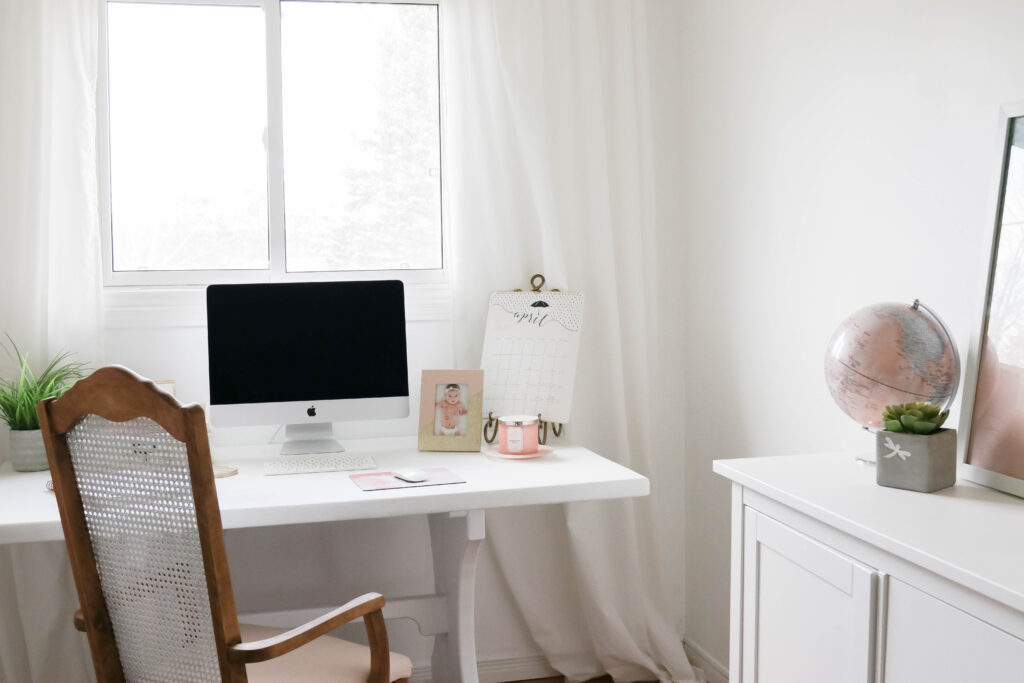 I added tons of storage with an ikea sideboard along the main wall. I filled it with all my papers (coloured, whites and lined), art supplies, blank cards, Cricut supplies and party supplies. I do plan on spicing up the side board by replacing the knobs with something more fancy and relining the the drawers with something more girly! So you will have to make sure you subscribe to my blog if that's something you'd like to see!
on top of the sideboard I have these gorgeous art pieces that I got from Society 6. Not sponsored, I just like their art! I then bought the frames from Homesense but I am sure you could find them from Ikea. Ikea has tons of great picture frames, like the ones I bought for our dining room photo wall gallery.
The photos were actually the first thing I bought when designing this office. I knew I wanted those colours and started there. Obviously the majority of the office is white but I love how these photos give a warm beachy vibe.
And let's be honest, who doesn't get super happy when they look at a picture of the beach! And of course I added a photo from our wedding in the centre because that's also my happy place 🙂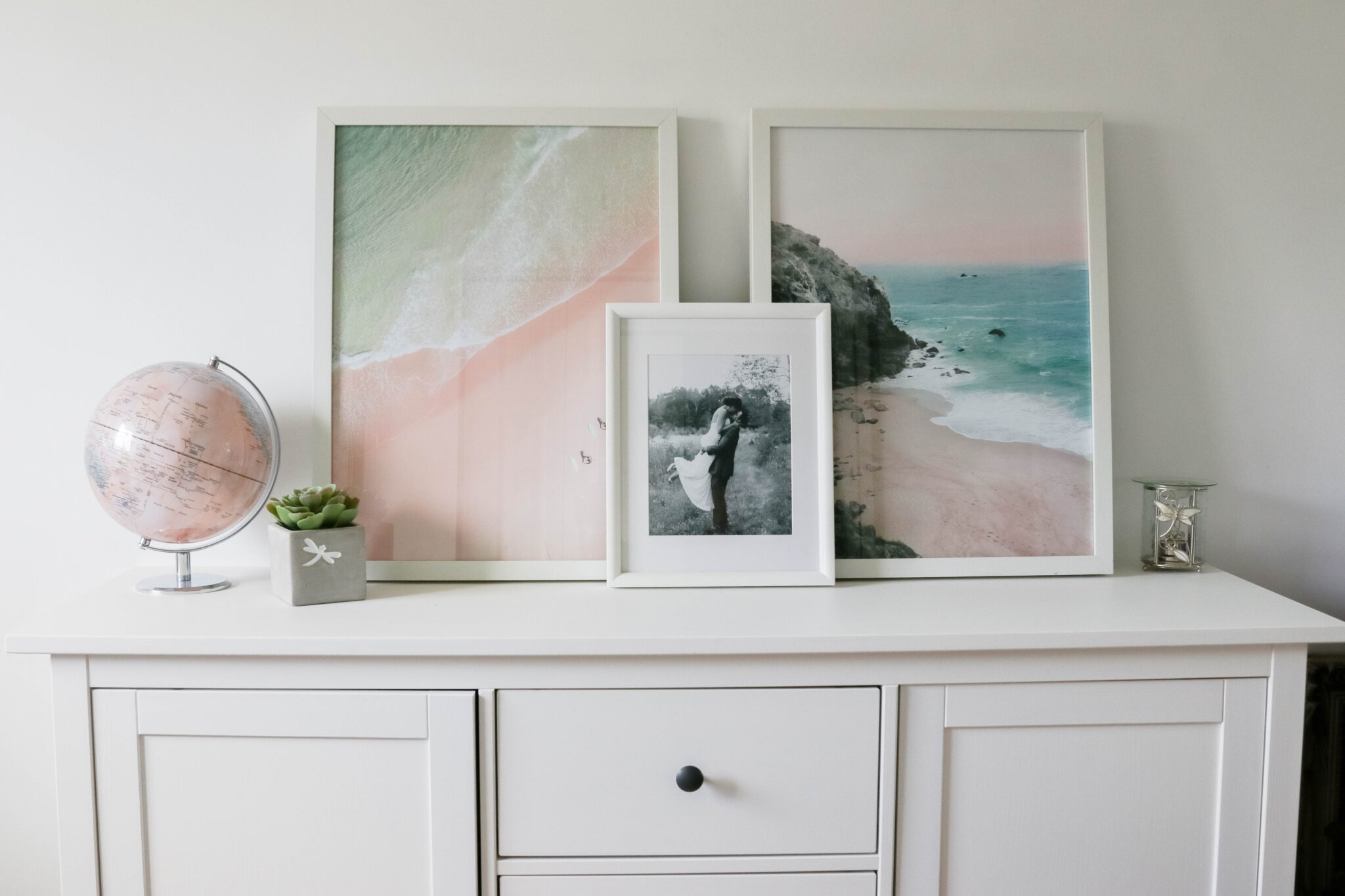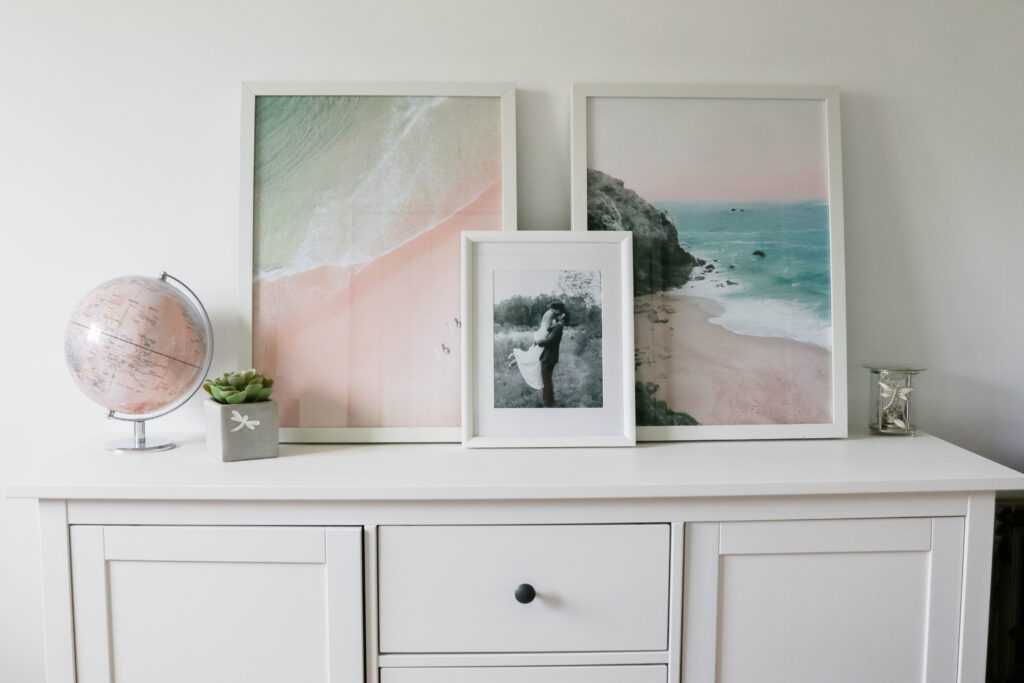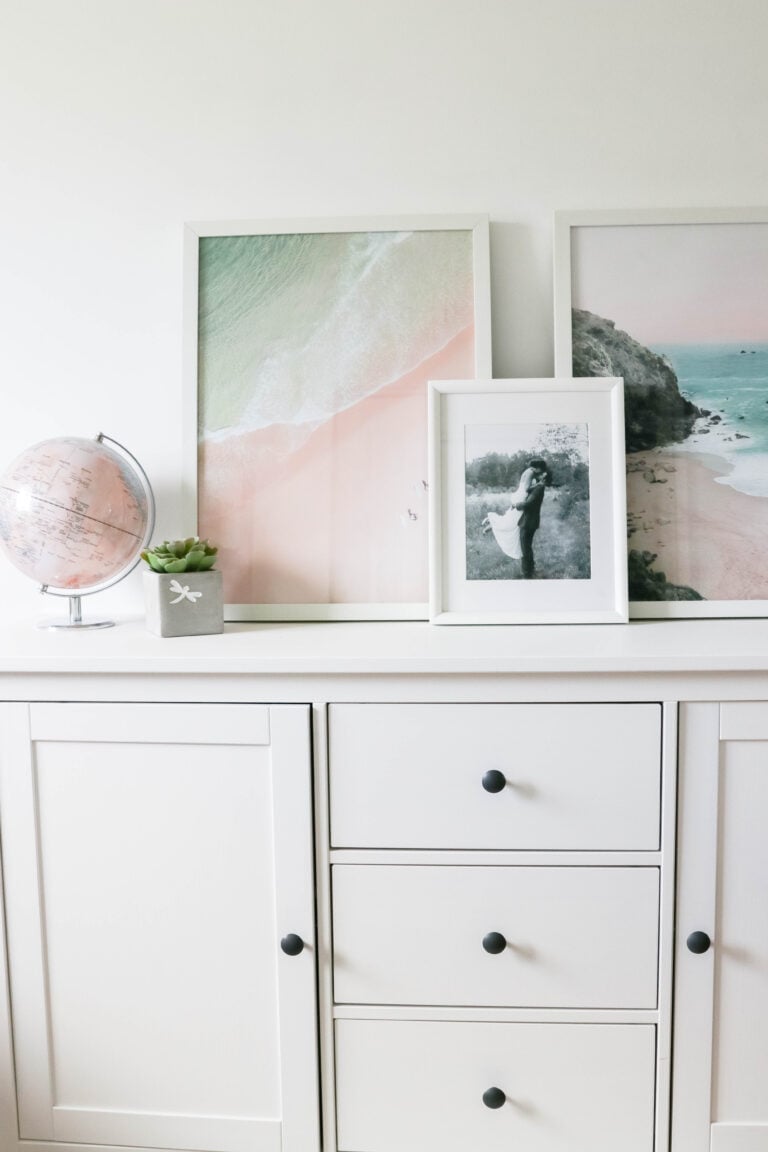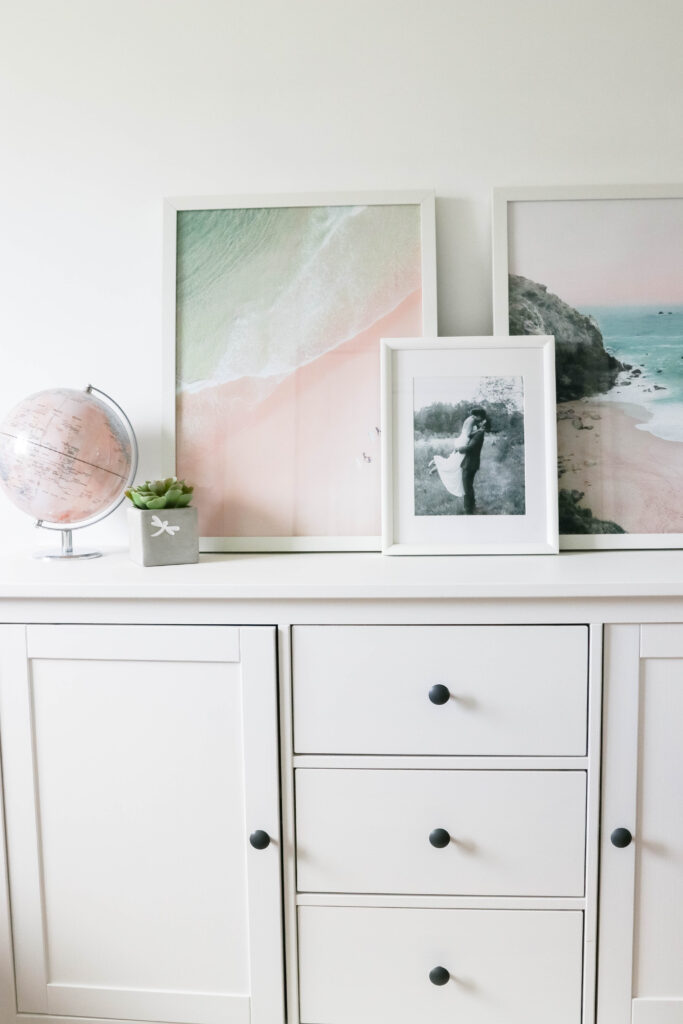 So this desk.
This desk is another vintage find. It was gifted to me by my grandpa who got it from his aunt.. he was actually going to throw it out but I said I wanted it.
It is a SOLID.. and I am SOLID, piece of wood. Super heavy. It had a bunch of chunks taken out of it which I fixed with some wood filler. I sanded it down and painted it white. I love it. It is very deep so I can fit a lot of junk on it too which is super handy once I get all my blogging paper work going.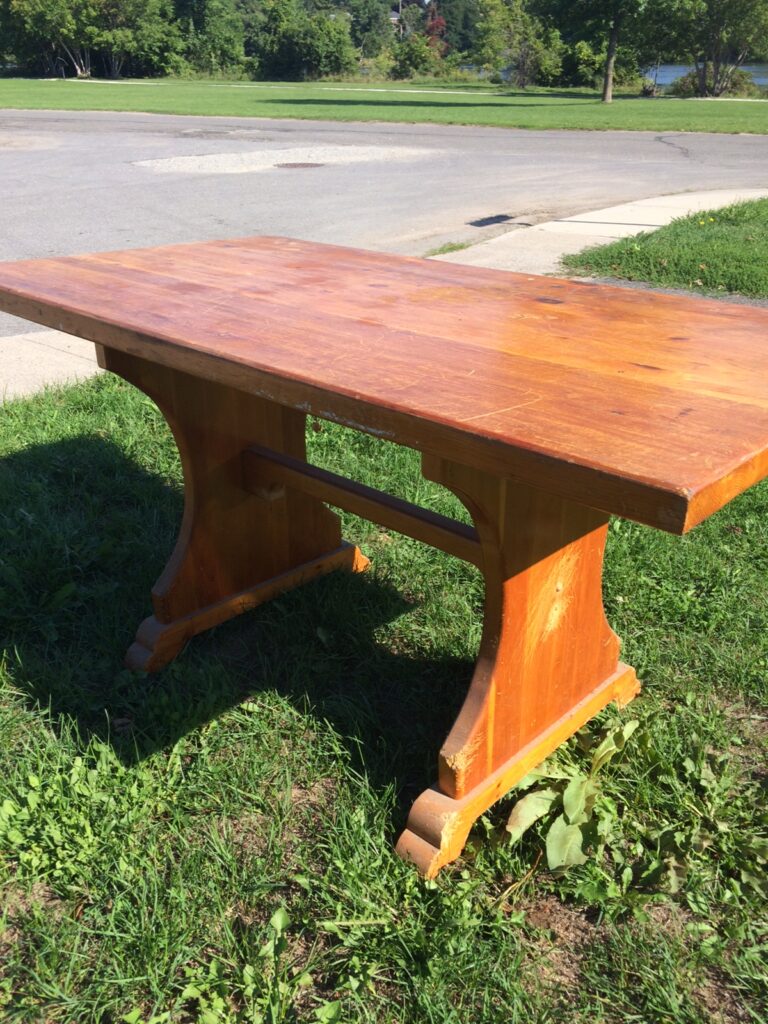 So as you can see, I put it in a lot of man hours working on this desk, but it was so worth it! Again another piece in this room that has so much character and history!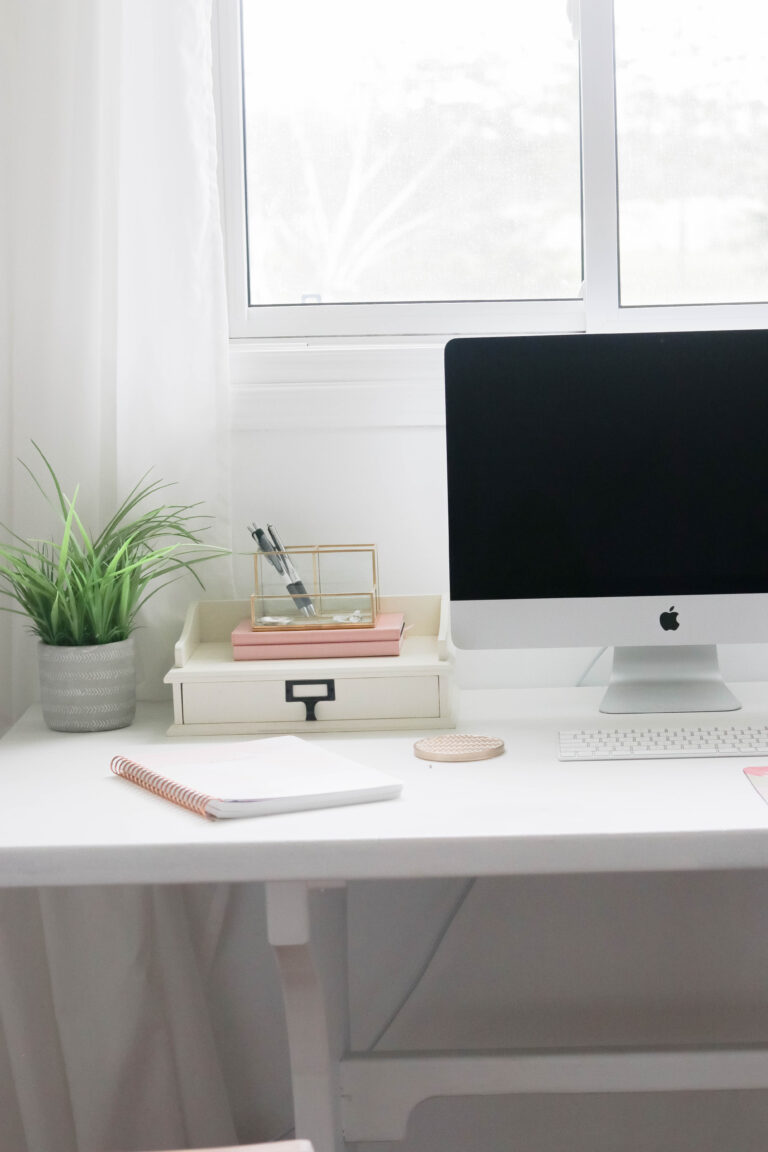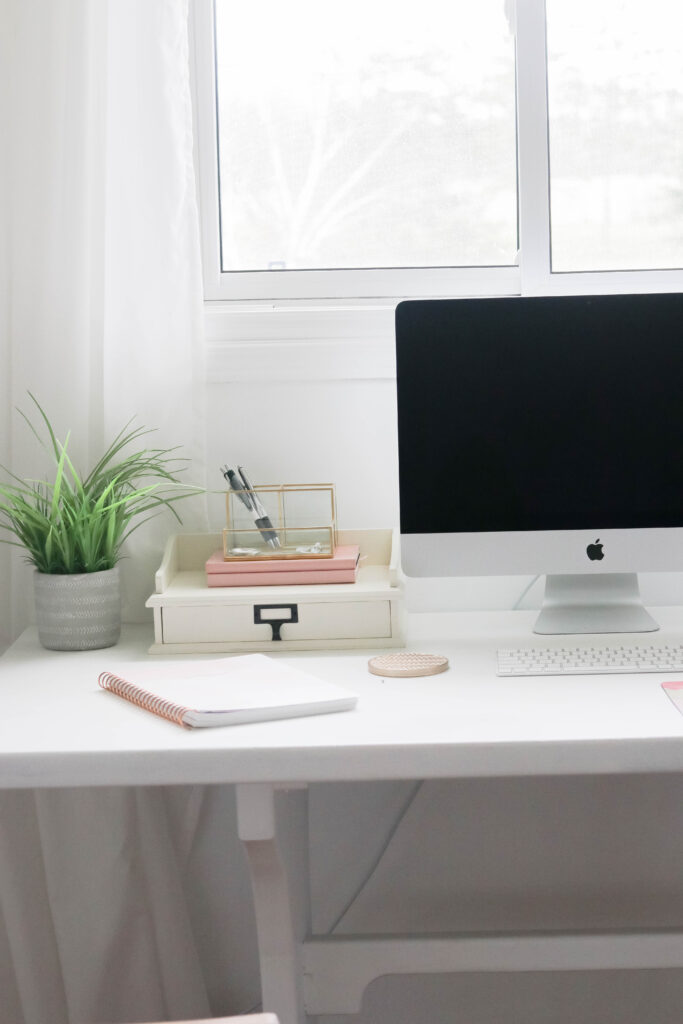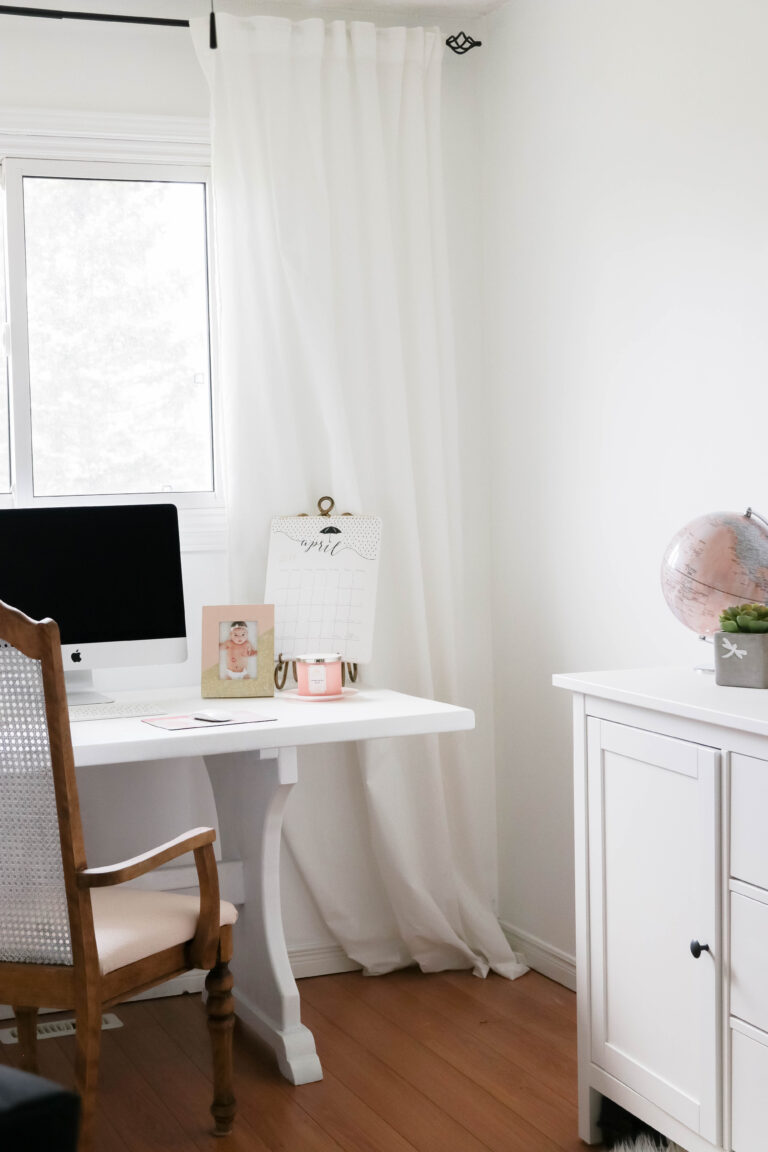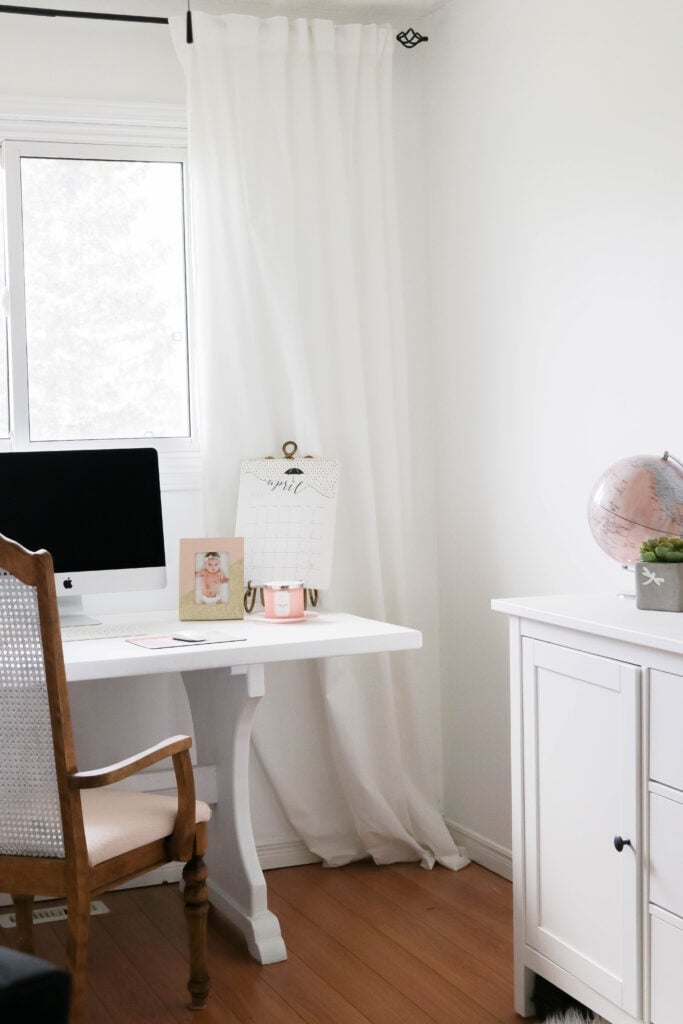 Another vintage like element to this room is the frame on the far left wall.
This is actually a decor piece from our wedding! You can check out all our wedding decor here! I added it to the wall for now to pin some important paper work to it. Eventually I want to make an editorial calendar of some sort for that wall but this will have to do for now.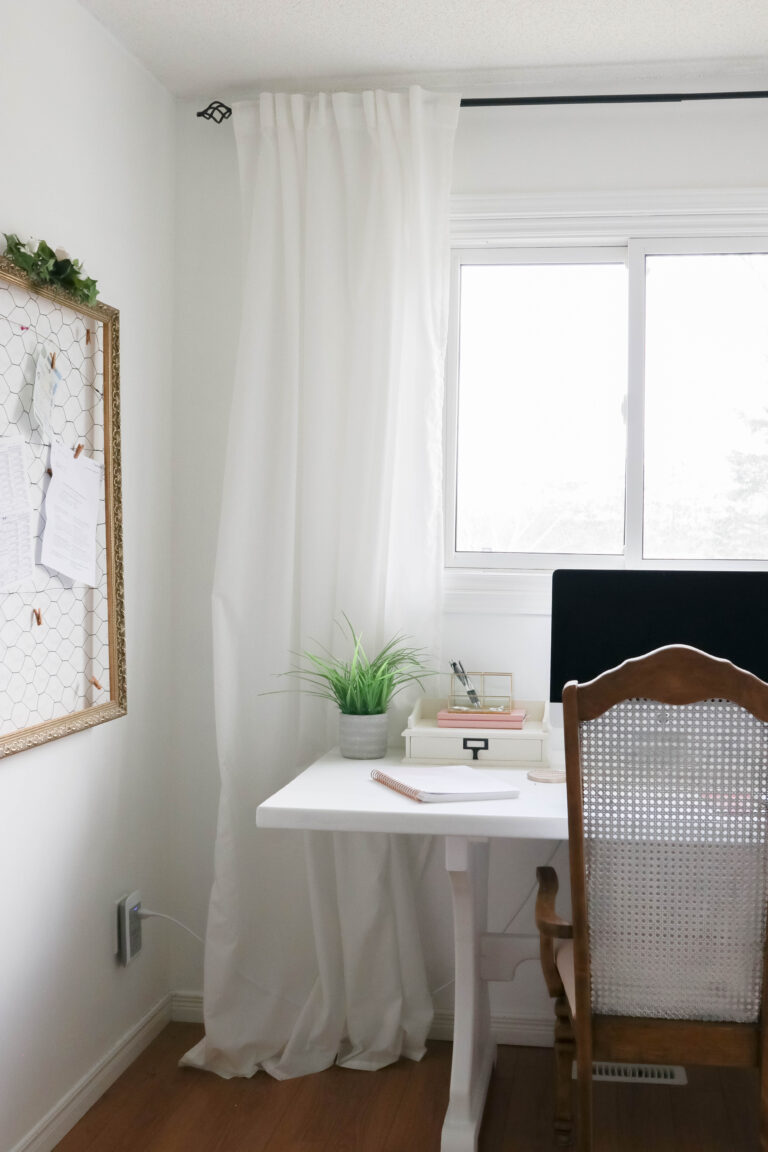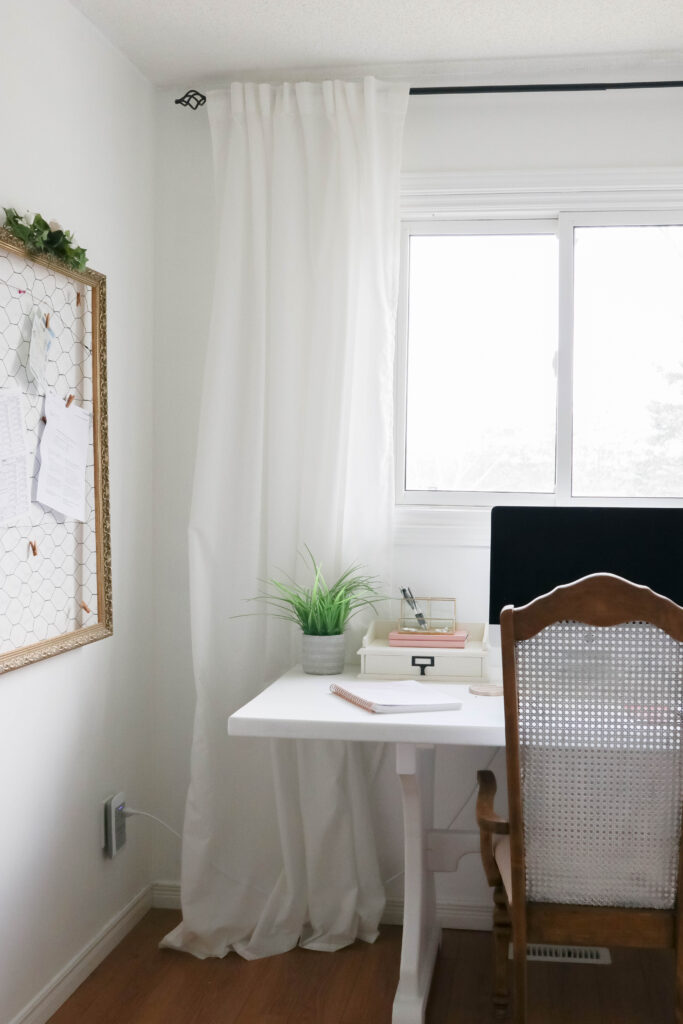 On top of the desk I wanted just the basics. I don't need much on there and I didn't want anything to clutter up the desk. I have two massive drawer units that are in the closet of this room for all my pens and other office supplies as well as my printers.
So for the top of the desk I kept it simple. Too much on a desk stresses me out and distracts me from the task I sat down to do. So keeping it clean and simple is a must for this girl!
P.S I know the calendar needs to be updated haha! I just wanted to include it in my photos anyways... once this quarantine ends, this girl is heading to staples or indigo to get herself a new calendar!
And of course I needed to add a cute photo of my baby girl from our valentines day photo shoot! Melts my heart!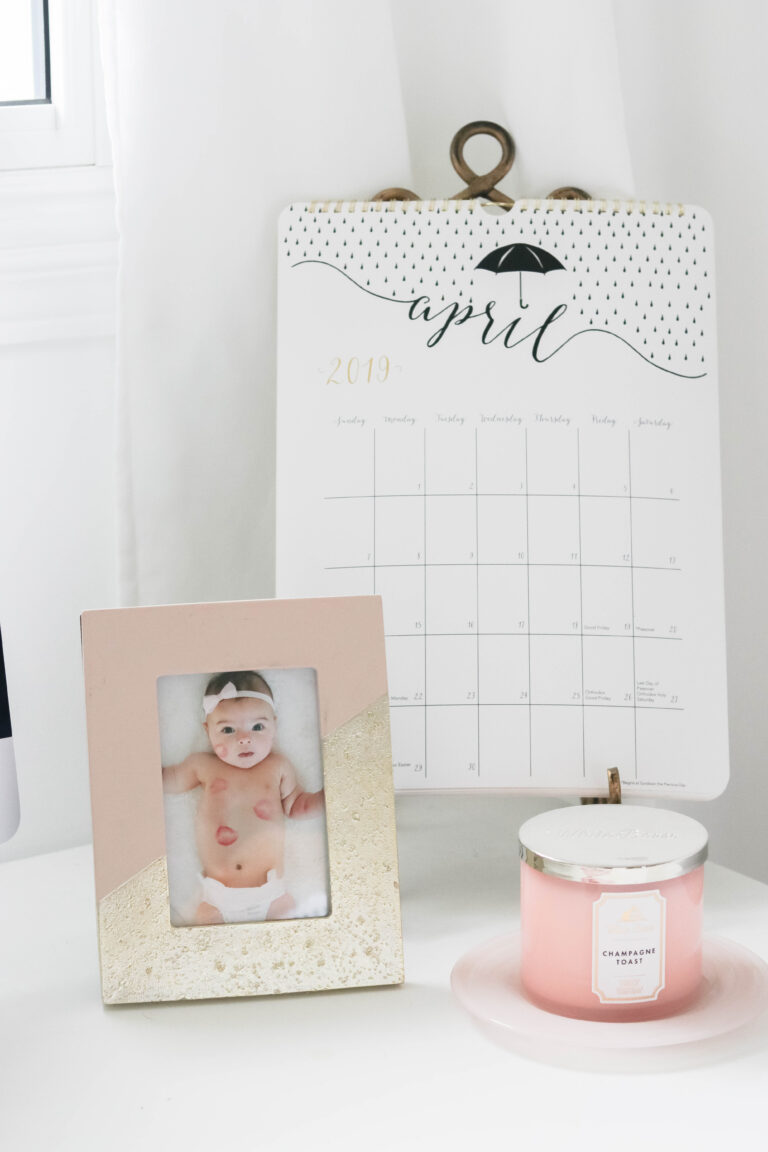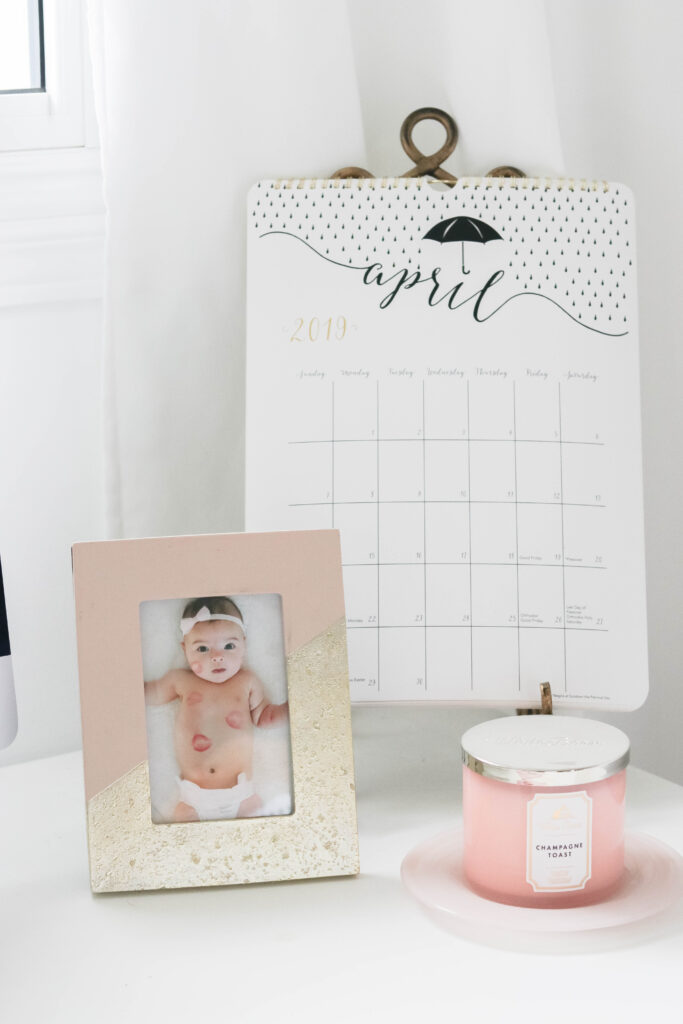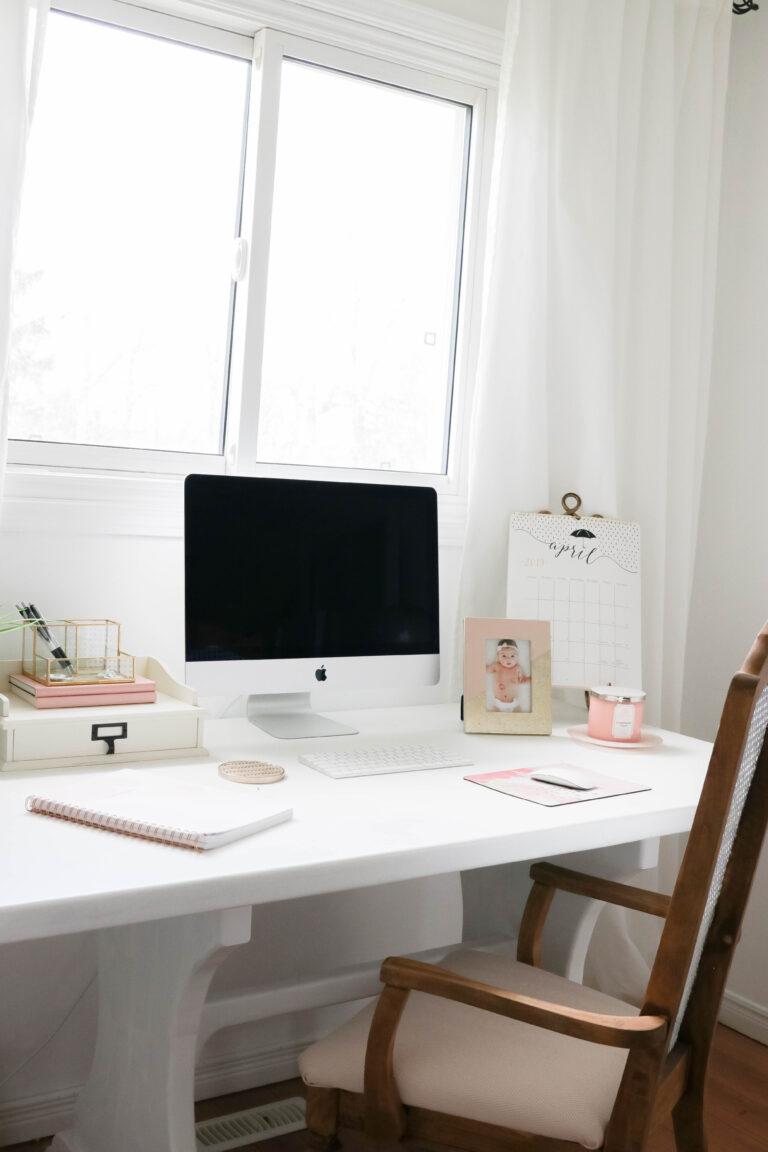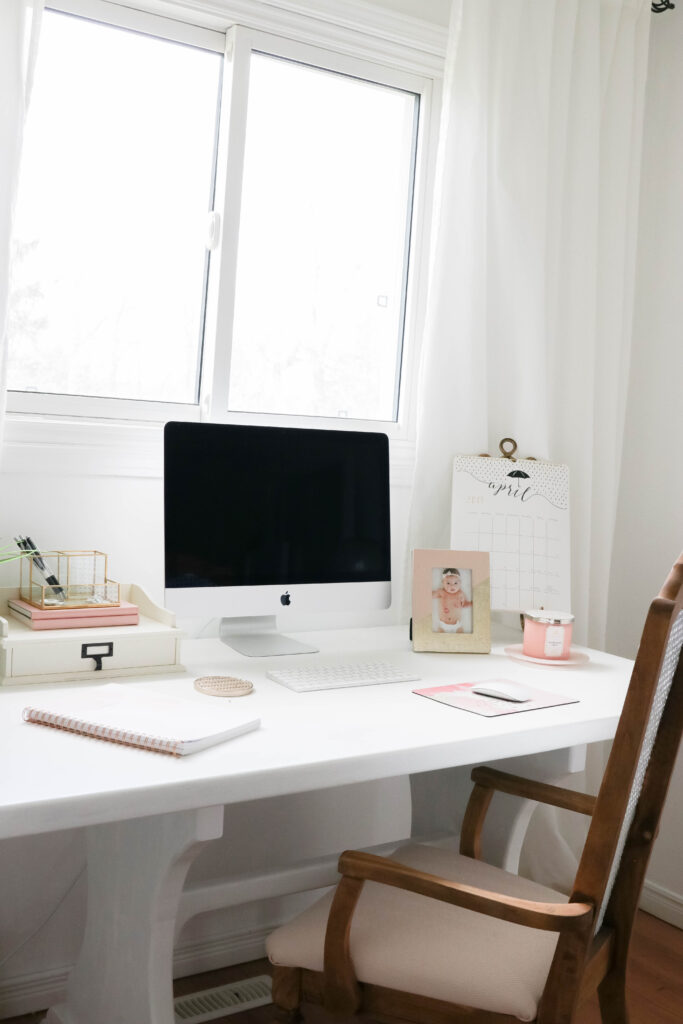 And that's basically it for the office space!
If you are all super interested in the closet storage going on, I can do a post or add it in to this one so definitely let me know.
I hope you enjoyed this post on my girly white home office tour! More home updates will be coming your way soon now that my husband is at home and is able to work on fixing things up. I can not wait to show you all our basement!
Until next time,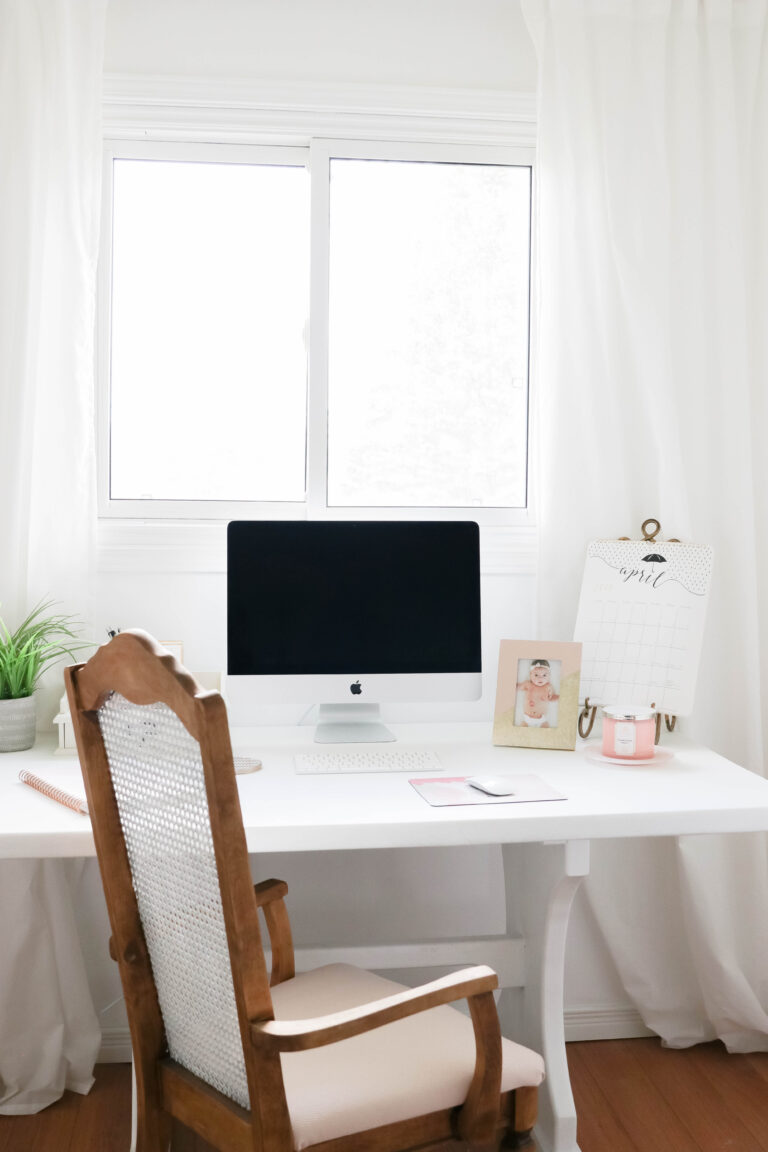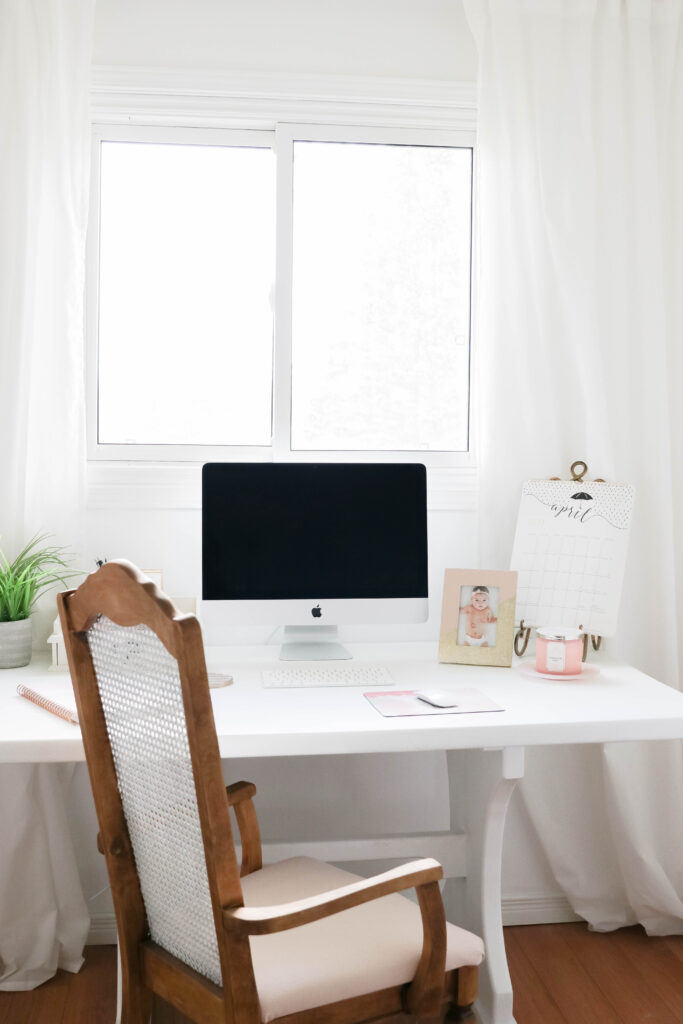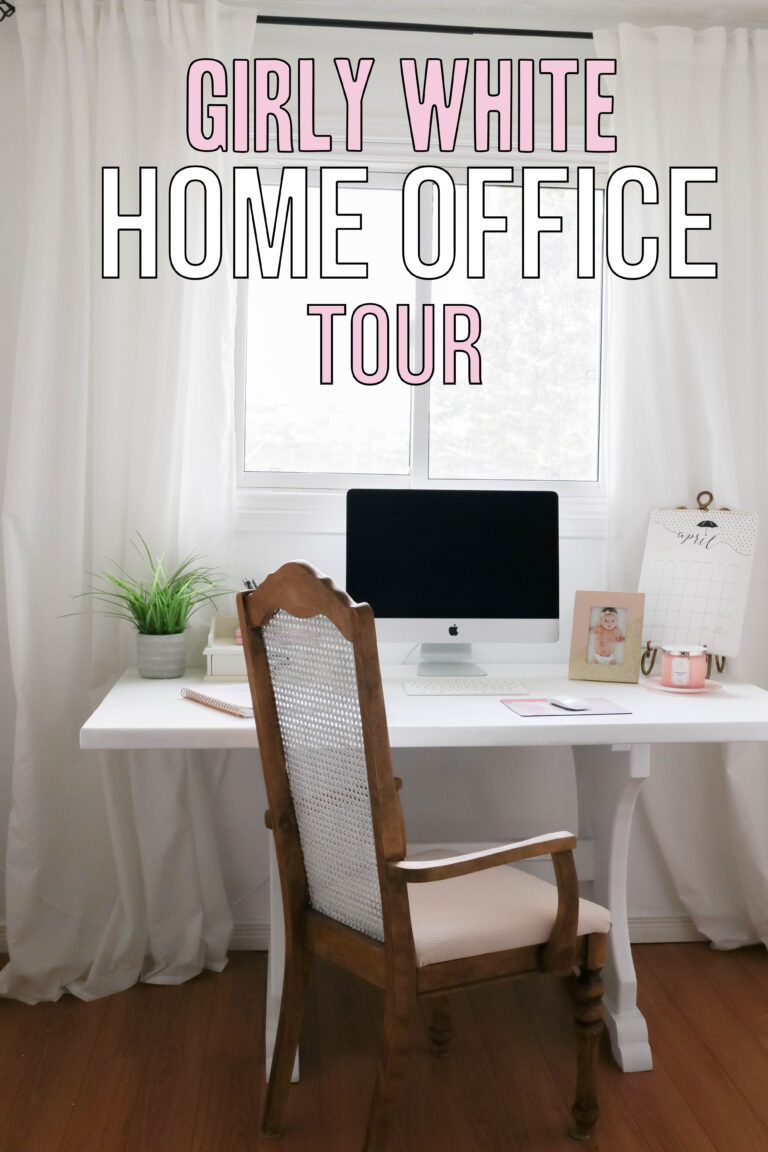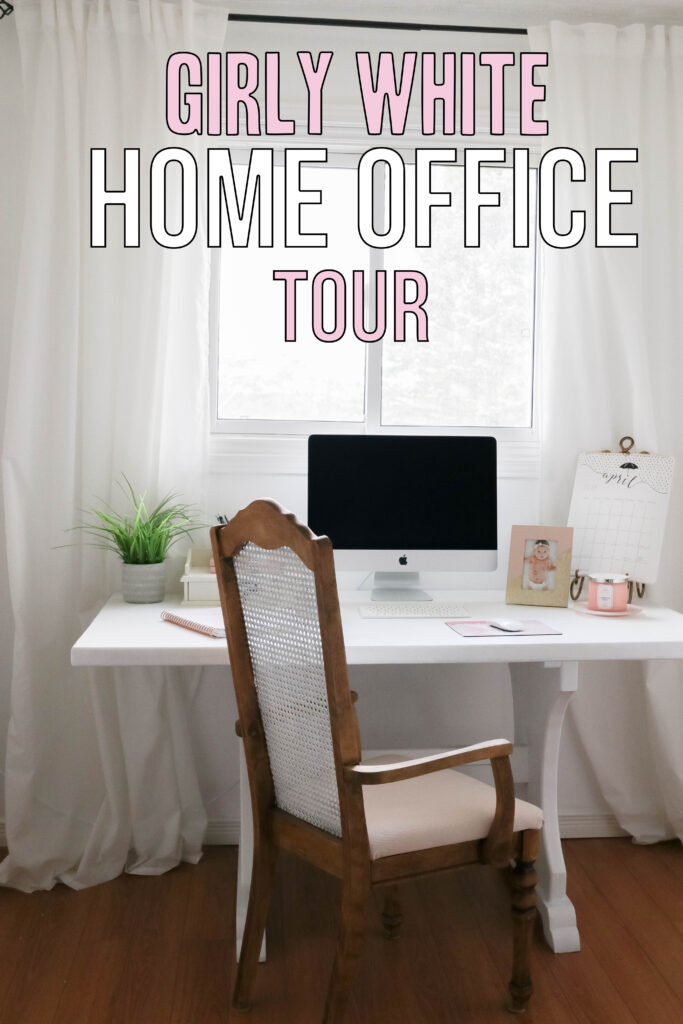 BEST SELLERS