My Wedding Decor; Our outdoor wedding decor, greenery, ivory and blush florals, gold accents, rustic woods and a large barn! Rustic chic wedding reception outside!
Disclaimer: this post may contain affiliate links, and every purchase made through these links will give me a small commission (at absolutely no extra cost for you!) AS AN AMAZON ASSOCIATE AND REWARDSTYLE MEMBER, I EARN FROM QUALIFYING PURCHASES. See Privacy Policy for additional info.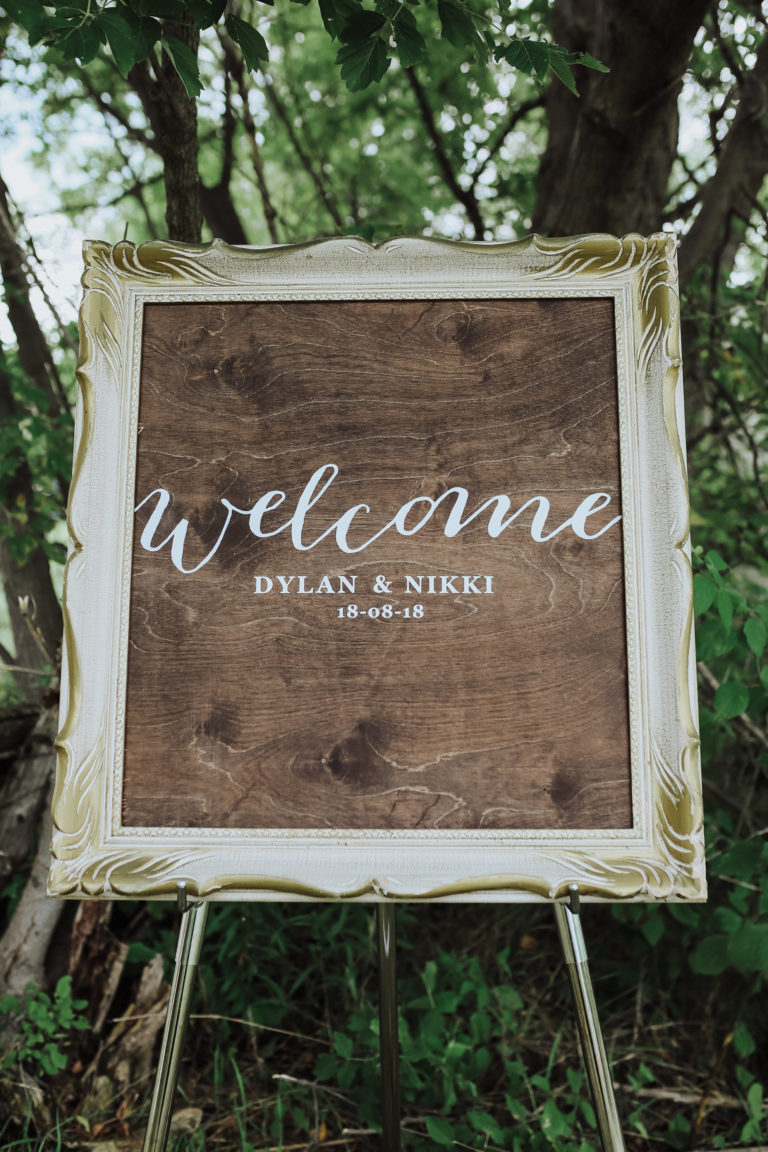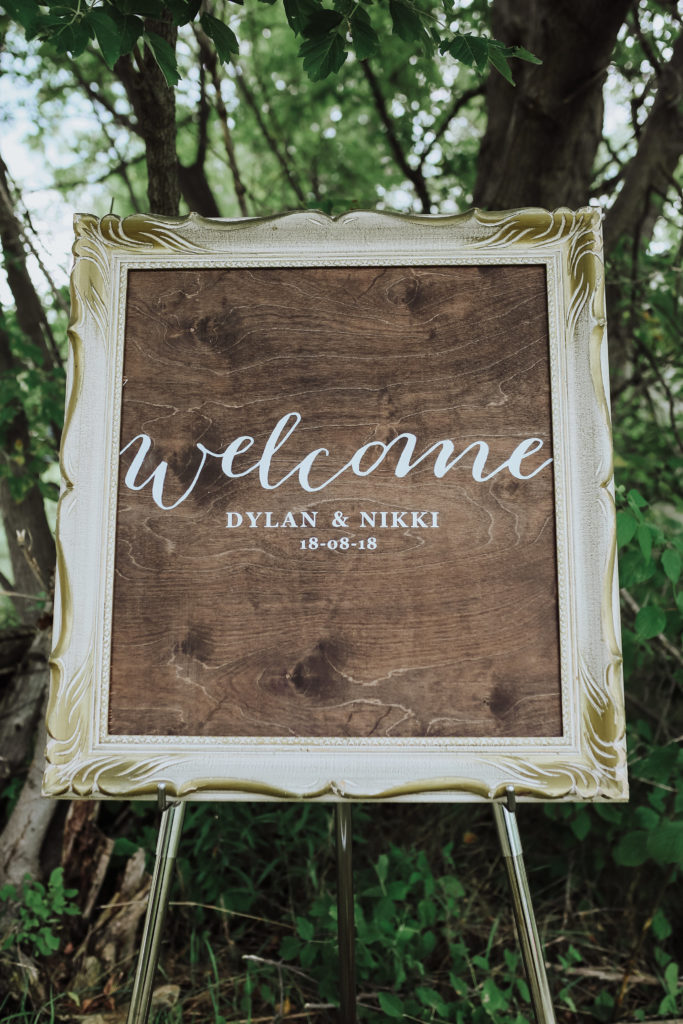 My first blog post on our wedding! I am so excited to share with you all our big day. There is so much I want to talk about but I decided 'our decor' was a good place to start!
This may not surprise you, but DIY'd our entire wedding myself. I spent an entire year prepping for our wedding and one of the main time consumer for me was creating all our decor. I made all of our signs using my tracing technique or using my criquet machine with vinyl!
I found a lot of my antique frames and wood slabs at antique yards or thrift stores for super cheap! I made quite a few signs using these wood panels that I used for our guestbook sign. And I only paid 50 cents for one piece! I think they were old tiles of some sort.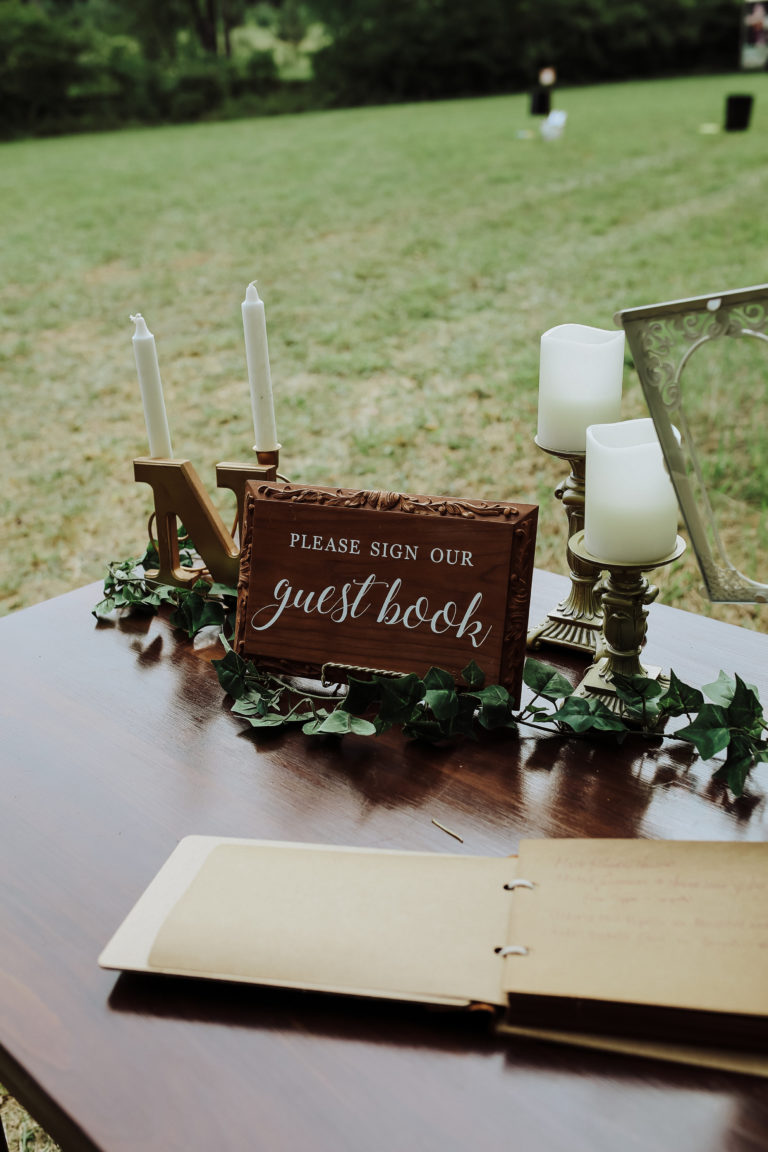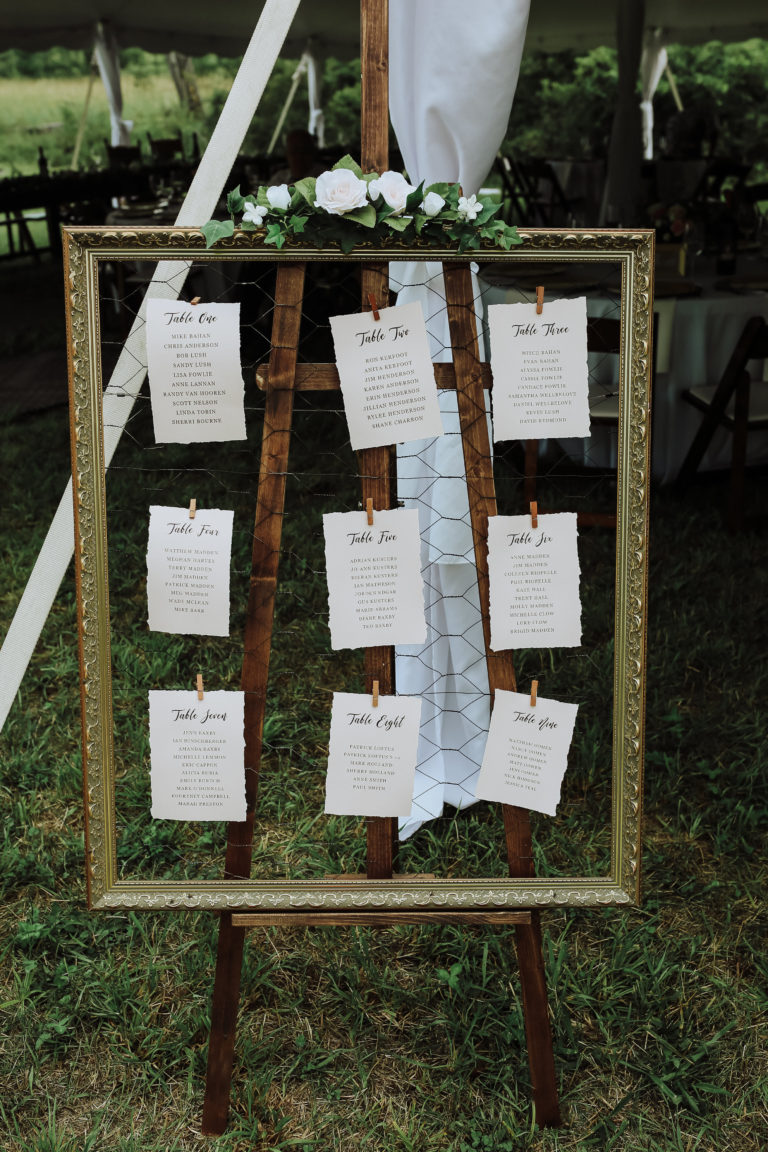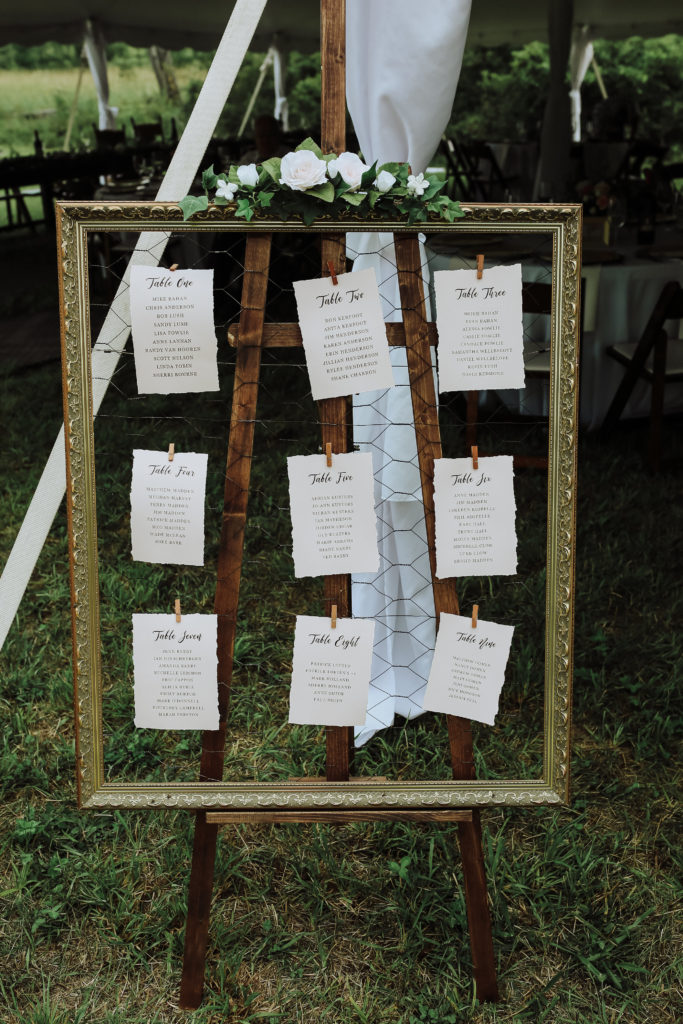 Our table menu was another one that took me a while to create. I bought the easel from Michael's craft store, and stained it myself so that the wood would match the rest of my decor. I found this old frame at a thrift store and removed the glass from it. It was already a beautiful rustic gold colour. I then bought chicken wire, sprayed the chicken wire black, and then stapled it to the back of the frame. We used baby clothes pins (again bought at Michaels) and printed our tables onto blush colour card stock! So easy and turned out so pretty. I loved it! I also glued some fake flowers to the top of it as well. BOOM done.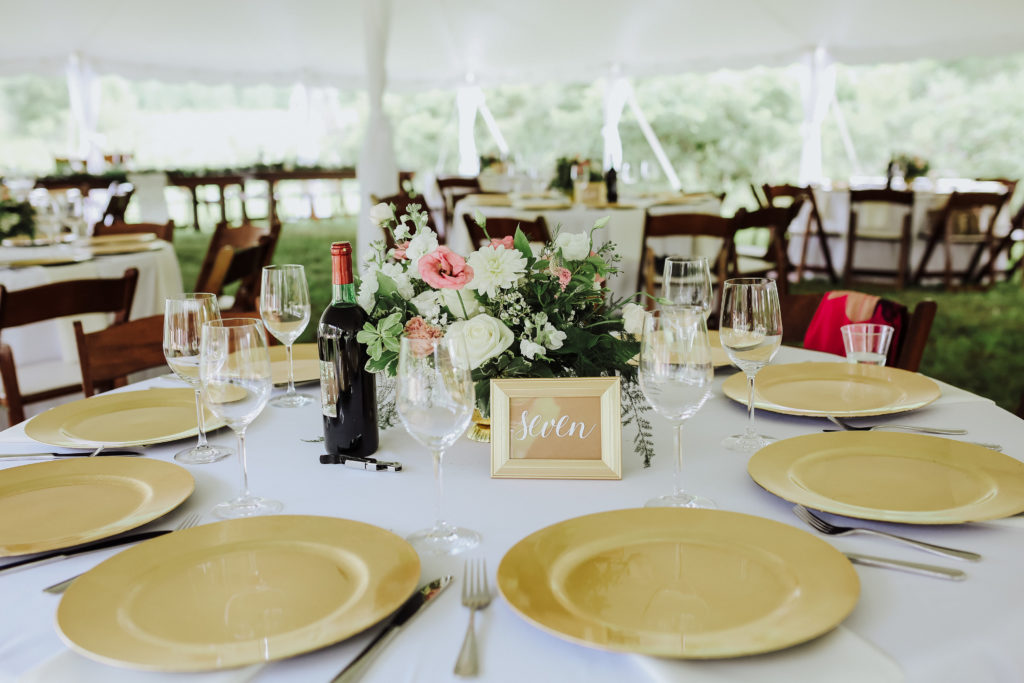 The tables. Our gold chargers, cutlery, and wine glasses were all rented through a company. Loved the gold chargers so much. They really added depth to our tables, and made them feel full before the dinner plates are added. We had a buffet style dinner, so all the dinner plates were already on the buffet tables when guests arrived. It just made it easier for us to do it this way, rather then our guests have to carry their plates all the way to the food tables.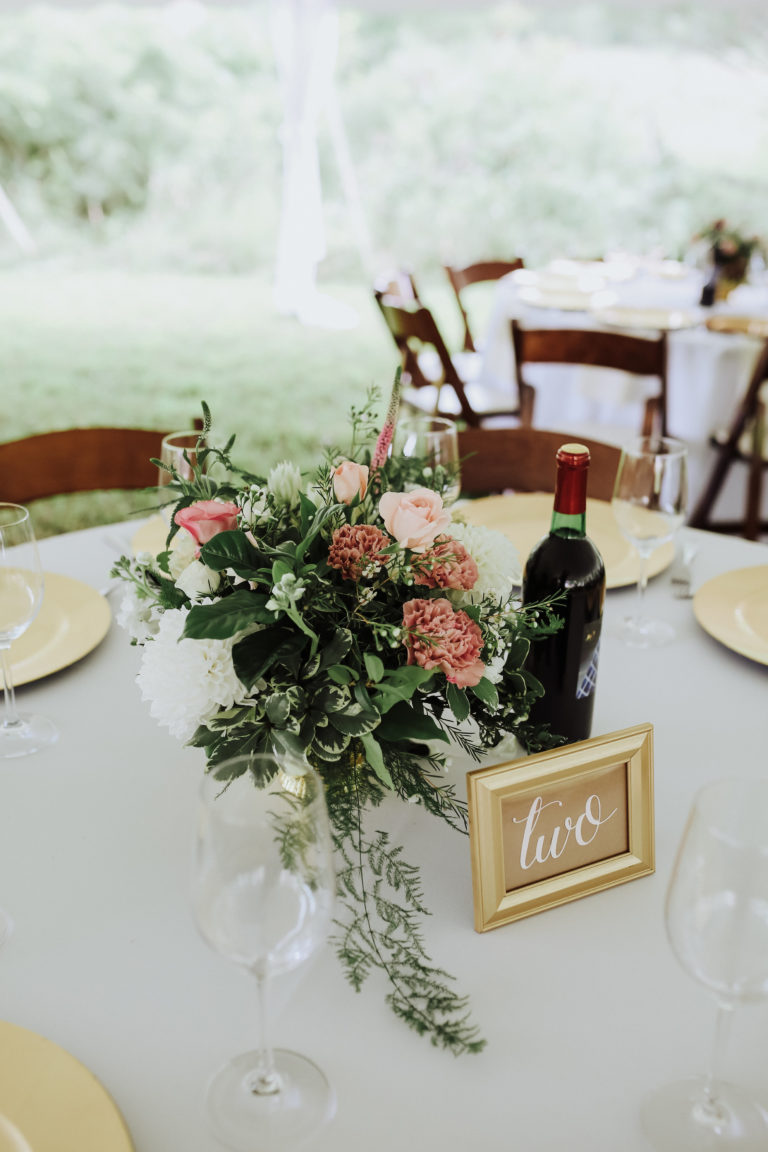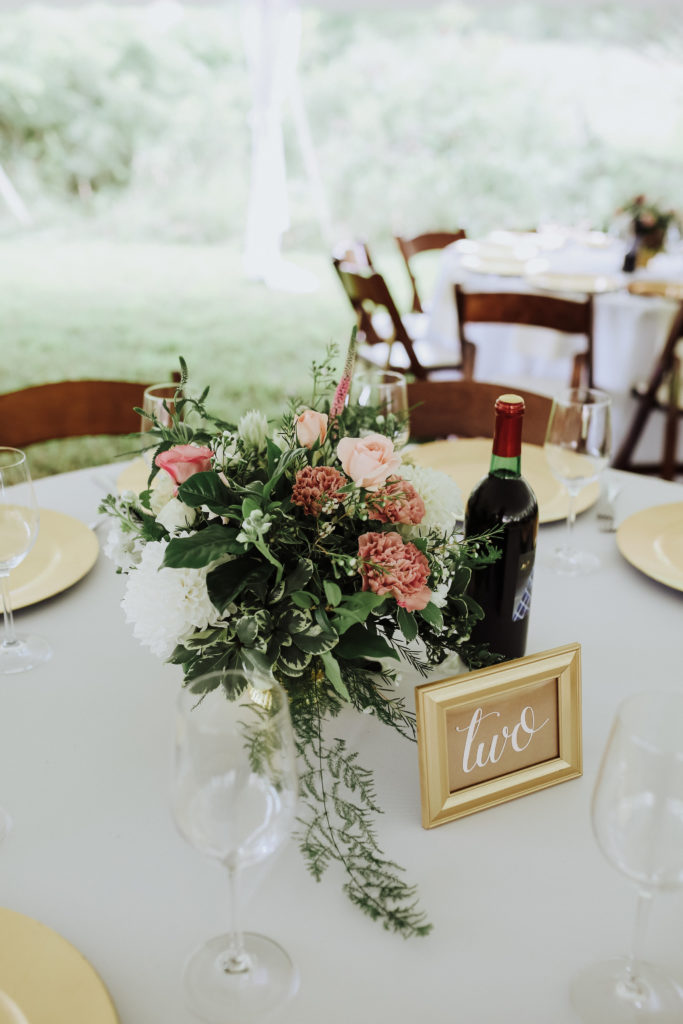 Our table numbers were also a DIY by yours truly! I just bought little gold frames, added in some Kraft paper and then used our cricut machine to cut the numbers out of vinyl and stuck it to the glass. Fun and easy to make!
We also had a bottle of white and red wine at each table. On the bottles of wine we had photos of Dylan and I. We ordered the wine labels from Vista Print. I just add my own photos to their "Label Stickers". Turned out great! I was really worried they were going to be grainy but the photos came out nice and clear.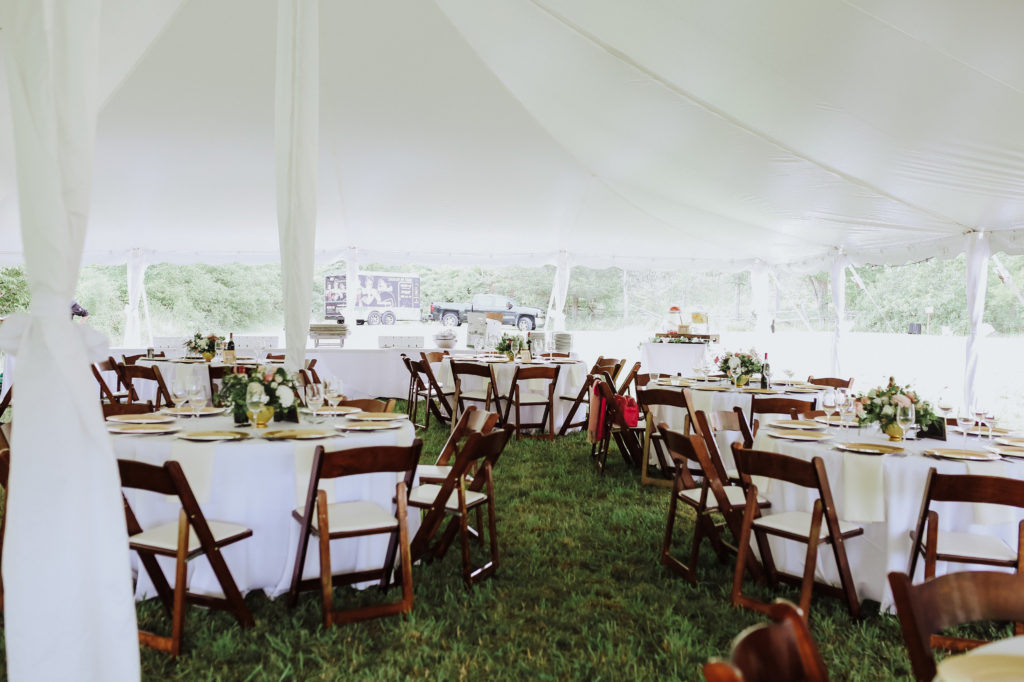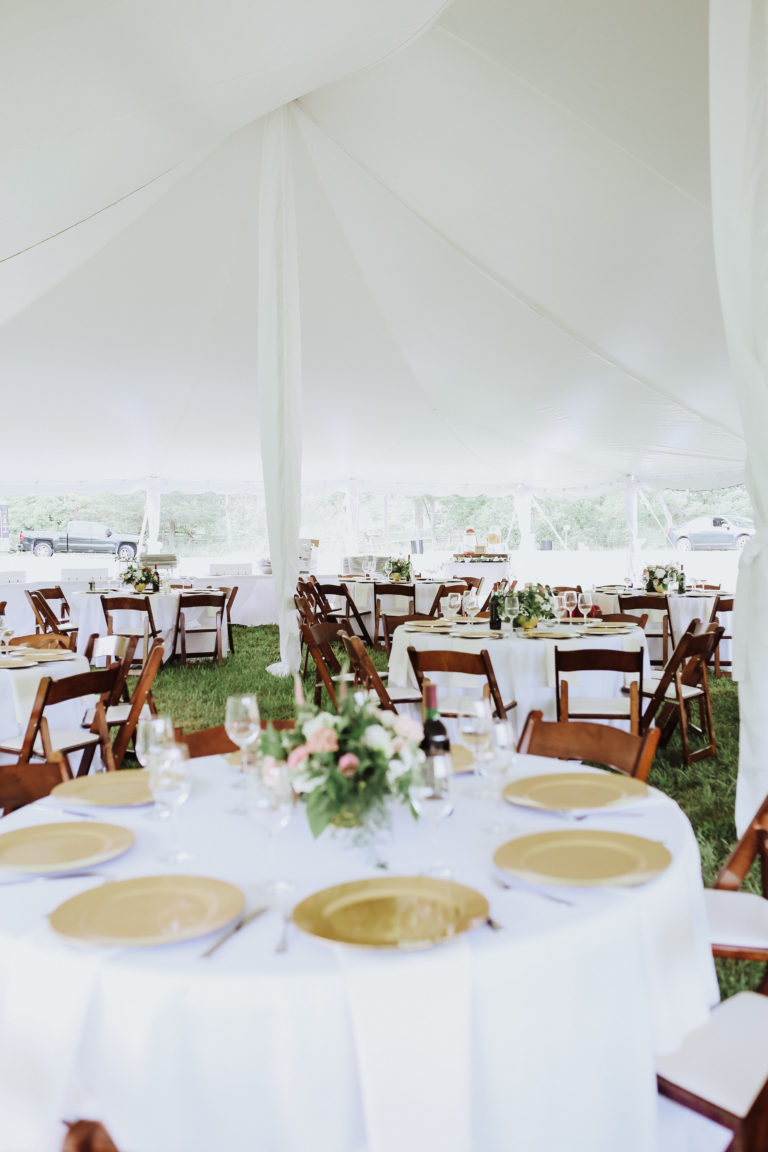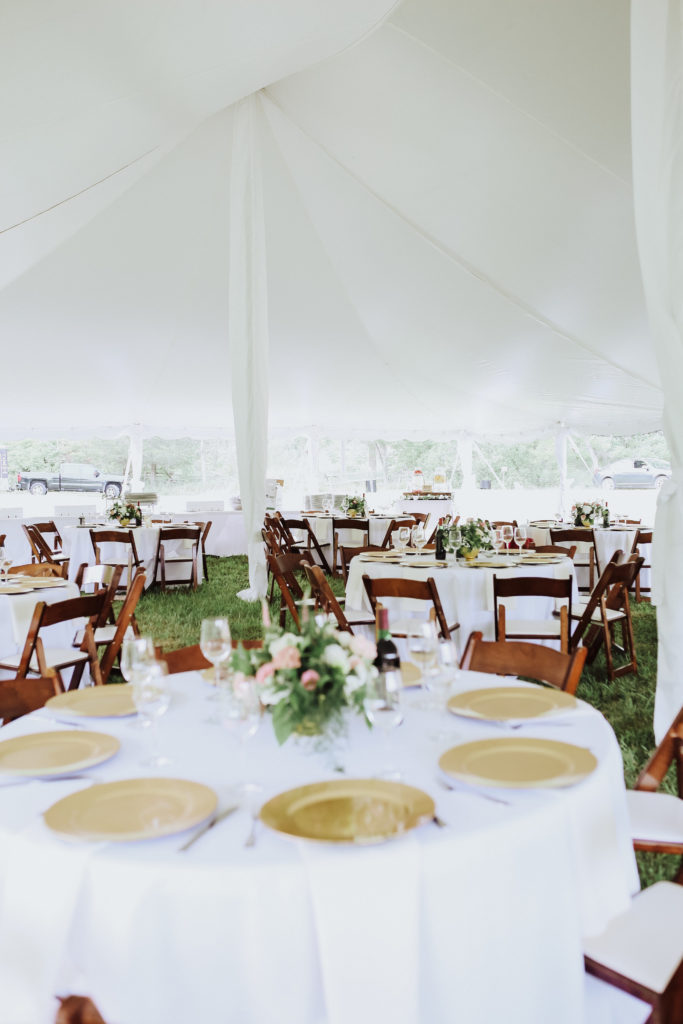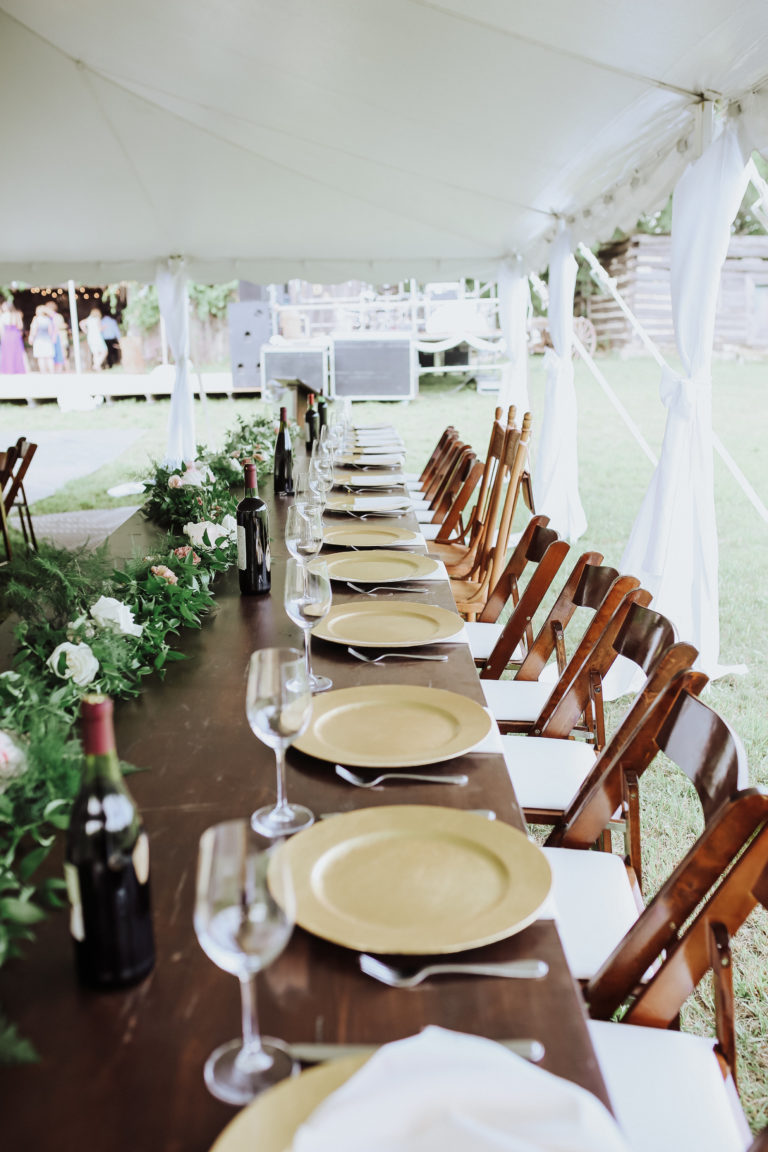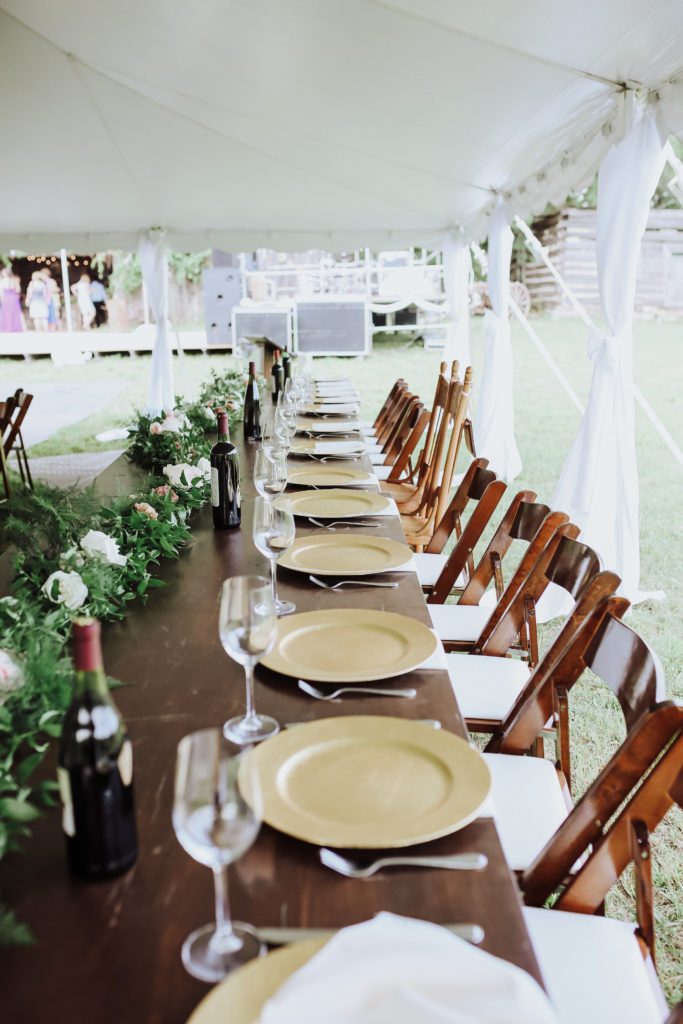 Our head table had different tables then the rest of the guests. We had "harvest tables", which were just real wood tables. We then had a cute piece of fabric with a quote on it. It Was Always You. One of my best friends (and bridesmaid) actually got this for us for our engagement, so it felt so perfect using it on our head table. Our chairs are also antique chairs from my moms house. These chairs have been in the family for several generations, so it felt special having them as our bride and groom chairs!
We then had a long floral garland down the middle. I am still so obsessed with our head table!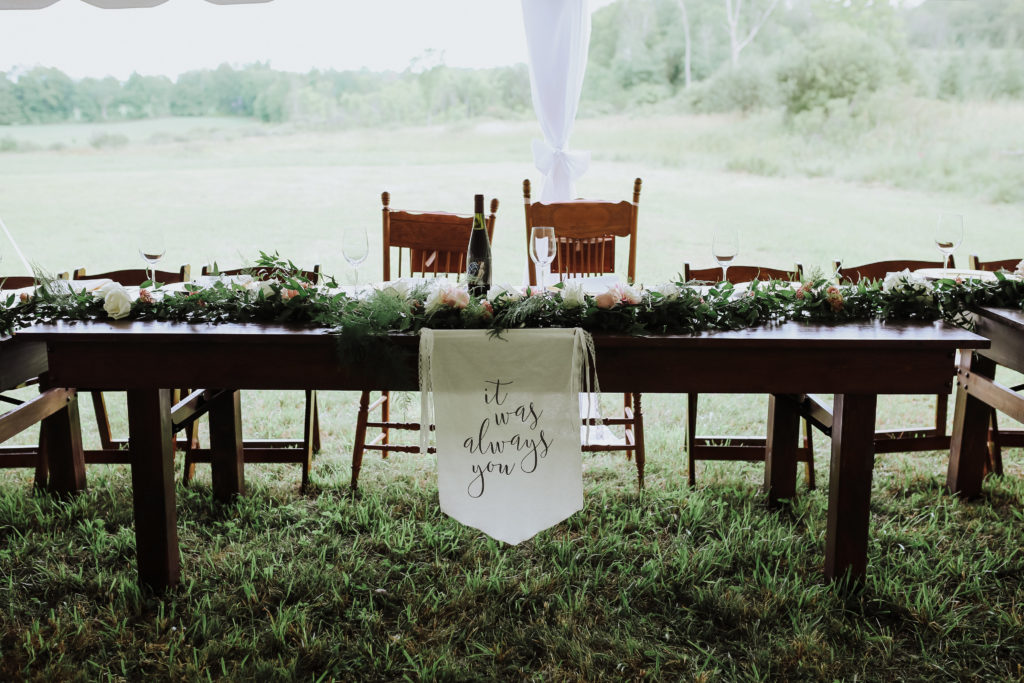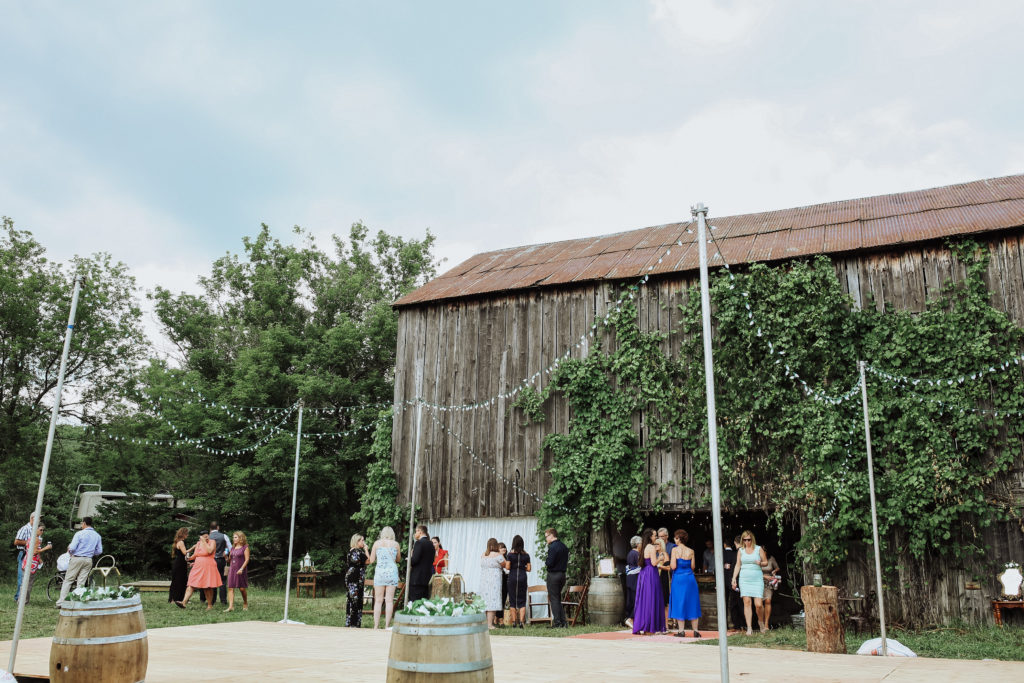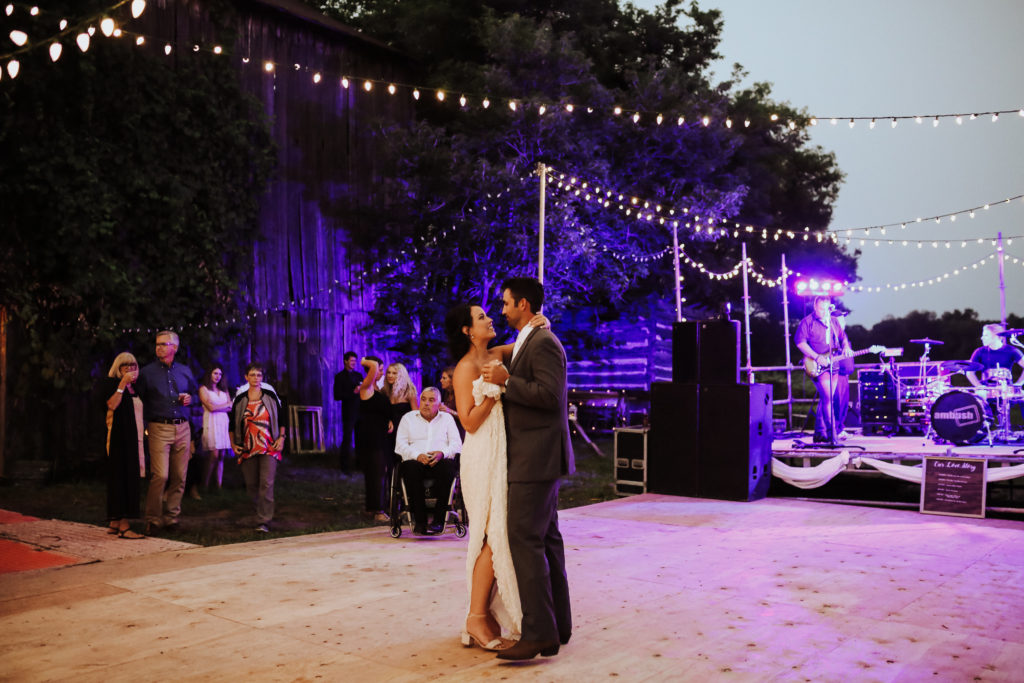 Photographer: Niche Photography
I hope you enjoyed this little sneak peak into our wedding day!
Whats your wedding decor colours?!

BEST SELLERS