Healthy Peanut Butter Caramel Fudge; 4 ingredient healthier version of our favourite peanut butter and caramel fudge. Quick and easy sweet treat that is made with natural, plant-based ingredients. Coconut butter, natural smooth peanut butter, medjool dates and maple syrup. So simple yet it will please every sweet tooth out there! Vegan, Gluten-Free, Dairy-Free.
Disclaimer: this post may contain affiliate links, and every purchase made through these links will give me a small commission (at absolutely no extra cost for you!) AS AN AMAZON ASSOCIATE AND REWARDSTYLE MEMBER, I EARN FROM QUALIFYING PURCHASES. See Privacy Policy for additional info.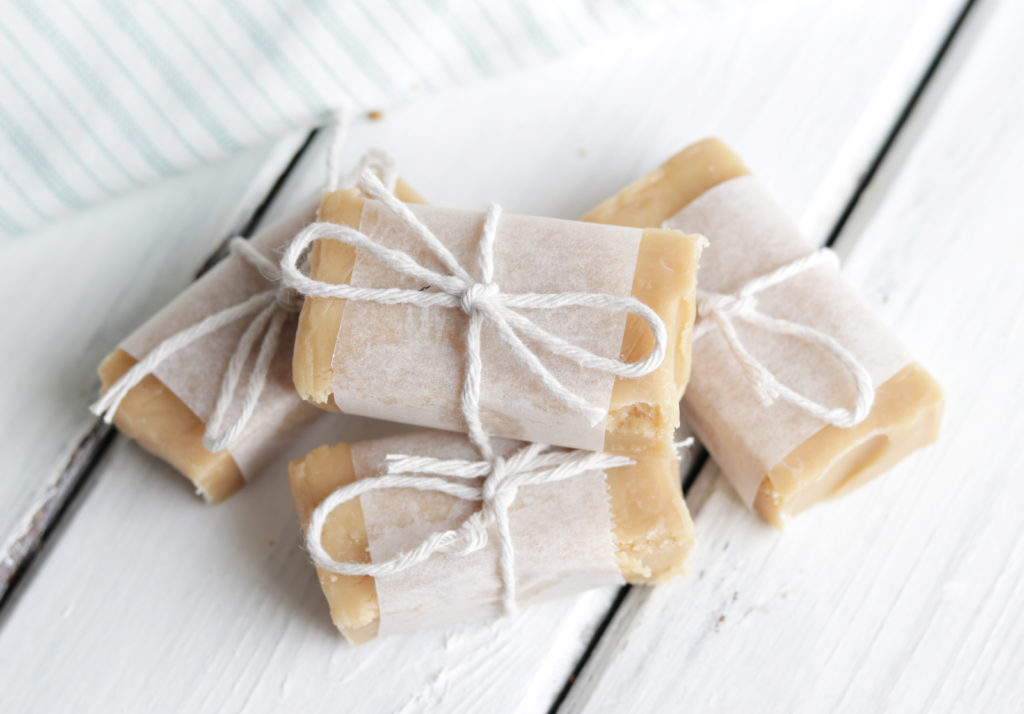 OK, I know you're all thinking... really Nikki? There is no way you can make a "Healthy Peanut Butter Caramel Fudge"... but hear me out!
This may not be a traditional fudge recipe but it definitely tastes like fudge, looks like fudge and has that creamy texture like fudge... SOOOOO yes in my book, this is a fudge, just a healthier, guilt-free version.
How to Make Healthy, Guilt-Free Peanut Butter Caramel Fudge
This recipe actually shocked me with how delicious it is. It is soft, rich, creamy and bursting with sweet peanut butter and caramel flavours.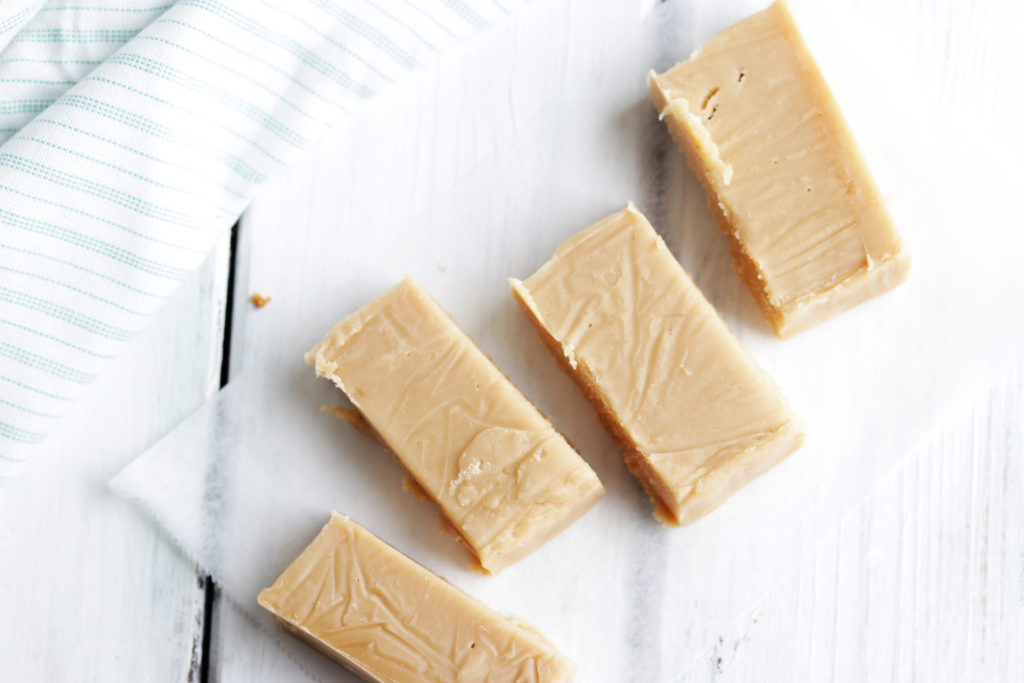 And yes I wrapped them up with parchment paper and string to make each piece look cute. I actually put them in a little clear bag with a ribbon and gave it to my brother as his birthday present. He loves fudge so I knew that if I could fool him... then I could fool anyone with this recipe! MUAHAHAH
Oh and can we just talk about how cute my little baking/blogging buddy is over here? He literally sits right under my work station while I am taking my photos for the blog. Diesel is such a mamas boy!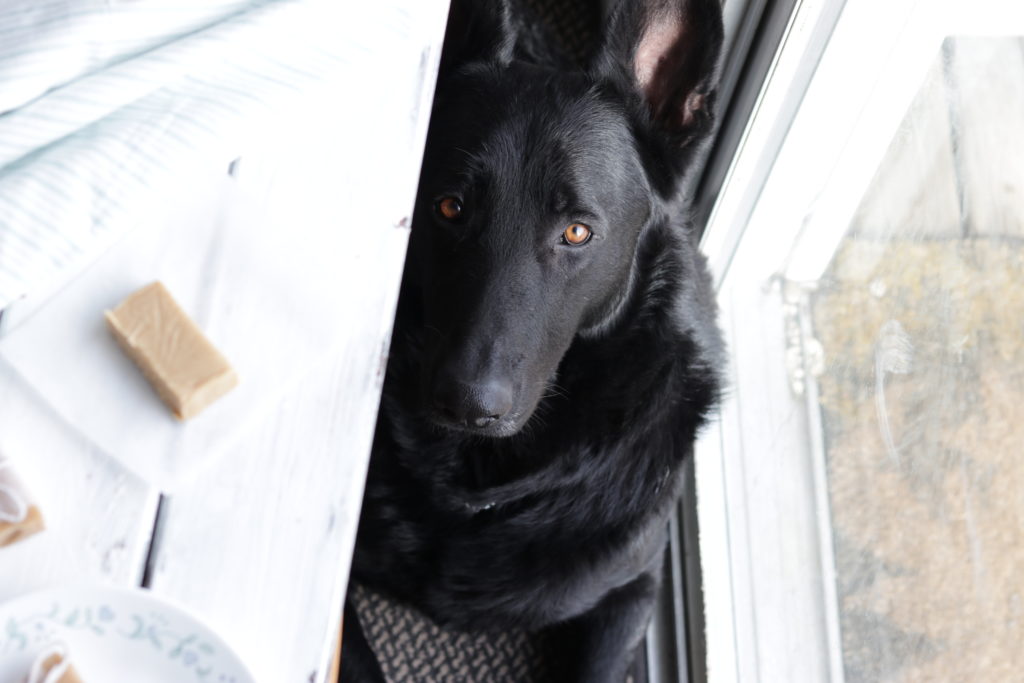 Like I said earlier, this recipe is super simple. Blend the medjool dates in a food processor (or blender) until VERY smooth. No one likes a chunky fudge... or do they? My creative wheels are turning!
Once the medjool dates are smooth, set them aside. In a saucepan, melt the coconut butter, peanut butter and maple syrup, then whisk until combined. Remove from heat, and fold in the medjool dates. Put all in a pan, and let it set in the fridge for a few hours and BOOM you have yourself some healthy peanut butter caramel fudge!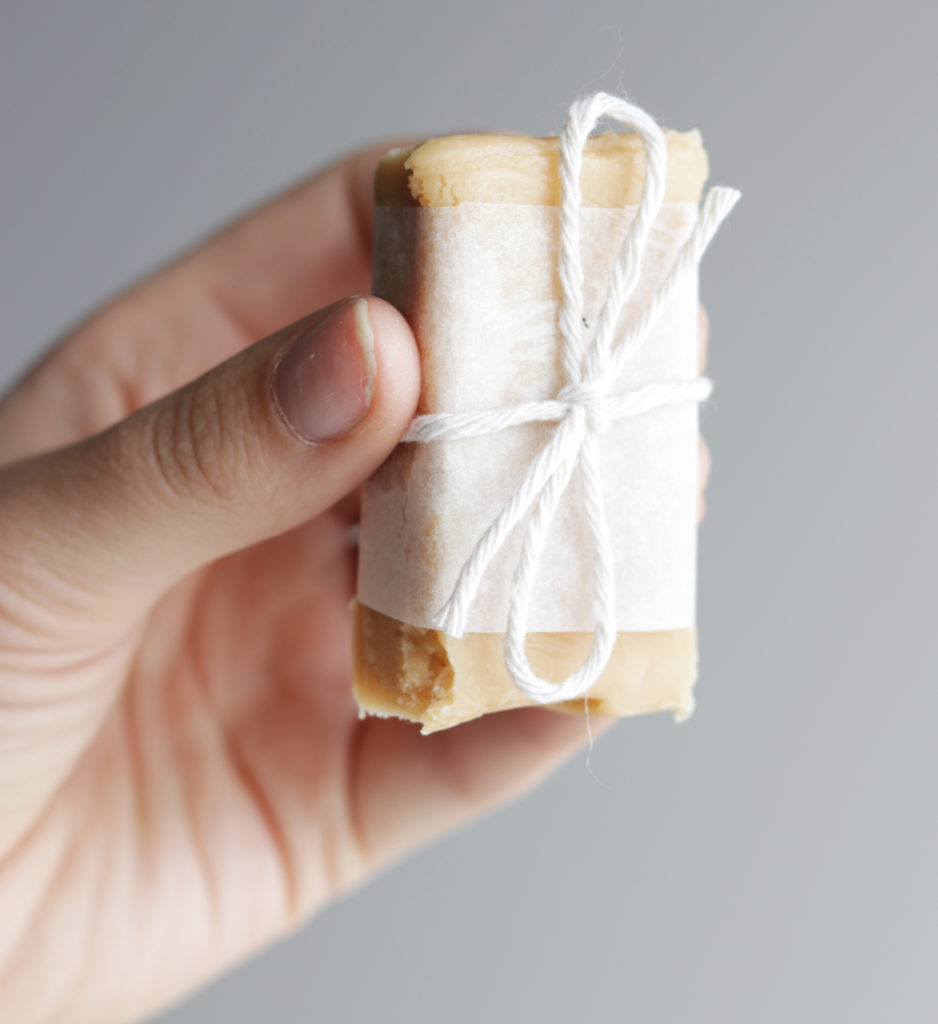 What's with the medjool dates you may ask? Well, not only are they naturally healthy and plant-based, but they actually have a caramel taste to them. A lot of health gurus use these dates to give a fake caramel taste.
Medjool dates do have a lot of sugar in them but it is natural fruit sugar, just like maple syrup. So yes, even though they are high in natural sugars, they are still considered healthy in my book! Natures candy!! I always make sure I have medjool dates in my pantry in case I start craving something sweet!
---
Craving some more sweetness after trying this healthy Vegan Peanut Butter and Caramel Fudge? Check out some of my other favourite dessert recipes:
---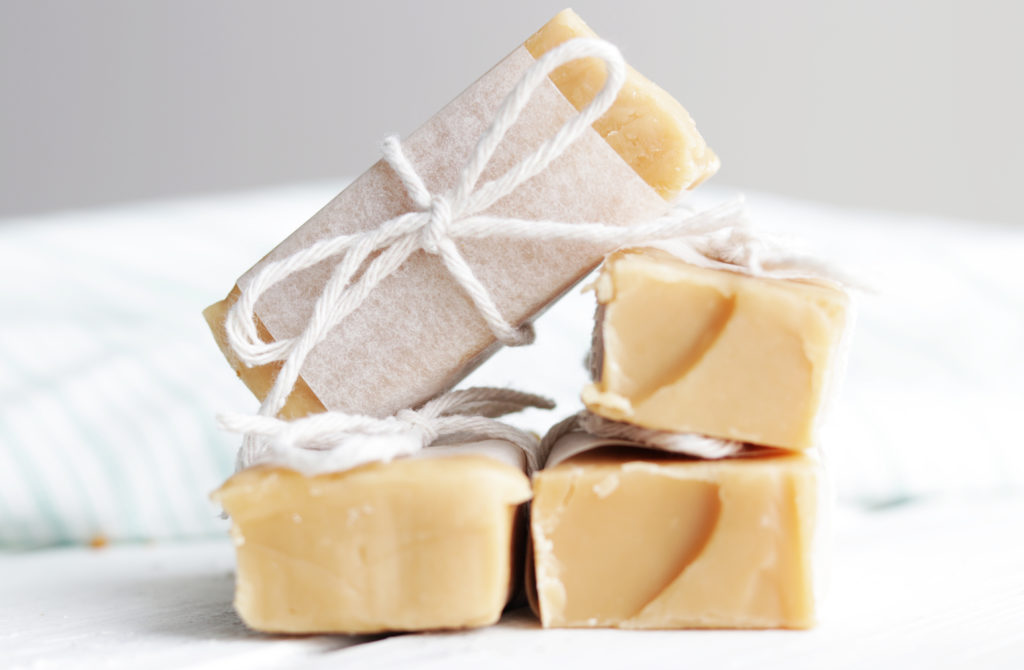 I had someone comment the other day on my peanut butter addiction, which is real. I didn't even realize how much I use peanut butter. My mouth is literally watering at the thought of peanut butter right now!
When I was making my 16 healthy breakfast for fast weight loss roundup post, it wasn't until after that I realized that the majority of the recipes I chose for the list contained peanut butter. What is my problem!! I need to move on to other ingredients and let my peanut butter addiction die down a little bit... just for now... and of course after I eat the rest of these healthy peanut butter caramel fudge squares!
Anyways let's just jump into this recipe, shall we?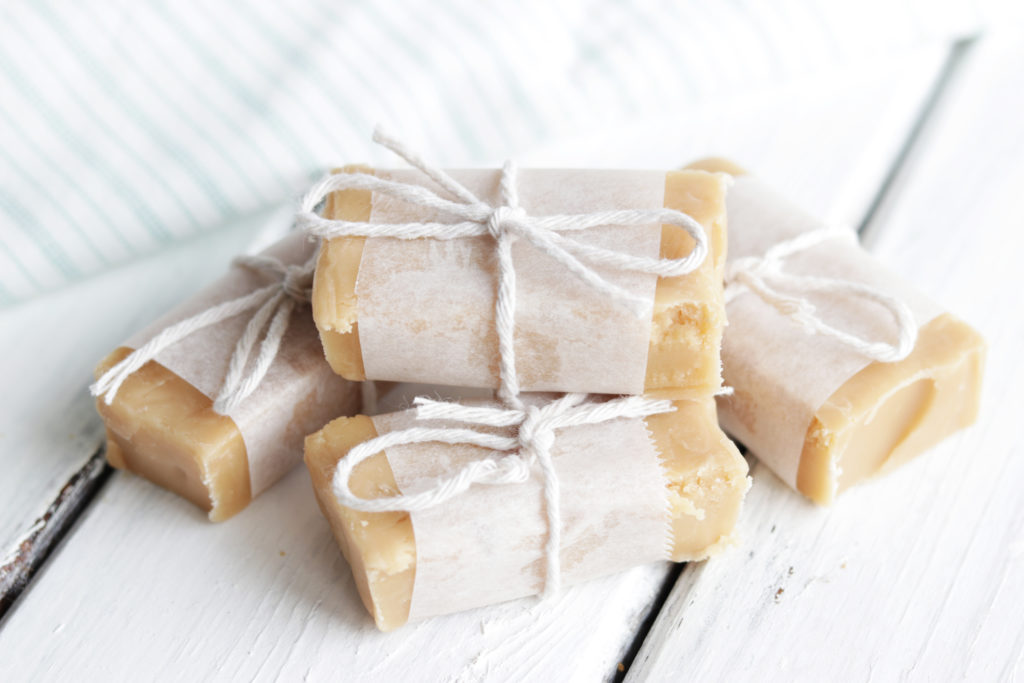 Hope you enjoy these healthy peanut butter caramel fudge squares! Print out the recipe below!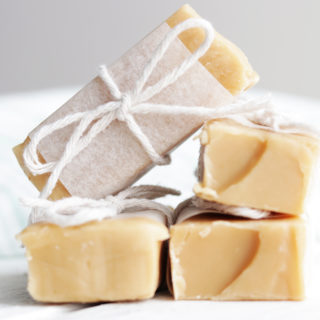 Healthy Peanut Butter Caramel Fudge
Who doesn't love the idea of healthy fudge?! This Vegan Peanut Butter Caramel fudge is a healthier version of a sinfully sweet dessert. Gluten-Free and Dairy-Free as well!
Ingredients
½

cup

coconut butter

⅓

cup

creamy peanut butter

2

tablespoons

pure maple syrup

½

cup

medjool dates

pitted
Instructions
Pit and blend medjool dates in a food processor until completely smooth, set aside.

Heat peanut butter, maple syrup and coconut butter in a small sauce pan. When completely combined and smooth, remove from heat.

Stir in the medjool dates.

Transfer to a baking pan lined with parchment paper. Put in fridge for 2 hours or until solid.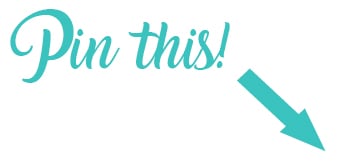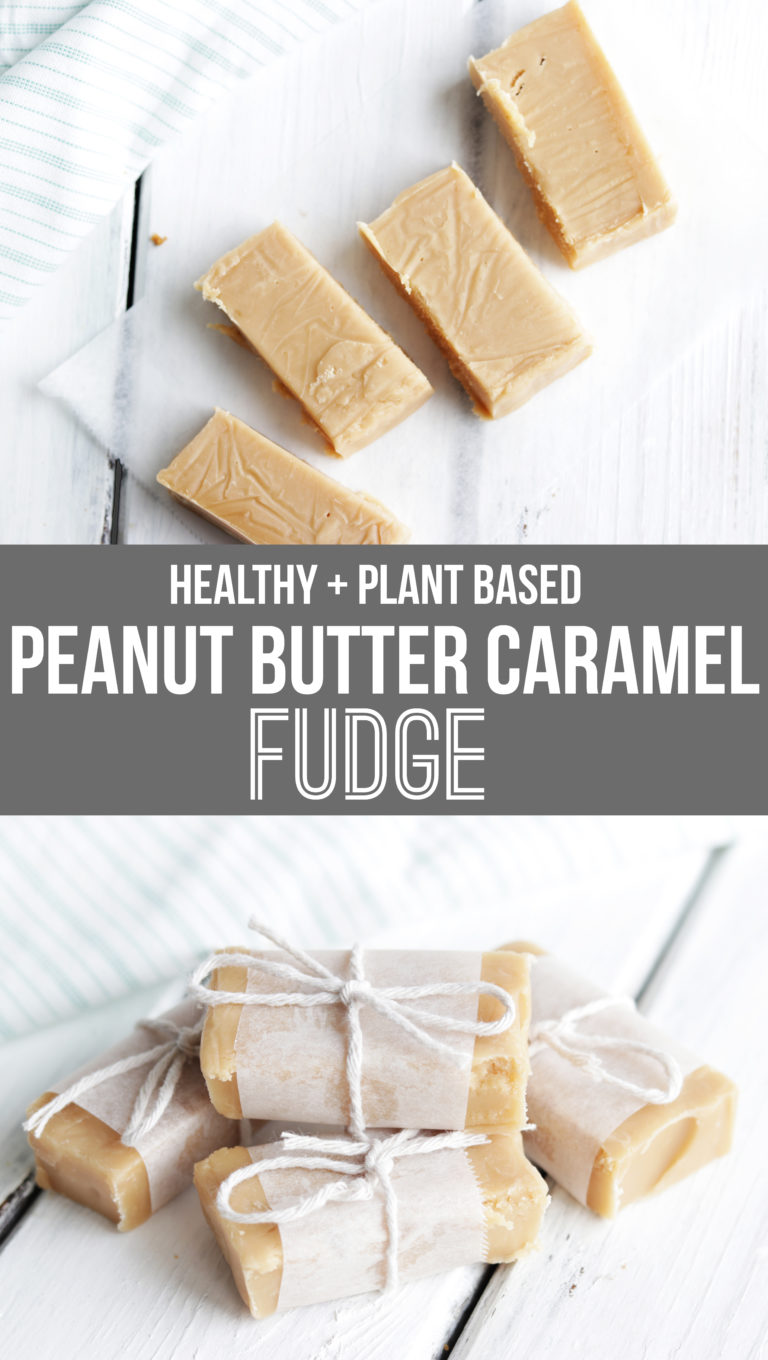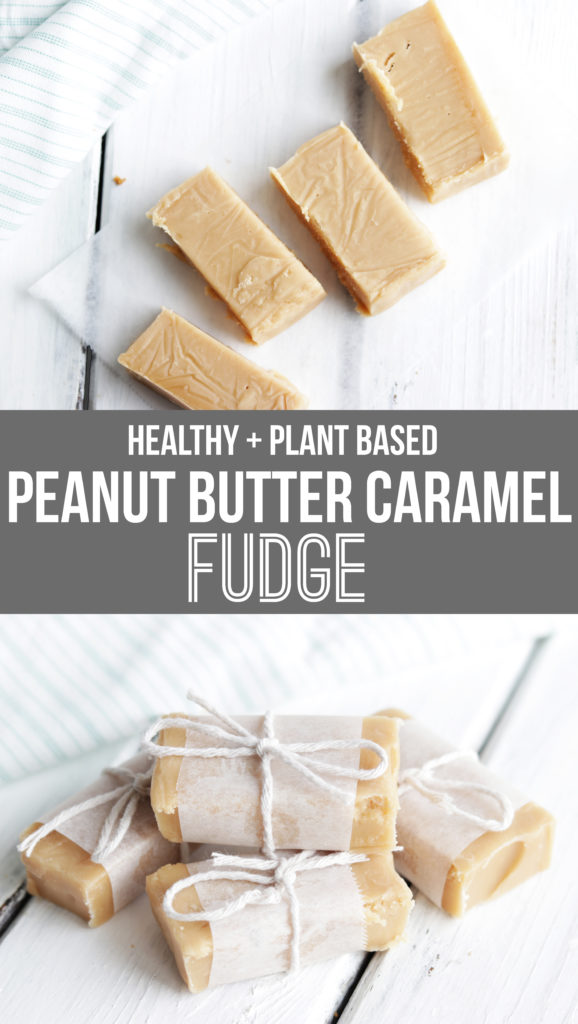 BEST SELLERS