GF and Vegan lemon coconut donuts. Soft and naturally sweetened. A healthier option to your usual morning donuts! Treat yourself to a soft, oat flour donut bursting with lemon and coconut flavours. Refined sugar free!
Disclaimer: this post may contain affiliate links, and every purchase made through these links will give me a small commission (at absolutely no extra cost for you!) AS AN AMAZON ASSOCIATE AND REWARDSTYLE MEMBER, I EARN FROM QUALIFYING PURCHASES. See Privacy Policy for additional info.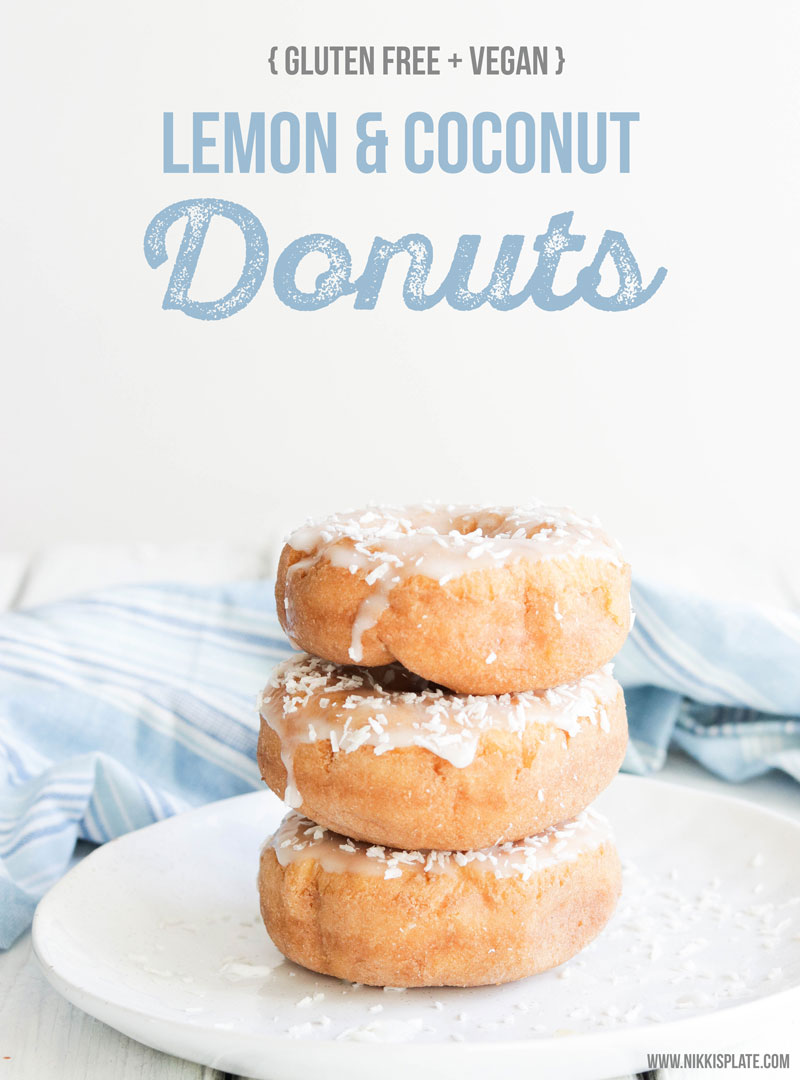 Hi Beauties
Coming at you with another gluten-free and vegan donut recipe. Yes, I love donuts. No, I can't stop eating them. It is this new obsession I have that just won't quit. I find I am always latching on to something I enjoy.. until I am sick of it. 
I do this with new songs ALL THE TIME. I will hear a song that is great so I play it on repeat for days... next thing I know... I can't stand the song anymore. Who else does this!?
Now I am hoping that this doesn't mean I am going to end up hating healthy donuts.. because I am really loving them!!
Anyone else do this?
Lemon Coconut Donuts For Breakfast? Yes Please!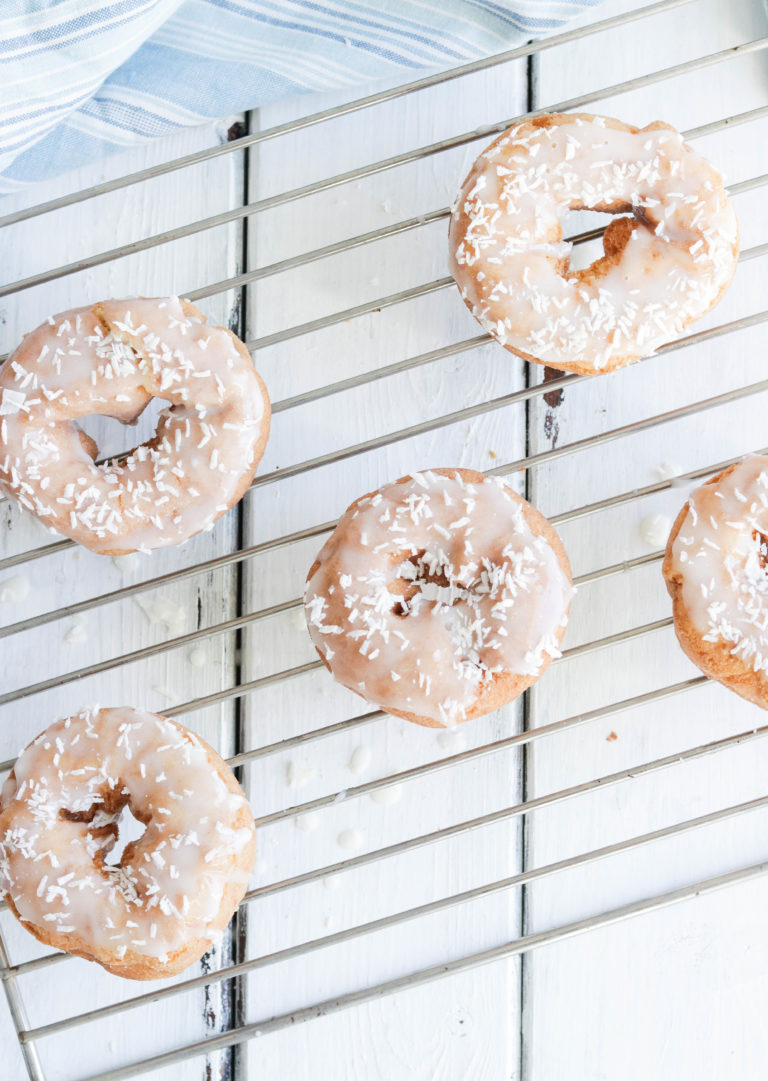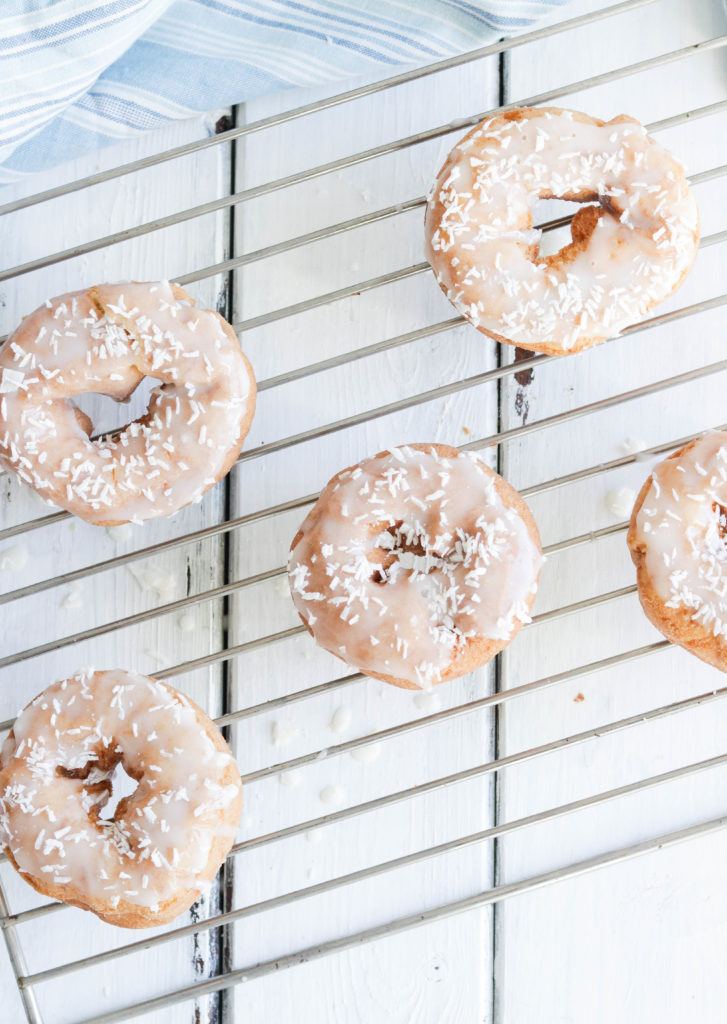 This donut recipe is definitely one of my favourites so far. I am loving the tang from the lemon and the tropical vibe from the coconut.
Currently suffering from the winter blues, so these donuts take me back to the warm summer days, or vacations down south. It is crazy to think that the weather can have such an affect on your mood... but it is SO true
This has also been a super cold winter for us. It seems that everyday the weather hoovers around -10 degrees Celsius or even colder... This puts me into hard core hibernation mode everyday!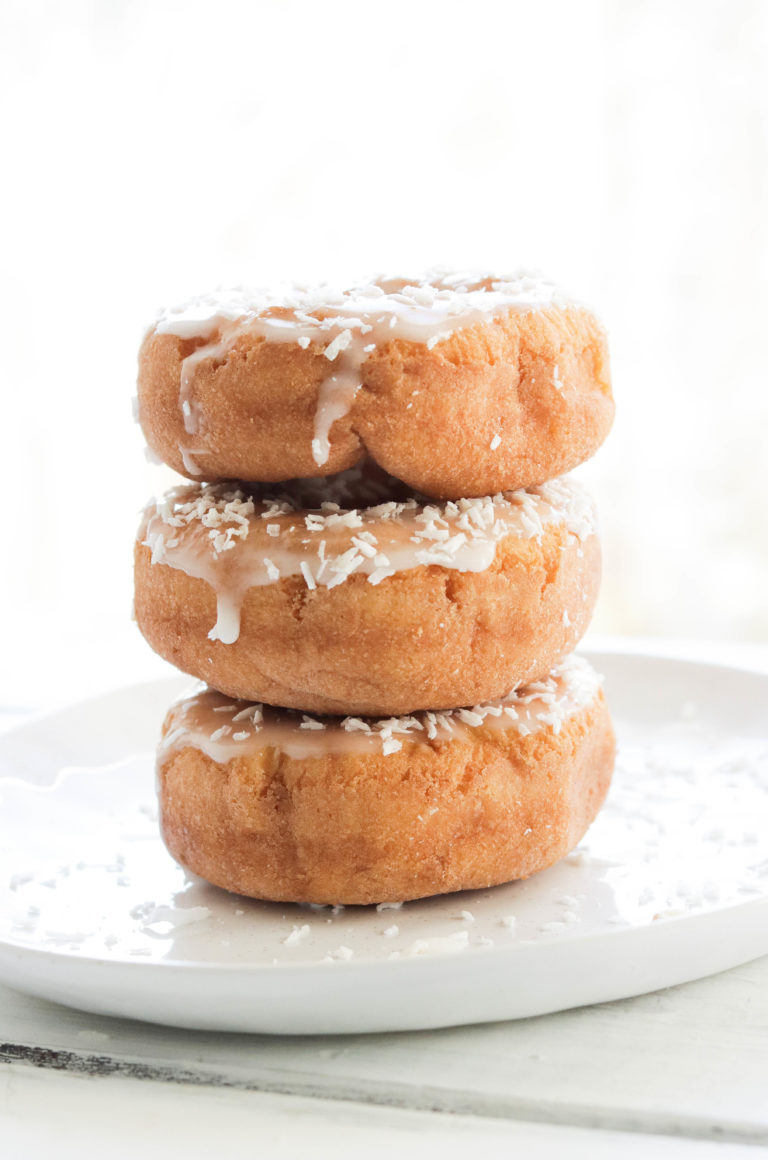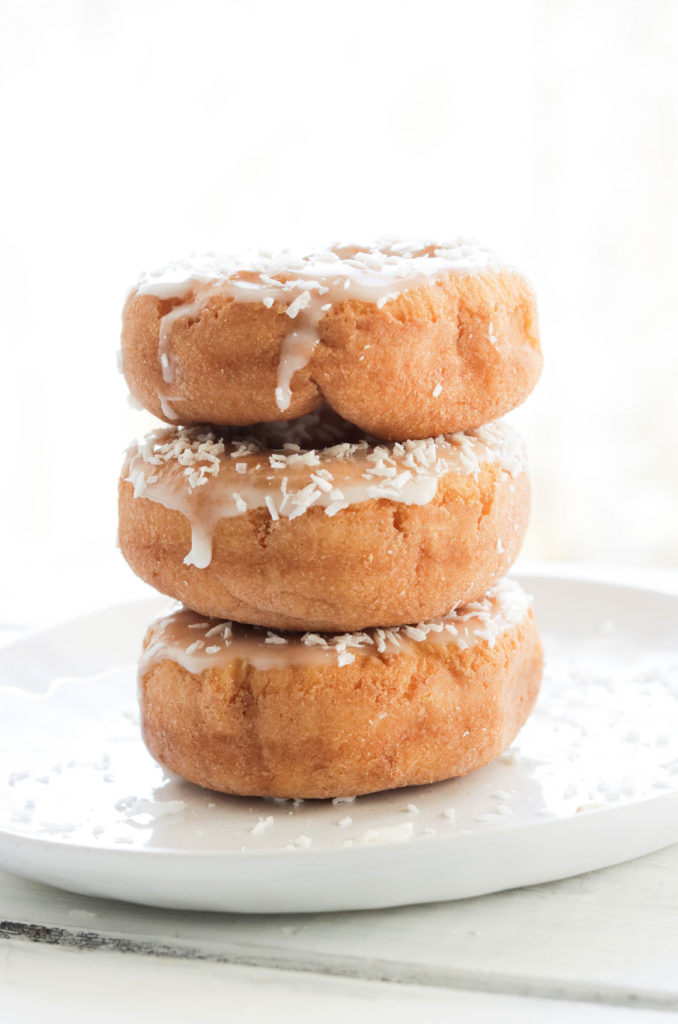 Ingredients Needed for These Lemon Coconut Cake Donuts
Enough complaining from me, lets get back to these donuts.
The ingredients you will need are:
gluten free flour
baking powder
baking soda
pink salt
organic cane sugar
unsweetened almond milk
melted coconut oil
powdered sugar
lemon juice
unsweetened shredded coconut flakes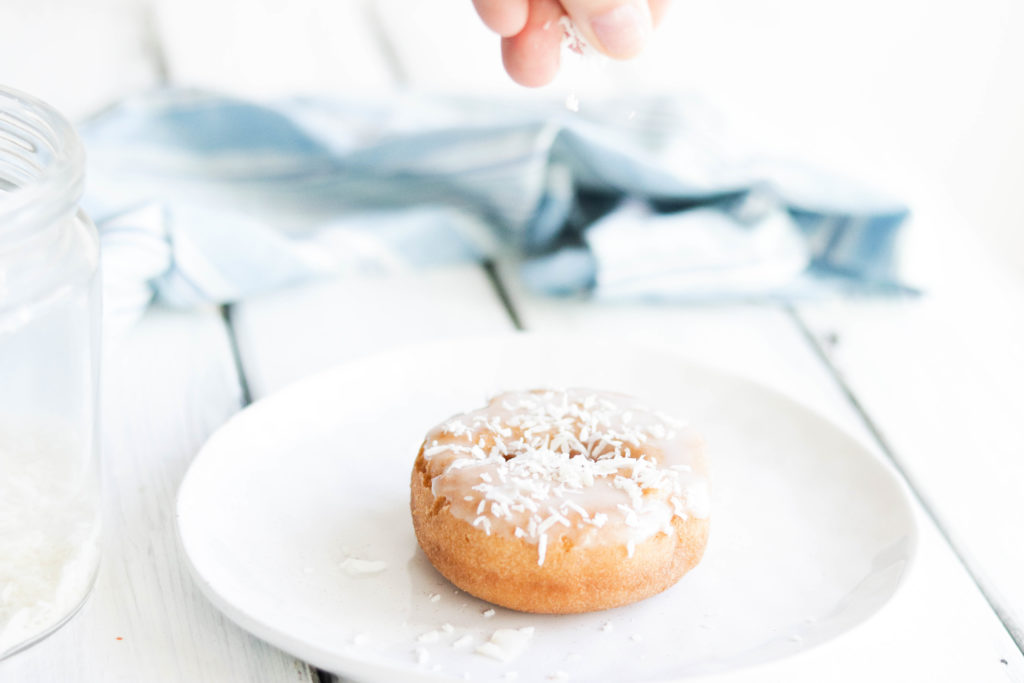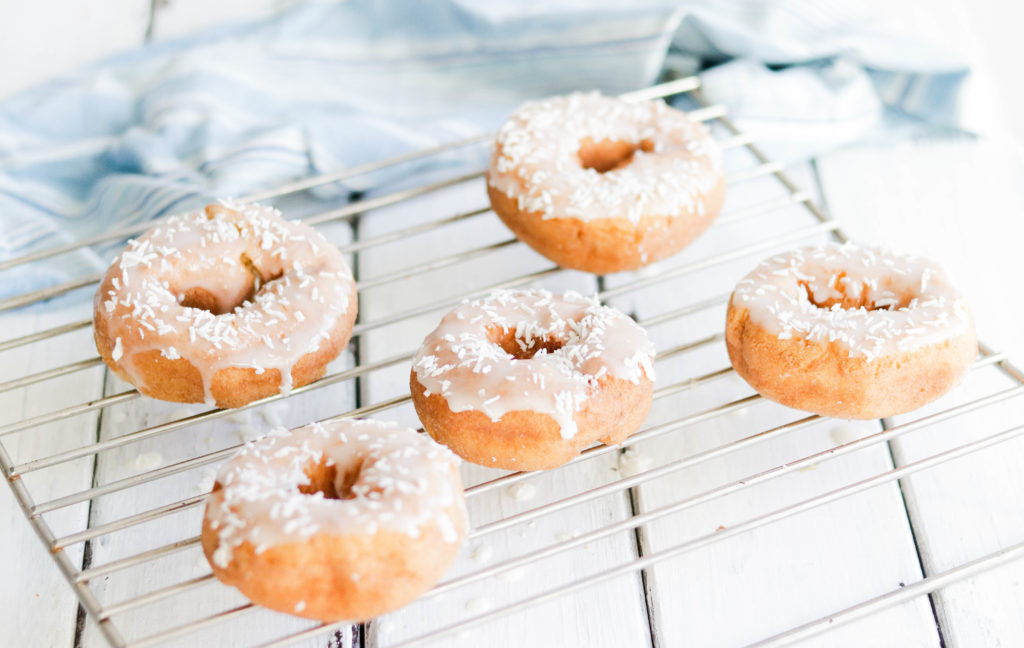 Obviously this can be quite messy to make... so I looked up some tips and found some great ones!
Put the donuts in the fridge prior to dunking them into the icing. This way the icing hardens a little bit faster which minimizes the dripping.
Add more icing sugar and less lemon juice to make the icing less runny.
Lick the icing off before it has time to drip everywhere.
Hope you enjoy these donuts as much as I do! Make sure you tag your creations with #nikkisplate so I can see all your deliciousness! And also let me know what other recipes you want to see here on the blog.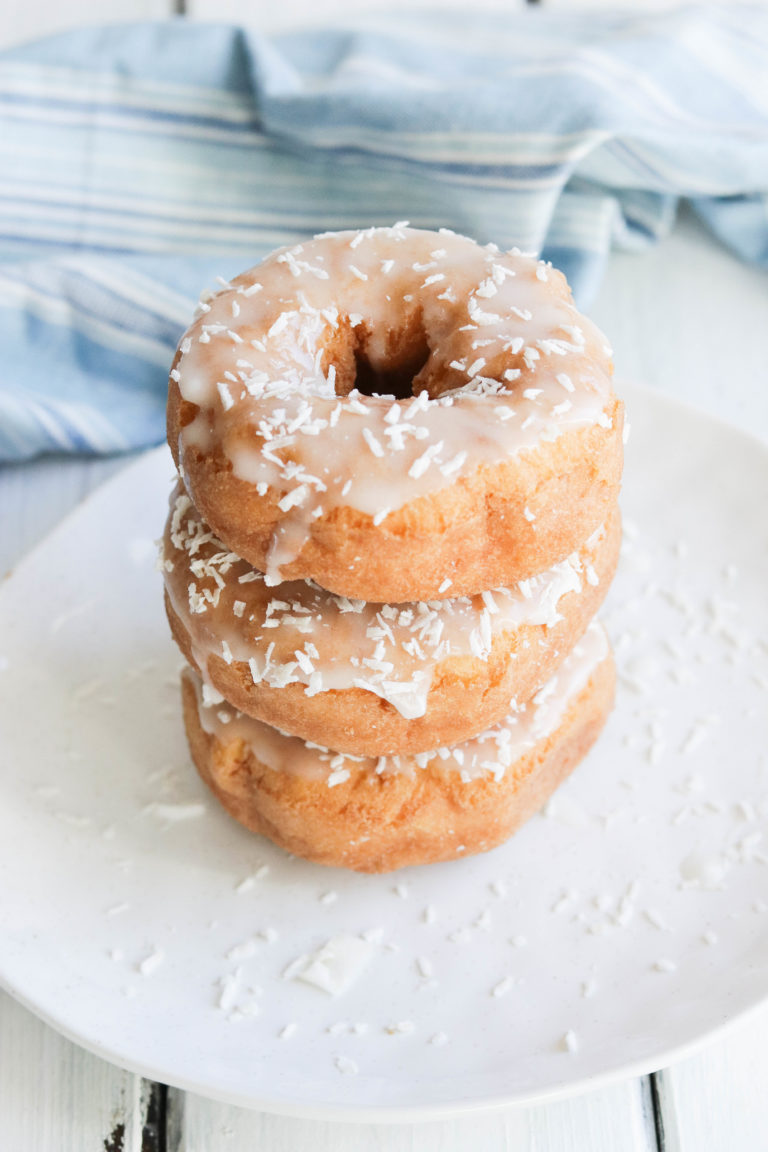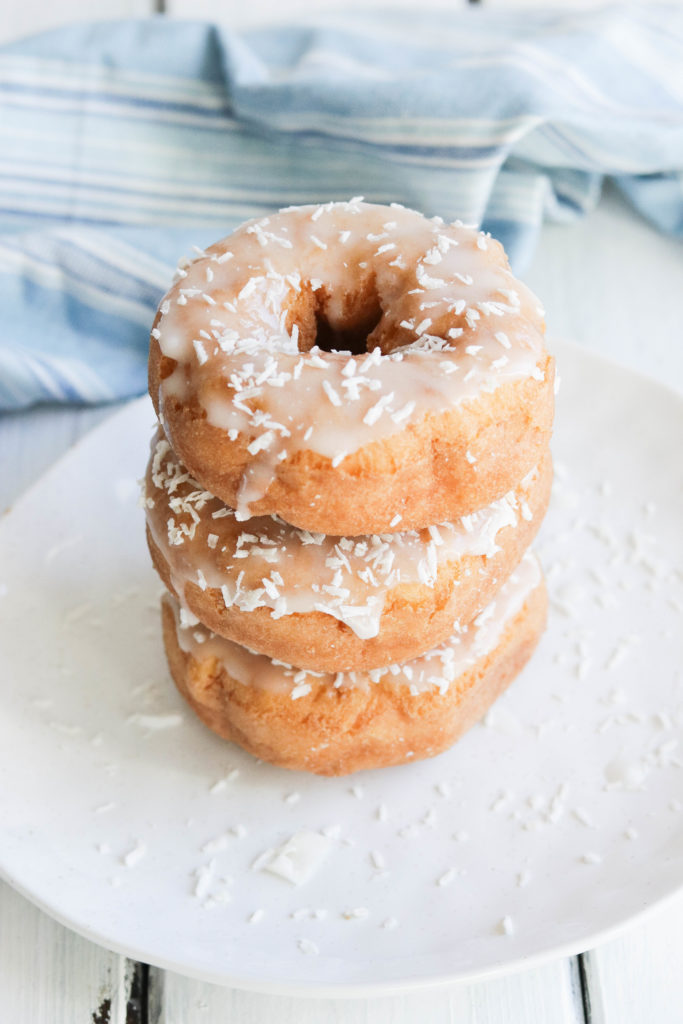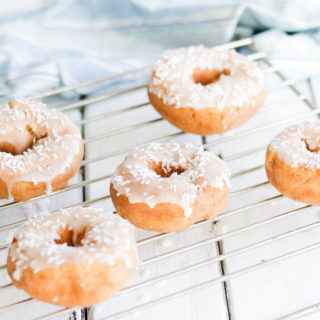 Vegan Lemon Coconut Cake Donuts
These delicious lemon coconut donuts are a soft, velvety cake donut infused with lemon, topped with a sweet lemon icing and drizzled with crunchy coconut. Vegan and gluten-free!
Ingredients
2

cups

gluten free flour

1

tsp

baking powder

1

teaspoon

baking soda

¼

teaspoon

pink salt

½

cup

organic cane sugar

1 + ½

cup

unsweetened almond milk

¼

cup

melted coconut oil
For The Icing:
1

cup

powdered sugar

2

tbsp

lemon juice

Sprinkles of

unsweetened shredded coconut
Instructions
Preheat oven to 400 degrees. Spray a donut pan with non stick grease (I use coconut oil spray).

Combine all dry ingredients in one large bowl and the wet ingredients in a separate bowl.

Pour the wet ingredients into the dry ingredients and mix until well combined.

Scoop large spoon fulls into the donut molds. Light press with back of spoon to ensure they fill the mold.

Bake in oven for 10 minutes, or until golden.

Remove from oven, cool for 10 minutes before attempting to remove from the molds.
For Icing
Start with a small bowl of the lemon juice, slow start adding in the 1 cup of powder sugar, mixing it as you go.

Once your icing is complete and your donuts are cool, dunk the tops of the donuts into the icing, then lay them on a tray.

Sprinkle with the shredded coconut flakes and your done!
BEST SELLERS