Spicy Oven Roasted Chickpeas; a great protein packed snack, or crunchy salad topper. Easy recipe, bursting with spice, and healthy. Vegan, gluten free, dairy free, and sugar free!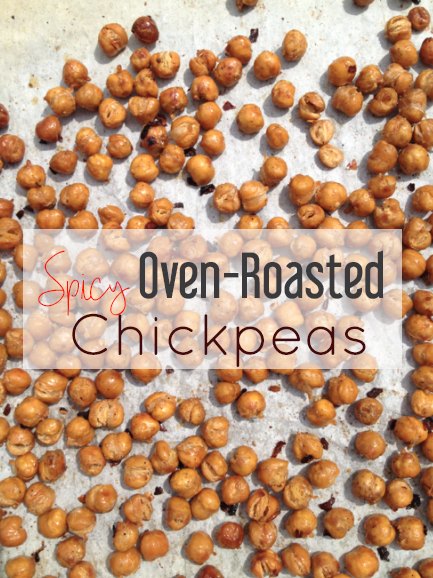 Disclaimer: this post may contain affiliate links, and every purchase made through these links will give me a small commission (at absolutely no extra cost for you!) See Privacy Policy for additional info.
Hi Beauties!
Coming at you with a delicious protein packed snack idea for you to try! You are going to LOVE this recipe with all your heart just like I do.
Chickpeas are one of my favourites for sure! They are so easy to work with and very diverse. One of my favourite ways to eat chickpeas is roasting them in the oven. There are many variations of roasted chickpeas but I have an addiction to spicy foods so this one is my favourite (so far).
They are super easy to make. You can put them on salads, rice or eat them like a bag of nuts. I am so excited for you guys to try them out.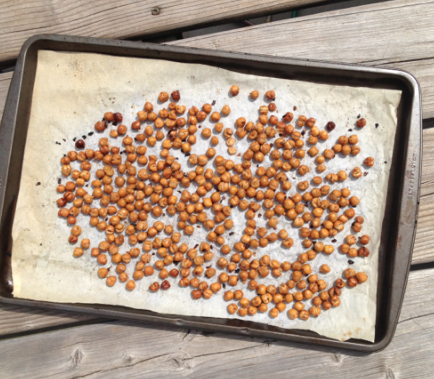 Roasted chickpeas are also a great source for protein, so top them on a salad or add them to a soup in replacement of croutons, and you have a gluten free friendly protein source with your meal!
There are literally endless options for your spicy roasted chickpeas. You can add them to ANYTHING and it will be delicious. I love having an extra crunch when making a salad or a rice bowl. It has just become a must now.
Spicy Oven Roasted Chickpeas Ingredients:
 can of chickpeas 
olive oil (extra-virgin) 
sea salt (fine grain)
ground cumin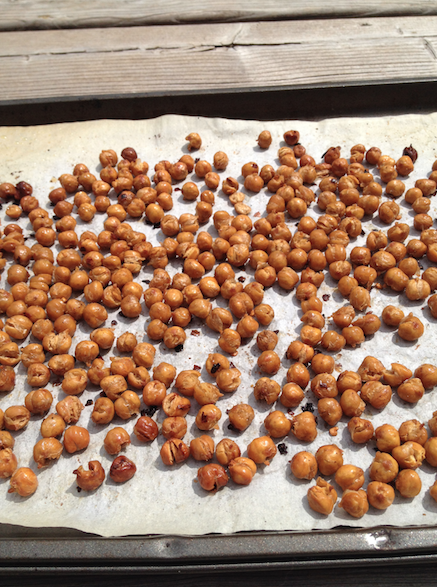 I love roasted chickpeas that are crunchy on the outside with a more chewy texture on the inside. Leaving them in for 35 minutes allows for them to be this way. If you prefer crunchiness all the way through, leave them in for 45 minutes.
It took me a while to perfect the roasting technique.. I am very picky about my roasted chickpeas so I KNOW you will love the way these cuties turn out for you!
Roasted Chickpeas Health Benefits:
Packed with Fiber. Fiber has been said to benefit people with diabetes, and the American Diabetes Association recommends chickpeas as a healthy source of fiber. ALSO, researchers have found that the fiber in chickpeas may aid in the reduction in LDL cholesterol.
Iron and Calcium. Chickpeas are packed with so many beneficial nutrients such as iron and calcium. They are said to also help people with osteoporosis!
Potassium. Chickpeas have tons of potassium in them which is why they are recommended to help lower blood pressure.
Weight Management. Chickpeas are loaded with fibre and protein which both aid in the feeling of fullness after of meal for an extended period of time, thus, aiding in weight management and weight loss.
If those are not enough reasons to eat your chickpeas then I don't know what is!
Anyways I hope you enjoyed this spicy roasted chickpeas recipe!
If you loved this spicy roasted chickpeas recipe then you will love my Roasted Salt and Vinegar Chickpeas recipe too! So make sure you head over to that post when you are done here!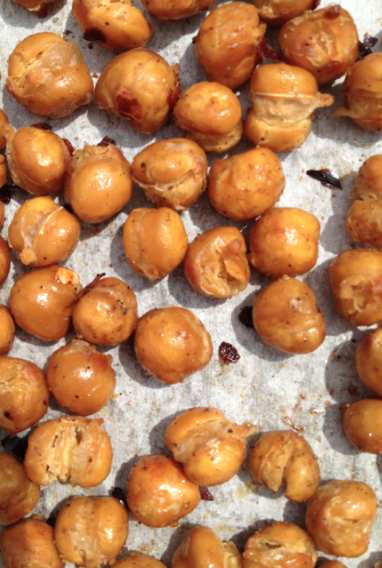 Spicy Roasted Chickpeas
Crunchy outside and chewy inside oven roasted chickpeas with a little spicy heat
Ingredients
1

can

chickpeas

(low sodium) drained and rinsed

1

tsp

olive oil

 extra-virgin

1

tsp

garlic powder

1

tsp

sea salt

fine grain

1

tbsp

ground cumin

1

tbsp

chilli flakes

(more or less as desired)
Instructions
Preheat oven to 400 degrees F

Drain and rinse chickpeas. Place them on a tea towel. Apply a second tea towel on top and roll them around with your hands allowing them to dry.

Place chickpeas on a lined baking sheet

Drizzle olive oil over chickpeas. Sprinkle with cumin, chilli flakes and salt. Hold baking sheet and shake slightly to allow for full coating of chickpeas.

Bake for 35 minutes (make sure to shake the pan half way through)
Spicy Oven Roasted Chickpeas; a great protein packed snack, or crunchy salad topper. Easy recipe, bursting with spice, and healthy. Vegan, gluten free, dairy free, and sugar free! 
BEST SELLERS