Top 10 Herbs and Spices for Cooking: the best herbs and spices in the typical household for the perfect dishes.
Disclaimer: this post may contain affiliate links, and every purchase made through these links will give me a small commission (at absolutely no extra cost for you!) AS AN AMAZON ASSOCIATE AND REWARDSTYLE MEMBER, I EARN FROM QUALIFYING PURCHASES. See Privacy Policy for additional info.
Hi beauties! Today we are talking all about the best Herbs and Spices for Cooking. Spice up your cooking with herbs and spices. They're a great way to add flavor without adding calories, and they also have health benefits. This list is a must for your pantry!
Herbs and spices can help prevent disease, fight cancer, boost immunity, manage pain levels, and even improve digestion! Here are 10 of the best herbs and spices for cooking:
What are the Herbs and Spices for Cooking?
Paprika
Paprika is a spice made from dried red chili peppers. It's a great addition to many dishes and can also be used as a garnish. Paprika has a mild, earthy flavor that adds color and warmth to food without being overpowering; it's often used in Hungarian or Spanish cuisine. This spice works well with meat and vegetable dishes alike, but it's especially good at adding some kick to marinades!
Oregano
Oregano is a flavorful herb that is used in many dishes. Oregano is a member of the mint family and has a sweet, warm and pungent flavor. The leaves may be used fresh or dried for cooking purposes.
Oregano has been known to help with indigestion, diarrhea and menstrual problems by increasing blood flow to the digestive organs as well as stimulating secretions from them. It also possesses anti-inflammatory properties which can help reduce pain caused by arthritis or sore joints.
Thyme
Thyme is a perennial herb with a woody stem and small, dark green leaves. It is native to the Mediterranean region and has been used as a culinary herb since ancient times. Thyme has a strong flavor and aroma that can be sweet, minty or citrusy.
Tarragon
Tarragon is an herb that's used in French cuisine and has a mild, sweet flavor. It's also perennial, which means it grows year after year if you take care of it properly. You can use tarragon to add flavor to salads or as an ingredient in chicken dishes--the possibilities are endless!
Rosemary
Rosemary is a perennial herb that has been used in cooking for centuries. It's native to the Mediterranean region, where it grows wild on hillsides and mountainsides. The leaves are often used as a garnish on meat and potatoes, but they can also be used to flavor soups and stews.
Allspice
Allspice is a spice that is made from the berries of an evergreen tree. It has a unique flavor that combines cinnamon, cloves, and nutmeg. Allspice is used in recipes for cakes, cookies, pies, and sauces. It can also be used as part of pickling recipes as well.
Cilantro
Cilantro is a leaf used in Mexican, Indian and other Asian cuisines. It's also used to make pickles, chutneys and soups. Cilantro leaves have a distinct taste that some people love but others hate. If you've ever eaten at a restaurant where they sprinkle cilantro over your food before serving it to you--and then discovered that it tastes terrible! That's because they didn't wash their hands after touching the cilantro leaves!
You can use coriander seeds whole or ground up into powder form (depending on what recipe calls for). The flavor of ground coriander seed is very similar to its fresh counterpart when added during cooking time; however, if added too early in the cooking process (before heating), then its aroma will dissipate as it loses its volatile oils into steam rising from hot surfaces such as frying pans or woks where heat transfer occurs more quickly than when simmering foods over low heat."
Basil
Basil is a tender, annual herb that is a member of the mint family. It has been cultivated for centuries for its aromatic foliage, which can be used fresh or dried. The most commonly used varieties are sweet basil and purple basil. Basil leaves are best known for their distinctive flavor and fragrance; they have a rich history in both European and Asian cuisines as well as many other cultures throughout history.
Cinnamon
Cinnamon is a spice that comes from the inner bark of trees. It's been used for thousands of years and is still one of the most popular spices today. Cinnamon can be used in cooking and baking, as well as flavoring many foods. It's also a popular ingredient in desserts, such as cookies or cinnamon rolls. Cinnamon is often used in bread like cinnamon raisin bread or apple-cinnamon muffins!
Bay Leaves
Bay leaves are the dried leaves of a tree from the laurel family. They're used to flavor soups, stews, and other dishes. Bay leaves can also be used to flavor meat and seafood.
Bay leaves are an important ingredient in many cuisines around the world--they're popular in India for example where they're often added to curries as a garnish or spice mixture. In Italy they are often used as part of Bolognese sauce for pasta dishes like lasagna; their distinctive aroma adds an earthy sweetness that works well with tomato-based sauces created at home or by professional chefs alike!
Bay Leaf Tea: To make bay leaf tea simply add one or two whole dried bay leaves into hot water (about 160°F/71°C) along with whatever herbs you would like depending on what effect you want them too have on your body system such as chamomile flowers which will help calm down nerves while promoting relaxation after stressful days at work/school etc..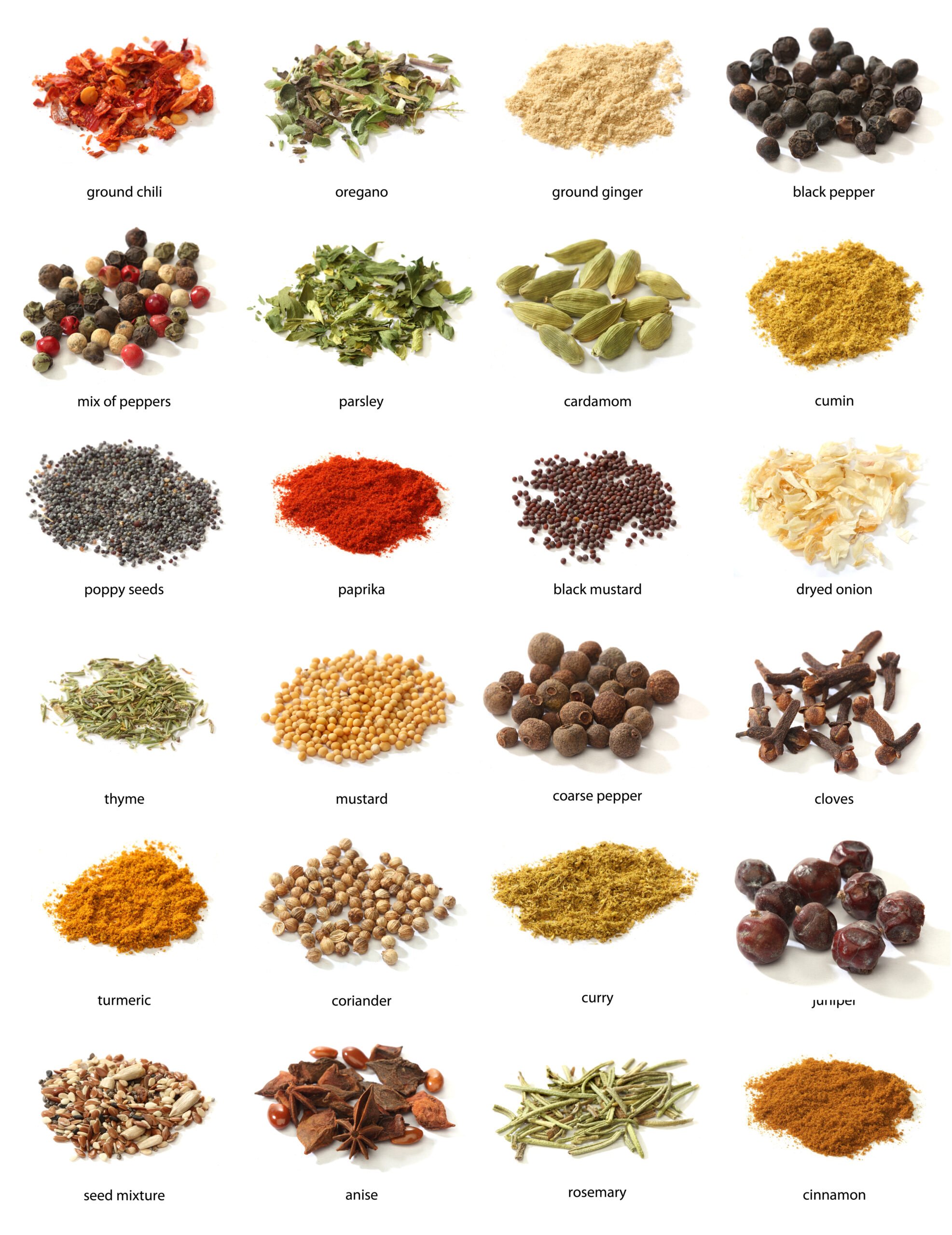 I hope that you enjoyed this list of herbs and spices and found some new ones to try. We know it can be overwhelming to look at all the options out there, but don't worry--we've got your back! Just remember that these are just our top picks from among a huge variety of flavors available. If something sounds good to you, go ahead and try it!
More Pantry Posts:
Until next time,
BEST SELLERS