Disclaimer: this post may contain affiliate links, and every purchase made through these links will give me a small commission (at absolutely no extra cost for you!) AS AN AMAZON ASSOCIATE AND REWARDSTYLE MEMBER, I EARN FROM QUALIFYING PURCHASES. See Privacy Policy for additional info.
Guess who is going on vacation this week! THIS GIRL! I'm so overly excited, I can barely contain myself. I have not been down south on a holiday in several years. Growing up, my family would always go on a vacation for March Break to a tropical destination. So I have had my practice packing the perfect suitcase.
Curious where I am going and what I am going to be doing? Follow my vlog channel on youtube! I plan on doing daily vlogs on my adventures down south!
So I thought I would put together a long thought out packing list to ease your packing anxiety! If you know me, you'l know I am queen bee of lists... I have lists for my lists (no joke). Lists keep my life together and on track..
Let's get right to it! Here is my Ultimate Caribbean Packing List: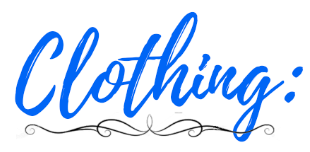 1 travel outfit
Light jacket
5 Day outfits
1 Workout outfit
5 night outfits
2-3 Bathing suit
cover up
2 Pairs of Socks
7 Underwear
Bra + Sports Bra
Pajamas
Jewelry/Accessories
Sandals + Heels + runners
Hat
Beach BAG + Backpack

Face Wash + moisturizer
Lotion
Make-up
Sunscreen + Aloe Vera
Toothbrush + Tooth Paste
Hair Brush + Hair Ties
Curling Iron / Hair Straightener
Shampoo + Conditioner
Hair Spray
Leave in Conditioner
Nail Polish
Deodorant + Perfume
Tweezers + Razor
Hand sanitizer
Medications

Camera + Charger
Phone + Charger
Headphones
Laptop + Charger
Passport + Medical Docs
Purse + Wallet + Money for Excursions
Sunglasses
Books + Magazines + Notepad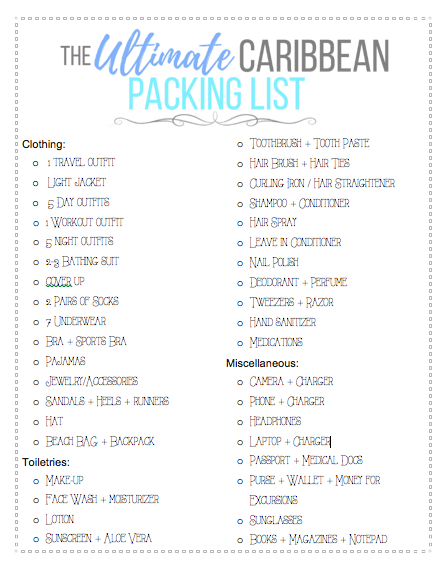 BEST SELLERS