This December, I went on a 7 night AmaWaterways river cruise in Europe! We traveled to Germany, Austria, Hungary, and Slovenia. We did the Magical Christmas Market tour, which was definitely something you should add to your bucket lists because it was truly MAGICAL.
Disclaimer: this post may contain affiliate links, and every purchase made through these links will give me a small commission (at absolutely no extra cost for you!) AS AN AMAZON ASSOCIATE AND REWARDSTYLE MEMBER, I EARN FROM QUALIFYING PURCHASES. See Privacy Policy for additional info.
This trip was truly a magical winter wonderland that really got me in the Christmas spirits! Everything about this tour showcased the beauty of Christmas. I loved the vibes and all the European Christmas traditions. Everything from the 15+ Christmas markets we visited to the beautifully decorated interior of the Amasonata boat!
In my entire life, I have never been on a river cruise. I have been on several big cruise ships but nothing like this before... And I have to admit, I may like this better then a massive cruise. There was something about the small and intimate atmosphere on this boat that warmed my heart. By the end of the cruise you become friends with all the other travellers and staff.
The Amasonata Boat
This boat was beautiful. The main word that stands out to me when describing this boat is home. It wasn't all the Christmas trees, and lights.. it was the overall feel and vibes of the boat. In their main lounge, the had 50+ cozy couches next to all the windows. I spent several hours, cuddled up on the couches watching the views as we sailed down the Danube River.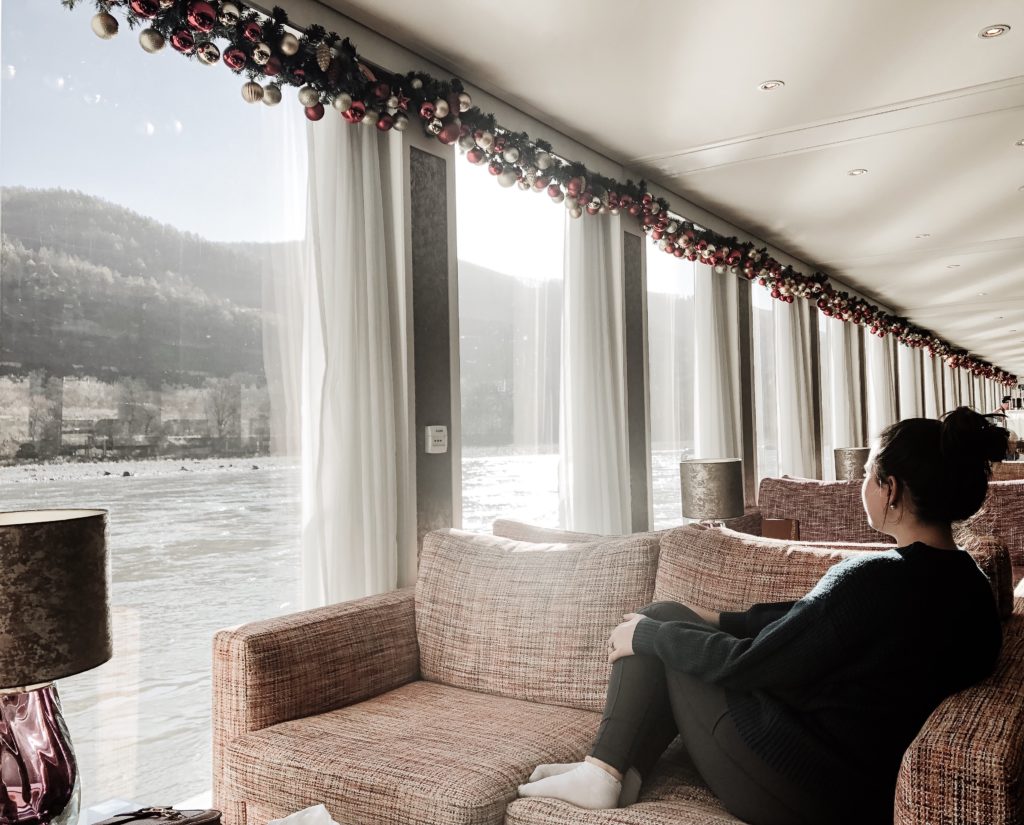 The Rooms
We shared one of the cheaper rooms (Category D & E) on Level 1. Our room was 160 sq feet, had two twin beds, two chairs and two side tables. There were two small windows to let in natural light. There was an iMac which was there to use as a TV or could be used as computer. One of the best things about this boat was the included wifi! I think every blogger appreciates good free wifi! There was also a safe in the room as well, but something to note, my 13" MacBook Pro didn't fit into the safe. There was a large closet to hang or fold your clothing.
One huge thing you should note, you will need an adaptor for your plugins. The outlets on the boat are all European, so you will need to bring a travel adaptor if you want to charge anything or use your hair straightener ladies!
The bathrooms where small but did the trick! Every day there were fresh towels, shampoo, conditioner, body lotion and soap. I was VERY impressed in the quality of all the toiletries! I joked that it felt like I was at a spa! It smelt so good!! The bathrooms also had two robes and slip ons for us.
The Food
The food was delicious. Every meal was perfect. I had no complaints on the taste/quality of the food.. but the only thing I should warn you about is the limited breakfast and lunch options. If you have allergies or are just a picky eater, you might struggle during these meals. The buffets are not the usual all inclusive buffets with hundreds of options. It is very minimal, but worked for me. I always found something to eat!
High quality and gourmet dinners every night. Two dining options for dinner. You can sign up to sit at the Chef's Table which was a speciality restaurant at the front of the boat. It was incredible. You don't order off a menu, it is a set menu and they bring it all to you one after another. The other dining option for dinner is in the main dining room.
Make sure you check the hours for meals. We missed breakfast twice because we slept in! Dinner is also served at 7:30pm. So make sure you grab a snack if you cant make it to 7:30!
In the main lounge, they have tapas you can order and have a cafe machine. I had lots lattes and hot chocolate!
If you wondering about alcohol, they have a bar in the main lounge. Wines, beers and soft drinks are included with your meal. So when your at dinner you can enjoy a beverage of choice. They also have "Sip and Sail Cocktail Hour" from 5-6pm which has all inclusive drinks free of charge. Any other time of the day, you need to pay for alcoholic beverages.
The Staff
The staff of AmaWaterways were amazing on this boat.. due to the small amount of passengers on the boat, the staff really get to know you. My favourite thing about this river cruise, that stands out from any other cruise/vacation I have been on was the cruise director. Her name was Camille, and she went above and beyond for us all. She planned everything, answered all our questions, connected us with any resources we need during our stay.
If your wondering about gratuities, you have the option to pay at the end of the cruise or prepay them with your travel agent.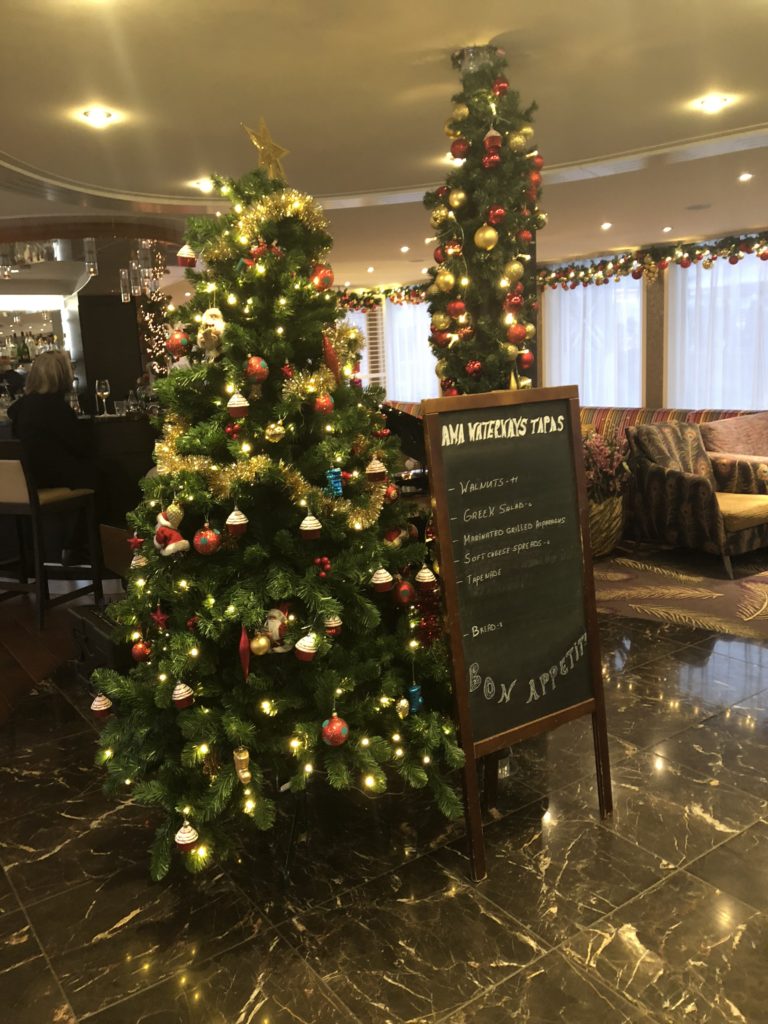 The Excursions
Something I was in shock about was that ALL excursions where included! You filled out a form the day you arrive on the boat and check off what you want to do each day. I know from previous vacations, excursions can get very pricey, so this was such a nice addition.
We did a tour/excursion every day on our vacation. We saw so many beautiful monuments and of course tons of Christmas Markets.
Some examples of the excursions include; bike tours, walking tours, hikes, wine tasting tours, and cuisine tasting tours. There was something for everyone! One of my favourites was the Sound Of Music tour we did in Salzburg, Austria. Have loved that movie my entire life so it was amazing to see everything in the movie.
Every tour had an English speaking tour guide who really enjoyed what they did. You could really tell that they all had a passion for their city/town and were so informative! They answered all our questions without a doubt.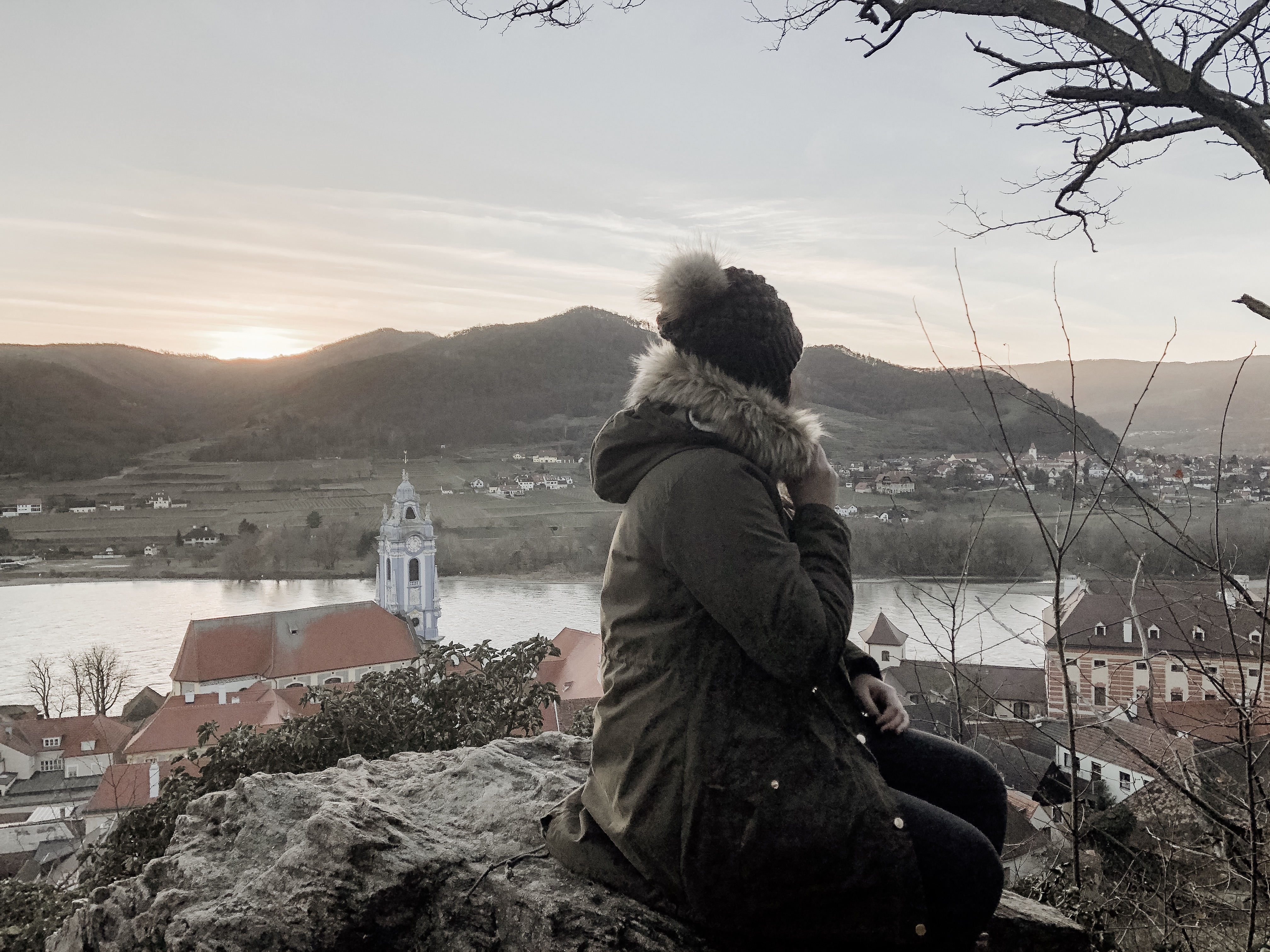 Detour Due to Water Levels
On our particular tour, we had to do a detour due to the low water levels. This was sent in an email a few days before our cruise. Our boat was not able to dock at certain ports so they had to choose different port locations. So instead of starting in Nuremberg we had to start in Regensburg instead, but we ended up adding Budapest to the itinerary which was a bonus. They also accommodated all transfers to make sure you were looked after.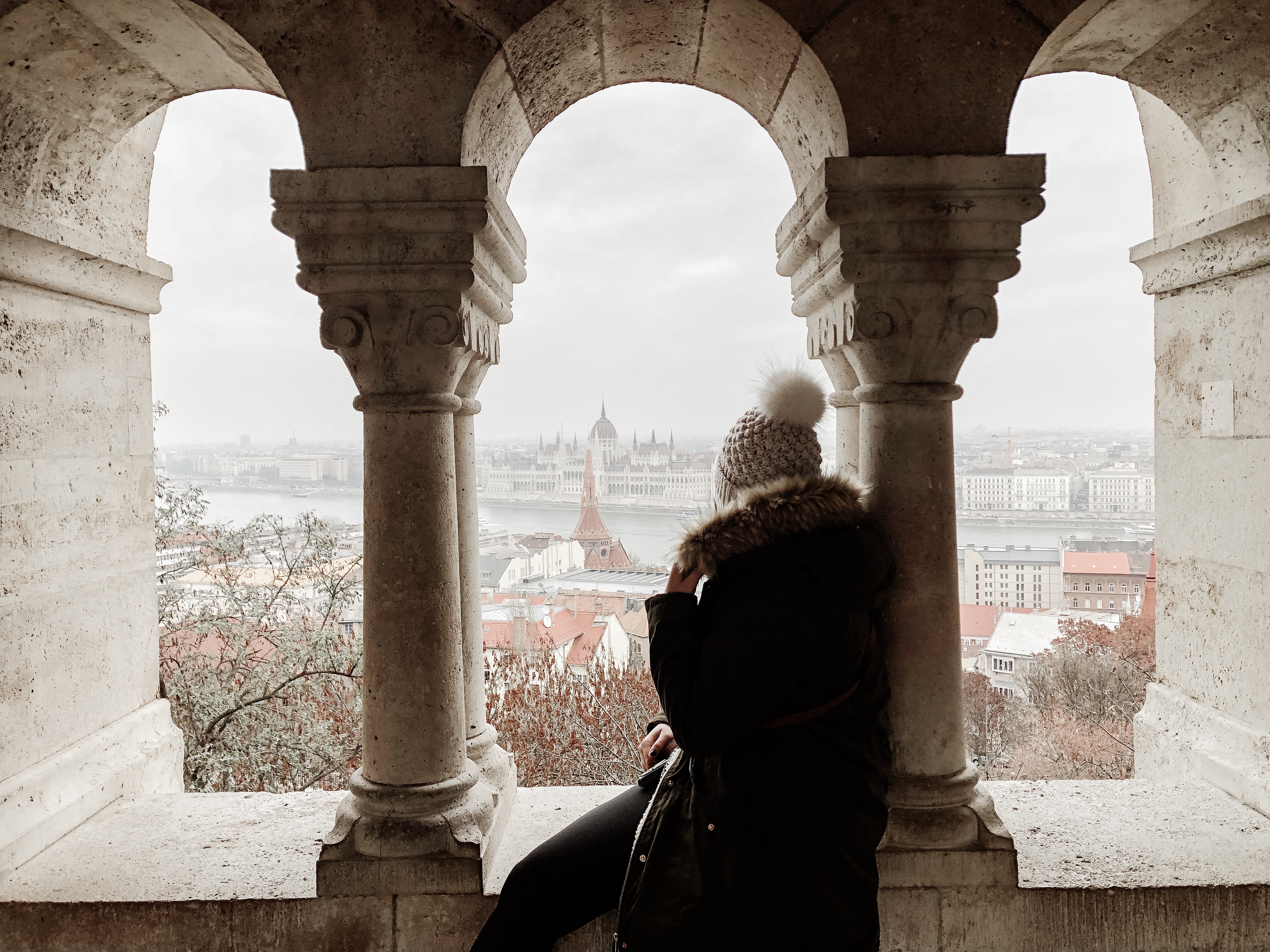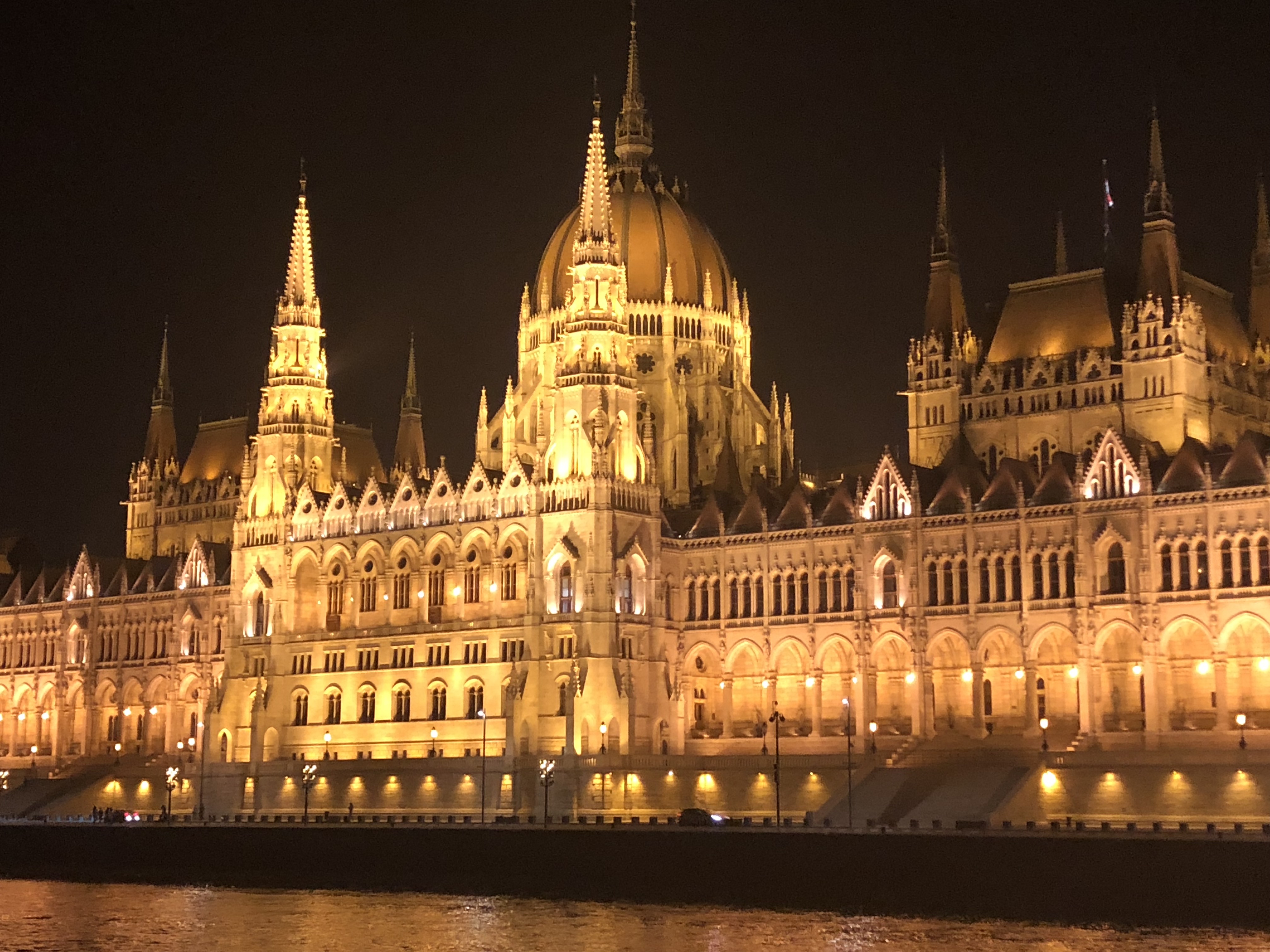 Optional Extra Days
They offer extensions to each cruise to be added to the beginning or the end of your cruise. We stayed for 3 days in Prague prior to getting onto our boat. You can either do this through AmaWaterways or you can do it on your own. On this particular river cruise you can add Prague at the beginning or Vienna at the end. I have been to Vienna prior to this vacation so we opted for Prague on our own!
Tips To Keep In Mind
Pay attention to what money you will need. In Czech Republic and Hungary they had a different currency then Euros.
The weather is unpredictable. We had a lot of rain and we were expecting it to snow. AmaWaterways has umbrellas in your rooms for the tours, thankfully!
Dress in layers! Your on a bus then off the bus so you go through hot then cold flashes.
Bring good walking shoes. We walked SO MUCH. One day we clocked 20,000 steps accroding to our iPhone health app!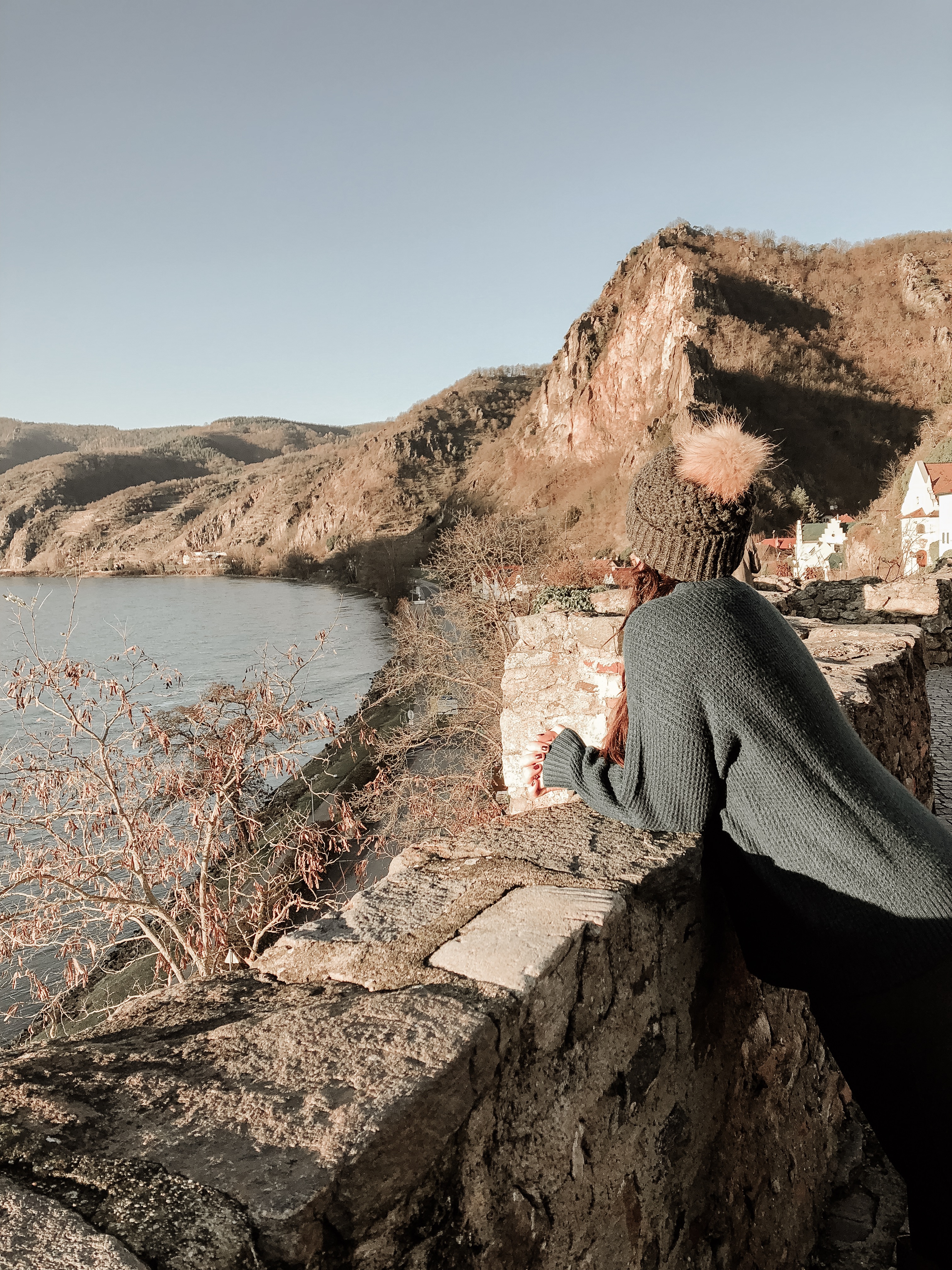 If you liked this post you'd love these ones!:
BEST SELLERS