Chelsea Gray Benjamin Moore Paint Color Review; Discover the beauty and versatility of Chelsea Gray by Benjamin Moore in my in-depth paint color review. Learn about the undertones, coverage, and styling ideas for this warm and sophisticated shade. Whether you're painting your living room, kitchen, or bathroom, find out if Chelsea Gray is the perfect choice for your home!!
Disclaimer: this post may contain affiliate links, and every purchase made through these links will give me a small commission (at absolutely no extra cost for you!) AS AN AMAZON ASSOCIATE AND REWARDSTYLE MEMBER, I EARN FROM QUALIFYING PURCHASES. See Privacy Policy for additional info.
Hi beauties! Are you on the hunt for the perfect paint color for your home? Look no further than this warm gray called Chelsea Gray by Benjamin Moore. In this blog post, I will review this popular paint color and provide you with all the information you need to decide if it's the right choice for your space! Choosing the perfect paint color can be a daunting task, as it sets the tone and ambiance of any space. Whether you're looking to create a cozy atmosphere in your living room or seeking a sophisticated backdrop for your kitchen, finding the right shade becomes paramount.
In this review, we will explore the unique qualities and versatility of Chelsea Gray, helping you understand why it has become a favorite among homeowners, interior designers, and DIY enthusiasts alike. From its subtle undertones to its unmatched ability to complement various design styles, we will uncover all the reasons why this iconic Benjamin Moore paint color can transform any space into a true masterpiece.
So, if you're on the lookout for an exceptional paint color that brings elegance and depth to your home, get ready to discover the brilliance of Chelsea Gray. Join us as we unveil the secrets behind this popular paint color and learn how it can instantly elevate your interior design game. Let's get started!
What Color is Chelsea Gray Benjamin Moore?
Chelsea Gray is a warm gray paint color that falls into the mid-tone category. It has a hint of brown undertone, giving it a sophisticated and timeless look. Chelsea Gray by Benjamin Moore contains some green undertones that occasionally display flashes of violet, though the color leans towards green for the most part. These undertones lend warmth to the color and make it a great option for creating a cozy and inviting space.
Is Benjamin Moore's Chelsea Gray Warm or Cool?
Benjamin Moore's Chelsea Gray has undertones of rich brownish-violet and green, leaning more towards green in general. This suggests that Chelsea Gray is a warm gray color!
WHAT'S THE LRV OF CHELSEA GRAY?
Chelsea Gray by Benjamin Moore has a Light Reflectance Value (LRV) of approximately 22. With an LRV in the lower range of medium-depth colors, Chelsea Gray is considered a darker gray color. Chelsea Gray's medium-depth shade offers a great deal of versatility when it comes to coordinating with different design styles.
Due to its medium depth, Chelsea Gray is well-suited for darker rooms, though it can benefit from some degree of light to bring out its richness. In contrast, if your room is particularly brightly lit, Chelsea Gray's depth can provide a harmonizing effect that can soften the space without appearing too severe or harsh. It strikes a delicate balance that can elevate a room's atmosphere, regardless of its lighting conditions.
Application and Coverage
One of the best things about Chelsea Gray paint color is its excellent coverage. This paint color has a high pigment content, which means that you can achieve full paint coverage with just one or two coats. This not only saves time and money but also ensures a smooth and even finish. You want that fresh look and you can achieve that with this great depth of color option! BM is a great product for greiges too. You will have the ultimate high-end finishes look you are hoping to achieve fast! You will still need two coats of paint for an interior paint job but usually that is it! The amount of paint needed with depend on the total wall area, length of each wall, square feet percentage and wall height.
WHAT'S THE BEST WAY TO SAMPLE CHELSEA GRAY?
If you're looking for an affordable and convenient way to sample paint colors, I highly recommend checking out SAMPLIZE. With SAMPLIZE, you can get peel-and-stick paint samples that you can easily move around your room. What sets SAMPLIZE apart is that it offers these handy samples at a fraction of the cost of traditional sample pots. Plus, the best part is that they deliver right to your front door, saving you time and effort.
Versatility
Chelsea Gray is a chameleon color. It can seamlessly blend into any room, whether it's a living room, bedroom, kitchen, or bathroom. It pairs well with both traditional and modern furnishings and can be easily combined with other colors to create a cohesive and harmonious look.
WHAT'S THE BEST WHITE PAINT COLOR WITH CHELSEA GRAY?
When it comes to pairing Chelsea Gray with white paint colors, the possibilities are endless. It offers tremendous flexibility and can complement a wide range of whites. For trims or cabinets, consider the soft and elegant appearance of Benjamin Moore White Dove or Sherwin Williams Pure White. Alternatively, if you prefer a cleaner and more contemporary look, Sherwin Williams High Reflective White can be a great choice. Each of these options brings its own unique charm to the pairing, so feel free to explore and find the one that resonates with your personal style.
IS CHELSEA GRAY A GOOD COLOR FOR THE EXTERIOR OF MY HOME?
When considering using Chelsea Gray for the exterior of your home, it's important to keep a few factors in mind. While it can undoubtedly be a great choice, it can appear warmer than anticipated, particularly if your home faces the south or receives afternoon western light. Additionally, don't overlook the subtle green undertone present in Chelsea Gray. By being mindful of these elements, you can make an informed decision and ensure that Chelsea Gray enhances the exterior of your home in the desired!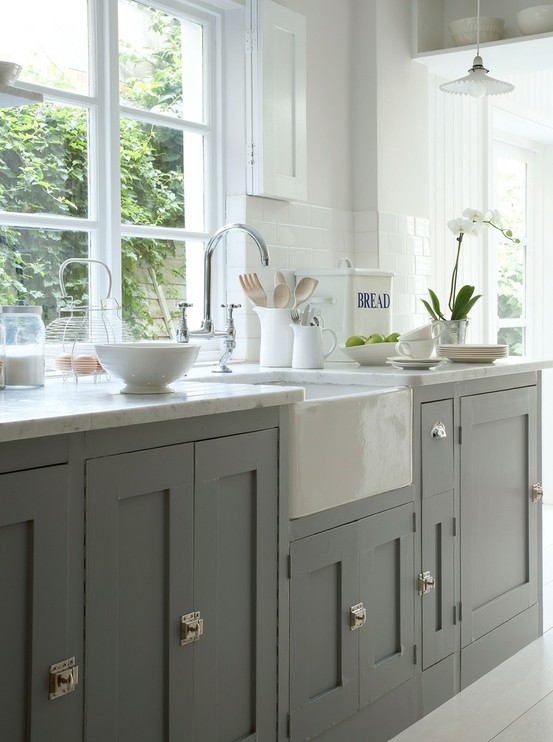 IS CHELSEA GRAY A POPULAR GRAY PAINT COLOR?
DEFINITELY! It has been included in the Historical Colors and Favorites fan deck at Benjamin Moore, and it is known for its versatile and rich appearance. According to some paint experts, BM Chelsea Gray is one of the go-to gray paint colors that interior designers consistently use. The color has soft brown-violet undertones that give it a unique depth and sophistication, making it a popular choice for a variety of design styles and applications such as walls, trims, and cabinets. Overall, with its popularity and flexibility with design elements, it can truly elevate the look of any room or exterior.
Styling Ideas for Chelsea Gray Benjamin Moore
Here are a few styling ideas to inspire you to incorporate Chelsea Gray into your home:
Living Room: Paint an accent wall in Chelsea Gray to create a focal point and pair it with crisp white trim for a classic look.
Kitchen: Use Chelsea Gray for your kitchen cabinets to add a touch of elegance and pair it with white or marble countertops for a timeless design.
Bedroom: Paint your bedroom walls in Chelsea Gray and combine it with soft, neutral bedding to create a cozy and inviting ambiance.
Bathroom: Apply Chelsea Gray on your bathroom walls and pair it with white subway tiles for a modern and clean look. It is even a great color for bathroom vanities, just make sure you use a flat paint on your vanity.
Ceilings: This
Hallways: If you choose to paint high-traffic areas, make sure it is a flat paint finish. You can use a satin or sheen in low-traffic areas. Although this paint is durable, I always recommend testing first for beautiful results!
Lighting for Chelsea Gray Benjamin Moore
When it comes to lighting, Benjamin Moore's Chelsea Gray performs exceptionally well. It works equally well in both natural and artificial light, providing a consistent color appearance throughout the day. Whether your space is flooded with sunlight or illuminated with warm artificial light, this paint color will maintain its true beauty.
Is Benjamin Moore Good Quality Paint?
Benjamin Moore paint is generally considered to be of good quality1. In a review by Good Housekeeping, Benjamin Moore Regal Select received a five out of five-star rating, with reviewers noting its durability, stain resistance, superior coverage, fade resistance, and beautiful finish1. Additionally, Benjamin Moore is known for offering a wide range of high-quality paints, stains, and finishes2. Many consumers have also expressed satisfaction with the coverage, durability, and ease of use of Benjamin Moore paints3.
That being said, it's important to note that individual experiences may vary, and some customers may have had different experiences with Benjamin Moore paints. It's always a good idea to do your own research, read customer reviews, and consult with professionals before making your paint purchasing decision.
Whether your goal is to create a cozy and intimate ambiance or a bright and open space, Chelsea Gray excels in achieving the desired effect without overwhelming the room. Its ability to strike a balance between warmth and neutrality makes it a reliable choice for a variety of interior design preferences.
Chelsea Gray by Benjamin Moore is undoubtedly a fantastic choice for any space in your home. Its warm gray tone, excellent coverage, and versatility make it a top contender for those looking to transform their space with a fresh coat of paint. So, if you're in search of a paint color that will stand the test of time and effortlessly suit any style, look no further than Benjamin Moore's Chelsea Gray.
Until next time,
More Paint Color Reviews:
BEST SELLERS