How to Throw The Best Halloween Party in 2022; Halloween party ideas, Halloween decorations, scary costumes, spooky games and more!
Disclaimer: this post may contain affiliate links, and every purchase made through these links will give me a small commission (at absolutely no extra cost for you!) AS AN AMAZON ASSOCIATE AND REWARDSTYLE MEMBER, I EARN FROM QUALIFYING PURCHASES. See Privacy Policy for additional info.
Hi beauties!
This year we decided to throw a Halloween party! A few years ago, I threw my first major adult Halloween party and it was a success. It wasn't just great for me (I had a ton of fun), but also for the twenty other people who joined me (they had a lot of fun as well).
So obviously I ran straight to Pinterest for inspiration. You know I like to share my research love here on my blog so I thought I would write a post here all about it! What better way to spend the spookiest day of the year than by throwing a killer Halloween party?
If you're planning a party for this October or planning early for the next one, or even if you're having any kind of get together coming up, take a minute and check out some of these helpful tips for throwing an amazing Halloween bash! Whether you are throwing a party for adults or kids, I am sure you will find what you are looking for in my post!
How to Throw The Best Halloween Party in 2022
Want to throw the best Halloween party in 2022? Halloween is the best holiday. With the right preparation and planning, you can throw the perfect party to celebrate it. Here are some tips to help you plan the best Halloween party in 2022 and of your lifetime!
The Best Halloween Party Tips Overview
Set a budget. Don't sell party tickets.
Pick a Halloween party theme and stick to it (example a murder mystery party, mad tea party or dance party)
Make sure you have enough food and drinks.
Make sure you have enough decorations and games to keep your guests busy throughout the night. Entertainment is key!
Encourage guests to wear costumes. Maybe have a costume contest and have a prize for the best costumes!
Set up a photo booth with a Halloween twist, so that everyone can take home some memories from the party to share with their friends later on in life!
If you want to be EXTRA, consider haunted mansion maze, fireworks or even a main street Halloween parade! Attractions are so important at any party!
Halloween Party Food
Halloween is a time for spooky decorations, haunted houses, and pumpkins. And if you're hosting a Halloween party, you also have to think about food!
You'll want to start with an appetizer or two—maybe some spider deviled eggs or my hotdog mummy recipe. You can also make a dip that is Halloween inspired. Something that's easy to eat while you're mingling with your guests before they settle down to watch scary movies or play games. Then you'll want something hearty and filling like chili or stew—it'll give people something warm and satisfying as they get deep into the spirit of the holiday. And finally, finish off with dessert: Halloween cupcakes, caramel apples, or even just some candy corn on sticks!
If you are not into having to cook or put together food during your party, you can always put out a huge spread that guests can pick at during the party. I love making charcuterie boards! They are always a hit and keep my guests happy and full all night long.
Pumpkin carving is just for jack-o-lanterns.
If you're like me, your first thought when it comes to Halloween is jack-o-lanterns. The ghoulishly orange pumpkins are ubiquitous at this time of year, and they're the perfect way to decorate your home or office for Halloween festivities. But did you know that pumpkins aren't just for jack-o-lanterns? They can also be used in a variety of other ways! If you need help creating the perfect carved pumpkins, check out my free printable pumpkin carving stencils to use!
Pumpkins are great for center pieces on your table at a party or dinner gathering because they add some fun color and texture to the space—and if there's one thing we need more of at this time of year, it's fun colors and textures! Pumpkins also make great decorations around the house: they look lovely hanging from door frames or windowsills (especially if you put battery-powered candles inside them), and they add an extra touch of festivity when placed on mantels or shelves as well.
And finally—perhaps most importantly—you can use pumpkins as part of your food preparation process! It turns out people have been making pumpkin pie for centuries now; why not try adding some pumpkin puree into your next batch of mashed potatoes? You should totally try my Bat Pumpkin Muffin recipe!
Costumes don't have to be expensive.
Your costumes don't have to cost a lot of money. You can make a costume yourself, or look for one at a thrift store. It's also possible to find something at a yard sale or on eBay or Amazon (or all three).
If you want a store-bought costume, try to find one that's in your price range. You may not find a cheap Halloween costume that's exactly what you're looking for, but if you look around online or go to several stores, it's possible that something will catch your eye.
If there are two or more people in your family who want to dress up as something from the same movie or TV show, consider buying matching costumes instead of individual ones. Popular costumes include ghosts, monsters, a pirate, vampires, witches. Some other fun ideas would be sanderson sisters, minnie, jack skellington, seven dwarfs, headless horseman, cadaver dans or any other cast members from spooky movies or shows!
Try an interactive game.
If you're looking for a way to bring some fun and excitement to your Halloween party, consider incorporating an interactive game that gets people involved. The best part of these games is they can be as simple or complex as you'd like them to be. Here are some ideas:
Have guests dress up as characters from movies or books and act out a scene together using the costumes. For example, if you're throwing a zombie-themed party, have each guest wear a costume from The Walking Dead so they have their own walker with them. Then ask them to find other guests at the party who also have costumes from the show (or just anyone wearing black), tell them what character they'll play in this scene and then act it out! This works great if your house has multiple rooms because it encourages people to move around so everyone can see what's going on!
Give out slips of paper with different Halloween-themed questions written on them. Have everyone write down their favorite Halloween memory on one slip of paper before beginning the game so everyone has something interesting about themselves available for sharing later during dinner! Then pass those papers around randomly until everyone has received one back (or do this in smaller groups). Each person will now read aloud their answer while also describing any funny experiences related thereto—and other players get points when guessing correctly about who said what first! It's not hard: just put all answers into alphabetical order before starting play time; write down names next door neighbors' houses when visiting family; invite friends over special occasions such as birthdays or anniversaries by sending invitations via email rather than traditional mailings.
Mummy Wrap: This classic Halloween game is great for large groups—or smaller ones if you want to make it more challenging. Pick a few players (depending on how many people are at the party), who then go off into another room with instructions from everyone else on what to do with their arms and legs. When they come back out, everyone else has to guess who each mummy is by wrapping their faces with bandages (or whatever else you have lying around). The winner is whoever guesses correctly first!
Pin the Tail on the Bat/Ghost/Witch/etc. This one's simple: pick a few people as bats or ghosts or whatever other spooky creature you want—or use them as decorations—and blindfold everyone else. Then have them pin their tail on one of these creatures using only their sense of touch
Spooky Charades: This is like regular charades, but you act out horror movie scenes instead of well-known phrases or song lyrics. Examples include: A scene from The Shining; an alien invasion; a zombie attack; etc. If someone guesses correctly before you finish acting out your scene, they get a point!
Guess How Much Candy Is in the Jar. Put candy into one big jar (or several smaller ones). Then have guests guess how much candy is in the jar by holding their own hands over the top of it. The person who guesses closest wins!
Pumpkin Bowling. This game is great because it doesn't require any prep time or extra supplies—it just requires some pumpkins and bowling balls. For this game, you need a group of people (ideally 4–6) and at least four pumpkins (or more if you want to make it more challenging). Separate the pumpkins into two groups: one group will be "gutter balls" and the other will be "strike!" Then set up all the pumpkins so they're evenly spaced apart. Each person gets a turn rolling their ball down the lane, trying to knock over as many of their own team's pumpkins as possible while still keeping their gutter balls intact. The person who gets the most points wins!
Truth or dare: This classic game works well at parties because everyone will be participating! Each player gets a turn asking someone else something personal or daring them to do something silly or embarrassing—whatever makes sense for your group! If someone refuses to answer truthfully or refuses to do whatever they're dared, then they have to drink!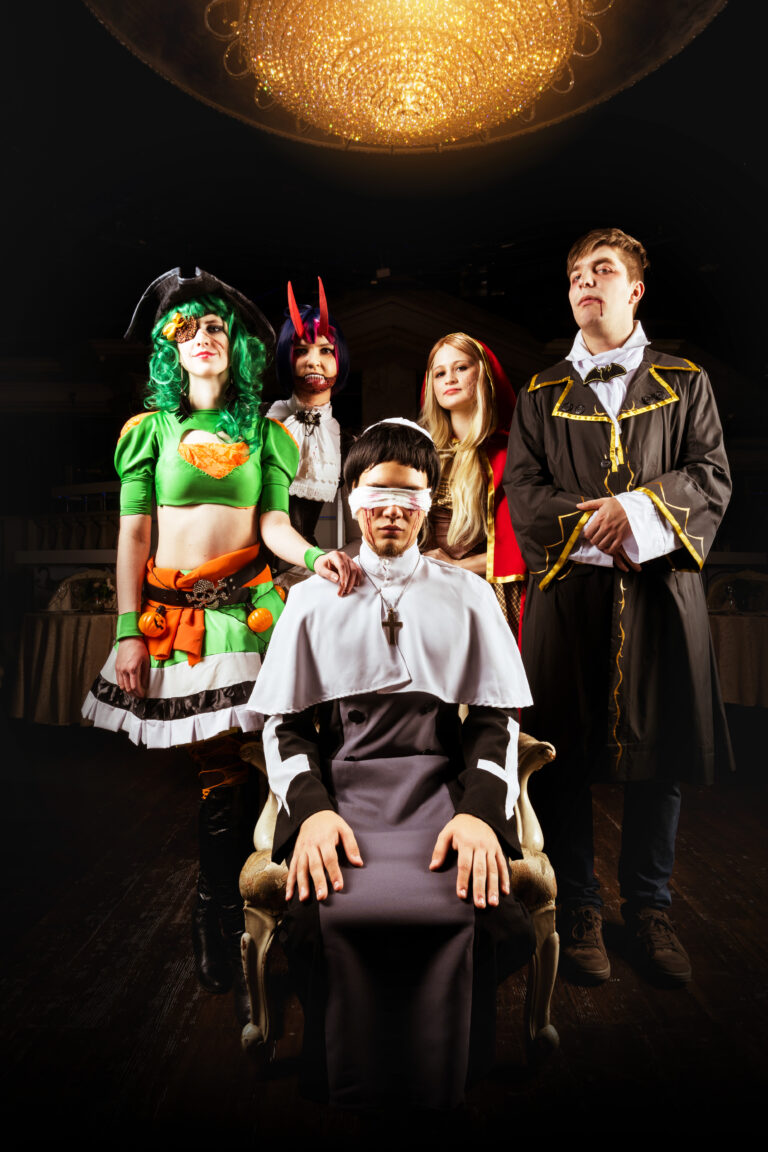 Don't skimp on decorations.
When it comes to decorations, there's no such thing as "too much" when it comes to Halloween. Don't just stick with one kind of decoration (like fake cobwebs) and call it a day—use multiple types of decorations that are all Halloween-themed. For example, if you're throwing a Halloween party at your house, go for spider webs and skeletons. If you're having the party at someone else's house, make sure you bring along your own fun accessories so that the whole space is decorated in accordance with your theme.
It's important not only that you have lots of decorations but also that they're easy to set up and take down. Otherwise this becomes an even bigger time suck that nobody wants! Also remember: In most cases when hosting a social gathering like this one, people are going to contribute their own ideas when it comes to decorating—which means things can get messy very quickly if everyone has let loose on their own personal vision without any sort of direction or guidance from the person who owns (or rents) the space where everybody will be spending most of their time during this event...and doing so might mean missing out on some great ideas!
Novelty Halloween treats make it a party to remember.
A novelty Halloween treat is a great way to make your party stand out. You can go all out and create your own, or you can buy them ready-made. While making them yourself is fun and easy, it does take time and effort. Should you choose to go with the latter option, it's worth noting that most novelty treats are expensive—a lot more than they should be!
Set up the perfect photo op for your guests.
You can make your guests pose in a variety of ways, depending on the space you have available. If you have a wall or window that's well-lit, try using that as your background. Or, if it's dark out, maybe try using a white sheet for more of an "outdoor" feel.
Use a chair or stool for the photo - This is great for groups and makes sure everyone is comfortable!
Use a mirror - This is one way to get everyone in the shot at once!
Use a white sheet - This might be best suited for smaller rooms with less natural light coming through windows since it will reflect whatever is behind it (i.e., not much).
Create a playlist to set the tone for your party.
We're not talking about a soundtrack for a specific scene or setting, but rather a playlist of songs that will help set the tone for your party. Think about what kind of music your guests are likely to enjoy, and start there. If they're into hip-hop and R&B, then you might want to steer clear of classic rock or country music (unless you know it's their favorite).
If you have time before the party starts, play some tunes while you set up decorations or make food so those who are on hand can get in the mood!
A great Halloween party doesn't have to break the bank!
Costumes can be cheap. You don't have to spend a fortune on your costume! If you're having a small gathering, get creative and make your own costumes out of things you already have around the house or find at thrift stores. A few years ago, my friends dressed as pizza slices, and they looked so good that we actually had people lining up to take photos with them!
Novelty treats add fun and variety. It's not necessary to serve food that requires utensils or multiple courses; instead, think about what would be fun for everyone to share—like popcorn balls (pictured), cake pops, sugar cookies decorated with Halloween sprinkles or icing designs, cookies shaped like bats or jack-o'-lanterns (using cookie cutters), candy apples…the list goes on!
Make decorations yourself rather than buying them new. Instead of spending money on store-bought decorations that may not fit in with your existing décor (or might even go out of style), consider making some yourself using items you already have lying around the house: yarn banners made from old sweaters; papier mâché pumpkins painted with acrylic craft paints; glittering spider webs made from pipe cleaners and clear tape; paper flowers cut from poster board then spray painted gold…the possibilities are endless!
Lets recap some Halloween party points here..
Make sure your guests know how to get there! Make sure everyone has directions to your house and knows how long it will take them to get there. Also, put out signs along the way so people can easily find their way to your house.
Have plenty of snacks available when people arrive! You never know how long it will take someone to get from point A to point B, so make sure there's something for them to eat when they get here. Make sure there are options for vegetarians as well as carnivores!
Decorate your house! If your decorations aren't scary enough or spooky enough or whatever enough—your guests will notice.
You can have a spooky costume contest, or even make your own costumes. You can have scary decorations, such as spider webs and skeletons. You can play some spooky games like pin-the-fangs-on-the-vampire or bobbing for apples. Or you can just watch scary movies together!
Halloween is the perfect time to get your friends together and have a spooky good time! The best way to make sure that your next Halloween party is truly unforgettable is to plan ahead.
So there you have it! A collection of pro tips to help you plan the best Halloween party ever in 2022! I hope you've found these tips helpful and will be able to throw your own amazing Halloween party. And if I missed your favorite tip, or you have some kind of trick that makes your party the best around, please leave me a comment and let me know!! I'd love to hear from you.
Until next time,
BEST SELLERS