This Prosciutto Wrapped Chicken Skewers recipe is a quick and easy BBQ dinner that is bursting with salty goodness and juice peppers and onions.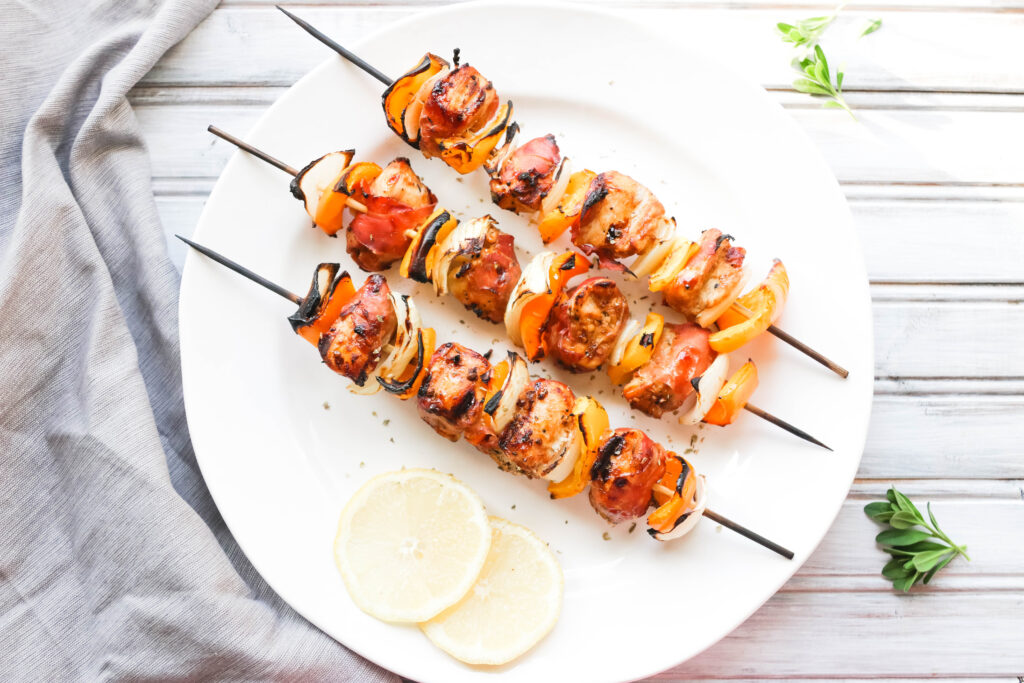 Disclaimer: this post may contain affiliate links, and every purchase made through these links will give me a small commission (at absolutely no extra cost for you!) AS AN AMAZON ASSOCIATE AND REWARDSTYLE MEMBER, I EARN FROM QUALIFYING PURCHASES. See Privacy Policy for additional info.
Hi Beauties!
It is that time of the year again, where BBQ recipes take over the blog. Summer is seriously one of my favourite times of the year to blog, not only because of the recipe developing creative spark in me but also because we get more daylight during this time so I am able to capture more of my dinner recipes!
I am a blogger who actually eats everything that I put on the blog. I don't have a team behind me that creates recipes for the blog (not saying that there is anything wrong with that!). Having daylight longer, and an overall longer day, gives me more time to take photos of my meals for all you!
With that being said, I find I also tend to get into a rut sometimes because I do eat a lot of the same things on a day to day basis. And I am sure you don't want to see the same recipes on the blog over and over again. I am trying to add more dinner and meal recipes because I tend to have a lot of baking or snacks on the blog. I am trying to expand my recipe index with more wholesome meal ideas! What do you like to see on the blog?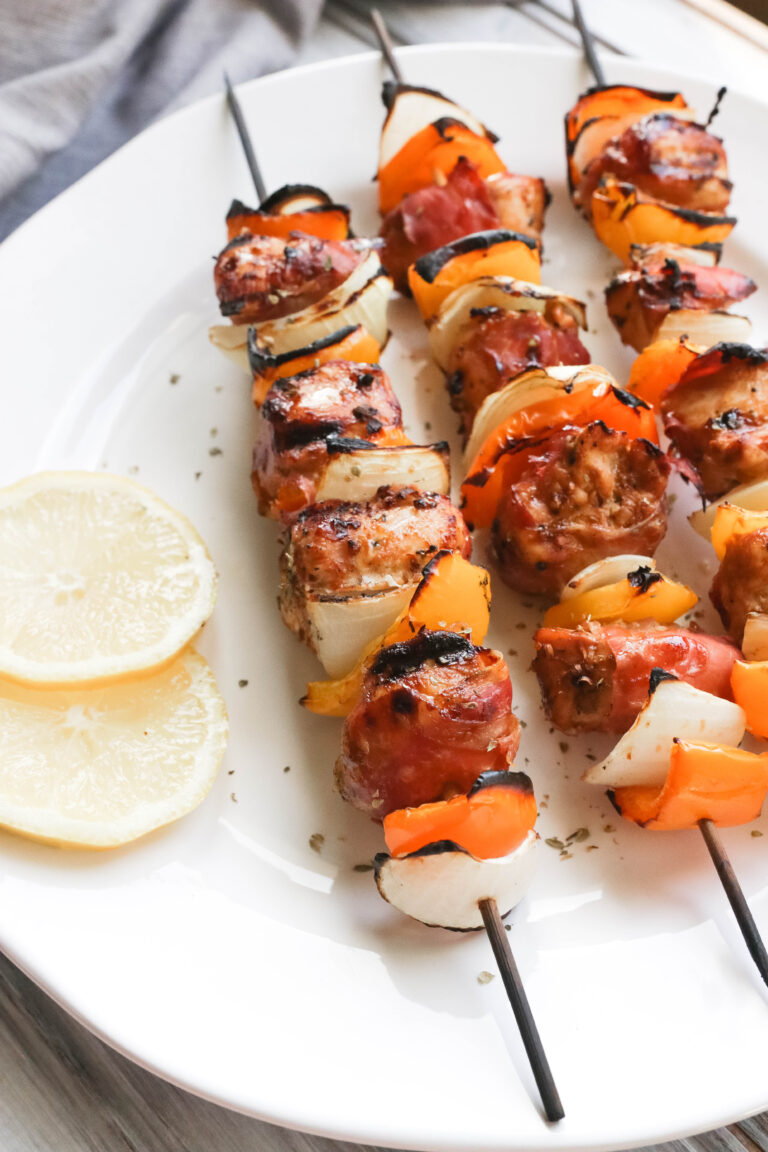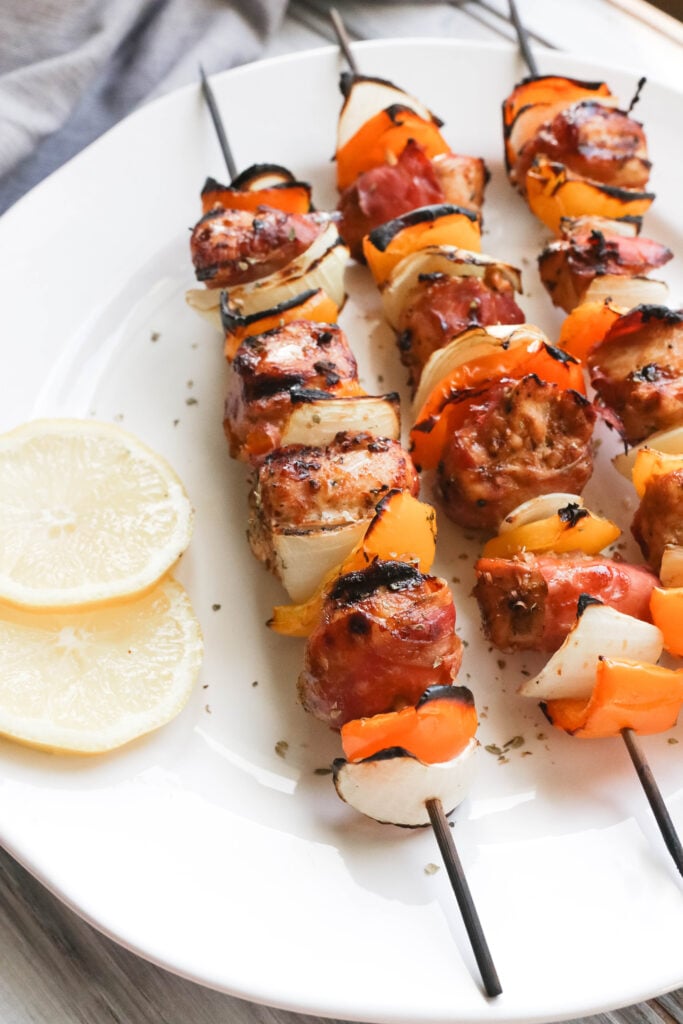 But enough chit chat, lets get back to this recipe shall we?
Prosciutto Wrapped Chicken Skewers Ingredients:
Chicken breasts (boneless & skinless)
Prosciutto
Peppers (I used a yellow and orange)
White onion
Minced Garlic
Garlic powder
Onion powder
Chicken spice rub (I used this one)
Tamari sauce (or soy sauce) I prefer low sodium
Half of lemon (juice)
You can change up some of the ingredients if you do not have one. If you don't have the chicken seasoning spice rub then you can totally substitute in some paprika and black pepper. It will give you the same outcome.
You can also change up the vegetables you use in this recipe. I only had peppers and onions available in my fridge but you could totally add some zucchini, mushrooms and potato. What ever you are craving, you can add to this recipe! Let your taste buds run wild haha.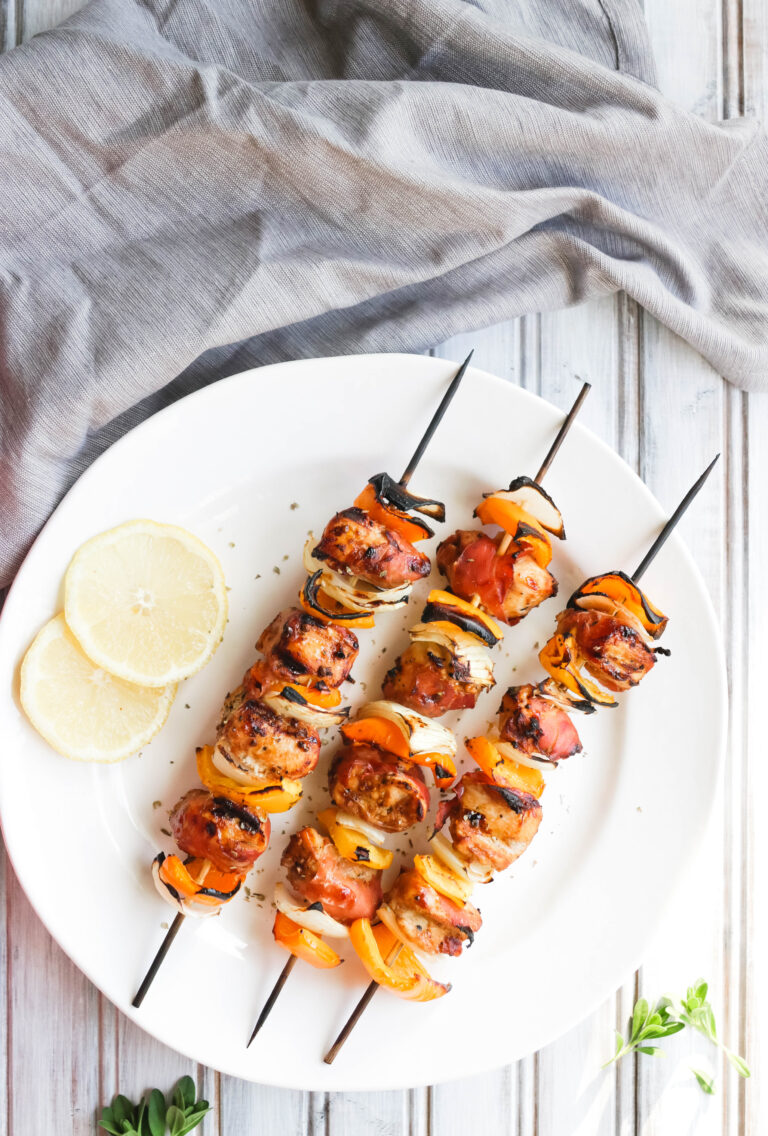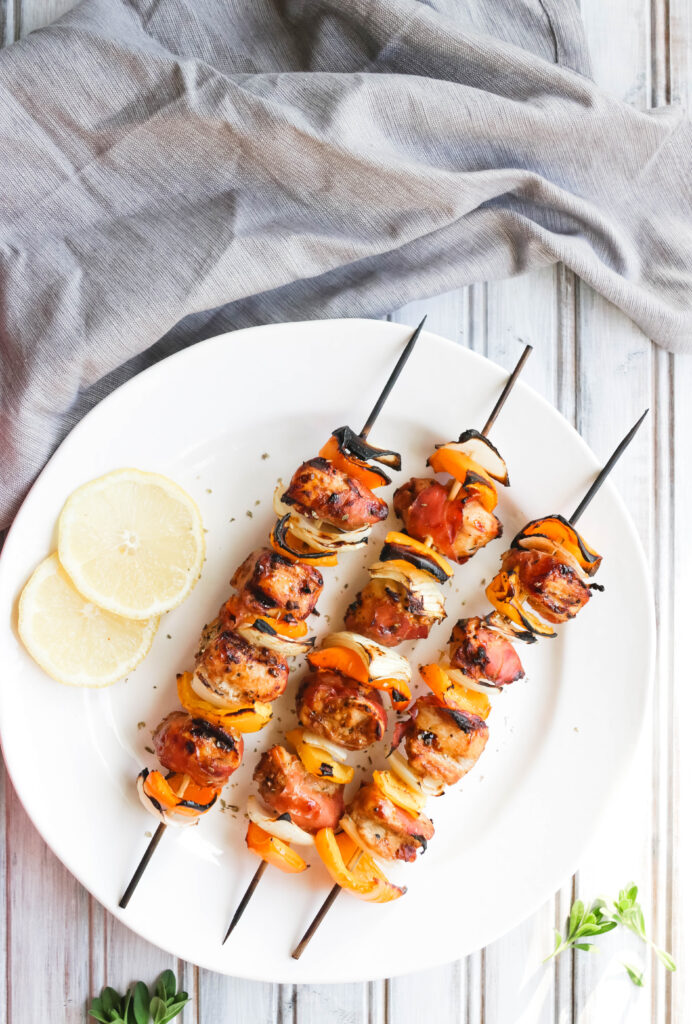 How to Make these Grilled Chicken Skewers:
Cut into Cubes then Marinate the Chicken Breasts
Chop the chicken breast into cubes for the skewers. Using a really sharp knife makes it so much easier to cut! Make sure you completely clean your area after to avoid any contamination of the raw meat!
Once you have cut your cubes, place in a large bowl and add your marinate mixture (lemon juice, tamari, worcestershire Sauce, garlic and spices). Marinate for at least 30 minutes. You can marinate your veggies too if you are feeling extra haha just place them in a separate bowl.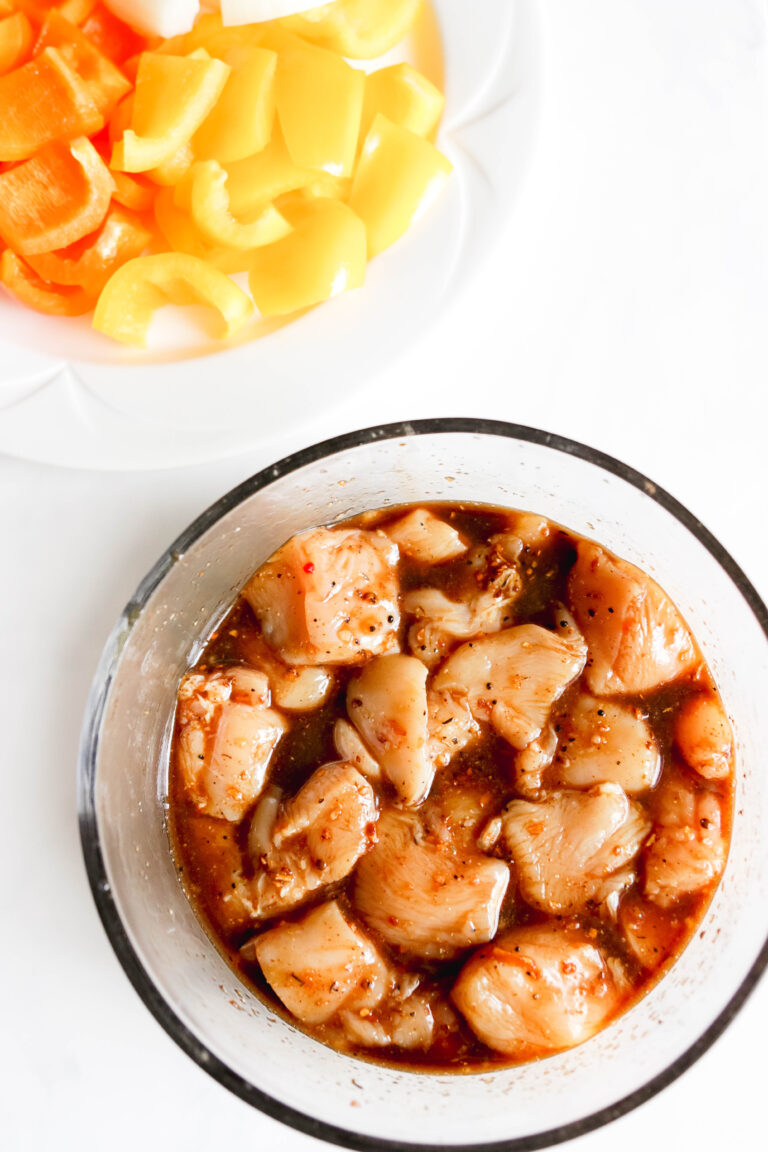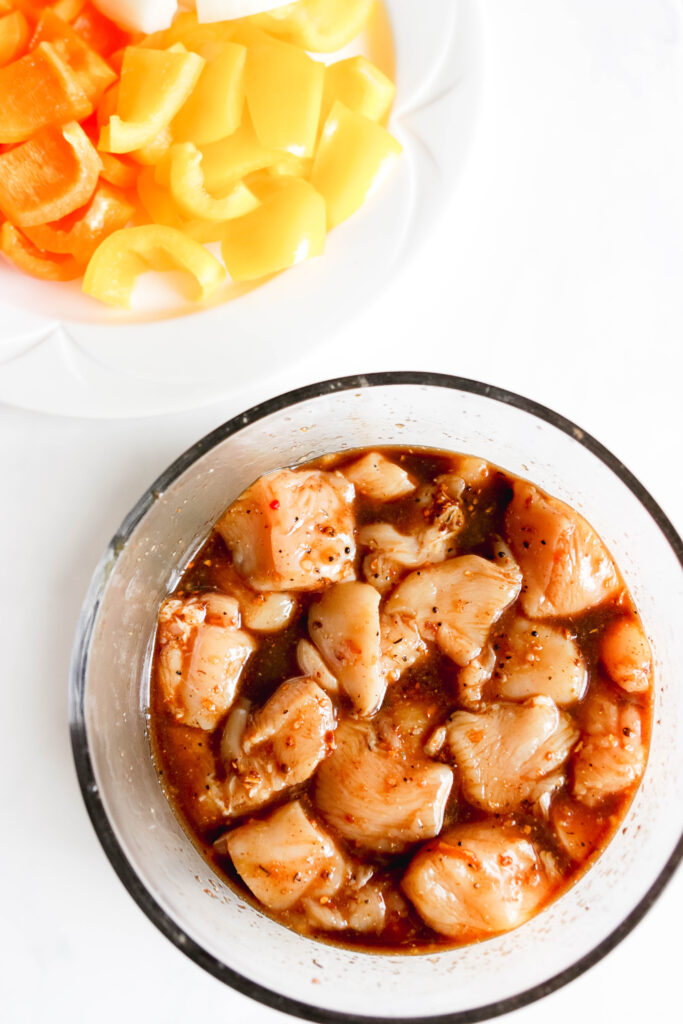 Prepare Veggies
Chop your veggies into 1-2 inch squares. They obviously don't have to be exactly the same but having around the same size will ensure they are all cooked the same throughout the skewer.
Like I said earlier, feel free to add any veggies you want to the skewers, you don't have to use exactly what I have here.
Skewer Chicken with prosciutto and veggies
Time to create your skewers! I used wooden skewers that I found in my kitchen but you can totally use metal reusable ones if you have them handy! I always start my skewer with the vegetables and layer up from there. I find having the vegetables start the skewer, helps hold in the juices of the meat.
When you add the chicken to the skewer, wrap it in a small piece of prosciutto before putting the skewer through it. Use the skewer to hold the prosciutto piece on the chicken! I used small amounts of prosciutto but you can use what ever amounts you would like!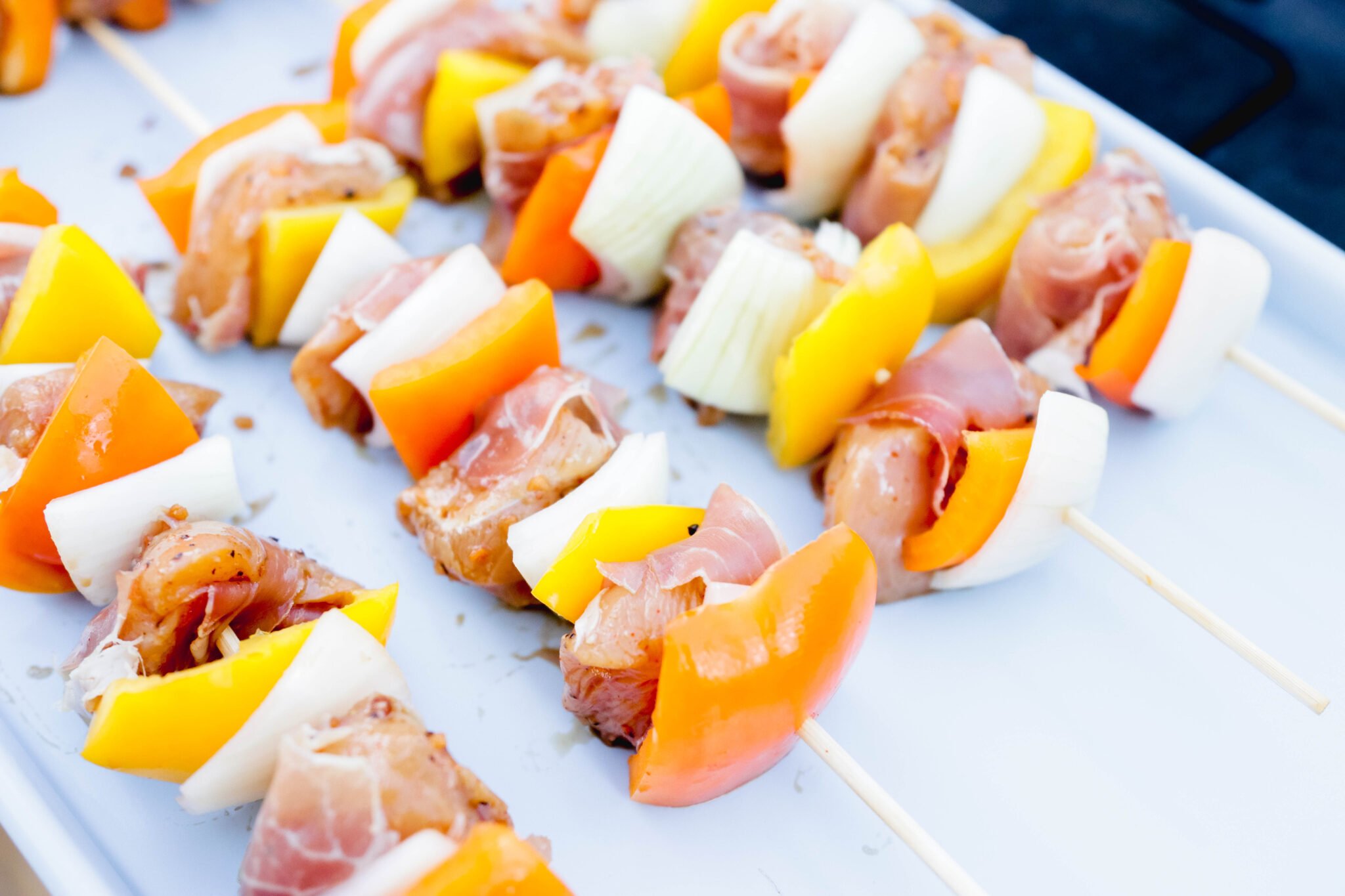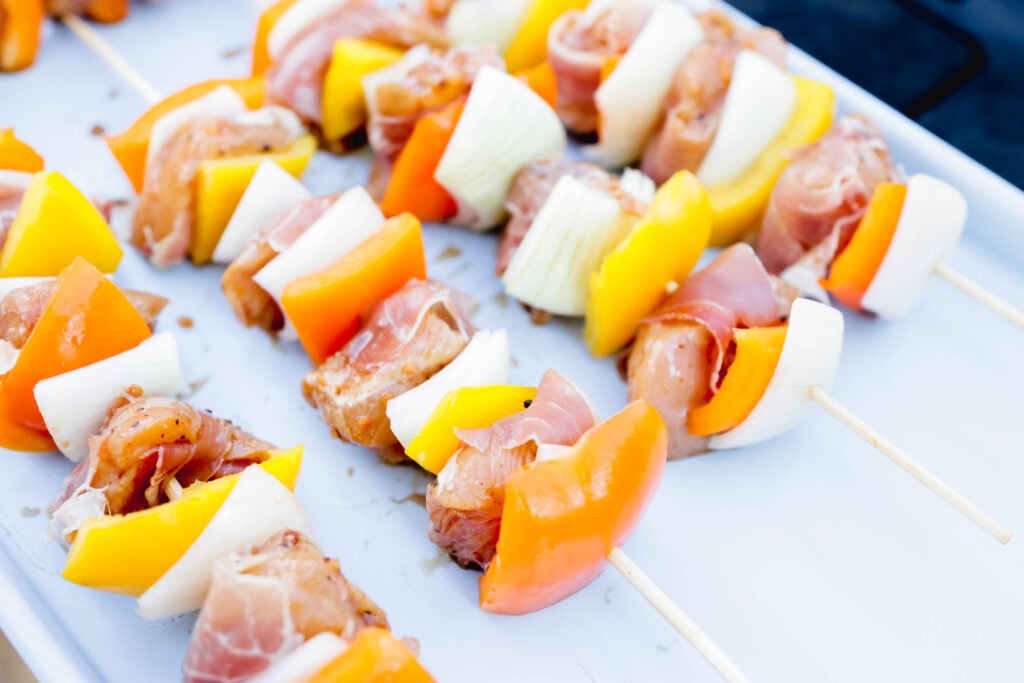 Grill chicken skewers
Time to throw these bad boys onto the barbecue! You don't need to add any oil to these before grilling because the fatty juices from the meat coat the skewers as they cook.
Grill them on low heat for 30-45 minutes. Watch them carefully to make sure they don't burn. Peppers have a tendency to char easily. I grilled ours on the top rack of the BBQ and they turned out great!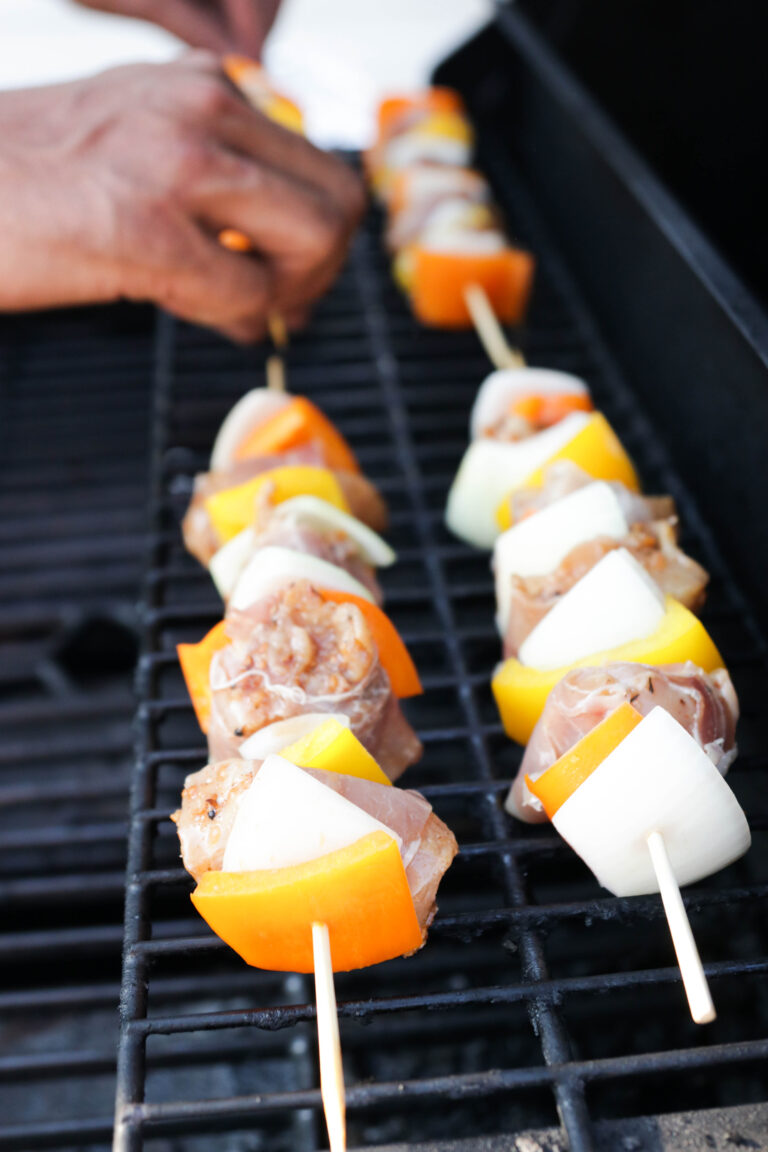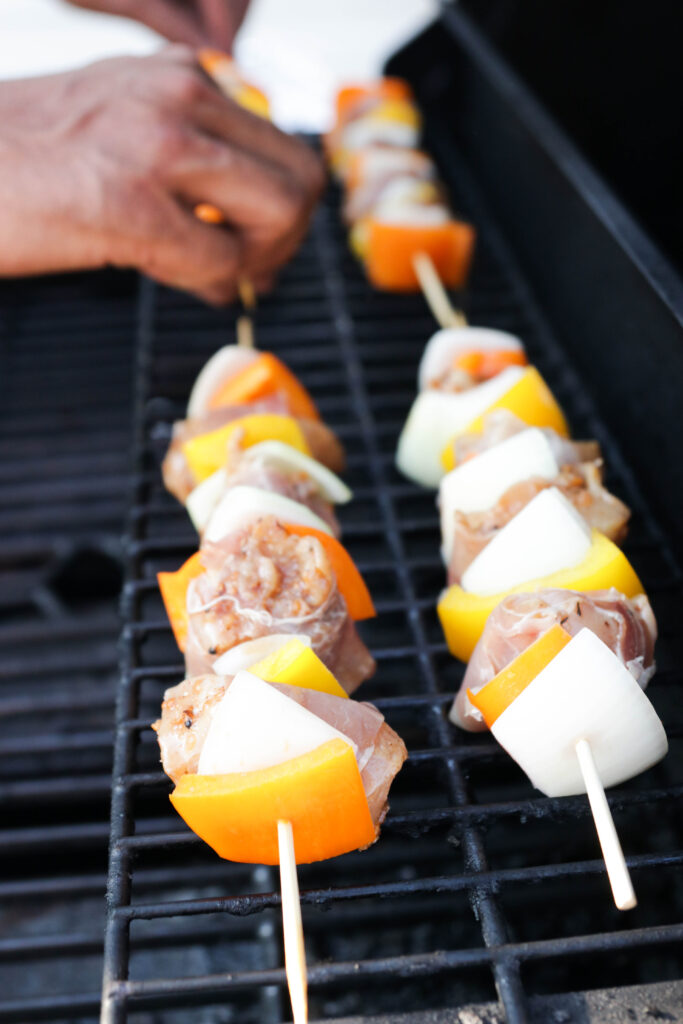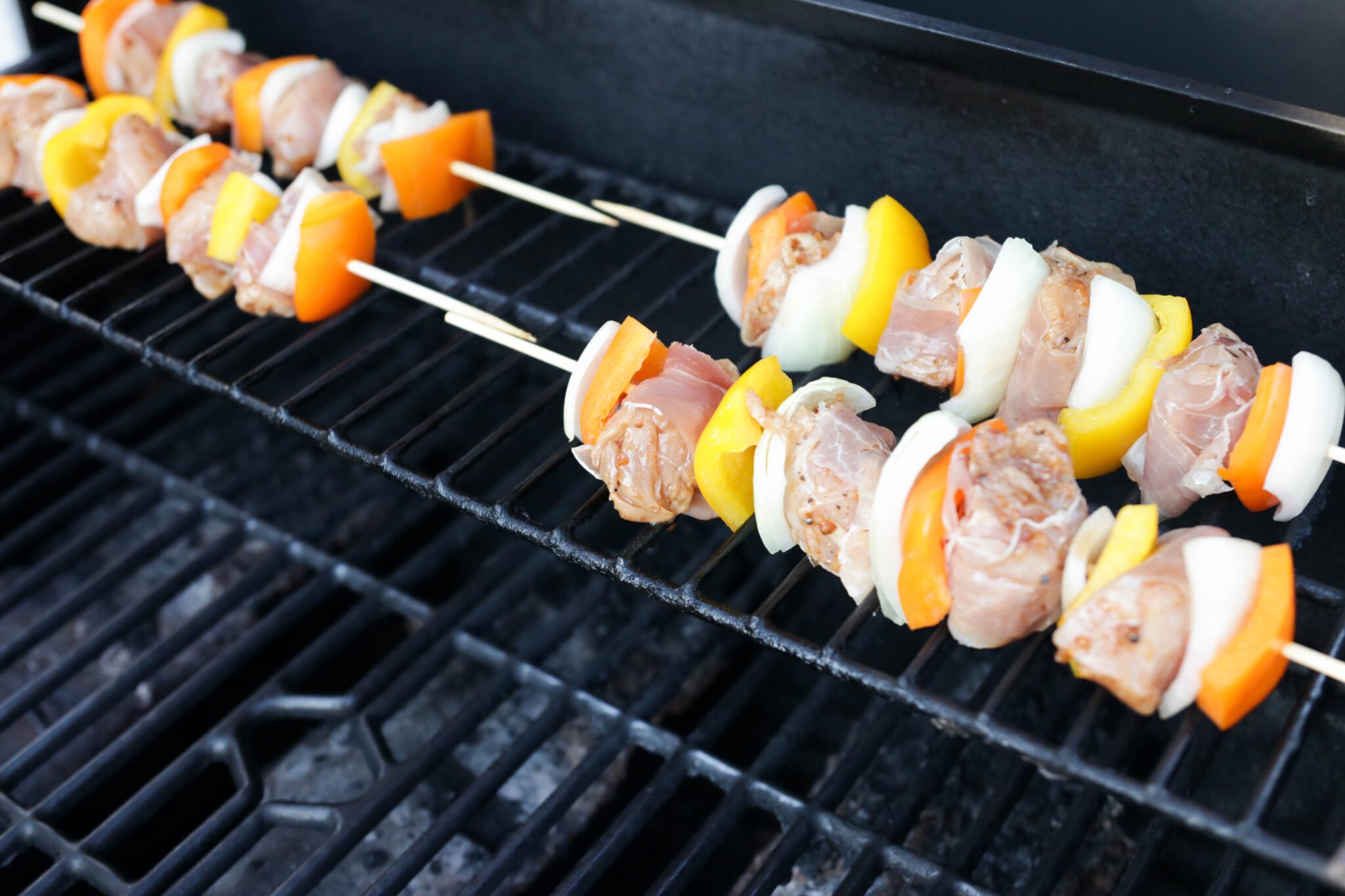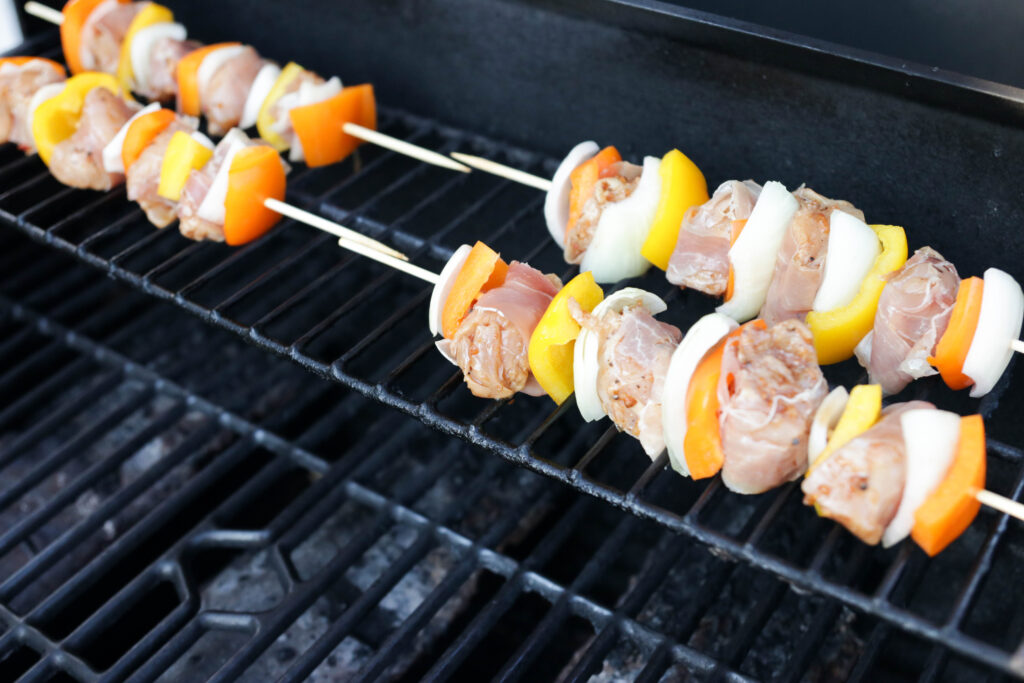 Don't mind our super dirty BBQ.. clearly we are in need of a new one soon! Especially considering our deck is finally finished! This calls for a shiny new barbecue!
But that is basically it for this recipe. I don't have too many tricks up my sleeve for this one. It is all pretty straight forward!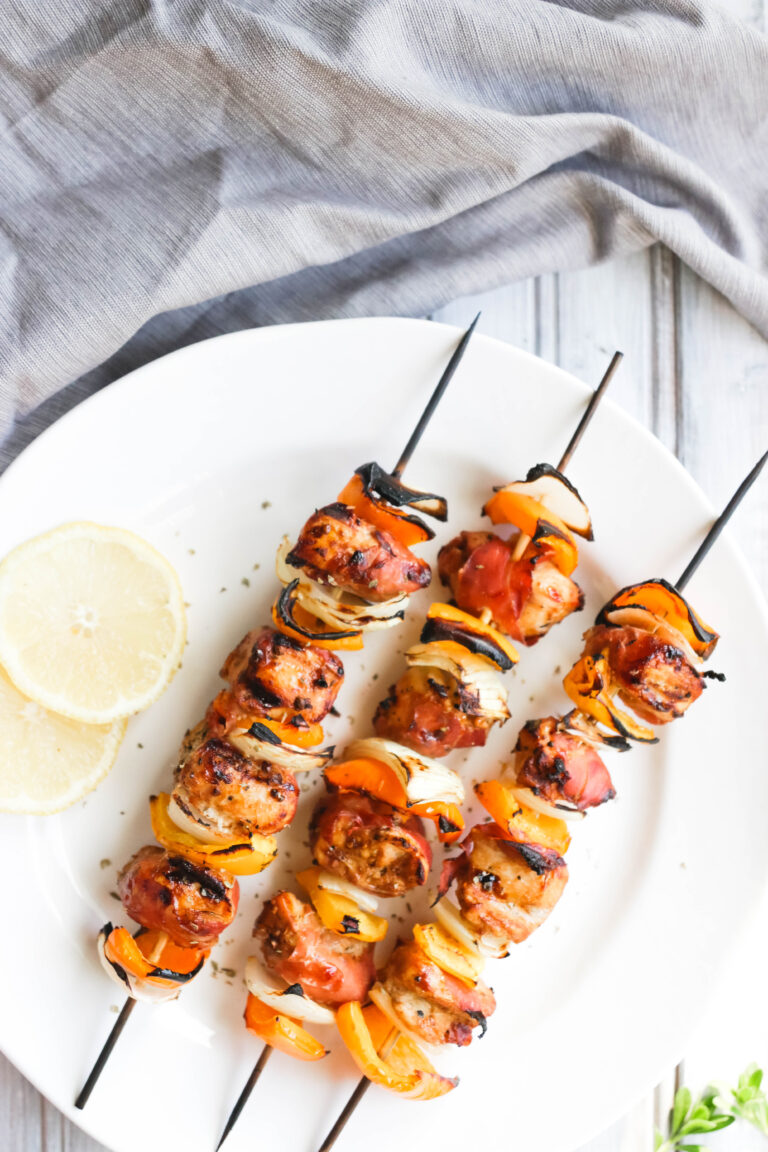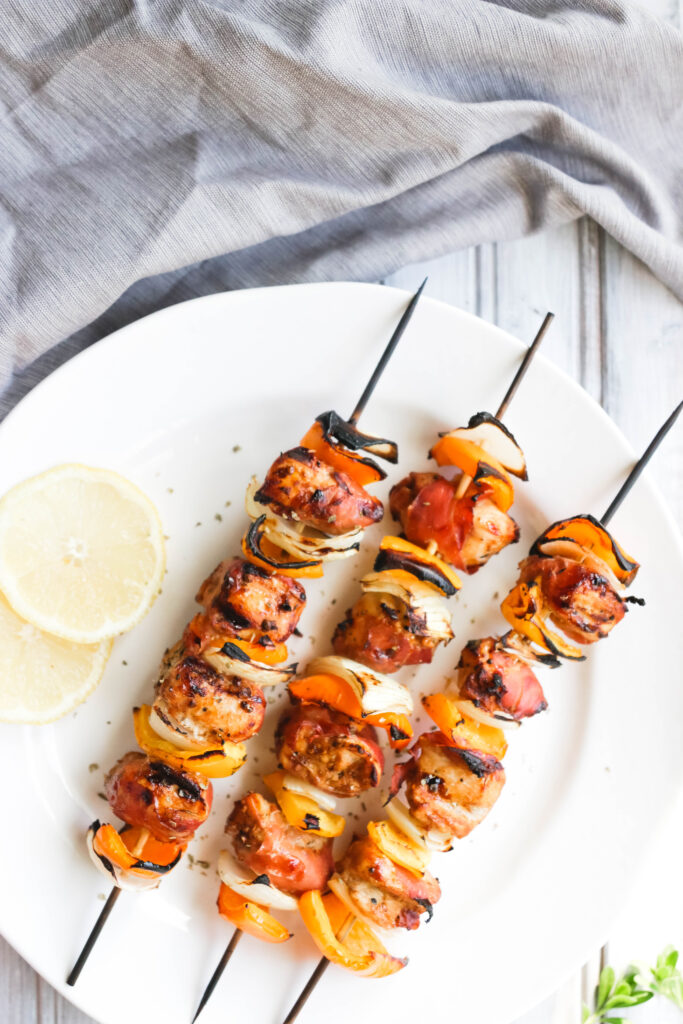 I hope you enjoyed this recipe!
If you have any questions about this recipe, leave it in the comment section below and I'll make sure to get back to you on it!
If you make any of my recipes please tag your photos with #nikkisplate so I can see your beautiful creations! Any feedback in the comments below is greatly appreciated. Have fun!
Liked this recipe?

You will also loves these summer recipes too: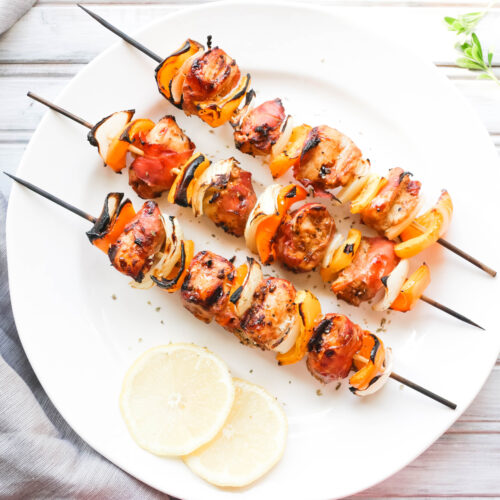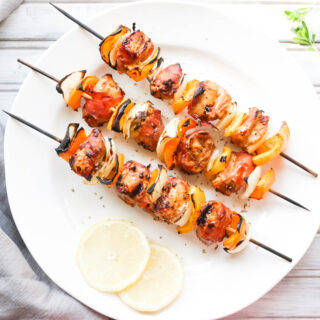 Prosciutto Wrapped Chicken Skewers
a quick and easy BBQ dinner that is bursting with salty goodness and juice peppers and onions.
Ingredients
2

chicken breasts

(boneless and skinless)

1

package

Prosciutto

2

bell peppers

(any colour)

1

medium

white onion
Marinade
1

clove

garlic

(minced)

1

teaspoon

garlic powder

1

teaspoon

onion powder

¼

cup

Tamari sauce 

(or soy sauce if not needing gluten free)

2

tablespoon

Worcestershire Sauce

½

lemon

juiced

2

tablespoon

chicken spice rub (I used this one)

(optional)
Instructions
Chop the chicken breasts into cubes for the skewers. Add all marinade ingredients to a bowl and add the chopped chicken. Mix well, cover bowl and store in fridge for atleast 30 minutes.

Chop your peppers and onion into 1-2 inch squares. Set aside

Layer veggies with chicken on skewers. Wrap each piece of chicken with a small piece of prosciutto. This recipe allows for 4 pieces of chicken per skewer. Start and end the skewer with a pepper piece.

Grill on barbecue top rack on low heat for 30-45 minutes. Rotate skewer every 15 minutes. Once chicken is cooked through, remove form bbq and serve!
Don't forget to pin this image below! Share this delicious recipe with the rest of Pinterest world! Also make sure to follow my account to see when I post new recipes or home inspired content at Nikki's Plate.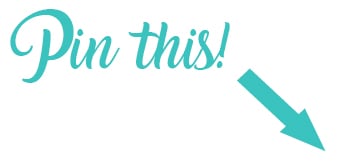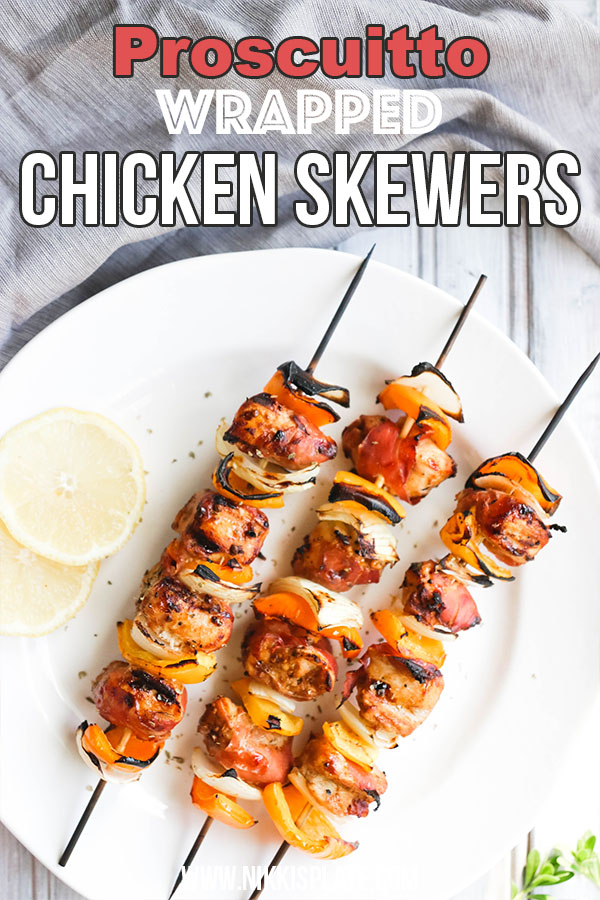 This Prosciutto Wrapped Chicken Skewers recipe is a quick and easy BBQ dinner that is bursting with salty goodness and juice peppers and onions.
BEST SELLERS