Here are 11 things that successful people have on their desks. Get things done, achieve your goals, be more productive and complete tasks faster having these items on your workspace!
Disclaimer: this post may contain affiliate links, and every purchase made through these links will give me a small commission (at absolutely no extra cost for you!) AS AN AMAZON ASSOCIATE AND REWARDSTYLE MEMBER, I EARN FROM QUALIFYING PURCHASES. See Privacy Policy for additional info.
Hi Beauties!
Coming at you with another post to help you slay those new year resolutions and achieve those goals!
A lot of people that follow my blog are women who work in offices or are students. Which is super interesting to me. I love analyzing my Google Analytics for my blog so I can get to know you all better, and in return give you better content that you are more interested in!
So with that being said, I did some research and came up with the most common things that successful people have on their desk that can help you achieve your goals and get things done!
I came up with this idea while working on my office (which is taking FOREVER). I have it all painted now, just trying to figure out the furniture situation and how to optimize my organization in such a small space.
Right now I am obviously trying to figure out what to put on my desk. What do I need and what is a waste of space... Which is why I ultimately decided to write this post!
So without wasting your time any more..
Here are 11 Things That Successful People Have On Their Desk
Sticky Notes
Sticky notes are so handy for so many reasons. They are a great way to write yourself little reminders to stick to your computer screen, or to stick to someone else's computer screen! You can also attach them to your projects or folders to remind you of certain things to do.
Highlighters
So many studies have shown that there is a link between colour and memory. Assigning different projects or tasks with different colours will trigger your memory better. You can also use different colours on your calendars so you won't forget certain things. This is such an easy yet effective way to keep things organized. And lets be honest, what adult doesn't love colouring..
A Month Calendar
Having a visible calendar is obviously super important! You need to be able to visualize the month and what needs to be done. This helps you stay on track and organize your day based on the timeline of your next project due date.
Back Up Hard Drive
Backing up your hard work is SO important. Make sure you always have a way to say your work just IN CASE your computer fails you. If you cannot afford a back up hard drive, you can use a USB stick or even save your work in Google Docs or Evernote! Either way, successful people always save their work to ensure they don't have to start it all over again if their system were to crash.
Headphones
The world is full of distractions. It is easy for your attention to be drawn elsewhere when there is a lot going on around you. Having headphones.. or even earplugs really.. helps you stay focused on the task and get it done. Not everyone is lucky enough to have an isolated office or dedicated workspace, so use headphones to isolate yourself from the world!
Lighting
Having enough light at your workspace is so important. Make sure you are able to see everything and are able to visualize your surroundings. A lamp of some sort is crucial on your desk!
Charging Cables
Having everything charged at all times is so important for success. You don't want your iPad running at of juice right when you need the notes from the conference, or your Cellphone to die right when you need to make an important call. Keep things charged. Have a area on your desk to plug it all in so you don't have to worry about anything quitting on you!
A Calming Object
You make see these on desks a lot in movies. Many successful people tend to have something on their desk that calms them. This could be a plant, a photo of a loved one, a zen garden, a candle.. really anything that you can focus on when your stress levels rise or when need a brief mental refresher between tasks.
Filing System
Again, keeping things organized is crucial for being successful. Having an organized filing system on your desk (or even beside your desk) is so important. Don't let papers just sit on your desk aimlessly. This is when things are forgotten and mistakes are made. If you stay organized you will also spend A LOT LESS time trying to find things, therefore you will get more important things completed in this time.
Water
Staying hydrated while you work keeps your brain sharp. I always have my 1 L jug of water sitting beside me at all times. Staying hydrate keeps you working longer and more affectively. So keep a glass or bottle at your desk ready to drink at all times.
Snacks
Everyone loves a good snack. Keep a few protein bars or almonds at your desk for when you can feel your energy levels dying down or when you had to work through your lunch break. Being hungry won't help you complete your goals. So stay full and keep yourself going strong!
There you have it. 11 things that successful people have on their desks. I hope this post helps you redesign your office so you can get things done!
Happy Monday!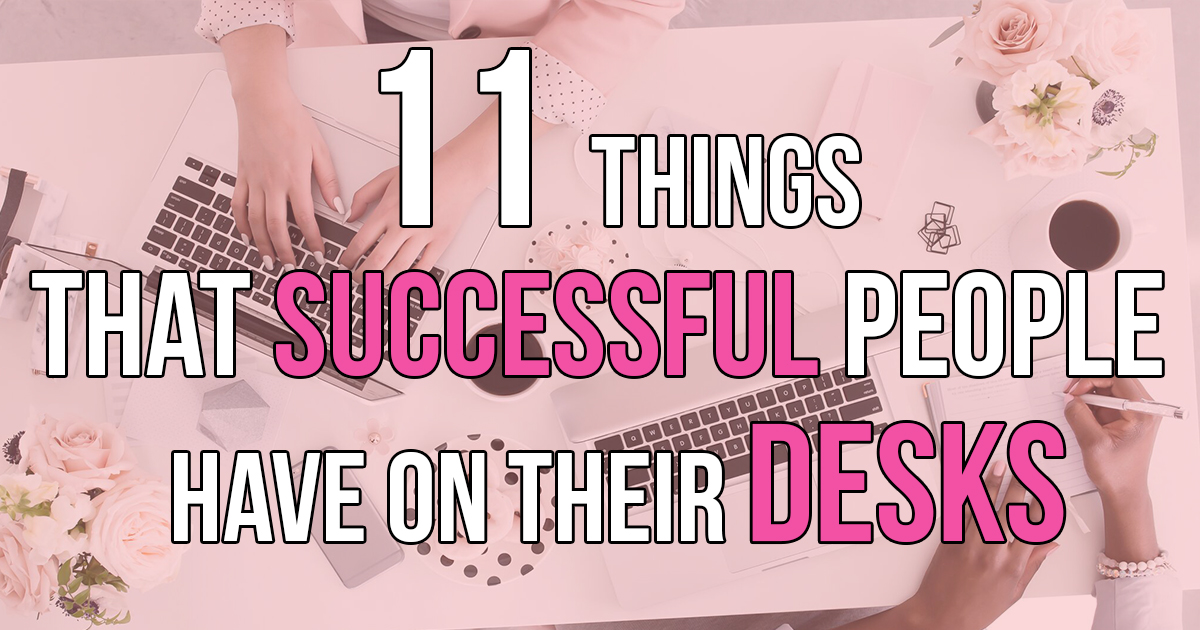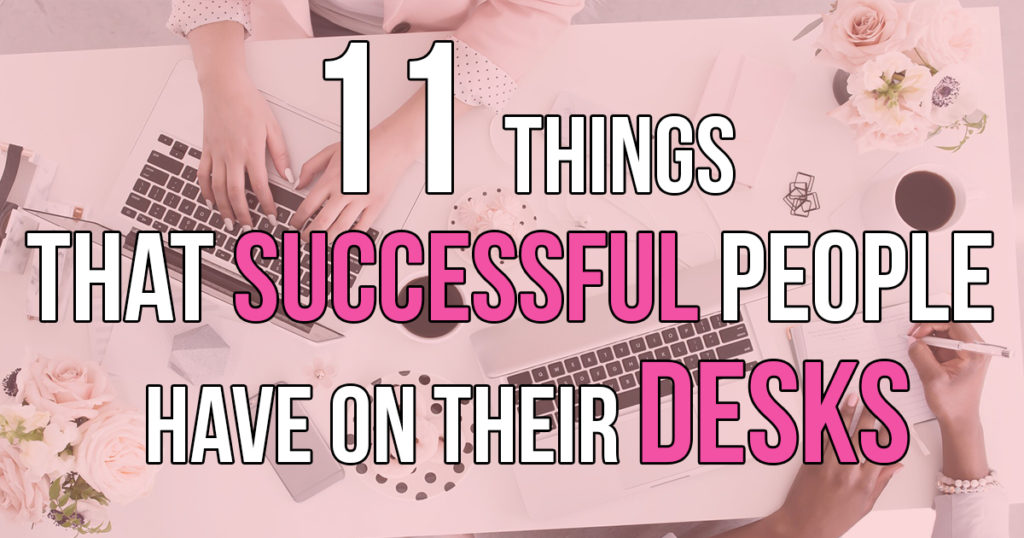 If you liked this post, you'll LOVE:
BEST SELLERS