Rainbow Balsamic Carrots; Easy and healthy side dish with balsamic, parsley and rosemary flavours. Vegan and gluten free
Disclaimer: this post may contain affiliate links, and every purchase made through these links will give me a small commission (at absolutely no extra cost for you!) AS AN AMAZON ASSOCIATE AND REWARDSTYLE MEMBER, I EARN FROM QUALIFYING PURCHASES. See Privacy Policy for additional info.
Hi Beauties!
Just thought I would do a quick recipe post for an easy side dish. I found these rainbow carrots at our local Farm Boy grocery store. So cute right? And delicious! Who knew that carrots come in multi colours not just orange! I found some information from a textbook about different coloured carrots and the health benefits, so here is lowdown:
Orange: promotes vitamin A production by the body, which is essential for healthy eyes.
Purple: provide vitamin A as well and work to decrease risk of heart disease.
Red: similar pigment components in tomatoes. This rich red colour is linked to lowering risk of certain cancers, such as prostate cancer.
Yellow: Additives that contribute to cancer prevention and better eye health.
White: Fibre packed - which  you know promotes healthy digestion.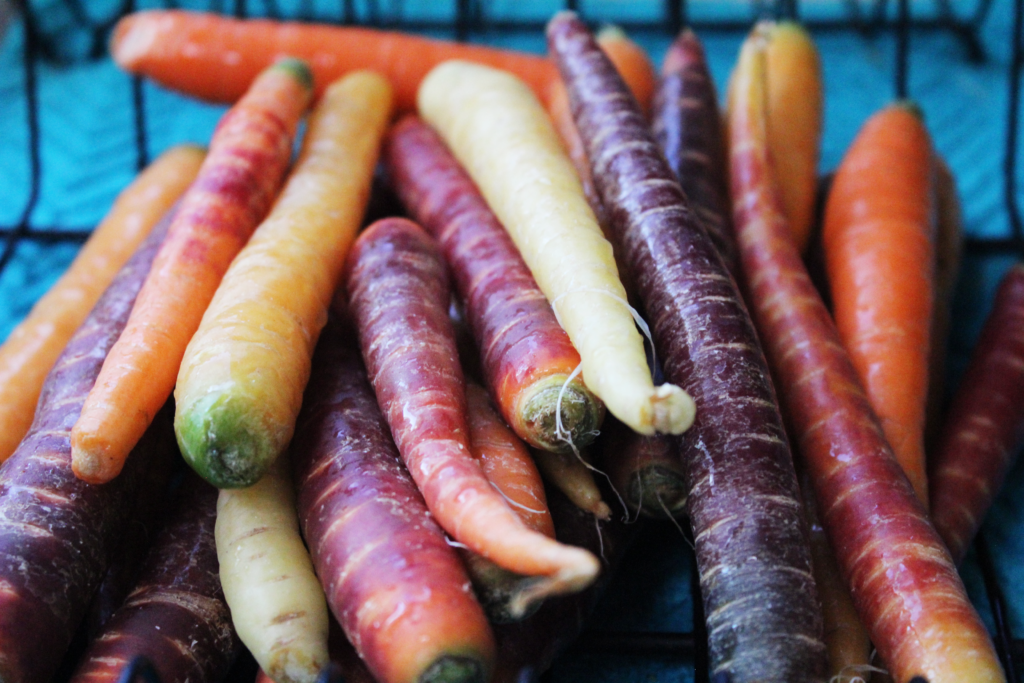 Rainbow Balsamic Carrot Ingredients:
Rainbow Carrots
Extra virgin olive oil
parsley
rosemary
pink salt and pepper
Simple easy ingredients for you to use. I love when ingredient lists are short yet bursting with flavour. I promise this one will satisfy!
These carrots make such a great side dish and are so easy to just whip up especially if you are in a pinch for a side dish. They also pair well with so many dishes.. anything from mouth watering steak to vegan dishes.
These carrots are also beautiful in colour! But if you don't have rainbow carrots, you can always do regular carrots of any size 🙂
Tips for Baked Carrots:
My number one tip is to not over crowd the pan.. when you put too many carrots on a pan they actually start to steam each other and that's why they may turn out more soggy then crispy.. if you put less on the pan and they have more room to breathe, they will have an outer layer that is more crispy.. and for me, I like that WAY better then soggy carrots!
Make sure when you are prepping these that you wash them with a soft bristol brush. You can get these brushes anywhere.. most kitchen supply stores call them potato brushes. They work well to get all the dirt off. 
Once washed, I trimmed the ends off. Some of the ends did not look very tasty. Some people like to wait until after they are cooked to remove the ends because they find that it holds in the flavours better.. but I like to cut them off before because I don't like handling carrots when they are piping hot! Not worth the burns haha but again totally up to you!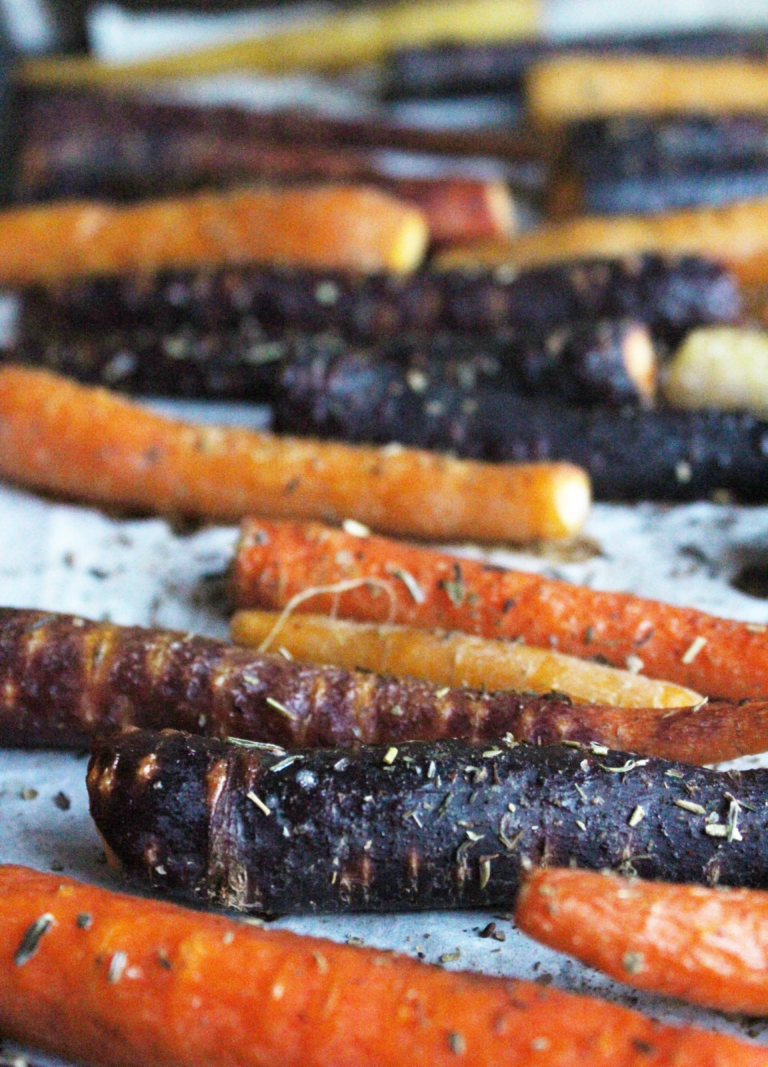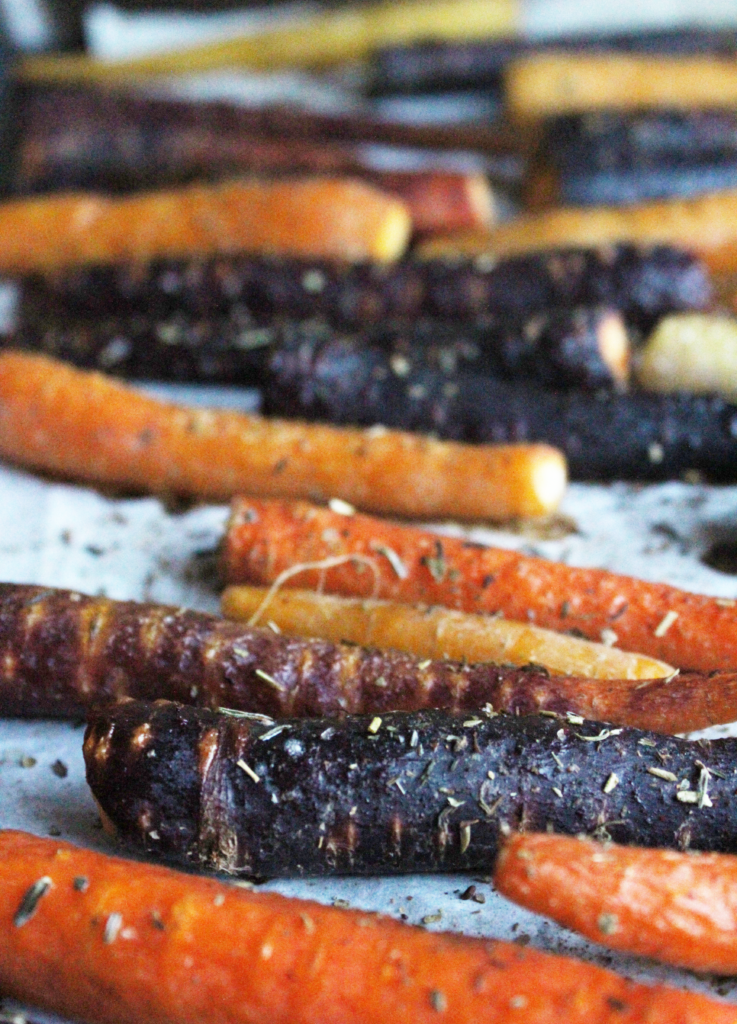 If you make any of my recipes please tag your photos with #nikkisplate so I can see your beautiful creations! Any feedback in the comments below is greatly appreciated. I hope you have fun! 
I hope you enjoyed these rainbow balsamic carrots!
Until next time,

If you liked this rainbow balsamic carrot recipe you will also love these recipes too!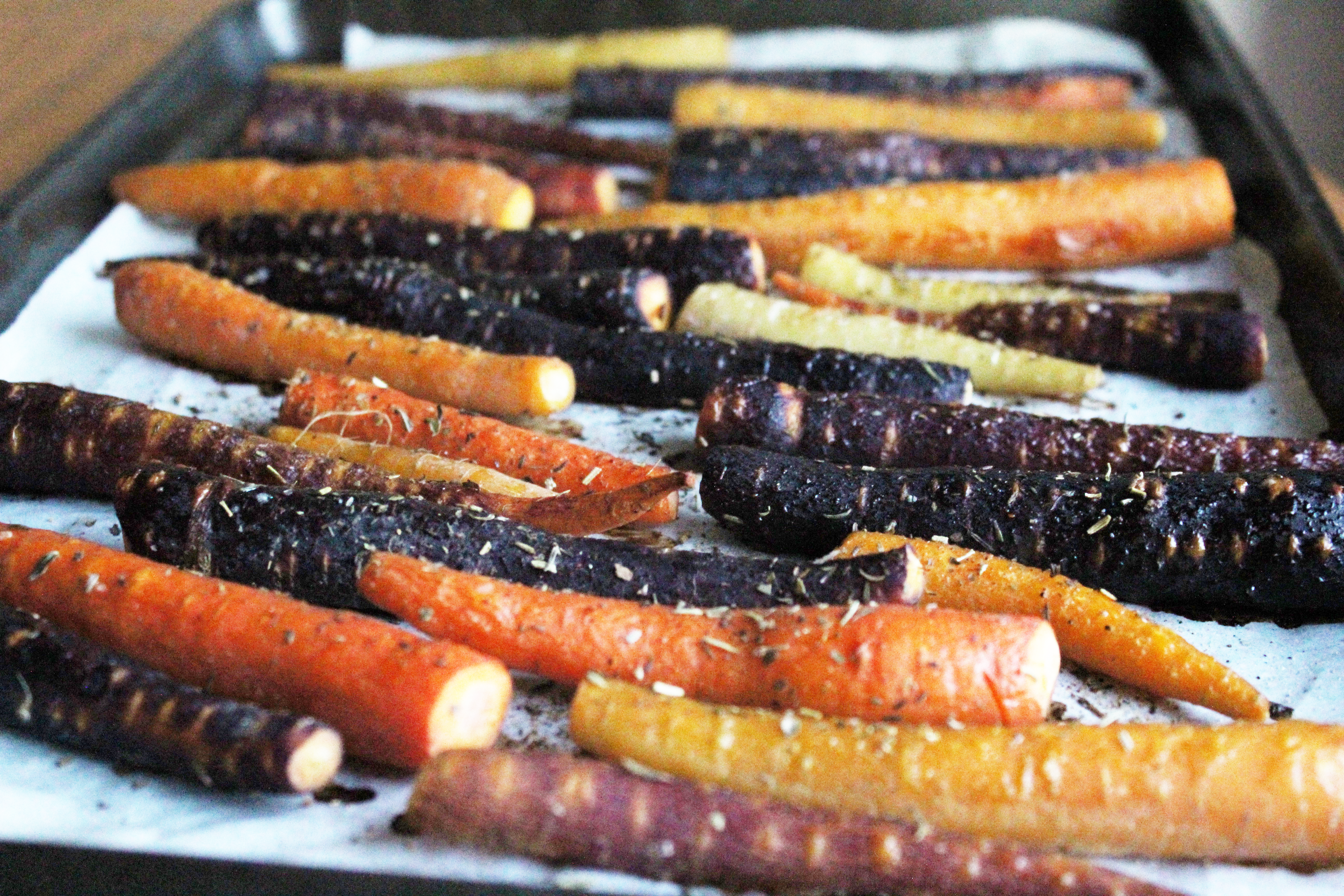 Rainbow Balsamic Carrots
Easy and healthy side dish with balsamic, parsley and rosemary flavours. Vegan and gluten free
Ingredients
1.5

pounds

rainbow carrots

(tops and tips removed, washed)

2

tablespoon

extra virgin olive oil

2

tablespoon

balsamic vinegar

1

pinch

pink salt & pepper

1

teaspoon

parsley

1

teaspoon

rosemary
Instructions
Preheat oven to 400 degree F.

Line a baking sheet with parchment paper.Wash the carrots, trim tops and tips, and set aside to dry for 10 minutes.

In a small glass bowl add the balsamic vinegar, then slowly add the olive oil while whisking. Do not use aluminum bowls, it doesn't play well with acidic ingredients.

Once those two ingredients are mixed, put carrots in the bowl. Toss the carrots until well coated. Pour them onto the cookie sheet.

Sprinkle with pink salt, pepper rosemary and parsley.

Place in oven and roast them for about 30 to 40 minutes, depending on how crisp or soft you like your carrots, and how thick they are. Flip half way through.Remove from oven.
Rainbow Balsamic Carrots; Easy and healthy side dish with balsamic, parsley and rosemary flavours. Vegan and gluten free
BEST SELLERS