Here are the top 5 things you must do when visiting Scotland! Top five activities to make your trip to Scotland worth every minute! Travel adventures with Nikki's Plate
Disclaimer: this post may contain affiliate links, and every purchase made through these links will give me a small commission (at absolutely no extra cost for you!) AS AN AMAZON ASSOCIATE AND REWARDSTYLE MEMBER, I EARN FROM QUALIFYING PURCHASES. See Privacy Policy for additional info.
Hi beauties
Coming at you with a travel post of Scotland! This past May, my mom and I went to Scotland for a little vacation. My mom, being a travel agent, knew exactly what we should see, where we would go, and what we would eat. I love traveling with my mom because I really don't have to thing much.. I just put my trust in her!
We wanted to go to Scotland for a while now. Our ancestors are Scottish, and we have a mild serious obsession with the show Outlanders! So needless to say, Scotland was a must on our bucket lists.
Scotland Travel Tips:
Rent a car! We loved having the freedom of our own vehicle. We were able to travel around the entire country on our own without having to follow someone else schedule. If you have a GPS like Garmin, bring it! They work in other countries if you download that country. If not you can use your phone when you have internet, google maps the route, then let it run (without data or wifi) while you are driving, as long as you don't change routes!
Buy a Explorer Pass! There are SO MANY heritages sites and castles in Scotland that you need to see. The admission fees can start to add up, but not if you buy the explorer pass. With this pass you get free entry to 78 of Scotland's top heritage attractions! Its a must.
Pack Light! We just did carry-ons and I am so happy we did! Moving from place to place can be too hectic if you have to lug around a large suitcase.
Stop at Grocery Stores! One of my favourite thing we did was stock up with snacks and drinks at local grocery stores for our long drives. This way we didn't have to worry about finding a place to eat when we got hungry, and we also saved a lot of money!
With that being said.. lets jump into it!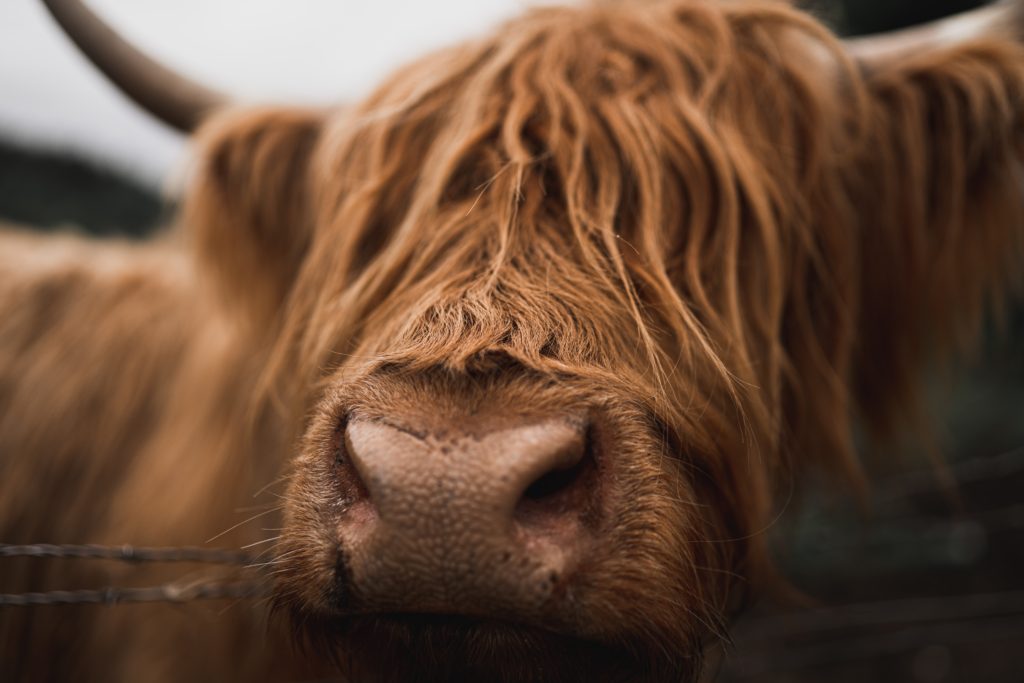 Here are the top 5 things you must do when visiting Scotland:
Edinburgh and Edinburgh Castle
Edinburgh Castle is a must see, found right in the heart of Edinburgh! Take a walk on the Royal Mile, which is found in the Old Town of Edinburgh. Such cute Scottish scenery and little shops along The Royal Mile, all leading right to the Edinburgh Castle. You definitely need an entire day to enjoy this part of Edinburgh.
If you find a souvenir you like BUY IT. We found the most beautiful plaid blankets and opted to wait to buy them later in the trip but never found them again, which was sad!
You can also explore the New Town Edinburgh but if you only have time to see one part of Edinburgh, I would definitely choose exploring the Old Town! The Old Town has more Scottish culture and architecture.
Scottish Highlands
The Scottish Highlands are a large mountainous region. You can drive several miles along the winding roads of this beautiful country back.
It was such a rewarding experience and definitely was one of the highlights for us. Hopefully you will get to see some highland cows like we did!
If you are feeling adventurous, there are many hiking and biking trails you can explore. I still in my first trimester of pregnancy so we opted to just drive through the Highlands which was just as rewarding.
Many movies and TV series have been filmed along these Highlands including Game of Thrones and Outlander.
We went in May, and it was fairly cold, so make sure you dress on the warmer side if you are planning on staying outdoors.
Linlithgow Palace
This was definitely one of our favourite castles. It is located 15 miles west of Edinburgh. Mary Queen of Scots was born in this castle and visited frequently.
You get to do a self tour of this castle. You can really see the domestic life of Scottish royalty within this castle.
Although semi-ruined, a huge amount is preserved of this large castle. You can really visualize the palace with the large windows and beautiful architecture.
Take your time walking through the castle, and bring an umbrella if it raining!
Loch Ness
Loch Ness is a large deep water loch located 37 kilometres southwest of Inverness. Loch Ness is best known for 'sightings' of the Loch Ness Monster, also known as "Nessie".
This body of water is beautiful but it mostly just to say you have seen it. There isn't anything special about the body of water other then the idea of Nessie being deep within it. But I have it on our must see list because it is one of those things you need to see when your in Scotland.
That being said, there is lots to do around the area. Explore the little towns, enjoy the beautiful landscape, take a hike or a boat ride.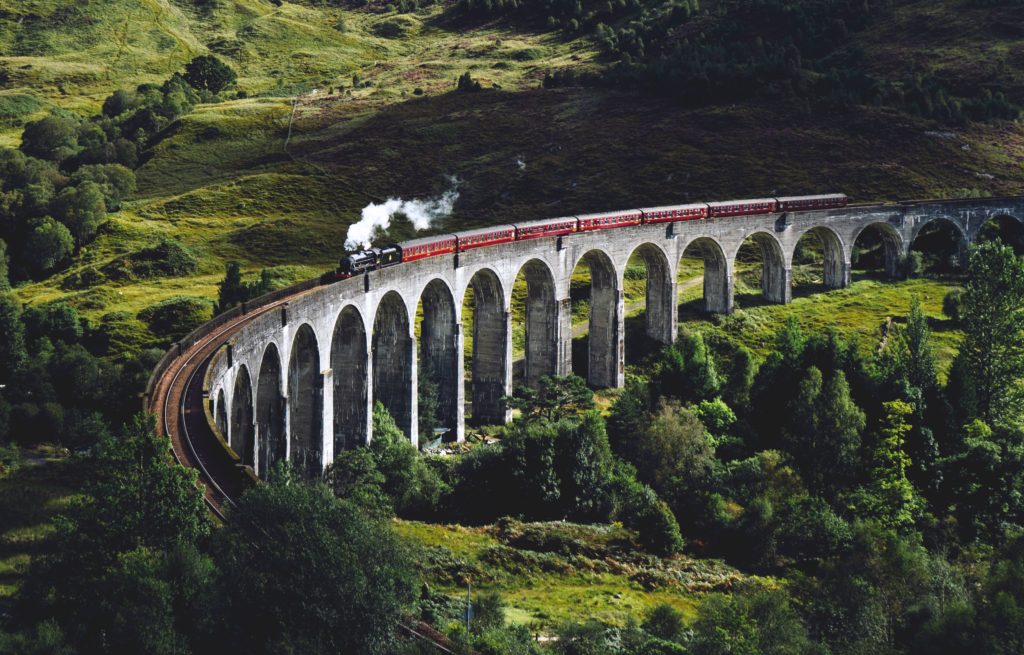 Jacobite Express
This was one of the highlights for us as well, but we are also huge Harry Potter fans so we were fan girling quite a bit! So obviously I had to add it to my list of things you must do when visiting Scotland!
This old Jacobite Train is known as one of the greatest railway journeys in the world. This train is located in Fort Williams and travels along the West Highland Railway Line in Scotland.
It costs £37.75 for a round trip. The train takes you to Mallaig, where you get to spend a few hours before you get back on the train to head home. During your time in Mallaig you can go for lunch and enjoy the beautiful water landscape of this little fisherman town.
I highly recommend grabbing something from The Bakehouse & Crannog for the train ride home. This little bakery is so cute and DELICIOUS. So many mouth watering baked goods!
There you have it friends!
My top 5 things you must do when visiting Scotland!
I hope you enjoyed this post and found some useful tips. I am so jealous that you are going to Scotland and wish I was going back as well! Enjoy your vacation. It will fly by!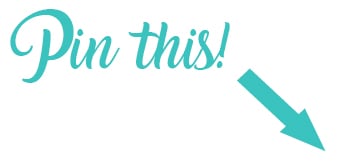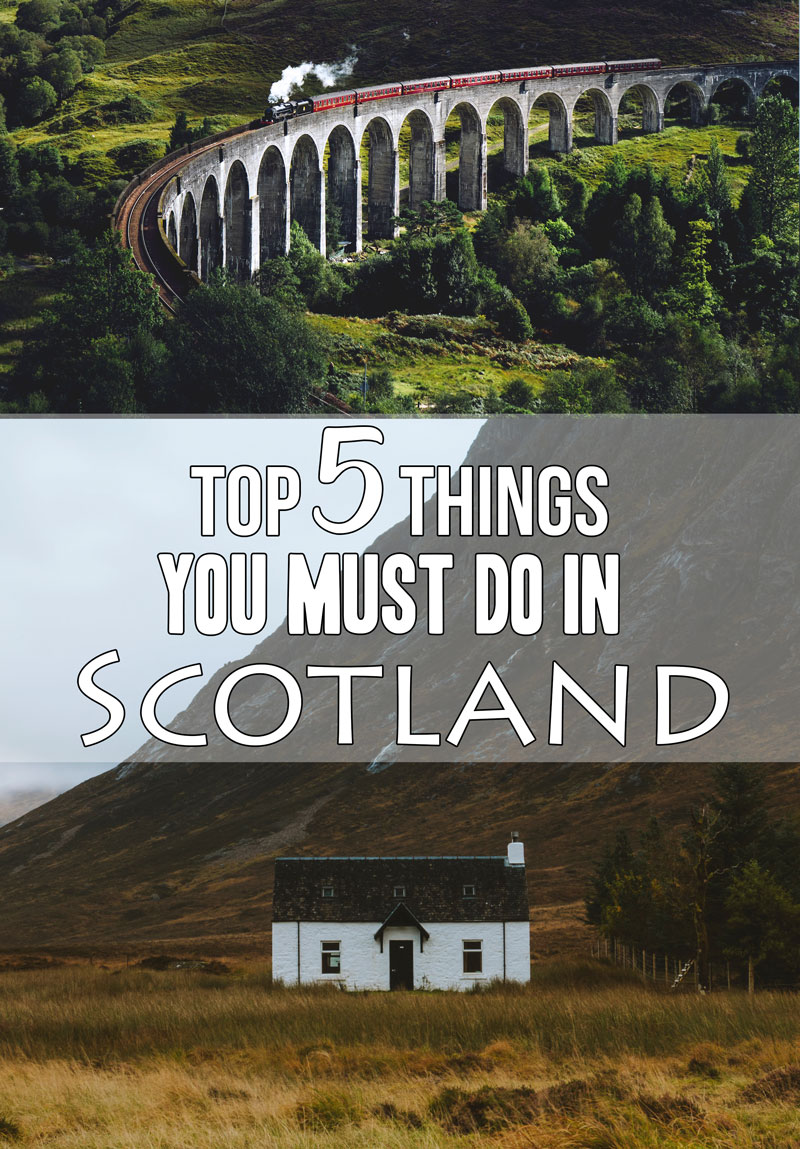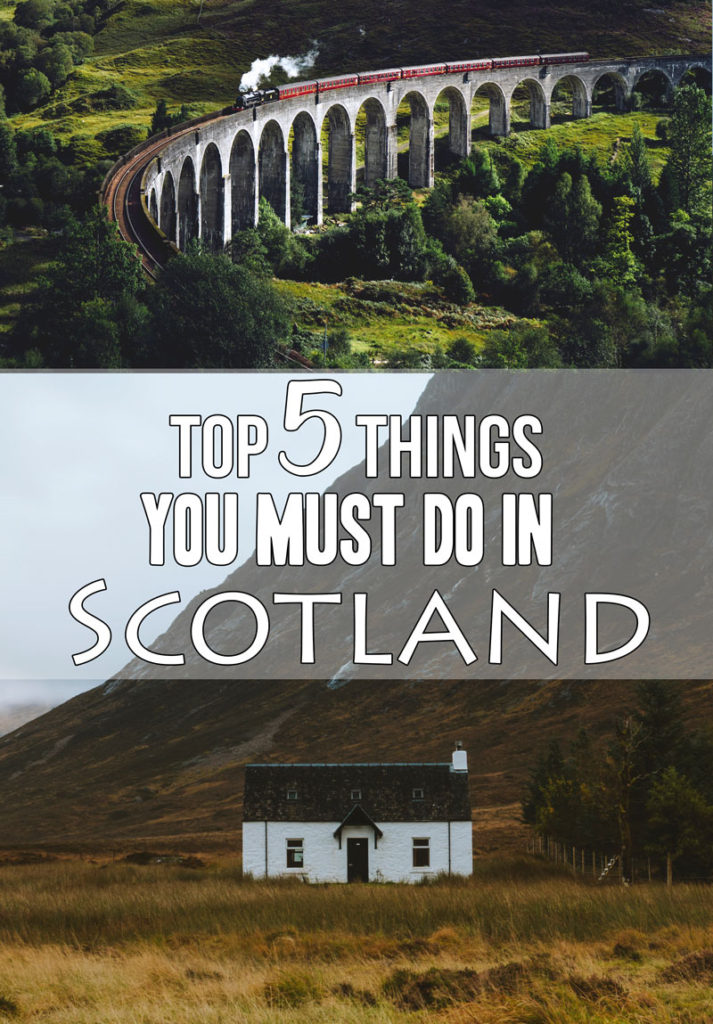 If you liked this post, you'll love these too!
BEST SELLERS